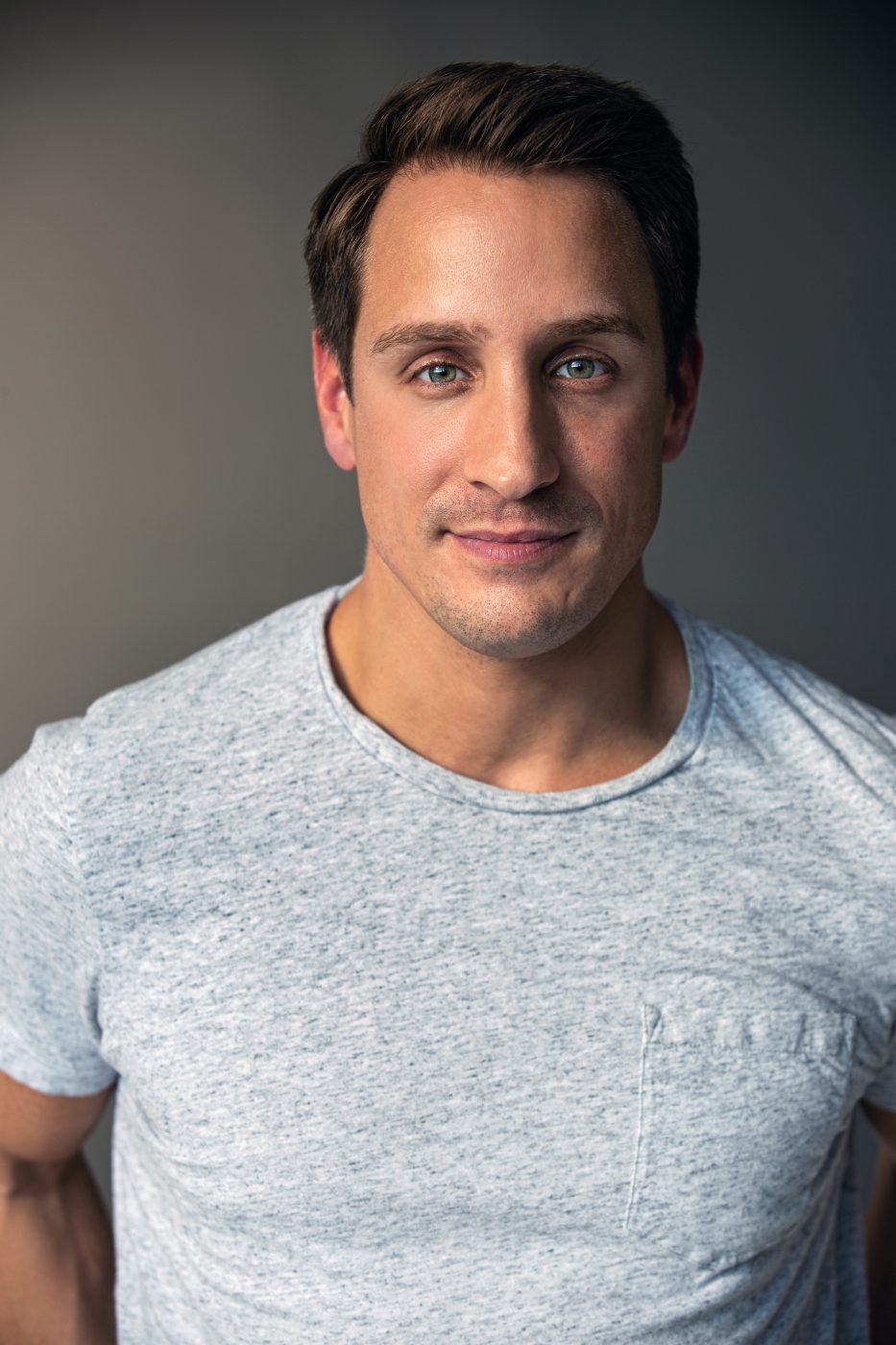 November 5, 2023As a teenager, Todd Raymond aspired to be an architect. But a job in college waiting tables at New York's Michelin-double-starred restaurant Jean-Georges detoured him into high-end hospitality. He turned out to have such a knack for opening and managing restaurants that it wasn't long before he was prepping to open one of his own. And then, the global financial crisis hit.
His plans thwarted, Raymond thought again about architecture. At 25, he was still young, but now savvy. He recognized that what he loved most about the field was, as he puts it, "architecture's interplay with interiors."
So, he got a job at a furniture showroom and took night classes in interior design at Parsons. Then, after spending five years scaling the designer ranks at luxury contract and residential firms both large and small, he launched Studio Todd Raymond. Once more, the moment was less than propitious, as the world had just gone into pandemic lockdown. This time, however, Raymond didn't waiver from his plan. He had found his life path.
Today, he believes that those early years in hospitality helped make him a more capable design professional. "I'm really good at anticipating people's needs and setting expectations for how a project will lay out," he says, adding, "You have to learn to work with different personalities and know when to let things go. There's a fine art to it."
Raymond's artistry is evident in some of his most interesting recent projects, like a bachelor pad he designed in an old industrial building in Chelsea. The client had already lived in the one-bedroom loft for a number of years when he asked Raymond for a style upgrade to reflect the man about town he'd become.
Raymond found that notion intriguing, even if the apartment — with relatively petite windows and small rooms — was not the most glamorous of spaces. Its one asset was its 14-foot ceiling height, which offered ample opportunity for drama. Raymond's first idea was a wall of sandy-beige wool-sateen drapery for the living room along with a chic black rug, design moves that the client immediately rejected. But Raymond isn't one to be deterred.
"Everything he gravitated toward was a variation on what he already had," Raymond remembers. Seasoned as he was at not just managing but surpassing the expectations of diners — and then clients — he soon coaxed the homeowner into accepting that elevating one's taste meant exiting one's comfort zone. Then, says Raymond, "the fun began."
The fun was rooted in the client's happy place — childhood memories of summers spent with his family in the Hamptons. Riffing on the idea of an inviting seaside house, Raymond chose a big, comfy linen-slipcovered sofa and the client's own rustic-looking oak chair to anchor the living room. To signal the homeowner's newfound urbanity, he selected a swanky carved-walnut Dale Italia credenza with a mid-century-modern vibe, placing it against the once-disputed draped wall. He then added to the mix an armchair by Brian Paquette for Lawson-Fenning, which he upholstered in a handsome wool plaid. Finishing the space are some low tables with smoky glass as well as chrome and leather elements for a bit of 1970s bling.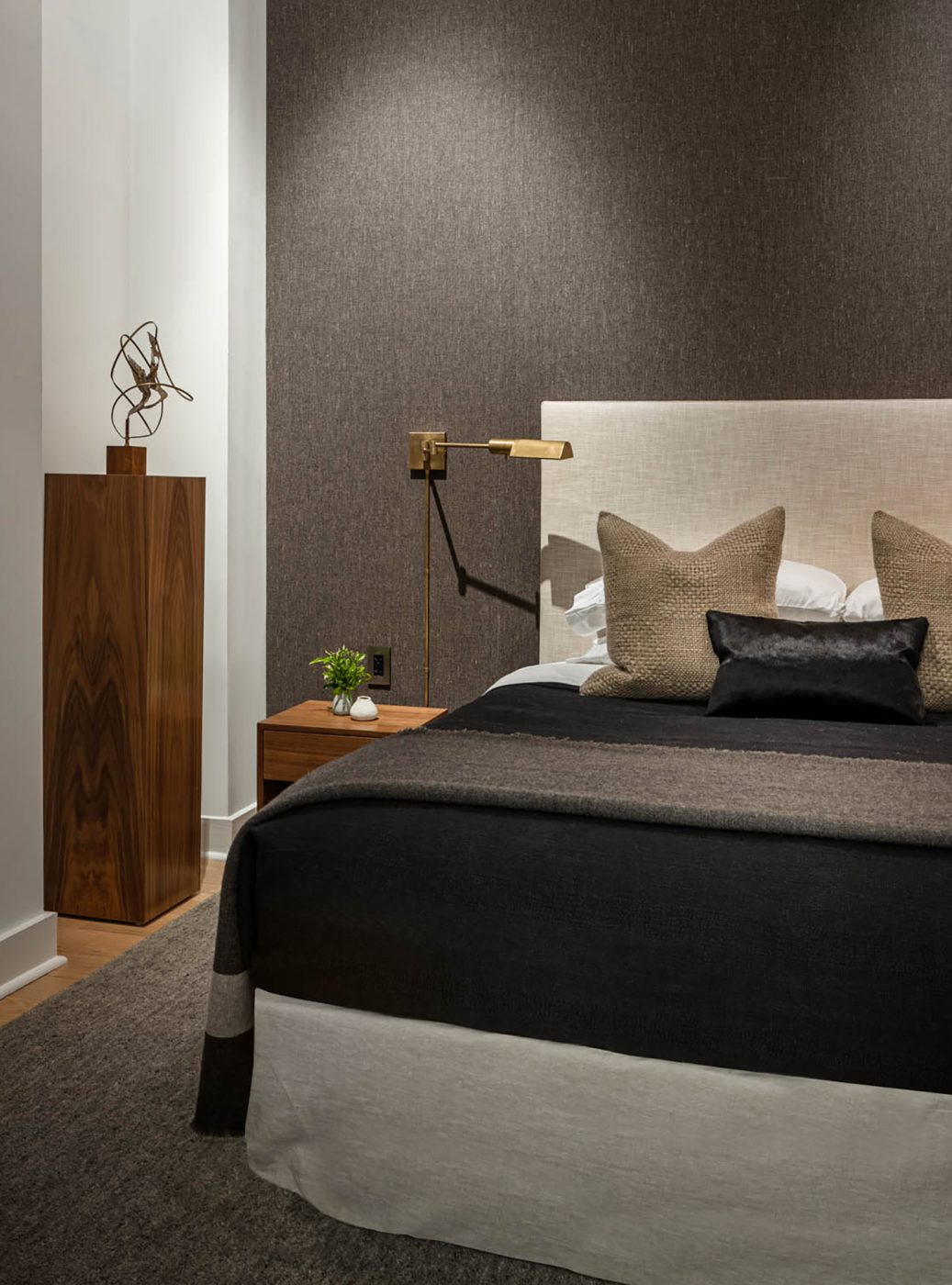 Furnishings made of wood, especially walnut, prevail throughout the interior, imbuing it with a masculine warmth. Among the wood items are an étagère, in the living room; custom cabinets, in the kitchen; and, in the bedroom, a pair of simple nightstands and a pedestal for a small brutalist metal sculpture.
The client's sleeping space is a truly dapper affair. A gray wool herringbone fabric from Phillip Jeffries upholsters its back wall, a similarly hued wool rug covers the floor, and subdued suiting tones smartly dress the bed. All contribute to the loft's virile vibe.
Art heightens the apartment's air of sophistication, while also injecting some life and personality. A striking "deconstructed painting" by Kenny Nguyen — composed of cut strips of silk soaked in paint and then placed on draped canvas — brings vibrance and depth to the expansive white wall above the living room sofa, while Ryan McMenamy's painting on plywood of a debonair man with a coffee cup adds a dash of wit to the dining area. Raymond crafted a six-foot-wide mobile of wood balls and black rods to hang above the table.
When a young couple, both lawyers, commissioned him to transform their recently built farmhouse-style home in New York's Hudson Valley into a sophisticated weekend retreat, Raymond had a far grander canvas with which to work. Still, the residence — which enjoys panoramic pastoral views — came with challenges. Chief among these was the need to create an interior where the couple could comfortably entertain 40 guests but that would still feel cozy and intimate when they were home alone.
Raymond's solution was to break up what he refers to as the "humongous" main room by arranging furniture to define smaller living areas that all flow together. He encouraged his clients to envision various scenarios for where they might serve cocktails to guests or curl up with a book by themselves. From their playful imaginings he created a layout.
But before he could select actual furniture pieces, he had to address the issue of the couple's taste, which ran toward sleek, modern Italian design. "I love that look as well," says Raymond, "but I didn't want to force a style and aesthetic on a home that it wasn't meant for."
Managing expectations, Raymond found "a beautiful sweet spot." He painted the walls a bright white and ebonized the doors and floors to create the look of a downtown loft. He honored the clients' preference for furnishings that were sleek and modern but chose pieces made of wood, stone or metal, like the custom blackened-and-waxed steel coffee table by J.M. Szymanski in the center of the room. For dramatic accents, he looked to the less-showy organic forms of the Danish masters: Hans Wegner's Ox chaiRS take center stage in the main living space; ARNE JACOBSEN's DROP CHAIRS animate the dining alcove.
The couple weren't art collectors, but Raymond quickly recognized that art was important to them. "It's another reason why I kept the palette very neutral," he says. "I wanted to allow for big art moments throughout the house." In keeping with the bucolic surroundings, ceramic and wood works predominate, like Stepanka Summer's Horizon Silver installation of ceramic disks above the mantel and Paola Paronetto's ceramic vessel on the pedestal adjacent to it, plus Kat Ramage's wood installation in the hall.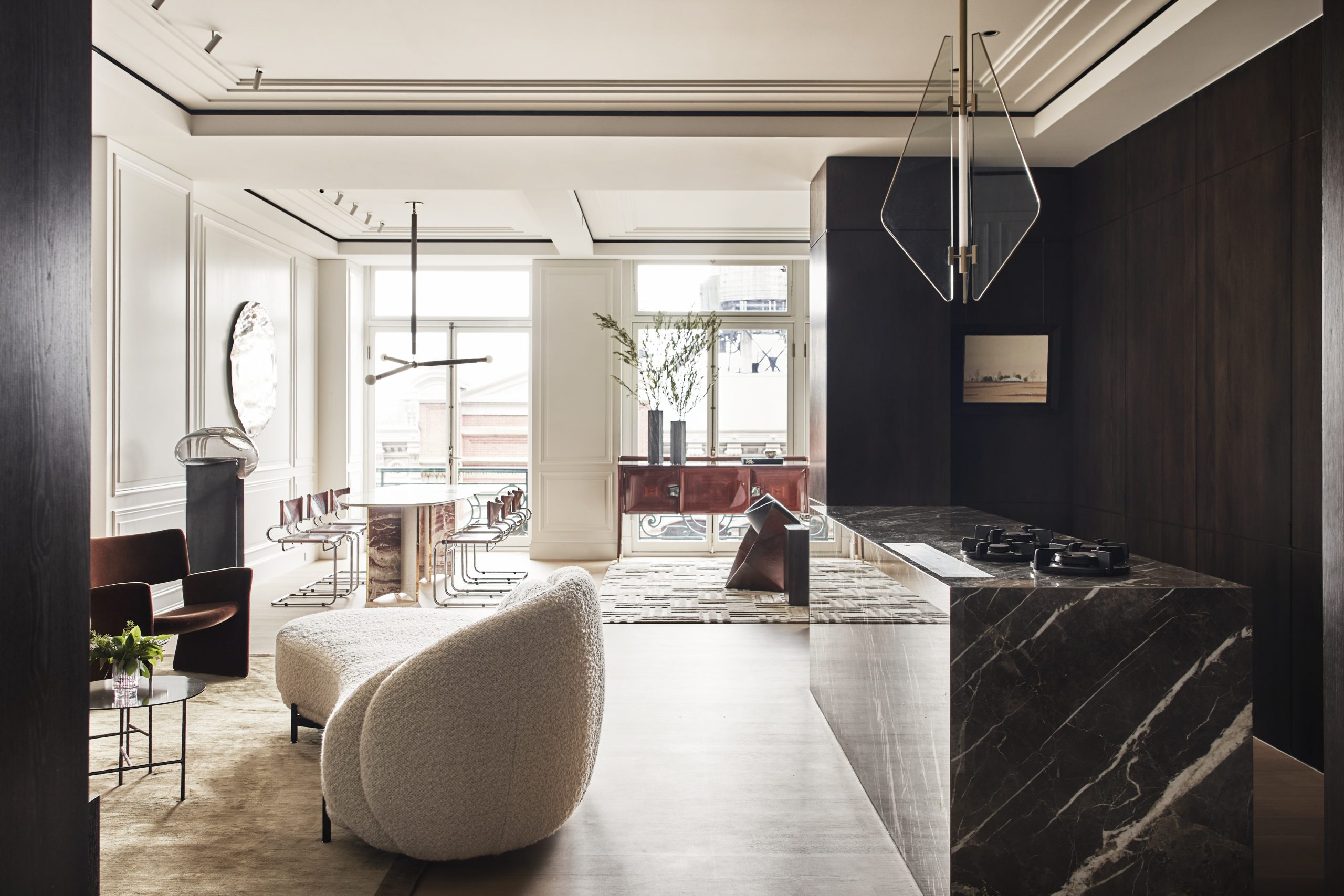 When you are your own client, managing expectations becomes more difficult, as Raymond discovered when he and his attorney husband acquired a dream loft in Soho that not only was expansive and light-filled but also had an old-world air, thanks to its seven sets of French windows opening out to a Juliet-style balcony.
Trying to decide on a decor left him flummoxed. "I like a lot!" he exclaims. Raymond's husband settled the matter when he quipped one day that it would be great to live in the residential version of a Tom Ford showroom.
And so, rather than a "style," Raymond went for more of a "scene," creating an atmosphere of rich, layered, sexy sophistication with millwork in a luscious chocolate-brown-stained oak and walls covered in sumptuous caramel-hued suede.
As a nod to Tom Ford's exquisite men's suits, Raymond outfitted the living room with a pair of armchairs upholstered in a plaid suiting material and a geometric-patterned cut-wool and silk rug. He counterposed that manly formality with a curvaceous Philippe Hurel sofa upholstered in a black-cream-and-sand speckled wool-and-linen jacquard.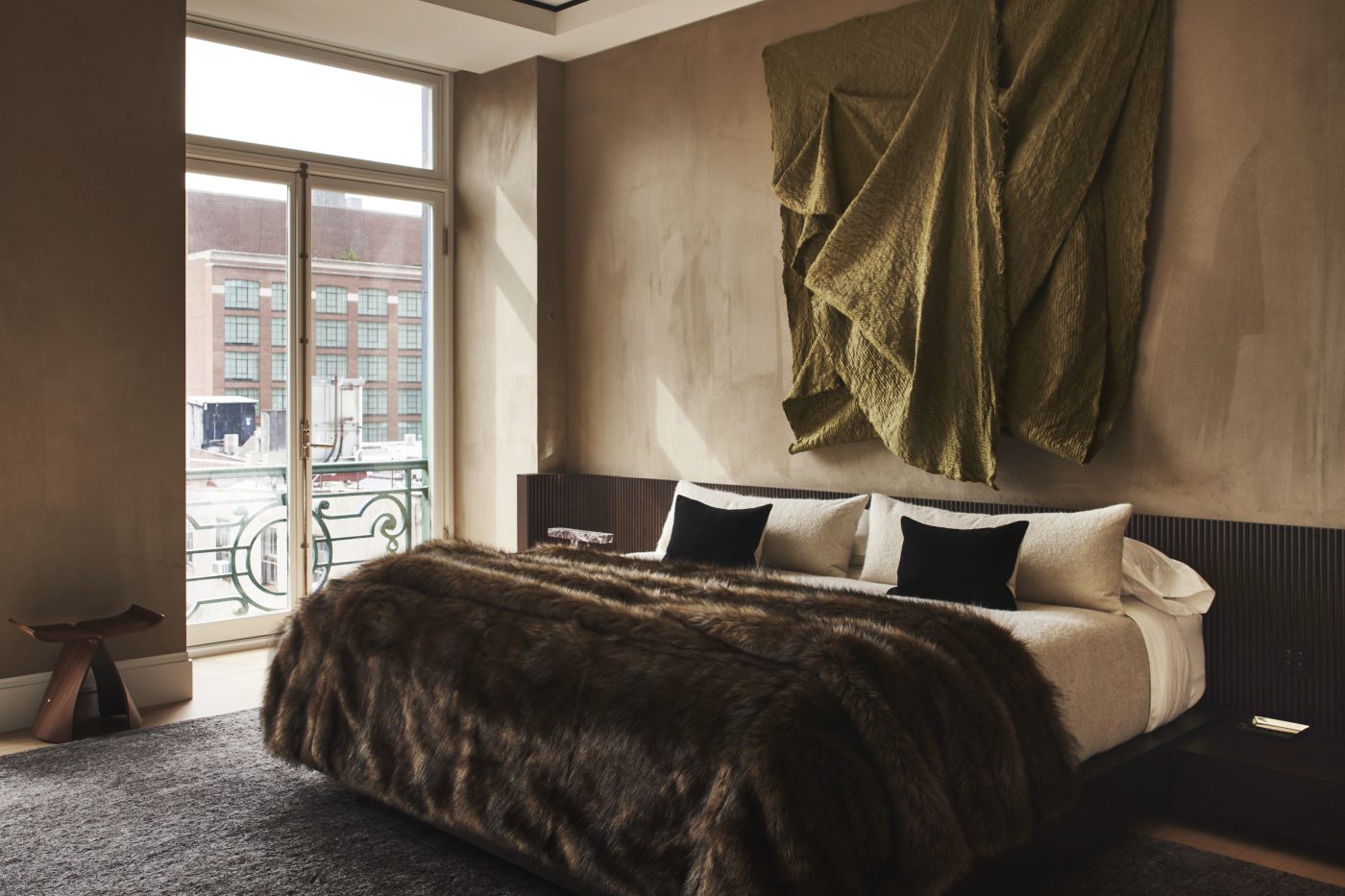 Similar plays of duality are in evidence throughout the loft, which Raymond laid out with one space opening onto another for easy entertaining of large groups. It's even how he designed the kitchen. When the couple hosts large parties, it disappears behind accordion doors, with only the kitchen island, a monolithic slab of Grigio Collemandina marble, visible. And a custom piece of millwork placed over the stovetop transforms the entire island into a super-glam bar — proof positive that Todd Raymond remains an ace at high-end hospitality.