If you haven't yet heard of the interior designer Summer Thornton, take note. This stylish 34-year-old is one creative powerhouse on the rise. Her signature look, which she refers to as "cultured irreverence," mixes traditional design with fresh accents and a soupçon of whimsy, and it has already established her as a star in Chicago, where her design firm is based in the posh North Side neighborhood of Lincoln Park. With major projects either completed or nearing completion in points north and south (Telluride, Colorado; Tuxedo Road, in Atlanta; and the Highland Park neighborhood of Dallas) and interiors featured in an assortment of shelter magazines, her reputation is growing. Young as she is, Thornton is already a veteran of the trade, having established her firm at 24. And she radiates the drive, assurance and élan of a pro at the top of her game — doing what she was meant to do and loving every minute.
Her business is also the focus of her husband, Josh, who wears many hats within the firm, ably handling the publicity and marketing, as well as the administration, in addition to documenting many of Summer's projects with magazine-caliber photography. In the years to come, the designer wouldn't be surprised if a new generation of Thorntons joins the family business. The mother of a four-year-old girl and baby boy, she wryly notes that her daughter is "a boss already, and I'm sure one day will be running this place!"
Like many other successful designers, Thornton says she became "obsessed" with decorating in her early teens and was fortunate enough to have indulgent parents who let her experiment with different decorative looks in her bedroom and bathroom in their rural north central Illinois home. She cringes now when she recalls her initial love of spaces in which everything matched. But living out in the boonies, how was she to know? Her design education came through magazines and books on design. "By reading everything I could get my hands on," she says, she outgrew her naive aesthetic and drew inspiration from all kinds of designers.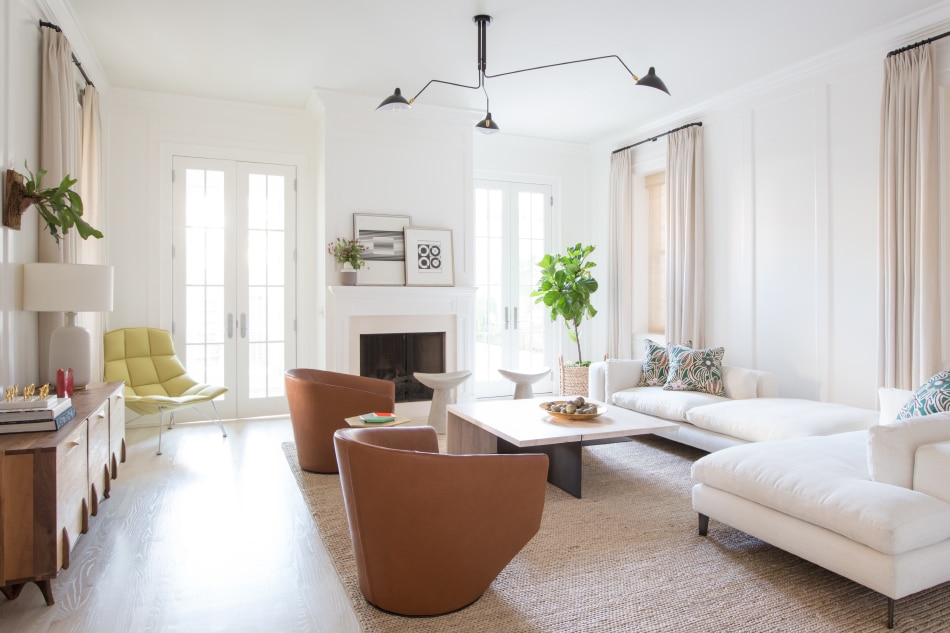 Today, she continues her visual education through frequent globe-trotting. It "opens my mind to new ideas," she says. "I see new patterns, new color combinations, new ideas that aren't as prevalent in U.S. culture or even the present time period. I am not inspired by the everyday. Instead, I am inspired by the fantastical!" Her recent travels have included Argentina, France, Italy, Russia, India and Thailand, where the fabulous mosaic tiles and hand-painted hallways in the Grand Palace in Bangkok made a big impression.
She is unabashed in her enthusiasm for decorating and helping others refine their taste, and her evangelizing bubbles beyond the work of her bustling firm, in her urbane design blog on her website. Here, she regularly shares her inspirations with fans, while demonstrating how she channels those influences into her own distinctive environments.
When asked which designers she most admires, she's quite specific about preferring those who "are really building a story with their work and not just creating a look." She cites, in particular, Studio Peregalli, "whose work is completely romantic and over-the-top in the best way"; Jacques Grange, "whose projects have an effortless glamour and always seem tailored to his client"; and Nicky Haslam, "who has this way of being old-fashioned and avant-garde at the same time."
---
Thornton radiates the drive, assurance and élan of a pro at the top of her game — doing what she was meant to do and loving every minute.
---
Looking at Thornton's work, you can see how her appreciation for these masters guides her, in the romance and allure that's everywhere in her rooms and in the concern she shows for making sure each design suits the needs and aspirations of her client. For example, for one young couple from the West Coast who wanted a Chicago perch with a California vibe, she created a sunny white home, outfitting it with vintage modern and contemporary furniture in natural materials and adding controlled splashes of color. It is far more minimalist than her personal aesthetic, yet she still managed to endow it with her own breezy glamour.
More in keeping with her own more traditional, yet quirky, style is a townhouse she decorated in Lincoln Park for a young family she describes as "rambunctious, glamorous and bold." That home takes its cues from Wes Anderson's The Royal Tenenbaums. The young, bold matriarch suggested the film as a jumping-off point, and so Thornton orchestrated a home that is as richly kooky as it is supremely chic. Like the house in the film, it has a foyer and main staircase with salmon-colored walls bedecked with colorful and offbeat artwork and tchotchkes. But by running a black-and-white stripped carpet up the stairs, Thornton gave the space some real pizzazz. She went for an even more daring effect in the master bath, where a platinum chinoiserie wallpaper lines the walls and two gilded Hollywood Regency dressers serve as vanities. She countered this look of ladylike luxury with a floor painted in a graphic pattern of black, white and vibrant green, which she appropriated from the print of a contemporary fabric. It's utterly disjunctive, yet it works.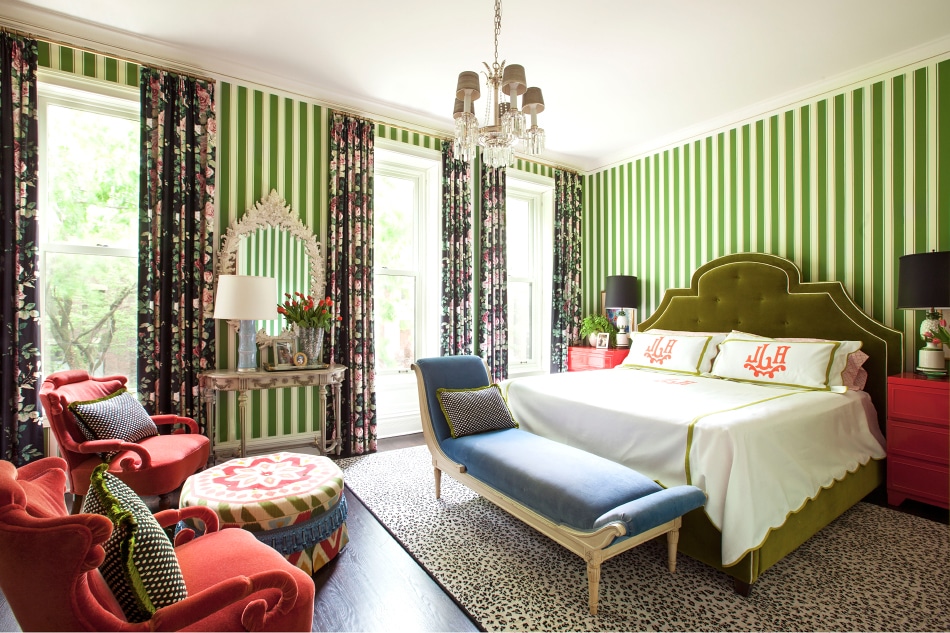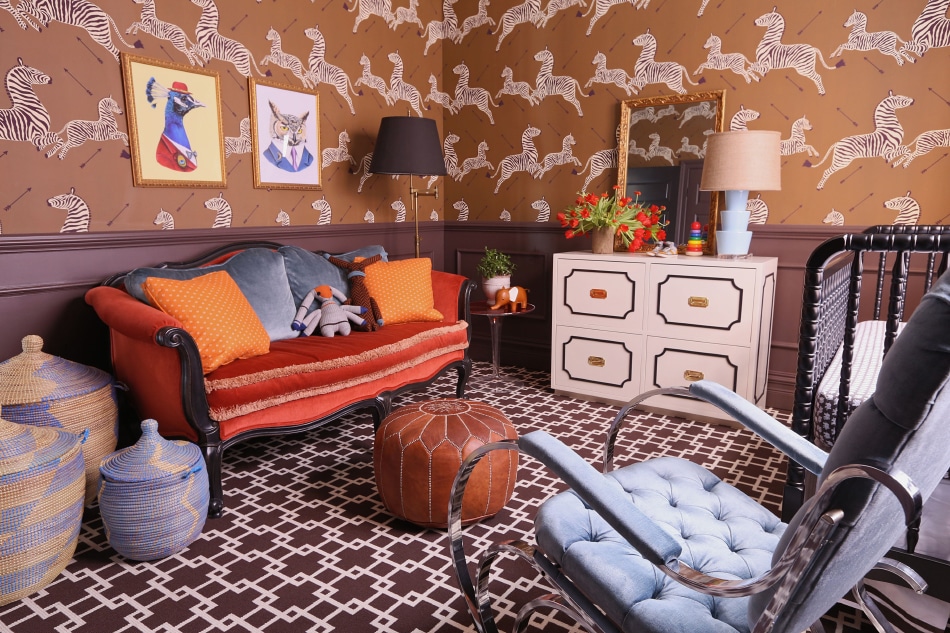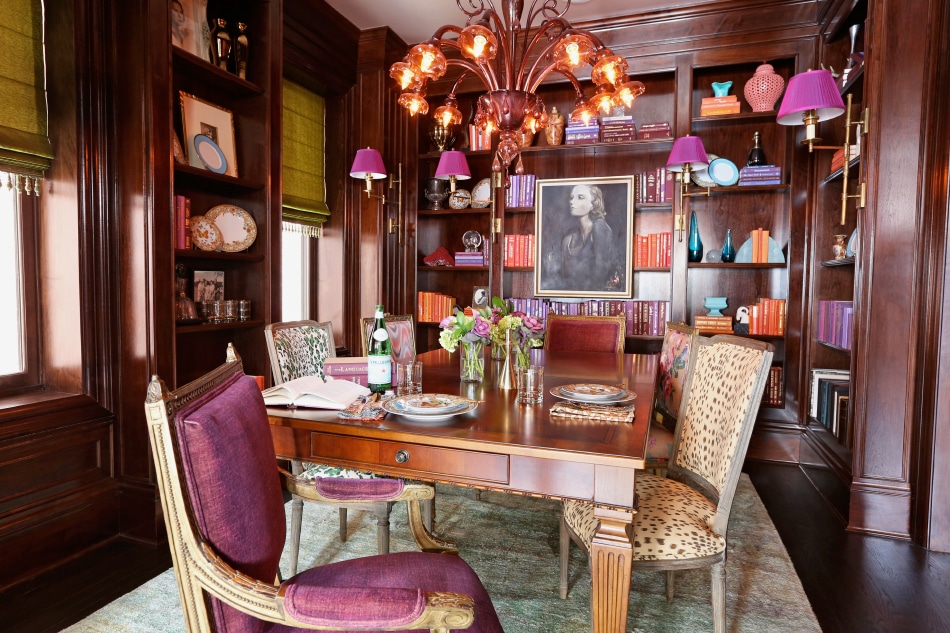 In a similarly gutsy move, she covered the sitting room ceiling of a handsome historic Tudor house in the ritzy Chicago suburb of Wilmette with a Piet Mondrian–inspired gridded wallpaper. For the room's palette, she chose a distinctly non–De Stijl pastel blue to pair with black and white, and she furnished it with a mix of plush upholstered mid-century pieces for a mash-up look of Italian 1970s glam and '30s Parisian sophistication.
Although polished feminine decors come naturally to Thornton, she's proved herself just as capable of creating tailored masculine environments. A bachelor friend of her husband's who'd acquired a fairy-tale pretty 1920s French Tudor in Bloomington, Illinois, asked her to make the interior more modern, manly and open while endowing it with architectural character, which it had lost over the years. She eagerly obliged, again limiting her usually vibrant palette of wall colors to white and choosing only varied neutral tones for the upholstery. To provide the architectural interest he sought, she selected an array of rugged, earthy and what she describes as "honest" materials. Unfinished hundred-year-old reclaimed oak in a herringbone pattern covers the ground floor, for example, and she installed steel-frame doors and old-fashioned square window panes. A spare neoclassical Nero marble mantel surrounds the fireplace in the living room. Already planning a trip to Buenos Aires with a stop at the celebrated San Telmo flea market, she and Josh convinced their friend to come along and do some shopping. There, he acquired a few additional treasures with which to enhance the rooms.
Drawing on her travel experiences, as she so often does, Summer is evoking Russian folk motifs in a canyon house she is currently decorating in Telluride. "Lots of reds and beautiful, layered patterns," she enthuses. She's also furnishing her own 1870s Chicago townhouse, aiming for an effect that "will drip romance and a sort of worn-in style reminiscent of New Orleans," her most recent destination. Who knows — Summer Thornton may well bring about a Southern Victorian revival.
---
Summer Thornton's Quick Picks on 1stdibs