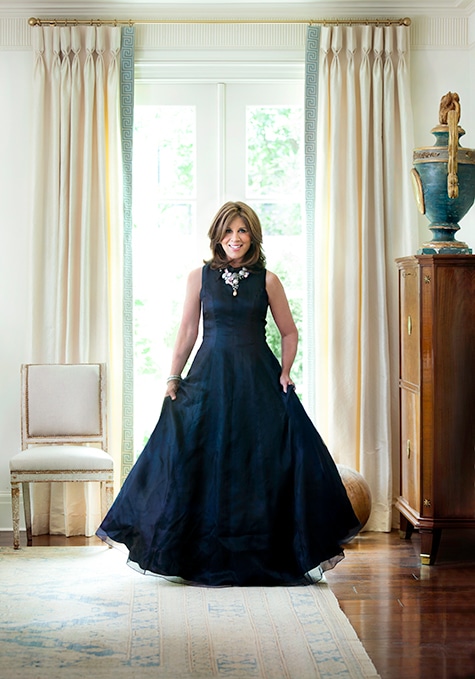 There's something ineffably comforting about a Suzanne Kasler interior. "People feel good in my spaces, and they're not sure why," Kasler admits being told more than once. It certainly has something to do with their grounding in 18th- and 19th-century classicism, which creates a familiar, reassuring sense of tradition. Yet because she deploys it with a light hand — mixing in modern pieces and leaving space around objects to achieve an uncluttered airiness — her rooms are finely finished while sidestepping overbearing formality. They invite relaxation.
Her clients' ease also has enormously to do with Kasler's soothing palette. Although she's been known to punctuate spaces with strong color — a rich grayish blue on chairs, drapes and the ceiling of her Atlanta show house dining room; navy lacquer cabinetry in a Maine kitchen; raspberry walls in a bedroom at the Smoky Mountain resort Blackberry Farm — more commonly she favors the entire spectrum of ivories and creams accented by the strategic use of soft shades, such as pale pinks and blues, lavenders and celadon.
She also creates a sense of reassuring constancy by deftly manipulating the way color progresses from room to room.Throughout the interiors of a Nashville home, for instance, Kasler subtly modulated a variegated palette of blues and purples. She introduced a pale powdery blue in the entry, then moved to a deeper blue on the sofa of the living room, where she also insinuated lilac toss pillows and a purple-tinged blue armchair. By the time the dining room is reached, she has laid the groundwork for the explosion of lush plum shades on drapes and dining chairs.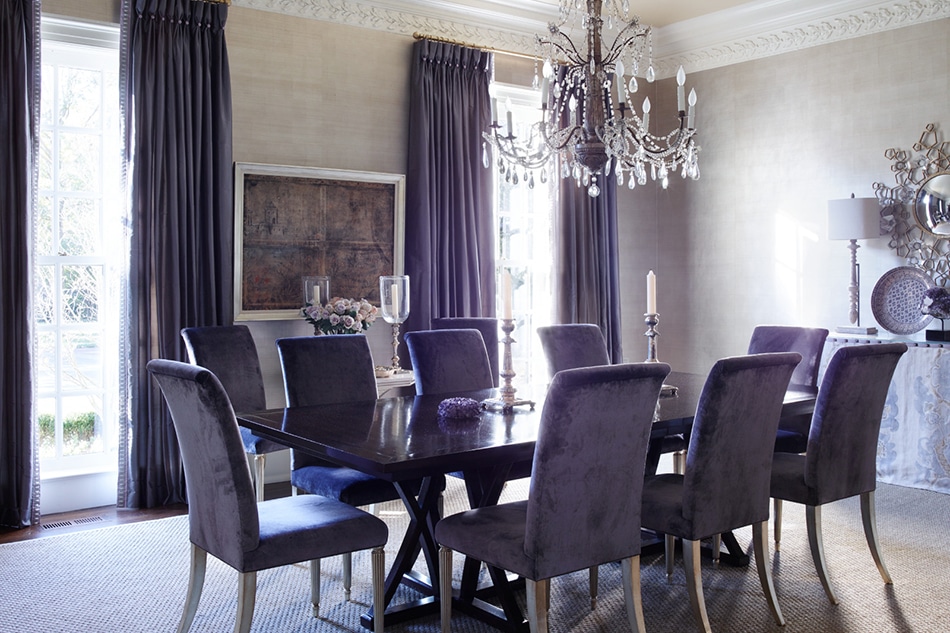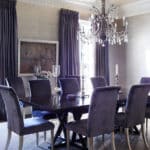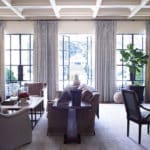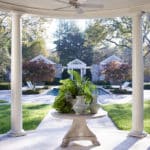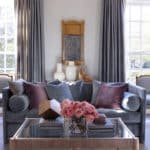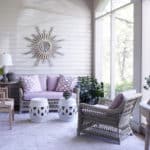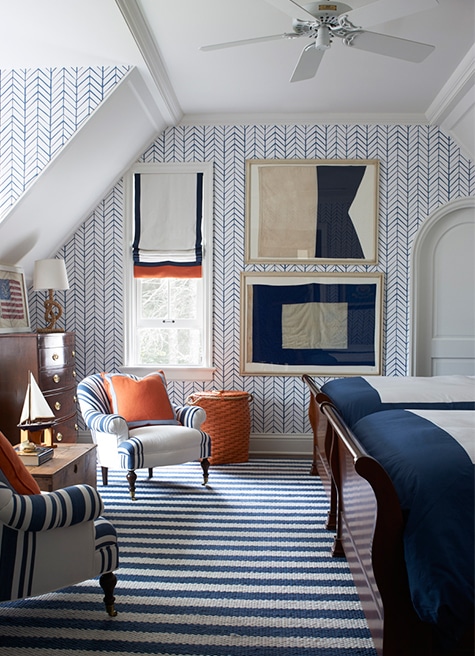 Another comforting element pervades Kasler's interiors that has nothing to do with interior design. That is Kasler's own unpretentious, sunny personality. She manages to infuse her interiors with her own upbeat approach to life, so that they are experienced as bright, quietly spirited and welcoming — like her. Kasler attributes her perpetually genial attitude to her parents. "Regardless of what happened, they always had a positive outlook," she says  of her father, James, and  mother, Martha. "We went through a lot of difficult times, but they always looked forward."
Kasler was born in Waco, Texas, and grew up primarily in Indianapolis, which she considers home. But as the child — along with siblings James and Nanette — of a serviceman, upheaval was frequent. "In my mind, I could see creating ideal spaces to live in," she says. That may be what propelled her, after initial liberal arts studies at Butler University in Indianapolis, to transfer to the University of Cincinnati's College of Design, Art, Architecture and Planning, where she earned her Bachelor's degree in interior architecture and design.
Kasler established a commercial practice in Indianapolis in the 1980s designing offices for law firms and companies like IBM. This brought her into contact with the office furniture behemoth Steelcase, where she met her husband, John Morris, a marketing executive for the firm. Residential commissions for many prominent Indiana families also came through a small interior design shop she ran in the city.
In 1991, Morris was transferred to Atlanta. Kasler went with him, continuing to undertake projects in Indianapolis while seeking work with firms in her new home as well. But since she already had an impressive portfolio, she recalls, "all the designers I interviewed with kept saying how I should really be on my own." In 1995, she took their advice and hung out her shingle. "I decided to focus on residential interiors, doing only a few projects at a time because Alexandra [her first daughter] was still small," Kasler says.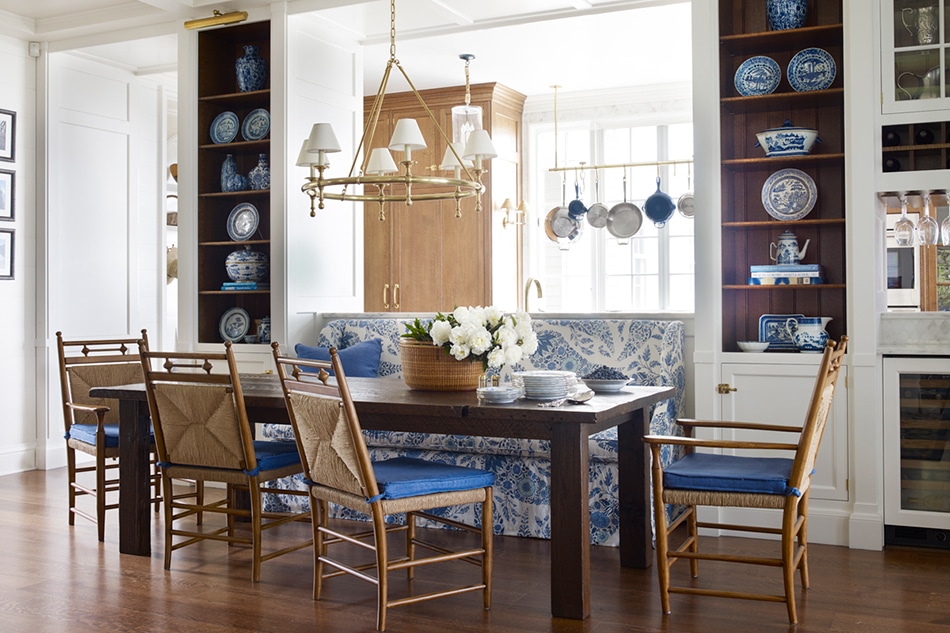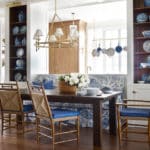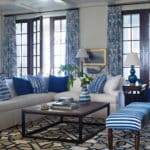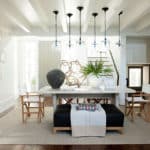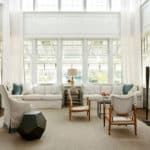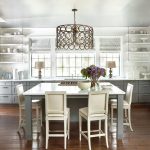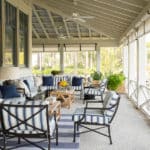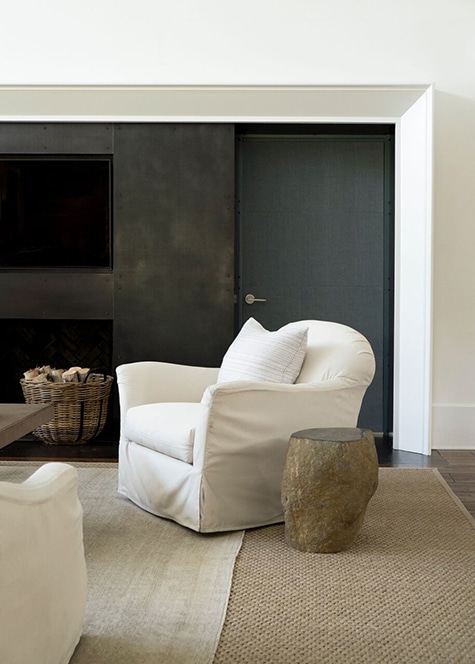 She now runs a 10-person office, working on 12 to 15 projects simultaneously and juggling interiors and product design (as well as publishing two monographs with Rizzoli, in 2009 and 2013). Nevertheless, her business in many respects is still the same. "I don't want to be any bigger because I want to remain involved in design," she says. "I love design and creating."
These days, Kasler seems everywhere at once. She enjoys copious press coverage and has won numerous awards, as well as a devoted clientele for her Atlanta-based firm. In addition, few designers are as active in licensing as she. For example, last January, La Cornue unveiled of an array of custom colors the firm developed with Kasler for its famous enamel stoves. Among the many endeavors she is engaged in currently are a third collection for Hickory Chair Furniture (the original debuted in 2008), with 30 new pieces due out in spring 2018, and new fabric and trim designs to be launched simultaneously for the collection she began with Lee Jofa in 2011. Each season she adds new items to her already extensive home decor lines for the Ballard Designs catalogue (a white outdoor collection debuts this spring), as well as lighting for Visual Comfort (fall 2017 and spring 2018). In fall 2018, Kasler's third book for Rizzoli will be published.
"It's all about being in the moment," she says, "and at the same time having a vision for moving forward." As for her interior design work, she believes "the key to staying relevant is to evolve, embrace change. My interiors are becoming more and more edited. That seems to be what everyone is responding to."
---
Suzanne Kasler's Quick Picks On 1stdibs