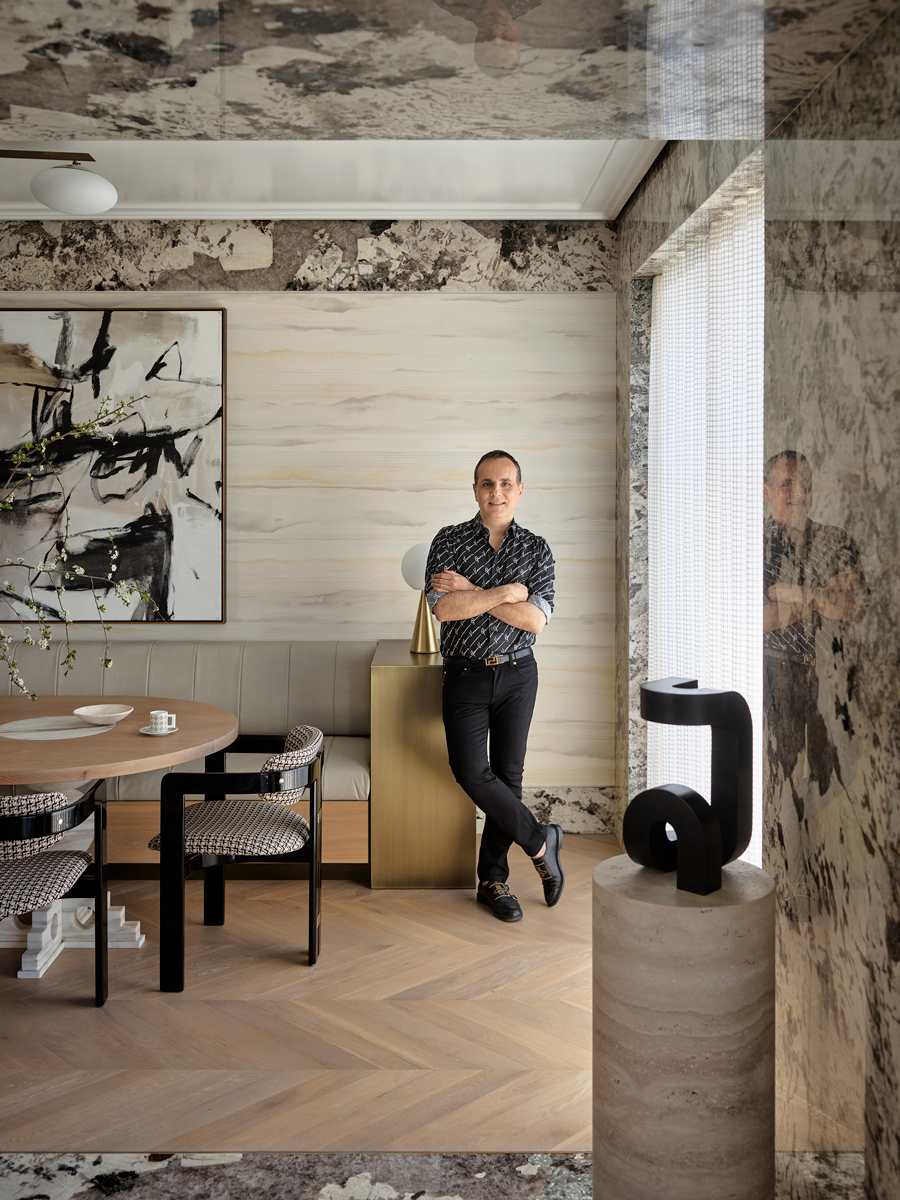 October 23, 2022A house featuring 28 types of stone already says a lot about its creator's meticulous approach. But walking through the Sydney harborside residence with designer Greg Natale, hearing why he incorporated each particular stone, reveals so much more.
Whether it's a room framed by granite beams in a nod to Italian rationalism or an outdoor marble sculpture in the brutalist style, the use of stone says as much about Natale's inspirations as it does about his inspired way with materials.
The four-story, five-bedroom house, located in the exclusive Sydney suburb of Mosman, appears in The Layered Interior, Natale's new book from Rizzoli, and it is a spectacular example of its titular subject.
For Natale, layering is the key to creating warm, welcoming and meaningful designs. "It gives a room personality, intimacy and lasting appeal," he writes in the volume's introduction. "I believe the test of a successful interior is the considered application of its layers."
Since starting his eponymous business 21 years ago, the award-winning Australian designer has become known for his bold use of color and pattern and has won particular plaudits for the way he layers these as part of a highly tailored and curated process.
Having worked with him on the writing of all three of his books, I know that to experience a Greg Natale interior is to be immersed in a world of rich hues, robust lines and enticing textures. Behind his designs lie the influences of modernism and postmodernism, as well as those of his own Italian heritage, plus an abiding love of art and a certain wanderlust.
It was a recent trip to Italy that led to his concept for the Mosman house. "I'd visited the Villa Necchi Campiglio, in Milan, and been captivated by its stone floors and portals," he says. "The blend of pared-back classicism and modernity, of rationalism and ART DECO elements — I wanted to bring this mix to a design that is all about merging the classic with the contemporary."
The oversize bronze-and-glass front doors of the Mosman house recall the villa's grand portals, their effect heightened by patterned marble floors inside and out, in burgundy, pink, green and ivory tones, plus fluted timber walls in the entry.
Tributes to Villa Necchi continue in the granite beams that frame spaces within the home, such as the dining area, where their lines are echoed in an artwork by Antonia Mrljak. Beneath the painting, flanked by Gio Ponti table lamPS, is a monolithic table by Natale that is part of a range of custom creations and vintage pieces by the likes of Cassina and Vladimir Kagan arrayed throughout the house.
For a central courtyard, Natale designed a sculpture that connects to the home's brutalist elements, which include a brass armchair from Galerie Glustin and paneling on bathroom vanities and the kitchen pantry doors.
There are late '70s touches, too — in the sculptural bath of the main suite, inspired by street furniture Natale saw in Southern Italy, and in the striped metal kitchen drawers. "The bar at Studio 54 had metal stripes like these," he points out. "It was fun to bring a little of that look in here."
Born in 1974 to Italian immigrant parents, Natale has long had a fondness for the glamour of the disco era. He grew up fascinated by fashion, design and popular culture, traveling the world vicariously through magazines and television. Natale spent his university years in Sydney studying visual arts, followed by interior design and then architecture.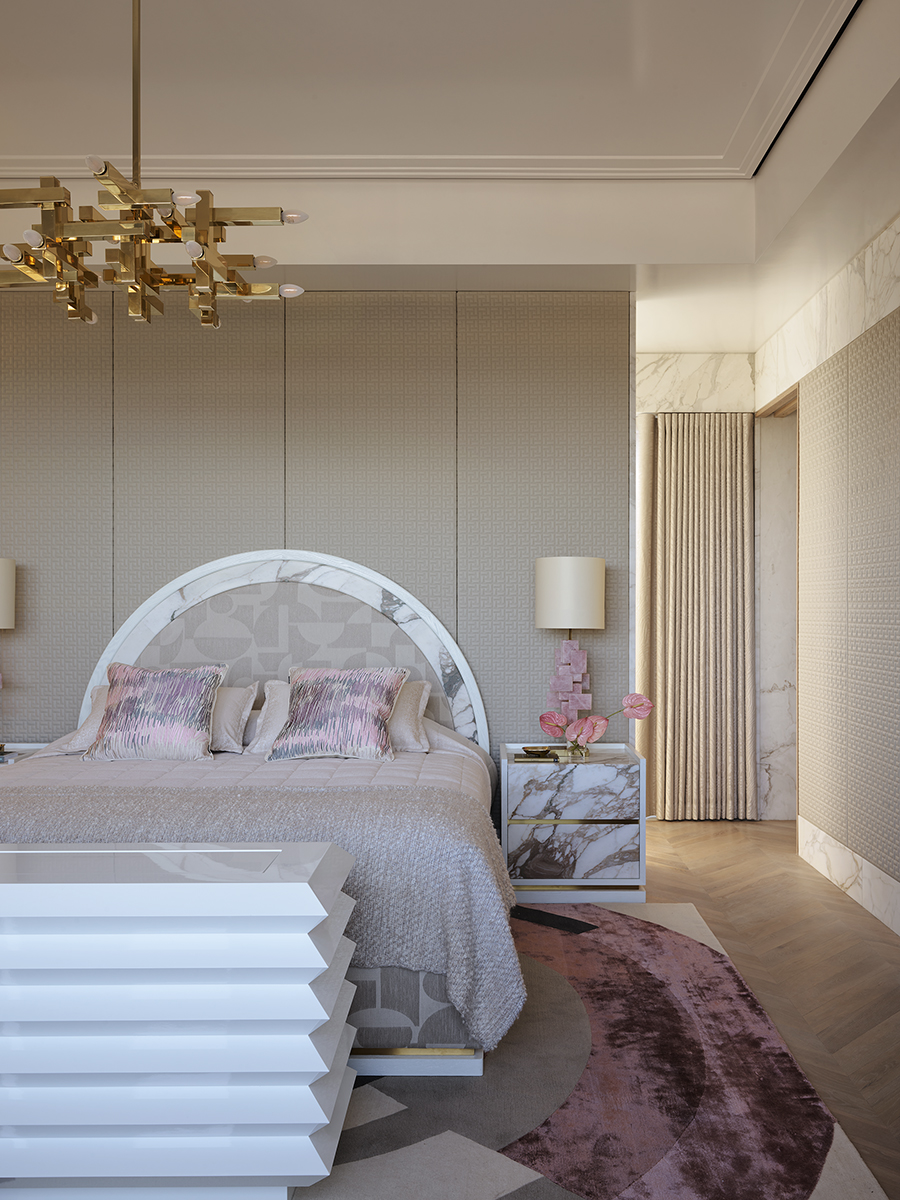 A master of the grand entrance in his own designs, Natale's introduction to the industry was similarly dramatic. Shortly after he launched his firm, in 2001, a sumptuous bedroom he created for his sister — in which he layered custom-colored wallpaper by Florence Broadhurst with matching artwork and linen — gained the attention of local and international publications.
The next two decades saw his business expand and thrive. Natale also embarked on several product collaborations, leading to the start of his own luxury-product business and the opening in 2019 of his flagship store, which he now complements with his 1stDibs storefront.
Presenting eight residences that differ in style yet are united by his detailed approach, The Layered Interior, says Natale, is "the book I always wanted to write, offering the chance to delve deep, to showcase these projects in every intimate detail and every fabulous finish."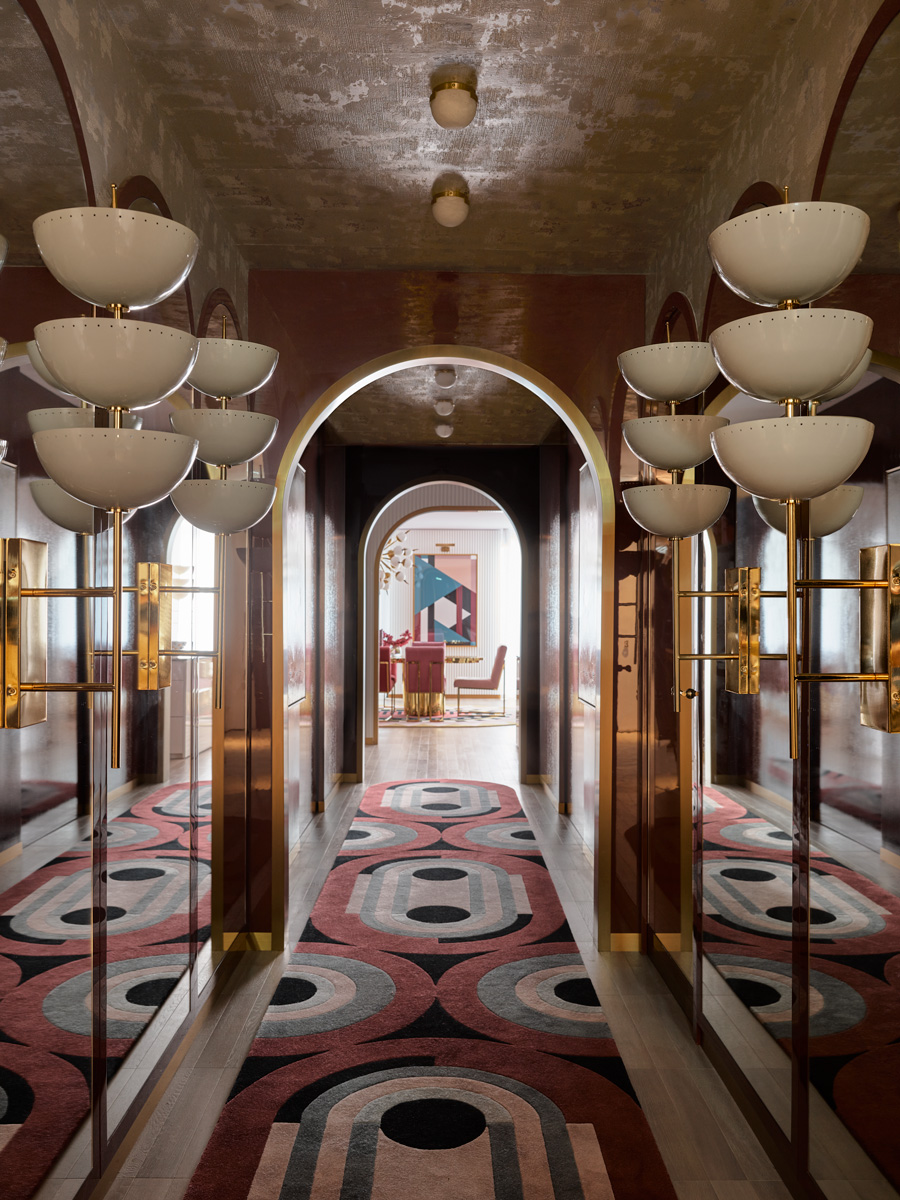 The book's chapter on an apartment he designed in the fashionable Melbourne suburb of Toorak reveals Natale's creative reach — and one of his early aesthetic obsessions. "The owners wanted to transform their white minimalist apartment with pink and burgundy tones, and my mind went straight to the apartment of Alexis Carrington on Dynasty, a show I have always loved."
Inspired also by Parisian architecture, Natale introduced a series of arches as a way of creating separate spaces in the apartment, lining them with brass (the interior is full of gleaming metallic touches, such as a magnificent brass dining table by Boca do Lobo). Lacquered, fluted walls in luscious maroon and white frame sculptural pieces like lights by Kelly Wearstler and Christopher Boots.
Natale had the owners' gorgeous furniture by Jonathan Adler reupholstered to suit the new palette, creating an ombré effect of pink hues in the dining room and postmodernist patterns in the sitting room.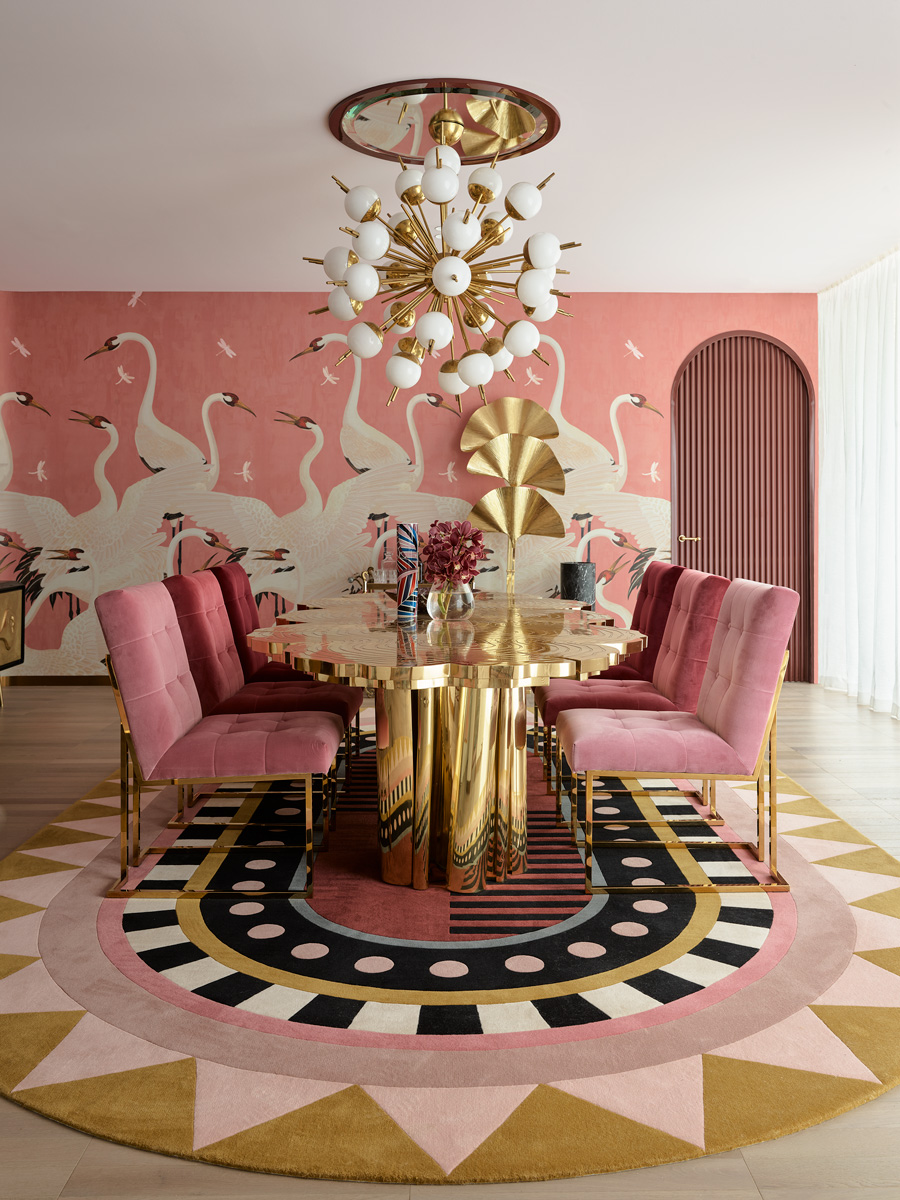 If the arches here evoke Paris, they suggest an Italian mood in another project: a three-story, four-bedroom "modern palazzo" on Queensland's Brisbane River.
"Italians do love an arch," says Natale, whose childhood home was full of them. "I think they create a strong yet sculptural sense of flow. The owners of this house had a deep emotional connection to Italy — they even run an art school in Florence — and I wanted to celebrate that through the layers of design."
The house's interior is defined by a series of arches and vaulted ceilings, finished in velvety gray Venetian plaster that provides a calming textural effect. Between the curves appear tempting glimpses of different spaces, such as the dining room, which features stunning de Gournay wallpaper depicting cranes on a copper and gold background. Here, Eero Saarinen Executive Armless chairs from Knoll offer vibrant contrast in brick-red velvet, a material that continues in pieces elsewhere, including Verner Panton stools in the kitchen, as well as Gio Ponti and vintage Minotti chairs in the formal living room.
Rich hues are among the layers woven throughout the house, but it is the variety of wallpapers that reveals this decorative element's importance to Natale. "I think it is a brilliant way to bring wit and energy to a design." Indeed, Gucci wallpaper introduces more birds in the main bedroom, while Fornasetti prints enliven the walls of several rooms.
It's a long way from the introduction of wallpaper into one modest-sized bedroom twenty-odd years ago — and yet it isn't. In Natale's work, all the layers of his creativity and inspiration come together. As he observes in the book, "Layering extends beyond the tangible to incorporate heritage, meaning, and the language of design."
GREG NATALE'S QUICK PICKS