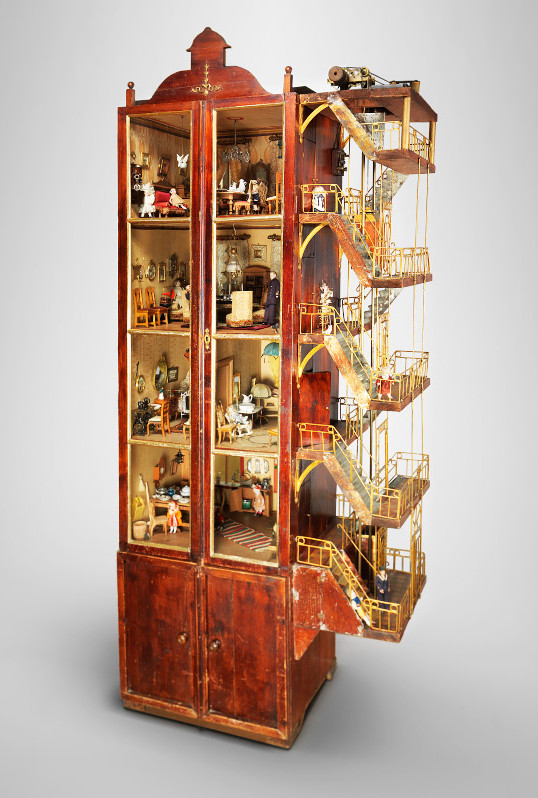 Most little girls can only dream of having a dollhouse like the one that an 18-year-old Swedish fellow named John Carlsson hand-built for his younger sister, Elsa, in 1912. Made from a repurposed display cabinet, it has four stories, a wooden staircase with banisters of gold-painted wire and a functioning elevator created from old pieces of clockwork. A miniature telephone rings when a crank is turned, and every room has electric lighting. The craftsmanship is so fine that it's hard to tell it's handmade.
That dollhouse is one of more than 300 pieces in the exhibition "Swedish Wooden Toys," on view at the Bard Graduate Center Gallery (BGC) in New York through February 28, and in a book with the same title from Yale University Press. Encompassing Swedish examples going back more than 200 years, the show and the book look at the cultural power of toys, a form of naïve art that's often ignored by scholars.
"Toys are small-scale representations of all aspects of human life, from warfare to the day-to-day inner workings of a household," says Peter Pluntky, a Stockholm-based toy and antiques expert who consulted on the exhibition. Swedish wooden toys, he continues, embody farming practices, household chores, transportation, combat, winter sports, games, education and pop culture.
"There's tremendous inventiveness in Swedish wooden toys," says BGC founder and director Susan Weber. Partly, she adds, this is because industrialization happened in Sweden almost a century later than in other European countries, so simple "peasant" crafts had more time to flourish.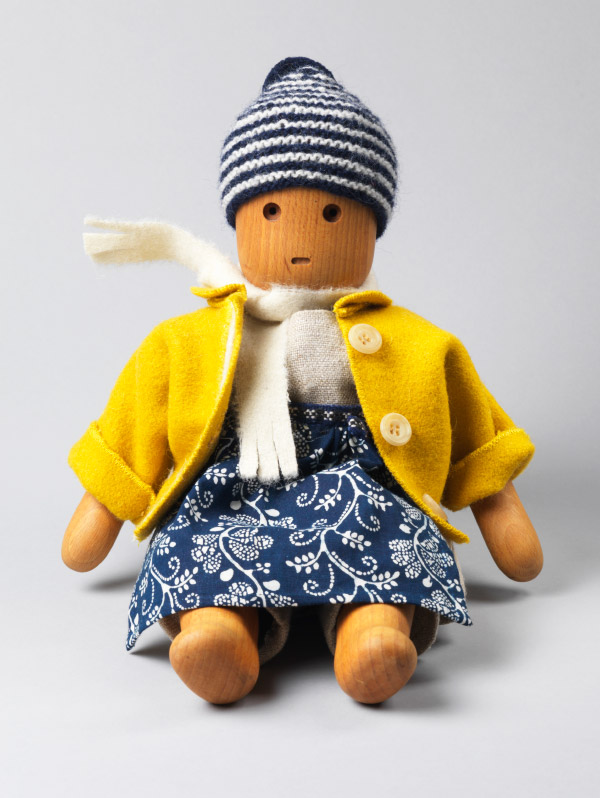 Craft traditions have long been vibrant in Sweden, whose population was primarily rural through the late 1800s. Swedish children grew up learning handicrafts — carpentry, carving, knitting, weaving, sewing — as household skills and used whatever materials were available to make their playthings. A turn-of-the-century wooden goat in the exhibition has horns made out of crayfish claws, which were probably left over from the family's dinner. An impressive suspension-bridge bookshelf with four towers, from 1925, was built using instructions found in the popular family magazine Allérs. Carl Larsson's 1906 children's book The Heritage of the Spade: My Little Farm, an idyllic portrait of agrarian life in Sweden, shows children playing with livestock figurines fashioned out of pine cones and twigs.
In spite of the fact that Sweden faced widespread famine and crippling poverty in the 19th century, "these toys, like Larsson's book, present a very pure, simple, kind of Disney-esque view of living in the countryside," says Weber. "They're a way of revisiting childhood nostalgia and preserving and documenting the life of children." (A great many such toys did not survive, however; in past centuries they were often discarded or burned as kindling.)
In the mid-19th century, crafts, or slöjd, started to be taught in schools, to help children learn skills like attention to detail, self-reliance, problem solving and discipline. The courses were also intended to preserve Sweden's traditions in the face of modernization, and working with wood, which was plentiful, was a particular focus. As Sweden began to modernize, "there was a renewed confidence, a growing nationalism and a romantic embrace of the countryside and Swedish identity," Weber says.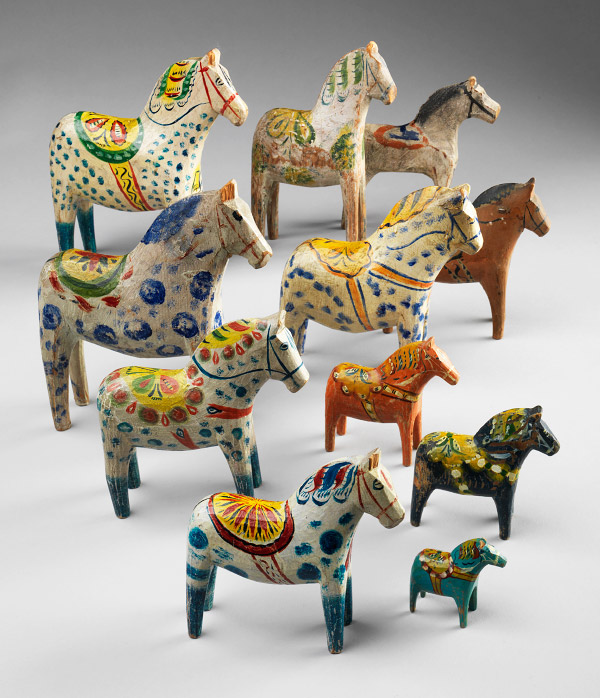 Horses are perhaps the most iconic motif in Swedish toys: They were sacred symbols going back to Viking times and were a key part of rural life. Carved and decorated wooden horses from the central province of Dalarna, known as Dala horses, became common souvenirs beginning in the mid-1800s. They were often painted red, with bright floral embellishments. A wooden horse was an early offering from Brio, which is now known internationally for its wooden train sets and remains a leading maker of wooden toys.
Rocking horses, such as those offered by 1stdibs dealers Cupboards & Roses Swedish Antiques and C'est La Vie, were popular in both upper- and middle-class homes in the 19th century and were bestsellers for the Swedish toy manufacturer Gemla, which even used a horse in its logo. In the 1930s, Dala horses became Swedish national symbols when they were prominently displayed at several world's fairs. In the 20th century, Nils Olsson continued the tradition, and horses show up in the ceramic sculptures of Swedish artists Stig Lindberg and Lisa Larson.
Earlier this year, the Malmö-based Brio was sold to the German puzzle and game company Ravensburger, marking "the end of the toy industry in Sweden as we know it," Weber says. Nevertheless, although the manufacturing is now done in Asia, Sweden remains a leader when it comes to innovative toy design. The contemporary toys, several of which are included in the show, are informed by history. Swedish children's accessories company Leka reimagined the Dala horse in 2005 as a colorful Trojan horse whose body is a box in which to keep a little something hidden. Simple wooden car toys by Gemla undoubtedly served as inspiration for Ulf Hanses's curved, minimalistic Streamliner Rally car, which Swedish toymaker Playsam introduced in 1984; it became such a beloved design that it was featured on a national stamp. Playsam also produces dollhouses like those of the 19th century, although its 2008 version was monochromatic where the earlier ones were ornate and colorful, and its super-simple dolls resemble the Pixar character Wall-E.
The designs have changed, but the intention remains the same — which perhaps explains why wooden toys are status symbols for aesthetically minded parents today. Simple, high-quality toys that leave room for children to use their imaginations are, as Weber says, "timeless."
---
Shop Swedish Horse Figures on 1stdibs