For the better part of three decades, anyone looking for Sylvie Corbelin on a weekend afternoon has only had to arrive at the door of her eponymous jewelry boutique in Paris. Ensconced in a serene, leafy corner of the Paul Bert flea market, the qualities of its discreet location — an insiders' secret bursting with imagination and only able to accommodate a few patrons at a time — is a fitting analogue for her jewelry. Her audacious pieces are whimsical, worldly expressions of a true creative vision.
Even before she hung out her shingle, Corbelin had been groomed for the business of buying and selling rarities. She had started working with her antiques dealer mother by the time she was 10. "It was a bohemian way of doing things," says Corbelin. "I realize this has been my work for my whole life."
She describes her first job after leaving home in poetically Gallic terms: aventurière. Corbelin set out from her hometown in the rural Bresse region of eastern France and — true to her self-bestowed title — began a whirlwind adventure. Her travels took her across the United States, South America, Europe and Asia. She supported herself by applying the skills she learned trailing her mother through vintage fairs. "When I traveled, I would find an interesting piece and then sell it to another dealer," explains Corbelin. "The thing that I liked buying most was jewelry."
In 1985, back in France, she pursued graduate studies in gemology, supplementing her degree with mentoring by veteran jewelry dealers. She credits the latter for her deep knowledge of the trade. "That is how I learned about styles, how to wear jewelry, what people like to wear," she says. "I'm an autodidact. I learned by doing."
When she first opened her doors at the Paul Bert market, she sold antique jewelry and objects sourced from around the world. Her initial foray into design was a personal project — she asked a friend who ran a Parisian jewelry workshop to produce a ring she had designed with an antique cameo. But when she wore it to her antiques shop, it sold immediately. The same thing happened again and again.
In 2006, when her work began garnering attention from French retailers Printemps and Le Bon Marché, she decided to sell her own creations exclusively. Soon enough, her antique jewelry inventory was history.
Corbelin is self-effacing about her design skills but utterly confident about her point of view. "I didn't go to l'École des Beaux-Arts, but I know exactly the volume I want. I know the metals and stones and story I want to tell," she says. In her residence-cum-studio in the Marais district, with her fluffy Pomeranian, Nooshka, always by her side, she drafts precise drawings delineating the placement and measurement of every stone and sliver of gold. She tries, however, to leave room for spontaneity, she says, so that "the result is surprising." And after more than a decade, she still collaborates with the same workshop that produced her very first ring, now expert at interpreting her creative shorthand.
Her intuitive approach translates into a body of work that can't be easily characterized or sorted into neatly organized themes. "It's all one collection — the one that's inside of me," says Corbelin. "I don't follow fashion. I don't follow other people."
Ask what inspires her work, and you're likely to hear about a museum exhibition or receive an exegesis on how jewelry feels on the body: "Jewelry needs to express your emotions. You don't move your hand in the same way when you're wearing a bracelet. It has a sensual relationship with the person who wears it."
Corbelin avoids creating artful follies, jewelry that's beautiful but impractical to wear. Case in point: She spent three years perfecting her 22-karat-gold-plated Jardin necklace, a maximalist wonder topped by a scarab pavéed with rubies amid a scattering of gem-set flowers. The bib-style design went through endless revisions until she was satisfied with the placement of each bloom and the wearability of the completed piece. "All my jewelry is made to be worn. It must be comfortable."
Bohemian Jewels by Sylvie Corbelin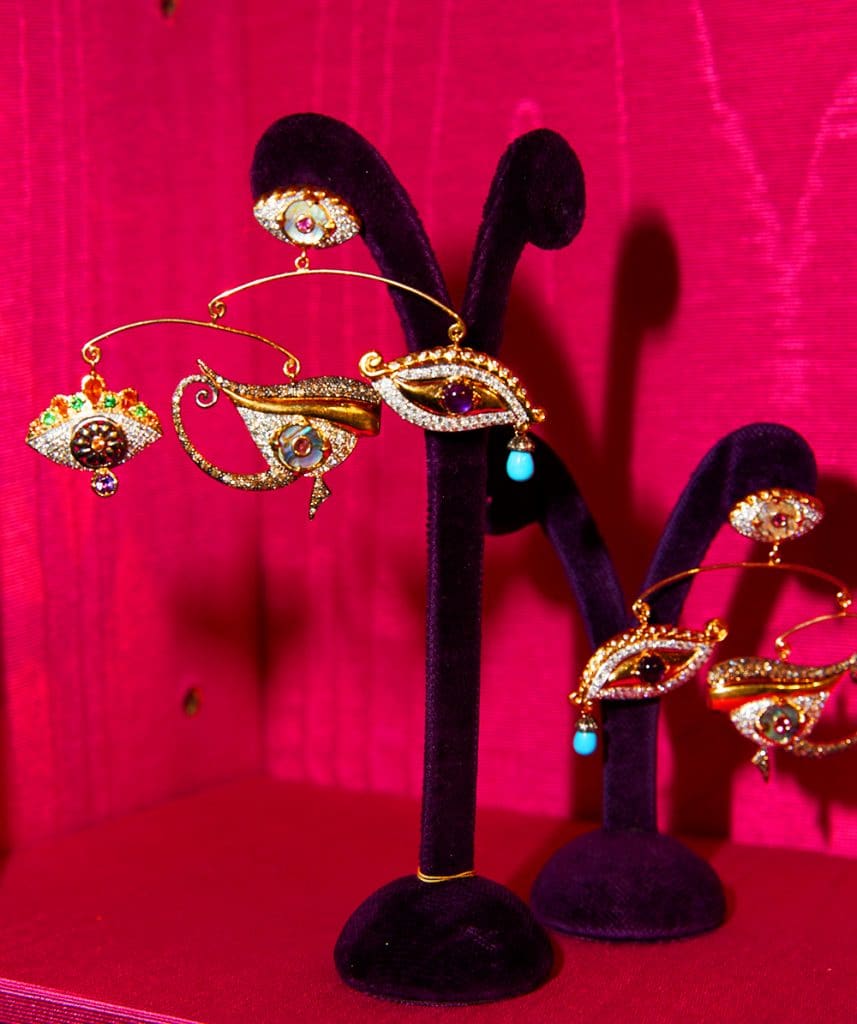 Her protracted creative process keeps Corbelin from producing more than a few new pieces each year — 20 to 30, she estimates, a number that has steadily decreased with time. "I prefer to do less but be more creative," she explains. "Doing new things is what I like." All her pieces are limited-edition or one-of-a-kind. They are impossible to reproduce precisely because of the rare materials used in their construction, like the ring composed of a 17th-century painted opal and a gold bezel studded in a cascade of rubies, diamonds and sapphires, or the ring that is an homage to Klimt and captures the painter's spiraling lines in Japanese lacquer, opals and precious gems.
Still, there are a few motifs and styles that Corbelin revisits often. Gardens and the life found within them — insects, birds, flowers — are a regular source of inspiration. She's enamored of butterflies and has produced a series of brooches composed of genuine butterfly wings encased in resin and mounted in gold to eternally preserve their fragile splendor. Her coiled serpents are fashioned into gold and silver rings and bracelets with blazing diamond eyes. They're powerful and seductive but never aggressive. The designer is attracted to snakes for their transformative quality. Like humans, she says, a snake "sheds something in order to grow."
And she has a specific affinity for earrings. "They're the only jewelry made for other people," she explains. "Earrings make you beautiful for someone else, since the wearer doesn't see them." Corbelin favors oversized styles that dance with the slightest motion. Her Marquise Palace girandole earrings are a signature design that modernizes 18th-century chandelier earrings with a shock of contemporary color — vivid turquoise or citrines in a subtle ombré palette.
After designing her own collection for nearly two decades, Corbelin has a keen sense of her customer. "No one comes to me for big diamonds, rubies and sapphires," she says. "People buy my jewelry because they have an emotional response to it." Like the collectors who avidly pursue her work, she is secure in her own taste. "I please myself," says Corbelin. "I am free."