It's impossible to do anything interesting or innovative without dissent," Jeremy King says, firmly. "If everyone likes everything, you will have failed." King is sitting with his wife, Lauren Gurvich King, in the private bar of the Beaumont, the discreetly elegant, Art Deco–inspired hotel that he and his business partner, Chris Corbin, opened a year ago on a tranquil square in London's Mayfair. The hotel is the most recent chapter in the long Corbin & King narrative; over their 34-year partnership, they have owned and run some of London's most famous and best-loved restaurants, including Le Caprice, the Ivy and J. Sheekey (now all sold), as well as the Wolseley, the Delaunay, Brasserie Zédel, Colbert and Fischer's.
These restaurants, and now the Beaumont, have been magnets for artists, writers, actors, models, rock stars, politicians and tourists alike. And with good reason: Corbin & King's properties combine reliably good food and drink with beautiful, atmospheric decor and — most importantly — A-star service that isn't reserved for the famous. "It's just good manners," King says. "Everyone should feel welcome and that they belong."
Politeness and good manners are perhaps the first things you'll notice about King, who is always impeccably dressed and impeccably courteous. He and Gurvich King, a willowy brunette, met in New York in 2009 on a blind date arranged by mutual friend, hotelier Jeff Klein; by 2010 the New Orleans–born Gurvich King had sold her Los Angeles home and moved to London. She maintained her marketing business for a year before starting to work on projects with King. Today, she works closely with him, tracking down art, lighting, vintage furniture and antiques for his ventures, as well as running her own business, Lauren Gurvich Vintage, sourcing vintage objects for designers.
"It was a rather unexpected career change," Gurvich King says with her lightly Southern accent. After starting out in fashion marketing, she moved to Yahoo when it was just beginning, in 1996. "I was in charge of entertainment and fashion clients," she explains. "We had wonderful training, and it really honed my negotiation skills."
Those skills and her early immersion in Internet culture have been crucial to her work on the Corbin & King properties from the beginning. "Jeremy was about to open the Delaunay, and asked me to help him find some paintings," she says. "It all began there. I'm a nerdy researcher, so I began to hunt for paintings online. He gave me a really clear brief: late nineteenth century, early twentieth century, middle European. I loved it."
A clear brief is characteristic of King, whose lovingly detailed restaurant and hotel interiors are the result of carefully meditated prehistories. The Wolseley and the Delaunay were imagined as grand cafés, in the tradition of Paris, Vienna and Budapest. Zédel is a La Coupole–like brasserie, and the Colbert was conceived as a Parisian boulevard café "opened by a Frenchman on the run from Paris," while Fischer's is a prewar Viennese haunt. All were the product of close collaborations, originally with the late celebrated restaurant designer David Collins and then with Shayne Brady, a senior designer at Collins's firm who has since launched his own.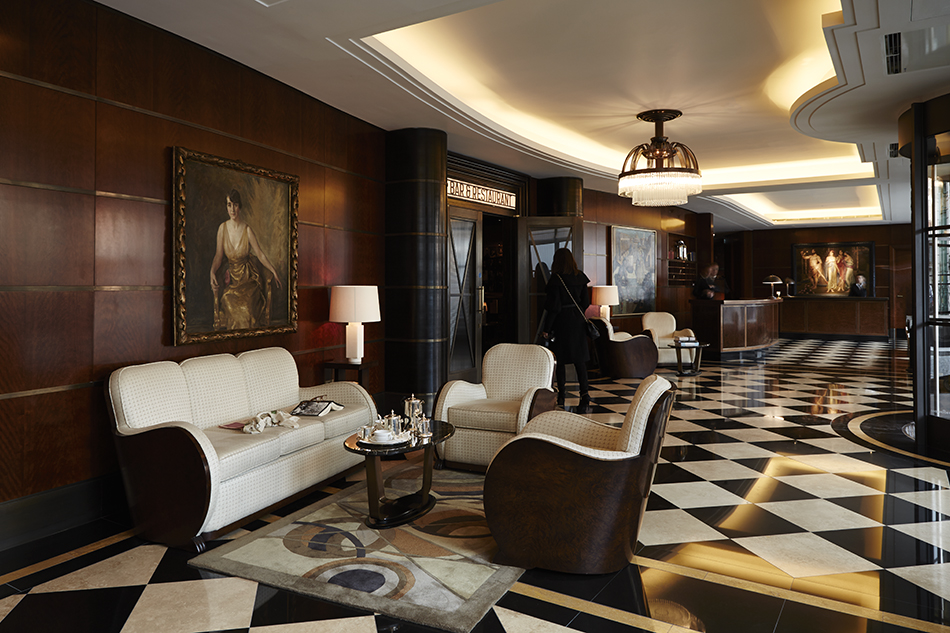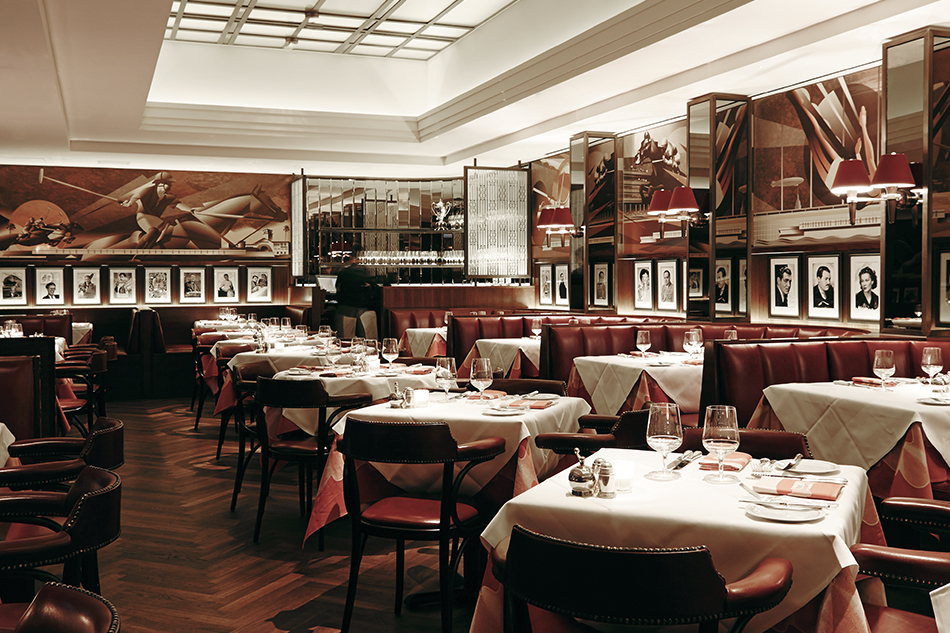 "Everything, and I mean everything, is thought through in these restaurants," says Brady. "I remember when we were doing the Delaunay, Jeremy and Chris imagined themselves in every single seat on the plan, and what they would be looking at." The research for each project is intense. "The way he envisages the detail, from the art on the walls to the font on the menu — that's what marks him apart from the competition," says the accessories designer Anya Hindmarch, who has known King for close to two decades. "He is a restaurateur almost unlike any other."
Although Gurvich King had worked with her husband and Corbin on the Delaunay (named not for the artists Robert and Sonia Delaunay but for the Delaunay Belleville car) and Brasserie Zédel (which she describes as "a treasure hunt, finding trophies, posters and bar accessories"), it was with Fischer's that she moved into a more central role, sourcing vintage lighting as well as art. "We did several trips to Vienna, went to twenty coffee houses and ate a horrible amount of schnitzels," she says. "It was amazing to see how Jeremy creates a project, finding the best glassware, the right plates. At the flea market in Vienna, we found wonderful old photographs, and I sourced beer steins, artworks and really fun taxidermy pieces too, all from Austria."
Then came the Beaumont, the hotel that King and Corbin had long wanted to create. "It seemed like a natural progression, like going from three dimensions to four," King says. "The problem was that we couldn't find a property. Or we would find one and be outbid."
---
"It's just good manners," King says of how he runs his restaurants and hotel. "Everyone should feel welcome and that they belong."
---
Finally, in 2008, they came upon a five-story former parking garage with a heritage-listed Art Deco façade, a stone's throw from Oxford Street. They spent six years  negotiating  market slumps and planning-permission thickets, but last year saw the opening of the 78-room Beaumont, for which King's narrative-shaping gifts really took flight.
"I was lying in bed, sleepless, at four a.m. one morning and panicking because I had to brief the architects and interior designer that day on the layout and aesthetic of the hotel," says King. "I thought, 'It would be so much easier if there were an existing history for the building.' So I got out of bed and wrote one." He came up with the character Jimmy Beaumont, the general manager of a grand New York hotel ("say, the Carlyle") who gets fed up with Prohibition, moves to London and opens a speakeasy-type hangout for expats like Hemingway, Fitzgerald and their cronies.
"Once I had that, I knew exactly how it would work," he says. "The lobby, the layout, the bar and a restaurant that would be like 21 or the Colony in New York."
Gurvich King immediately began to collect lamps, sculptures, barware, furniture — including French and American Art Deco consoles —  and art, like the vintage Marcel Vertes lithographs adorning each landing and a collection of military paintings that allude to Jimmy Beaumont's backstory. "I would say to Lauren, 'We need portraits in this room or lamps in this one,' and she would come back with thirty of whatever it was," King says. "I knew exactly what I wanted, but only when I saw it!"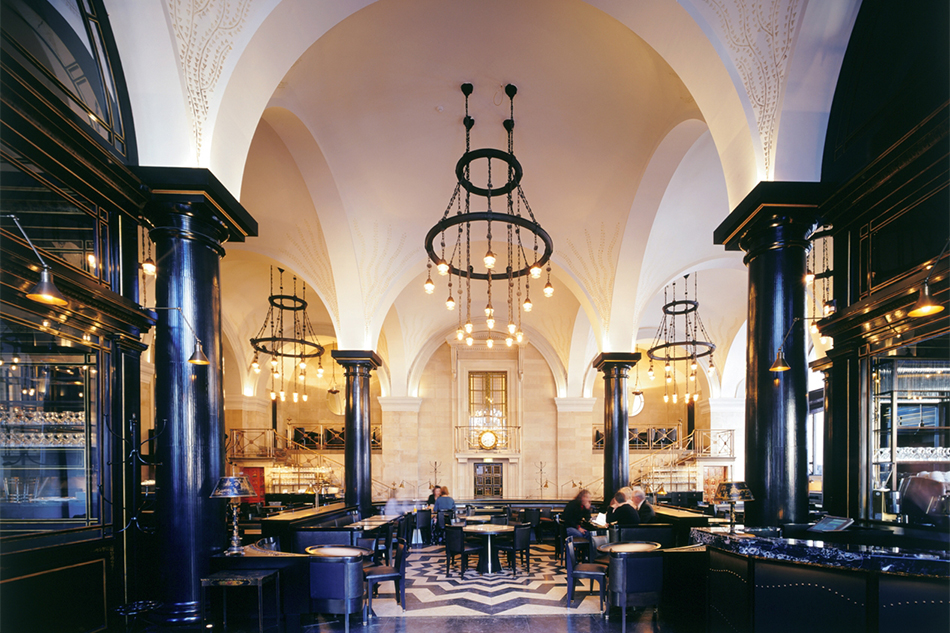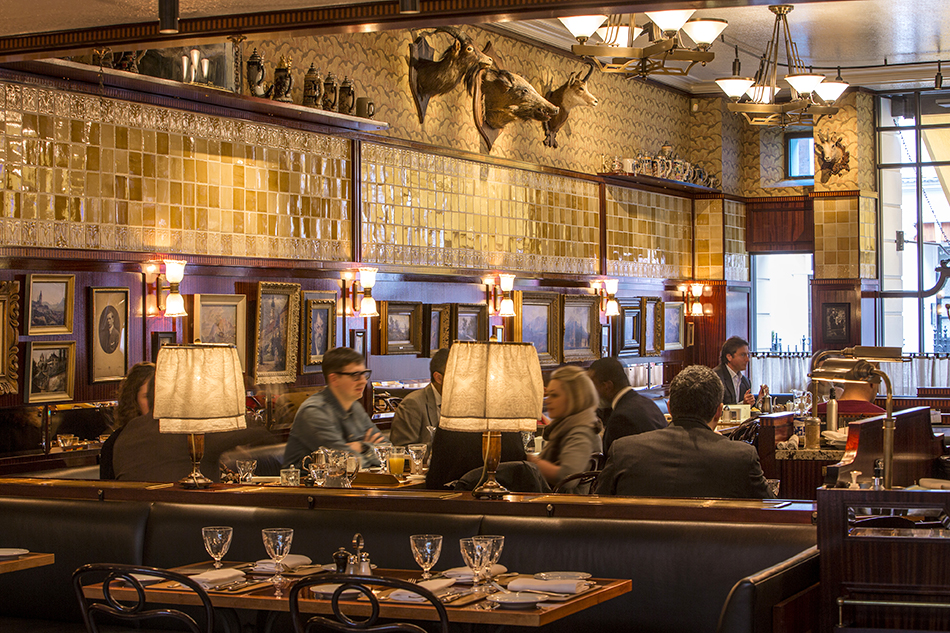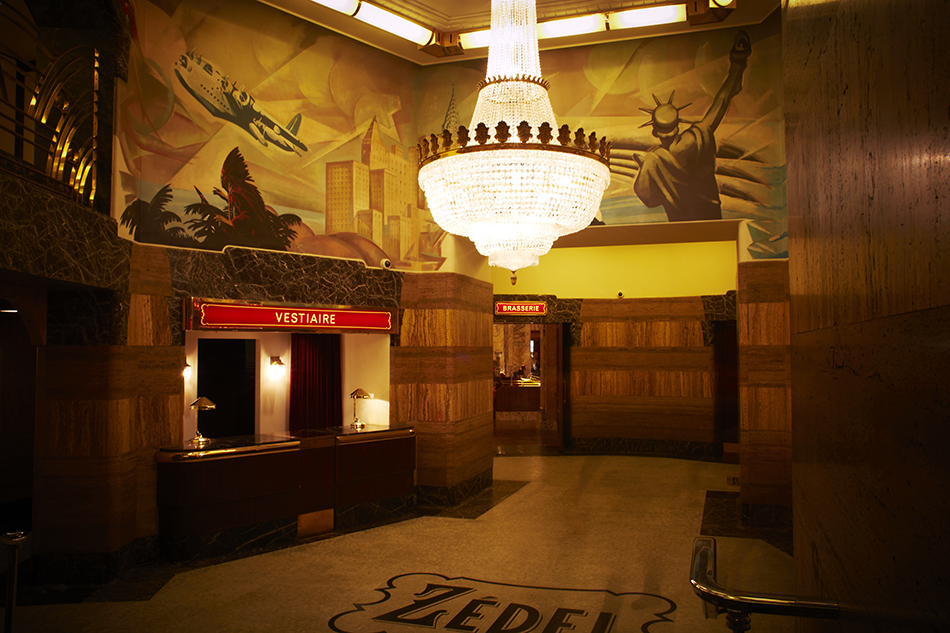 King and Corbin have had a long and close association with the art world, beginning with the Ivy, for which they commissioned artworks from Eduardo Paolozzi, Howard Hodgkin, Bridget Riley and Michael Craig-Martin, among others. Later, Lucien Freud became a regular at the Wolseley and a close friend to King, painting a portrait of him that has since been sold to a private collector. For the Beaumont King asked the sculptor Antony Gormley, an old friend, to create a sculptural rooftop. The cubic steel-and-oak figure, called "ROOM," houses a suite and sits high up on the building, a dramatic contrast to the Deco façade. "When Antony showed me the drawing, I thought, that's not possible," King recounts, explaining that the commission was inspired by a city directive requiring new buildings to have a public art component. "But I'm old enough to wait for twenty-four hours if I'm shocked by something. Then I thought, could we make this work? What could be more like public art than a sculpture one can sleep in?"
King was completely supportive through the difficult process of realizing the work, says Gormley. "I think we've ended up with something really extraordinary. The proof of it for me, is that right in the heart of London, two hundred meters from one of the busiest shopping streets in Britain, we've created a cave of silence without television, without distraction and with a window that looks simply on to the sky. What you have is a quality of darkness, absolute silence and a sense of protection and seclusion that might constitute real luxury."
Next on the menu for the Kings is an Alsatian-style brasserie, Bellanger, to open in Islington in north London in late November. "We don't have a plan or a schedule," says King. "If I get excited by a project, I take it on. It's like the world of design and art: You must do it because you love it, not because it's a good investment."
---
BRING IT HOME
Channel the Beaumont's look with items from 1stdibs handpicked by Lauren Gurvich King