Thomas Woltz does not look like one of the world's most important landscape architects or, for that matter, like much of a garden person. Seated ramrod straight in his Manhattan office and wearing a tailored sport coat, dark jeans rolled at the bottom and polished black boots, he could be mistaken for the head of an advertising agency or the editor of a fashion magazine. But then he raises the back of his wrist to his nose and sniffs. "Ugh," he recoils, rubbing his skin. "I apologize. You can't get this stuff off."
Woltz has just returned from four days in the dry tropical forest of Panama, one of the most threatened areas of tropical ecology in the world. At the beginning of the trip, he and his companions doused themselves with a strong-smelling mix of sulfur powder, tobacco leaves and grain alcohol, an old jungle traveler's trick to avoid being bitten by chiggers and other insects. "It was a vacation," he says of the expedition to study high-canopy plants. "Well, sort of. It was mission-related in that the research might help with a commission, but it's not a current project, so it felt like a break."
Leisure time is an increasingly rare commodity for the 49-year-old principal of Nelson Byrd Woltz Landscape Architects (NBW), a 45-person firm with offices in Virginia and New York. He spends approximately 200 days a year traveling the globe to check on the firm's ongoing commissions and commuting between its two headquarters. His is the unusual practice that takes on, and excels at, residential, corporate and public commissions, although in recent years it has garnered the most attention for the last, notably three works in progress: Centennial Park, in Nashville; Memorial Park, in Houston; and Hudson Yards, on Manhattan's West Side.
The firm has won more than 80 awards since it was founded, in 1985, and the office walls in New York are lined with glossy blowups of past and ongoing projects, including Citygarden, in St. Louis, Missouri; the Flight 93 National Memorial, in Shanksville, Pennsylvania; and the Virginia War Memorial, in Richmond. "We added up the number of people who are estimated to visit eight of the public spaces we've designed, and it comes to thirty-six million a year," Woltz says, somewhat giddily, as we walk past 20 or so employees perched at tall workstations.
Like many in his profession, Woltz is loath to claim that his firm adheres to a particular style or aesthetic — each project is created in response to its surrounding and in partnership with a client. But survey a collection of his firm's designs, and patterns emerge. The first is unique and vibrant planting. NBW was an early proponent of working with native species as well as plants that are somehow relevant to an area's recent history and/or can help remediate a problem resulting from that legacy (soil pollution; invasive species). The second is a pitch-perfect marrying of the man-made and the natural. Take, for example, Iron Mountain House, a modern home tucked into the center of 300 acres of farmland in northwestern Connecticut. There, neat beds of flowers and grasses separated by Corten steel panels are surrounded by board-formed concrete and traditionally laid stone walls. These garden rooms in turn open to natural granite outcroppings and rolling fields planted as meadows. The composition is modern but regionally appropriate. It looks as if it has always been there.
Careers in landscape architecture take root slowly, and Woltz's began in a couple of unlikely places. The first was the backyard of his childhood home in Mount Airy, North Carolina, where his family kept an immense kitchen garden. "My father worked in an office, but he and my mother decided we should grow all our own vegetables. You develop a distinct connection with plants when they provide your dinner." The second was Venice, Italy, where he spent five years at the architecture firm Giorgio Bellavitis. "I was surrounded by buildings designed by Andrea Palladio and Jacopo Sansovino," Woltz says. "The proportion and scale [of their work] is so extraordinary and so connected to humanism that it has always stuck with me as a beginning point for design."
He had attended University of Virginia, where he earned an undergraduate degree as well as a masters in architecture. After Venice, he returned to UVA and enrolled in its landscape architecture program. It was there that he began working closely with one of his professors, Warren Byrd, who'd cofounded a firm with his wife, Susan Nelson, in 1985. "Warren taught in such a way that you understood a plant is not just a botanical specimen but something that is connected to its ecosystem, to local hydrology, to a larger narrative." Woltz joined the firm in 1997, becoming a partner in 2006, and he and Byrd worked together closely until the latter's retirement in 2013.
Along with going to Panama, Woltz also made numerous trips to New Zealand and Tasmania in 2016, but in August he came back to the States to help debut the results of a six-year-long renovation and expansion of Bok Tower Gardens, a bird and nature sanctuary, in Lake Wales, Florida, founded by the Pulitzer Prize–winning author Edward Bok and designed by Frederick Law Olmsted Jr. in 1922. Then, in September, it was over to Hudson Yards for the unveiling of renderings of Vessel, a 15-story-tall sculpture by English designer Thomas Heatherwick. The basket-shaped work, which is crisscrossed with pedestrian stairways, will anchor NBW's six-acre outdoor garden and public square, due to open in 2018.
"At first I thought Hudson Yards would be an outlier in our portfolio," says Woltz, whose hesitancy was understandable. His firm was tasked with building a garden on top of an active train yard. Before even considering what to plant, they had to create a habitat where things could grow. That meant working with project engineers to find ways to insulate flora from scorching temperatures created by train engines idling below. The platform was built in layers, starting with a plenum, an empty space where hot air could be exhausted using huge fans. Next came storage tanks to hold rainwater captured for irrigation, then sand, then concrete laced with pipes that will circulate coolant (the opposite of radiant floor heating) and then, finally, topsoil. "It's kind of a miracle that things will grow there. All the public will see is the planting, but a lot of effort, and expense, has gone into each tree."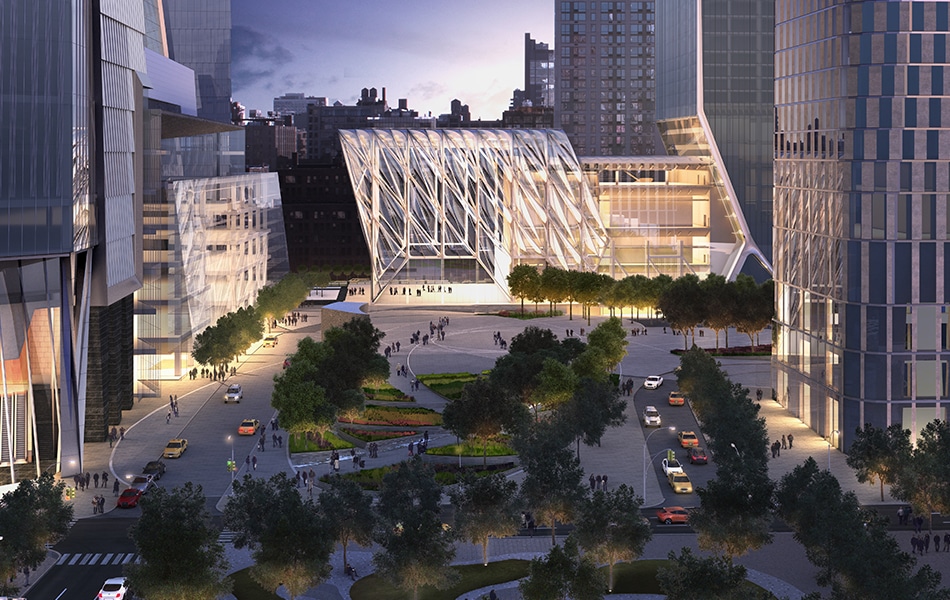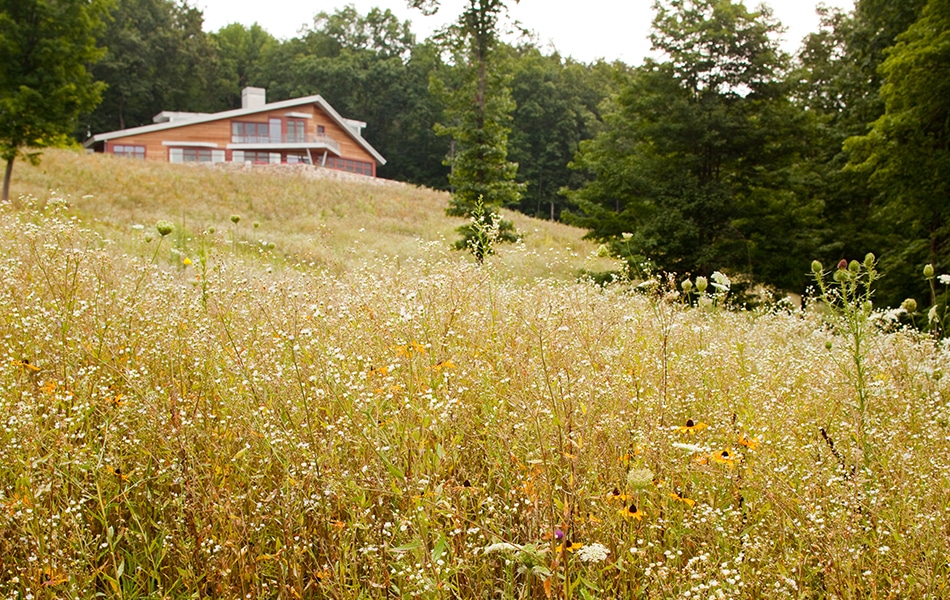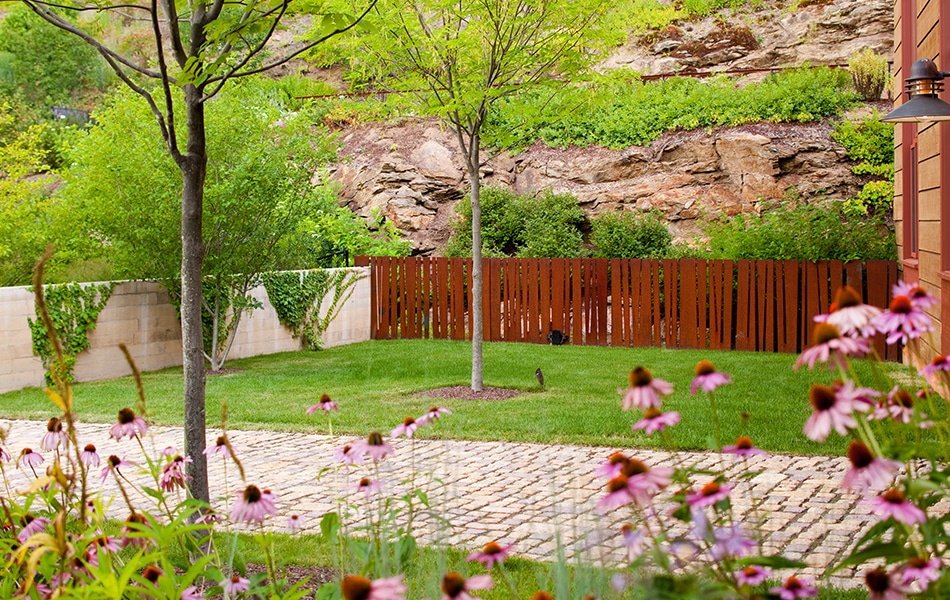 Hudson Yards is, indeed, an exception in the firm's body of work; the majority of its landscape architecture is done on actual land. But the meticulous preparation for that garden is a hallmark of every one of its endeavors. "I want to forcefully say that all of our design begins with research," Woltz says.
In the case of Centennial Park, a bucolic 132-acre green space situated west of downtown Nashville, starting with research meant spending hours in libraries to study the area's recent, pioneer-era and pre-Colonial history. The firm uncovered an underground spring that had been a source of drinking water for Native Americans for centuries and, in the 1700s, a meeting place for settlers heading west. "There's an authenticity to finding a natural artifact, daylighting it and then interpreting it," Woltz says. The resulting fountain is an important visual element of NBW's design, but once again, there's an invisible aspect to their plan. "It's a real spring — one hundred gallons per minute that used to dump right into Nashville's sewer treatment plant," says Woltz. "We've been able to capture, clean and store the water in constructed lakes that are used to irrigate the entire park."
Any firm that designs or renovates public parks risks inevitable comparisons with Olmsted — that is Frederick Law Sr., of Central Park fame, and his son, Frederick Law Jr. Charles Birnbaum, founder of The Cultural Landscape Foundation (a nonprofit that seeks to educate the public about, and preserve, important works of landscape design), has heard people make the connection between Woltz and those two pillars of American landscape design. "It's meant as a compliment, but there's no need to hold him up to anybody," Birnbaum says. What makes Woltz unique is that "his work strives to make visible, interpret and ultimately dignify the ecological and cultural values that are embedded in the landscape. And he gets people excited about it."
That last quality, the ability to go into a room and create enthusiasm, provides a worthy point of comparison with other master builders, says Birnbaum: "Like Lawrence Halprin and Laurie Olin, Woltz can seduce people with a sketch or an idea. He can calm the waters, move forward within the value system he has brought to the table and create an opportunity." It doesn't hurt, either, that he's handsome and charming and has impeccable taste.
Back in his office, fiddling with a plastic Godzilla that sits atop his desk, Woltz seems as uninterested in comparisons within his work as between himself and other architects. "We spend a lot of time looking for narratives — stories to tell — in our research and on the ground," he says. "Each place is completely different, and we don't know what it will hold until we go there and feel the leaves crunch under our feet."