I'm a swan in a world of ducks," proclaimed Joan "Tiger" Morse in 1967, eyeing a New York Times reporter through inch-long false eyelashes and the rose-tinted lenses of one of her countless pairs of signature sunglasses. Whether more swan or tiger, the fashion designer and entrepreneur loomed large on the cultural scene of the 1950s and '60s. A native New Yorker, Morse helmed a couture business beloved by the jet set, operated a series of innovative retail ventures and appeared in Andy Warhol Factory films before dying of an amphetamine overdose in 1972, at the age of 40. Now, decades later, a new exhibition at the Liz O'Brien gallery in New York (through December 18) brings her roaring back in photographs by Mark Shaw.
Comprising some 30 images, "Tiger Morse by Mark Shaw: Jet Set Style Quest, 1962" shows Morse at the height of her taste-making powers. "She was one of the first fashion designers to open her own boutique," says the design historian Alan Rosenberg, who organized the show with the Mark Shaw Photographic Archive. Morse's chic Upper East Side shop, A la Carte, outfitted Jackie Kennedy, Jean Harvey Vanderbilt, Florence Knoll Bassett and other deep-pocketed seekers of forward-looking fashion. Her specialty was transforming exotic textiles into streamlined couture creations, and Shaw, on assignment for Life magazine, tagged along on one of her fabric-buying trips to Asia.
Morse and Shaw were friends, sharing social circles and a mad-scientist-cum-physician: the notorious "Dr. Feelgood" Max Jacobson. (Shaw, too, would die of an amphetamine overdose, in 1969.) Likely fueled by Jacobson's "vitamin" injections, the two traveled around the world in 18 days, flitting from Paris to Benares, Burma to Bangkok, Hong Kong to Kyoto. Shaw captured Morse in vibrantly colored action, scooping up saris, comparing brocades while astride an elephant, washing freshly dyed silks in a muddy Thai river, persuading a Buddhist priest to sell her the purple cloak off his back.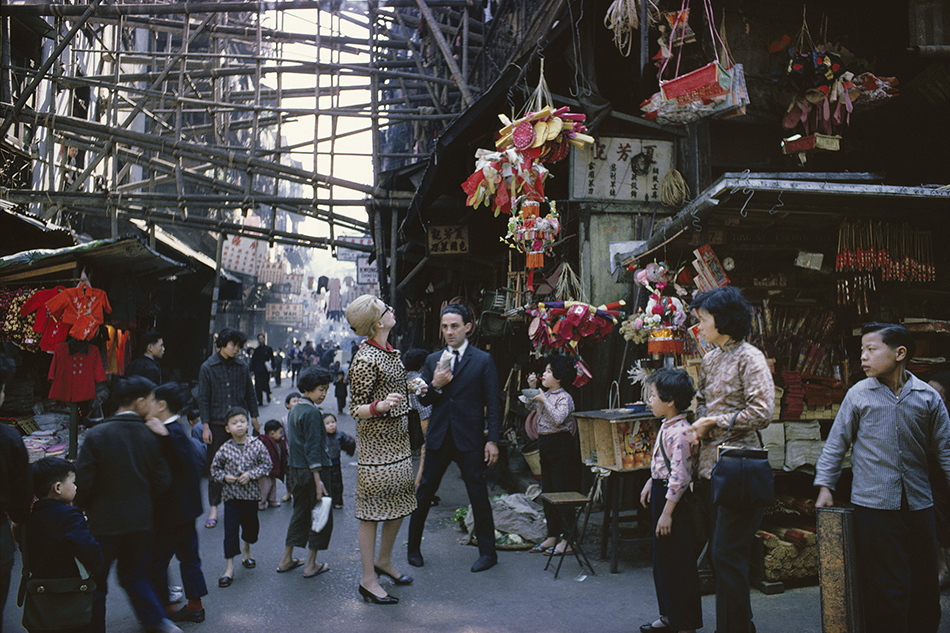 "Because it's 1962, she's wearing a leopard-print suit, and she's got her bouffant hairdo and sunglasses in these exotic locations," says Rosenberg. "But you also see how she worked, how she acquired her fabrics, so you get a glimpse into the design process." That view includes images of the finished garments, as modeled by Morse's socialite clients, as well as photographs of the designer at home, at her boutique and in a studio. (The latter sitting was shot in black and white, while Shaw's reportage is in color.)
"Something I find striking in the photographs is how Tiger herself in 1962 is still looking very prim — wearing smart little shifts and low-heeled pumps," says O'Brien, who offers editioned Shaw prints (printed posthumously, signed and numbered by Shaw's son, David). "She's right on the cusp of counterculture and what's coming next in fashion — and she's creating it — but she's still such the lady in the photographs. I love that counterpoint."
In the years that followed, Morse mounted ever-bolder challenges to the sartorial status quo, from a pop-up shop in an art gallery to dresses crafted from vinyl and paper to a line of sleepwear marketed with a late-night party in the basement of the Henry Hudson Hotel during which she tumbled into the pool, clad head to toe in silver denim. But the capable, world-traveling Tiger seen through Shaw's lens is considerably tamer.
"Mark Shaw and Tiger Morse were kindred spirits," O'Brien says. "They were great friends traveling together on a great adventure, and I think the joy of that really shows in the photographs."