May 24, 2020Timothy Godbold has trouble identifying the previous style of a house he recently redecorated in the equestrian community of Wellington, in West Palm Beach, Florida. "I don't even know what to call it because I've never used it and never will," says the Australian-born, Hamptons-based decorator. "The interiors were very ornate, heavy, old-fashioned, with a lot of burgundy and green. You'd be horrified!"
Built in 2001 and located in a manicured cul-de-sac, the four-bedroom house belongs to a repeat client of Godbold's, a retired New York realtor. "He's the coolest seventy-year-old you've ever met," the decorator says of the homeowner, who largely gave him carte blanche in crafting the decorating scheme. 
He did impose a few constraints, however. Godbold was not allowed to touch the Mediterranean architecture or do any demolition, and he needed to complete the project in just four months. Aside from replacing a powder room sink, making some small kitchen alterations and putting down a couple of new wooden floors, Godbold limited his interventions in performing this complete redesign to paint, wallpaper and furniture — but he masterfully deployed all three.
Godbold explains that his goal was to avoid Palm Beach clichés while at the same time introducing a few nods to the nearby beach, as well as the 1970s and '80s — "I've been mining the period for new shapes and find the lines intriguing and fresh," he says.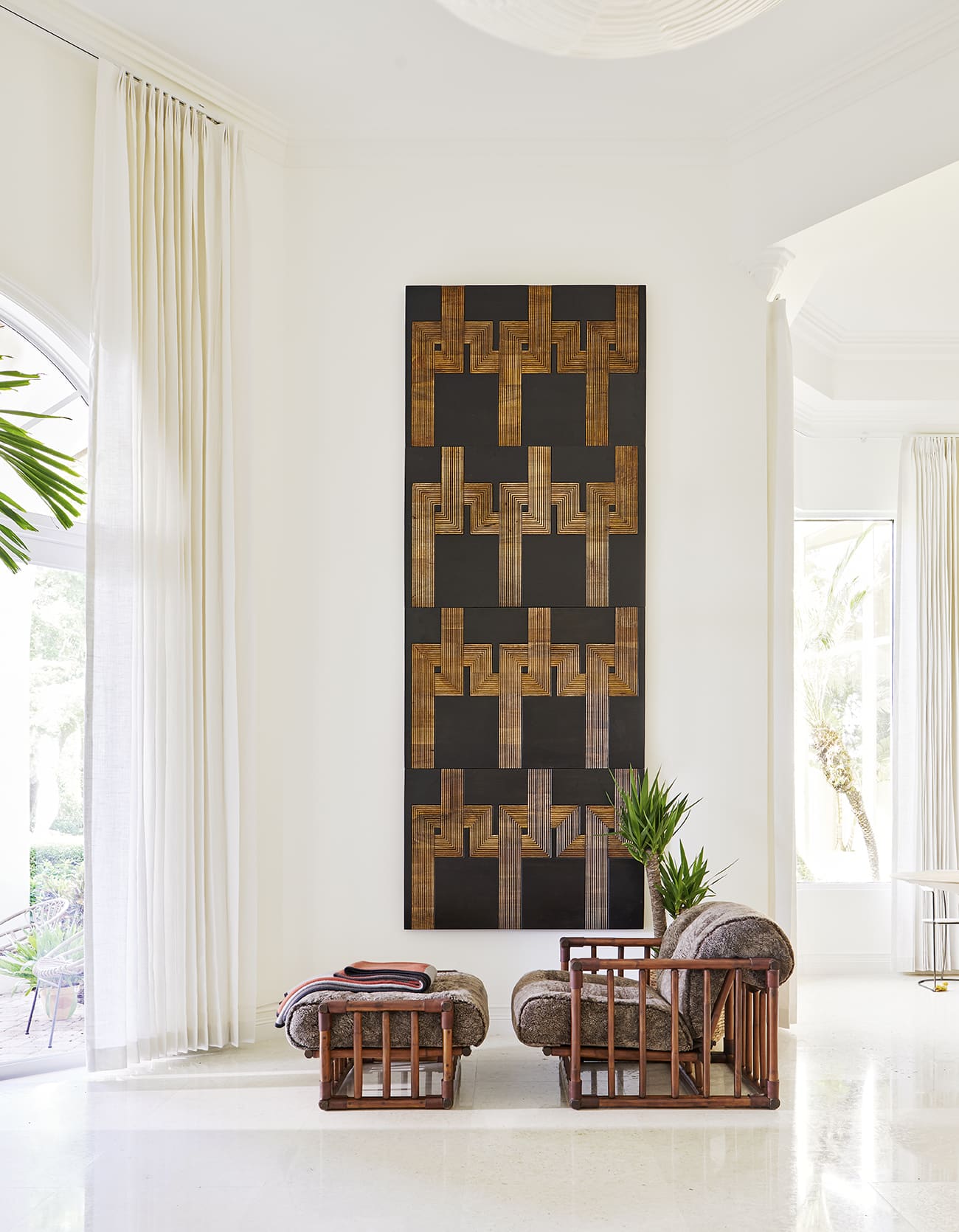 The result is remarkably light and airy. "Not every corner has to be filled, and not every wall has to have something on it," says Godbold, who is known for his clean, modern and subtly nuanced aesthetic. "I don't like a lot of clutter. I prefer things to breathe and for you to see each piece."
Much of the house adheres to Godbold's signature neutral palette, but there are a couple of notable exceptions: the blue of the master bedroom and the study's expressive black-and-white wallpaper and bright pops of saffron yellow. "I didn't want you to be constantly walking into another beige room," he says. "I really wanted to make your eye travel."
The client was wowed when he saw the new decor. "He had no idea what the house was going to look like until he walked in," recounts Godbold. "He was so blown away, he cried."
Here, Godbold takes us on a tour.
---
ENTRY HALL
"My aim for this space was to keep it really simple and powerful," says Godbold, explaining that the architecture, with its dramatic arches, had already done much of the work. The entry displays one of his signature elements: a graphic black-and-white palette.
Godbold had a console table belonging to the client stained a deep ebony and complemented it with an oil painting by Los Angeles–based artist Kristi Head, a series of clay vessels from Northerners Collective and a contemporary work consisting of a ceramic bowl and plaster fruit, which he discovered at the Battersea Autumn Art Fair, in London. The sconces are by Tracey Garet's studio, Apsara Interior.
---
THE LIVING ROOM
"A lot of people, when I showed them the house initially, were like, 'Oh, what are you going to do when you tear out the fireplace?' But, I actually kind of love it," Godbold says of the room's heavily sculpted floor-to-ceiling limestone centerpiece. The all-white scheme he chose for the space helps make the fixture less imposing, and the furniture more than holds its own against it.
A Collection Particulière sofa and two 1980s Steve Chase slipper chairs, found in Palm Springs at Casa Moderno, flank a humble concrete cocktail table, while a pair of tall potted palms offset the lofty ceilings. "They give a sense of drama and opulence," Godbold says. "I wanted the room to feel a little like London's Crystal Palace."
---
DINING ROOM
Dining room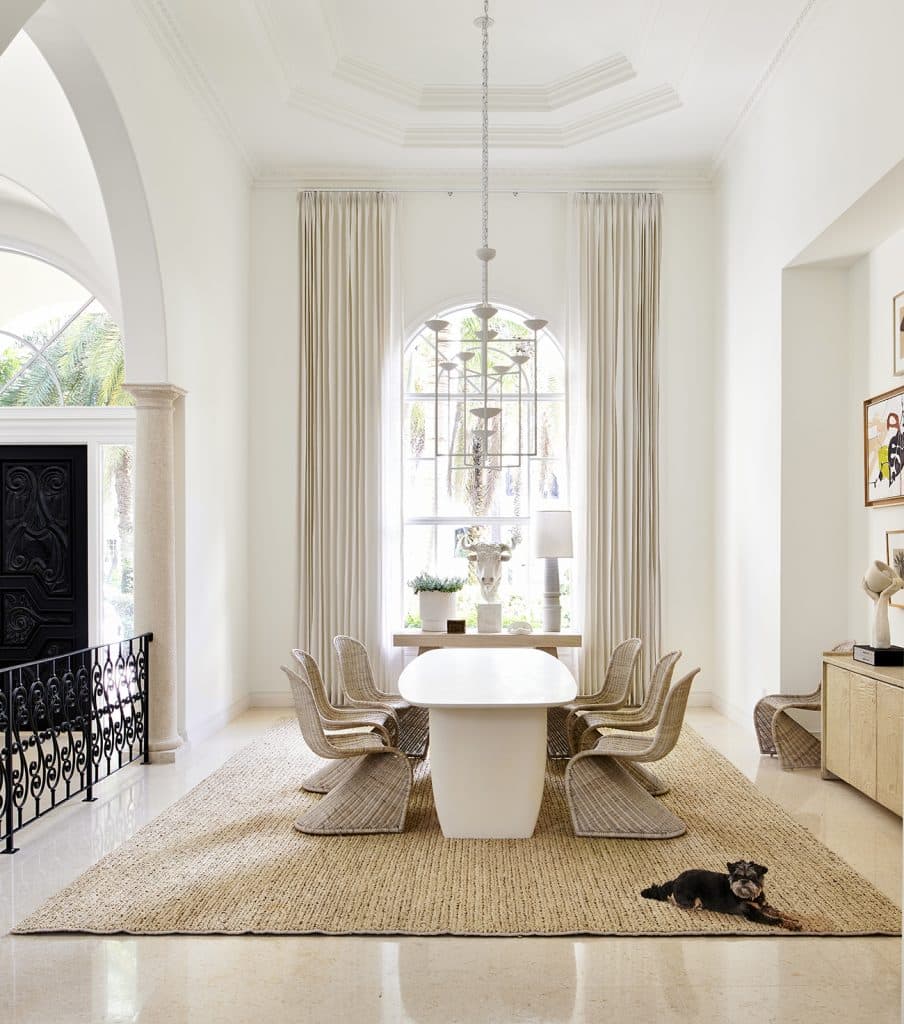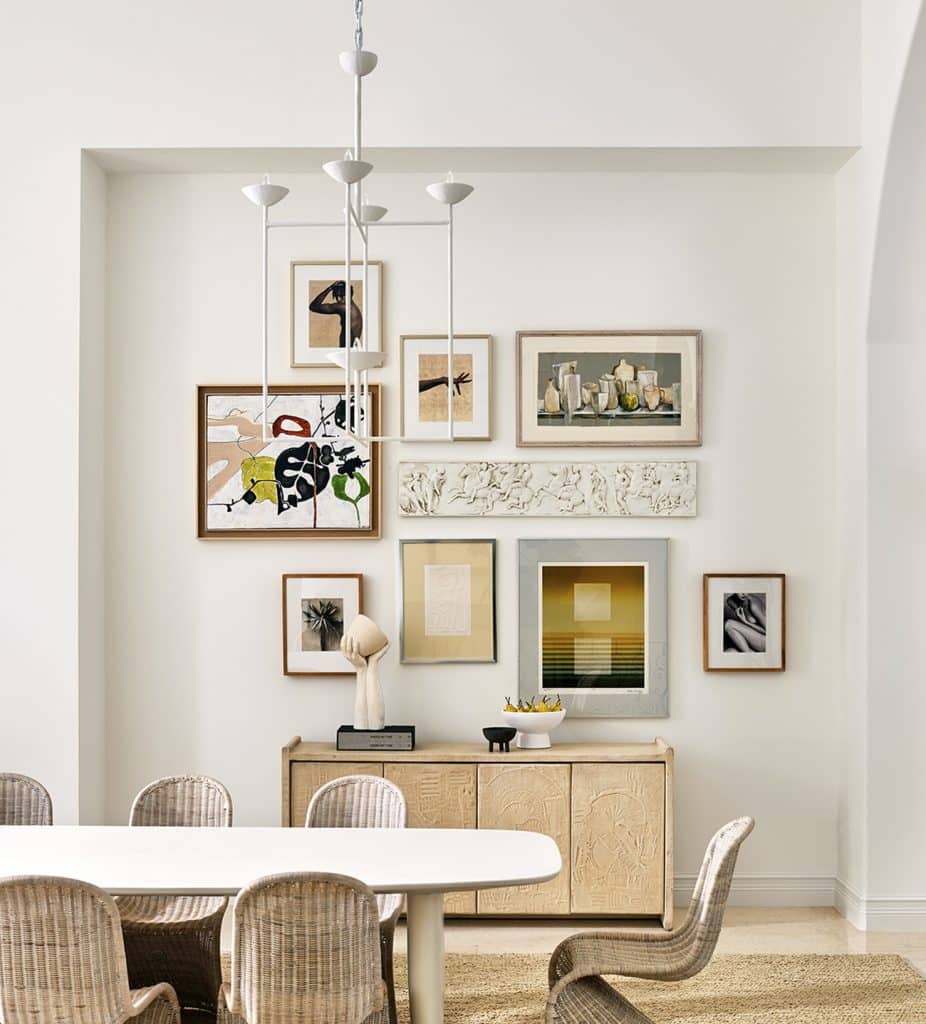 Despite some inherent challenges — not least its vertiginous 20-foot ceilings — this became one of Godbold's favorite rooms in the home. To deal with the height, he installed floor-to-ceiling draperies, which, he explains, "always add a lot of drama and give you beautiful proportions."
He enhanced their effect by hanging the chandeliers on long chains. Like many of the light fixtures in the house, these are made of plaster — an homage to the work of Alberto Giacometti.
A particularly happy find was the plaster Richard Etts table lamp, whose Surrealist form — two arms holding a dome-shaped shade — appealed to Godbold. He placed this piece on a 1980s plaster-relief sideboard, over which he hung a gallery wall that includes such works as a pair of photos by Karl Lagerfeld, a classical Roman relief and a female nude by Lisa Spindler.
---
KITCHEN
Kitchen
The client's ban on demolition meant Godbold had to work with the existing cabinets. To make them more contemporary, he removed most of the existing elaborate millwork and painted them Benjamin Moore's simply titled Simply White.
He then installed white Dolomite marble countertops and a black granite backsplash, for a more graphic, modern look, and hung two cubic pendants. "I wanted light fixtures that were a little different," he says. "Something cool and hip."
More visual drama can be found in the breakfast area at the other end of the room, where he paired an abstract oil painting in primary colors with an oak table and a set of 1970s Italian dining chairs in leather and blackened steel.
---
DEN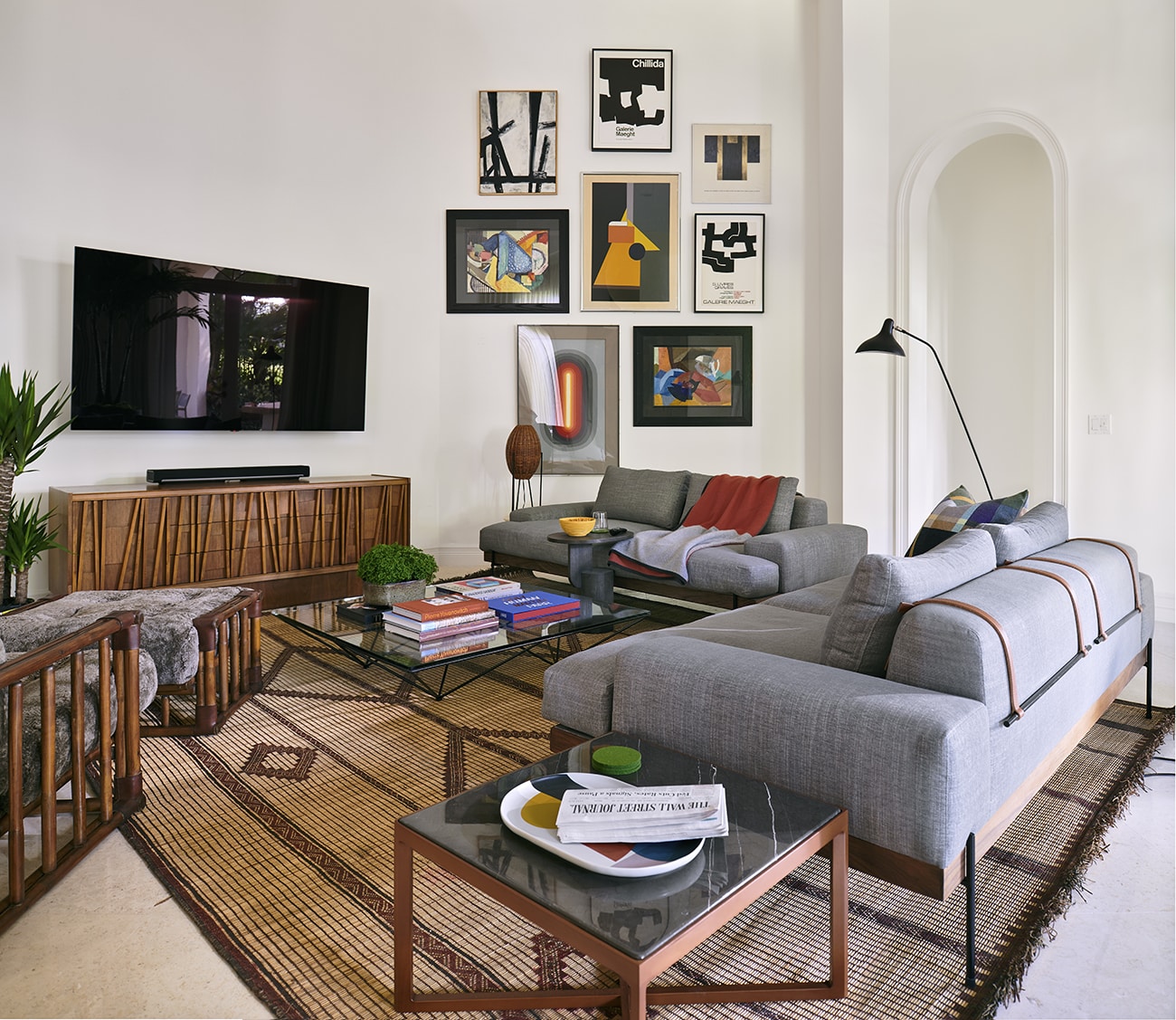 Practicalities came to the fore in this space's design. "My client," explains Godbold, "has two little dogs" and could be expected to spend a lot of time in this space with them. "So, it couldn't be white and cream and beige. I wanted colors that were more livable." That didn't preclude him, however, from creating a novel combination of furnishings.
The contemporary sofas, with their leather straps, were chosen for their "slightly equestrian vibe," a nod to the local passion for all things horsey. The Touareg rug, which Godbold acquired in Marrakech, provides a global touch, while the 1970s wooden brutalist credenza recalls the work of Paul Evans. The glass-and-steel Paolo Piva coffee table, acquired via Jean-Marc Fray French Antiques, is one of a number of design classics he incorporated throughout.
"I like to throw them into an interior," he explains. "I don't want to get too forward and trendy. I want a room not to date." Contributing to this timeless look are a 1980s upholstered bamboo chair and ottoman that he had re-covered in shearling.
---
CHILDREN'S ROOM
Kid's Room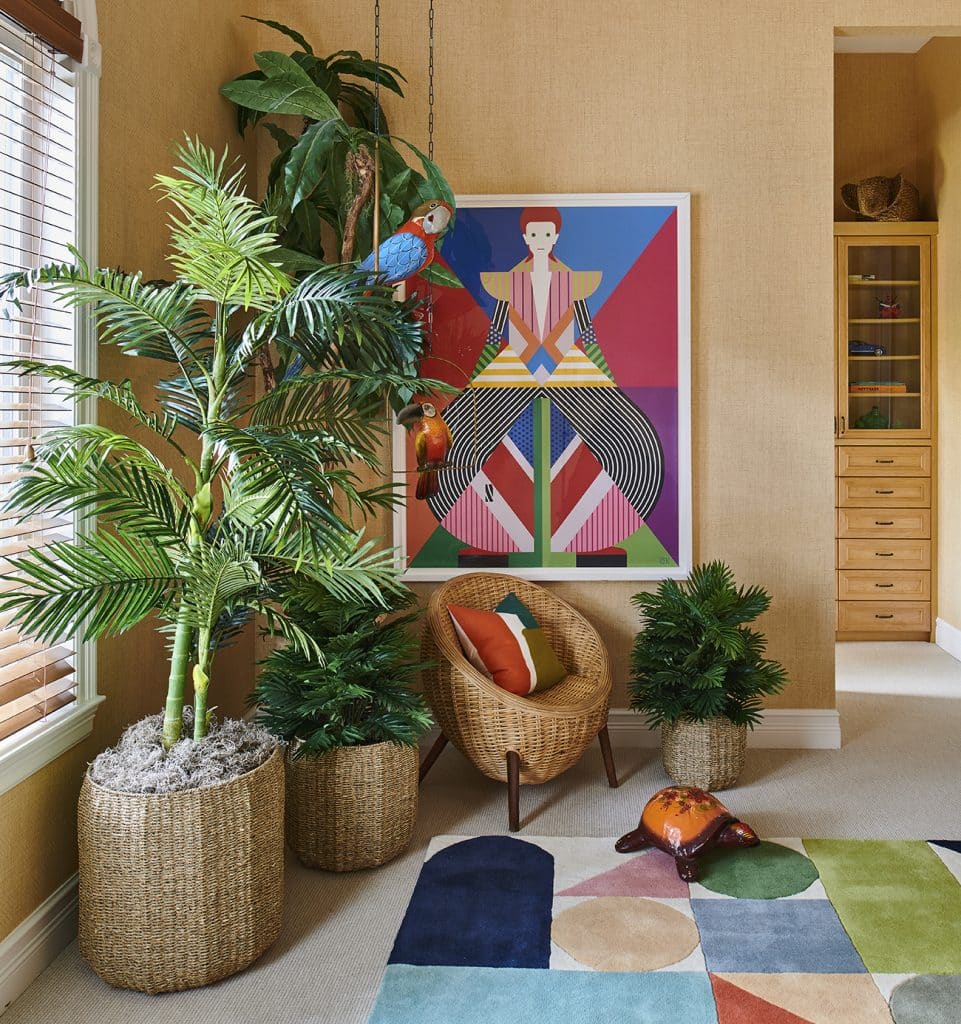 The space for the owner's two grandchildren presented Godbold with the opportunity to try something he doesn't often get to do: play with bright colors. He took his palette inspiration from the iconic floral-print shifts of Lilly Pulitzer, the late Palm Beach fashion designer and socialite.
Godbold found the hanging papier-mâché animals at auction in Palm Beach and paired them with several potted plants — "to make it look kind of like a jungle." The parrot sits on its very own swing, but it would appear equally at home perched on one of the whimsical playhouse-shaped twin beds.
---
POWDER ROOM
This was one of the spaces where Godbold had the least freedom: "My client told me very specifically not to change anything." He didn't quite follow those instructions, replacing the gold faucet and blue-and-green basin and removing the gilded moldings from the vanity, which he painted a high-gloss white. The Cowtan & Tout wallpaper was chosen both because its frond motif felt right for Palm Beach and its plaster relief provided texture.
---
MASTER BEDROOM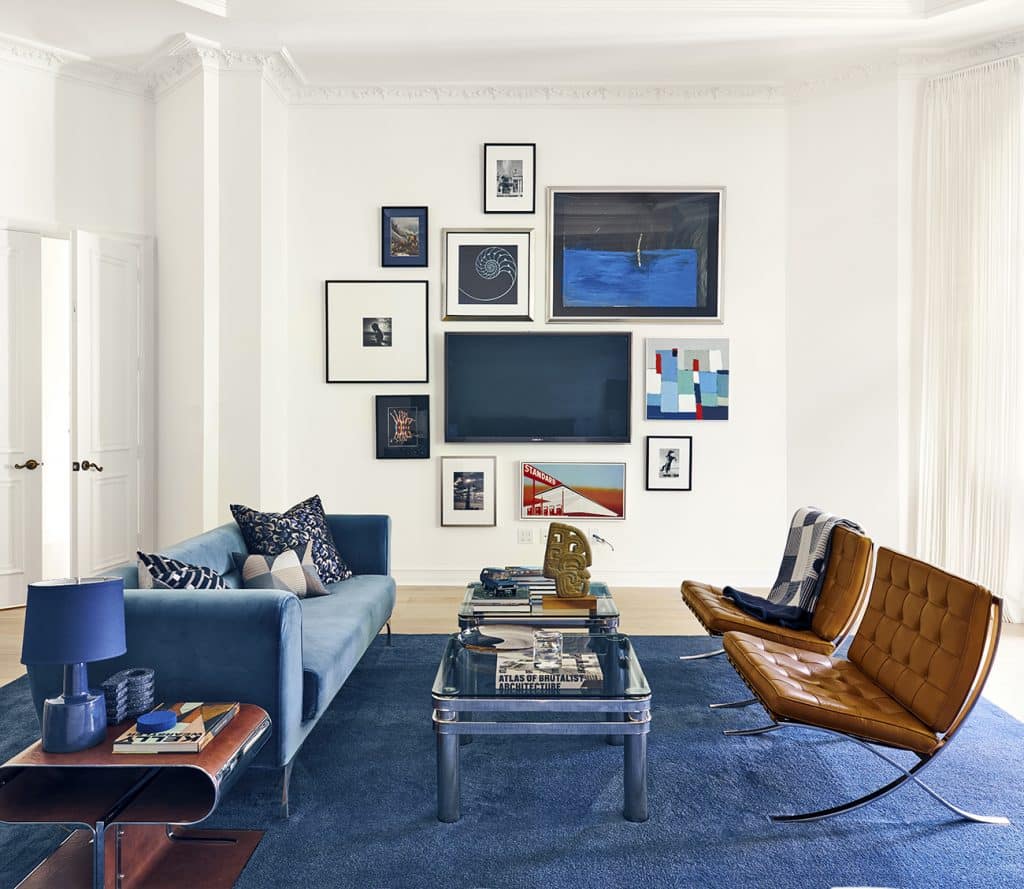 "It's weird, because I haven't used blue anywhere before," says Godbold. "But here, it just felt really right." The color certainly helps give the master bedroom the desired masculine vibe. It also anchors what is an immense space — "Literally the largest bedroom I've ever worked on," Godbold says.
He paired the azure hues with cognac tones, care of two Mies van der Rohe Barcelona chairs as well as a French Art Deco mirror and a Philippe Starck sofa from the 1990s.
Opposite the bed, he installed another gallery wall, comprising photographs by Patrick Demarchelier and René Burri and a John Paul Pennebaker gouache, all surrounding a flat-screen TV. "I wanted there to be something to really look at, especially as the walls are so big," Godbold says, referring to the compositions he created throughout the home.
---
COVERED PORCH
Godbold once again took advantage of the house's arches in the alfresco seating area off the master bedroom, where he reflected the curves in the lines of the all-weather wicker furniture. The palette is deliberately neutral.
"I don't like lots of prints outside," he says. "I wanted the surroundings to be more prominent. The garden is incredible. It's better for the furniture to sort of sit back."
---
THE GUEST BEDROOM
Here, Godbold decided to employ the same wallpaper as in the powder room, but this time on the ceiling. "I don't have a problem with using something twice in the same project," he says.
For the rest of the decoration, he adopted a soothing, beachy palette and indulged his love of both plush pile carpets and channel-tufted upholstery. His obsession with the latter he attributes to his passion for sci-fi films, in many of which, he notes, "walls and furniture are decorated with it."
---
THE STUDY
Why in the study did Godbold veer from his habitual serene style in favor of a rush of high drama? "I don't really know," he says, admitting to a few nervous moments when he first saw the raw-silk wallpaper from the Michigan-based firm Westfall & Kitson going up. "I had no idea how this room would look. I was like, 'Oh, my God! What have I done?' "
The furnishings are largely vintage, from the Jean-Michel Frank–style desk, bought through Antiques du Monde, to the Angelo Donghia floor lamps and sleek cocktail table designed by Willy Rizzo in the 1970s.
Functionality was not entirely forgotten: Godbold reupholstered the 1980s Baker sofas in an outdoor fabric to make them canine-friendly. That doesn't diminish the overall effect of the room, however. "Whenever anyone makes their way into the study," he says, "they always go, 'Wow!' "
---
Bring It Home
Get the look with items handpicked by Timothy Godbold