A grinning young couple — Mercury astronaut Gordon Cooper and wife, Trudy, reunited in Hawaii after his 22nd solo orbit of Earth — made the cover of Life magazine's May 31, 1963, issue, but another kind of family garnered top billing. "A Negro Photographer Shoots from Inside THE BLACK MUSLIMS," proclaimed the lead cover line. Gordon Parks's 14-page "words and pictures report" on the Nation of Islam devoted special attention to the Muslim wives, and in one photograph, Ethel Shariff, daughter of movement leader Elijah Muhammad, stands before a cadre of the women's corps, all clad in religious habits of pristine white. At once determined and serene, the group is one of the many variations on family featured in "(un)expected families," on view through June 17 at the Museum of Fine Arts, Boston.
"The people who raise us, the people we choose to have affectionate relationships with and the communities of like-minded individuals we surround ourselves with are all families. And they have been captured on film by photographers since the camera was invented," says Al Miner, who conceived the show while he was an assistant curator at the MFA. (He departed last summer to become director of galleries at Georgetown University, in Washington, D.C.) "The MFA's incredibly deep photographic holdings allowed us to explore and illustrate this diversity."
Responding to MFA director Matthew Teitelbaum's challenge to think about the museum's collection in new ways, Miner developed his concept in the wake of both the 2016 U.S. presidential election and news that he and his husband would soon become parents (their adopted son was born last February). "How would the law, current and future, recognize my family, if at all?" wondered Miner. "Does biology mean more than the bonds we choose to form with those we aren't related to by blood? And how and why do non–biologically related individuals come together to form alternative family units?"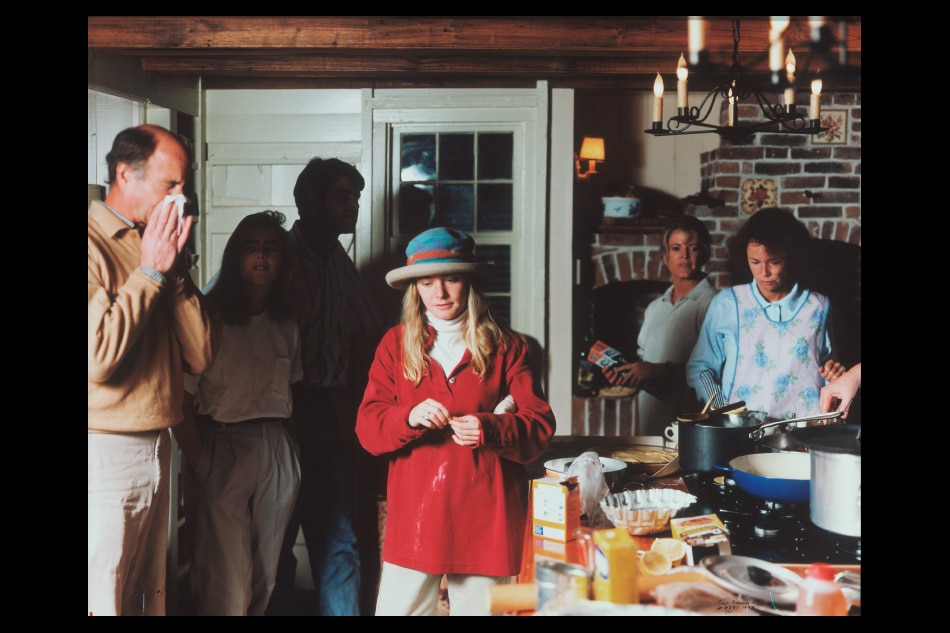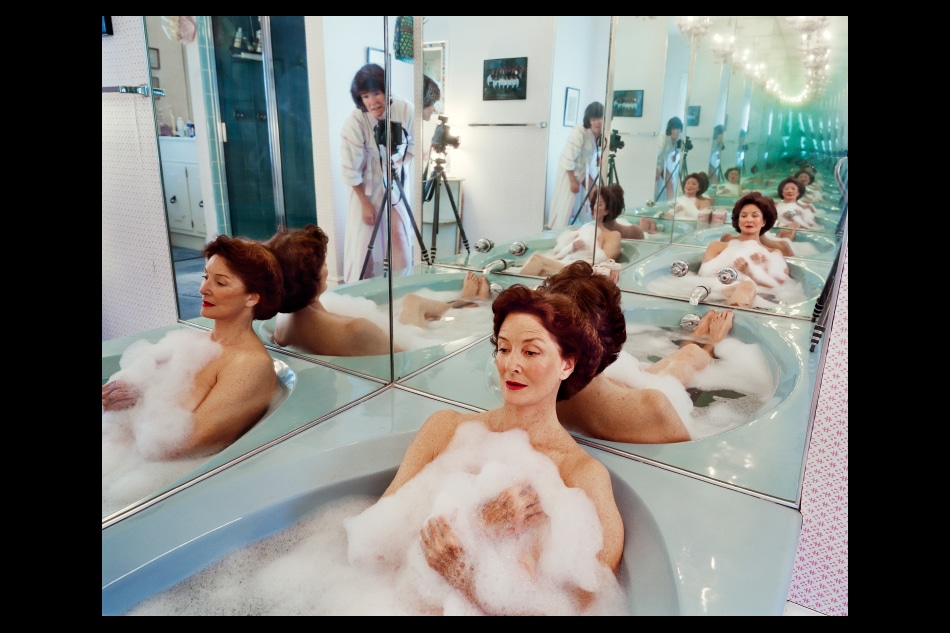 Embodying personal and political nuances, the 84 works on display span the history of photography, from a Southworth and Hawes daguerreotype of toddler triplets to Amber Tourlentes's 2017 composite of 42 family portraits, taken in Provincetown, Massachusetts, and featuring gay, lesbian and single parents proudly posing onstage at Town Hall. Rich in scenes from New England (budding Boston Brahmins at play in the Back Bay, Tina Barney's WASP-y 1992 Thanksgiving in Rhode Island) and New York City (as seen by Lewis Hine and Bruce Davidson, among others), the show portrays familial bonds across America.
At the heart of the exhibition are three types of families, with a wall devoted to each. Generational connections are represented by pictures of siblings, parents and children (Diane Arbus's bewitching 1965 portrait of Susan Sontag and her son, David Rieff; LaToya Ruby Frazier's photo showing her emerging from her mother's profile), as well as larger-scale reunions. Many of these works are hung salon style, to evoke a lively yet cozy domesticity.
Romantic unions are another focus, from a sepia-toned Victorian couple to two young men, Jose and Luis, captured in Zoe Perry-Wood's color portrait at a gay/transgender prom held in 2015 at Boston City Hall. Jimmy Paulette and Tabboo!, a pair of drag queens photographed in 1991 by Nan Goldin, are a vivid yet haunting presence in this section. "They represent a romantic union, but for Goldin, all the trans and gay friends she made in New York City she very much considers a surrogate family, so we wanted to show that as well," says MFA curator Karen Haas, citing Goldin, along with Sally Mann and Nicholas Nixon, as among the photographers she thought of first for the exhibition.
The third major wall is devoted to "chosen families," including the Amish community of Lancaster, Pennsylvania, seen through the lens of Henri Cartier-Bresson; members of the Chicago motorcycle gang befriended by Danny Lyon; and the nun-like tribe fronted by Shariff in Parks's shot. The familial aspect of the military is represented by Louie Palu's 2008 portraits of U.S. Marines fresh from patrols in southern Afghanistan.
---
"The people who raise us, the people we choose to have affectionate relationships with and the communities of like-minded individuals we surround ourselves with are all families."
---
"This is a show about photography, too," says Haas. "It tells a very interesting story, not only about social mores but also about the history of the camera."
The exhibition highlights the "hidden mother" photograph, a popular technique for capturing images of young children in the Victorian era, a time of high infant mortality rates. To address the incompatibility of long exposure times and fidgety babies, the mother or nursemaid would hold the child but be obscured by draped fabric. "It was a way to show the child as a sort of separate entity, a free spirit who's very much alive," says Haas, "because this is also the period in which it was common to make posthumous photographs of children."
Another group of pictures explores the so-called "Boston marriages," a term for lesbian couples coined following the release of Henry James's novel The Bostonians, which features two unmarried female characters living together. "With the advent of the Kodak camera, these women could control their images," says Haas. "They could make pictures that were all about friendships or love relationships between women that would not have been the sorts of pictures that people would have been comfortable making in a studio."
Family proved to be a vast and elastic concept for this photography exhibition, encompassing more than 150 years as well as vernacular and fine-art forms. Still, the limitations of time, space and budget helped to keep the MFA's presentation intimate. "Some visitors will see their own families mirrored in the works on view. Others may notice what kinds of families are missing," says Miner. "Either way, I hope the exhibition sparks important and meaningful conversations."
View the Unexpected Families Collection on 1stdibs