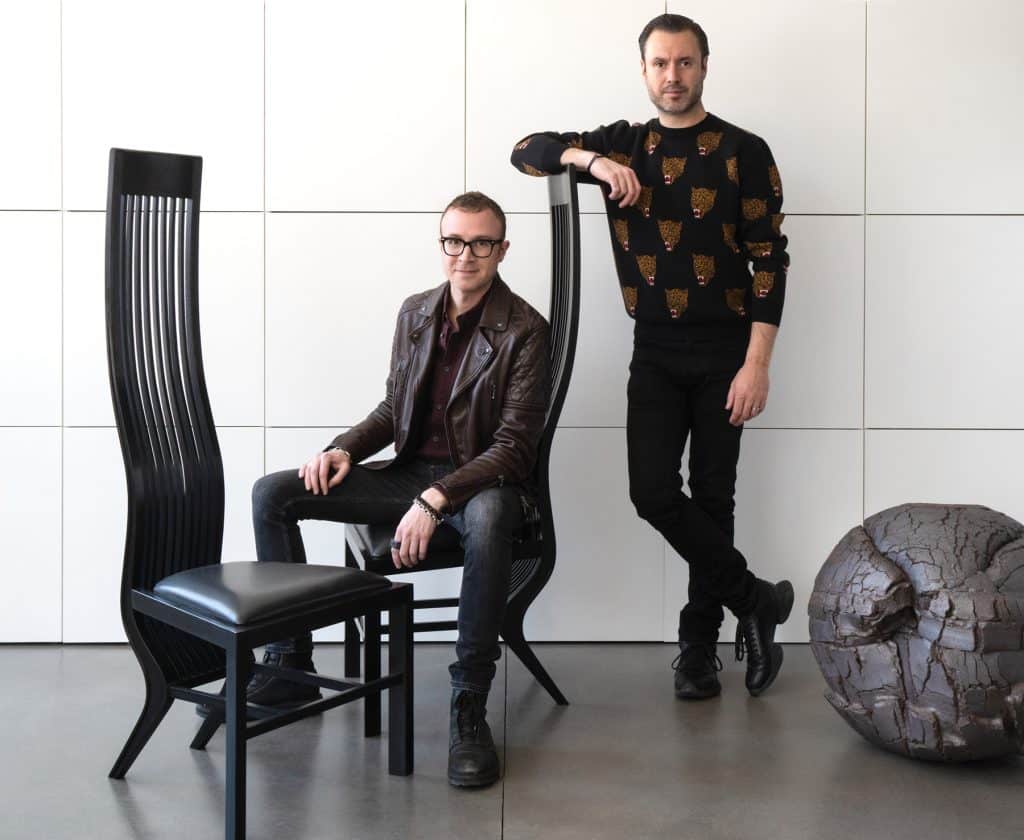 Living upstairs from their vintage furniture gallery in Chicago, Eric Silverstrim and Sean Cowan tend to take their work home with them. In fact, that's one of the benefits. At Vern + Vera, the couple trade in both iconic and unusual, not-quite-iconic pieces from the 1960s, '70s and '80s, and their ever-evolving abode contains some of their favorites.
"We like sculptural pieces that are more dramatic in form," Silverstrim says. "We don't always get the biggest names, but what we have demands attention."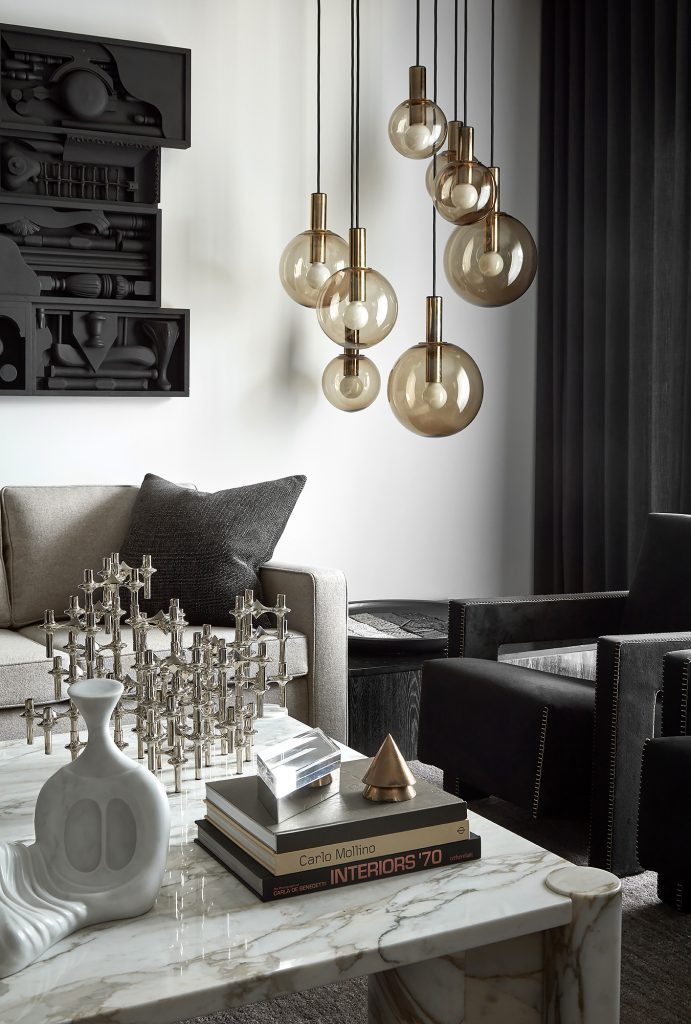 A photographer-turned-dealer, Silverstrim cut his teeth at antiques galleries like the now-shuttered Baxter & Liebchen in Manhattan, while Cowan paid his dues at boutique interior design firms. After the pair teamed up, in 2006, Cowan launched Sean Michael Design, and a year later, they relocated to Chicago.
Always part of their plan, Vern + Vera was launched in 2014, in a retail space on the ground floor of their condo building. Named for the couple's rescue chihuahuas, the shop has developed a large clientele that includes prominent interior designers like Michael S. Smith and Kelly Wearstler.
Naturally, many pieces pass between the showroom and their home, but only the rarest become part of their permanent collection. "What are the chances of ever finding this again?" Cowan says. "When the answer is 'Never,' we keep it."
For example, they will never sell their Jumbo Calacatta marble coffee table, which was designed by Gae Aulenti for Knoll.
Cowan still regrets parting with the Paul Evans coffee table that they shipped to Yves Saint Laurent's flagship store in Paris. Silverstrim, however, lives for that kind of sale. "Putting these amazing pieces back out there is what really interests me," he says. "We're caretakers of these pieces for a short time, and then they go on to live another life, which is pretty cool."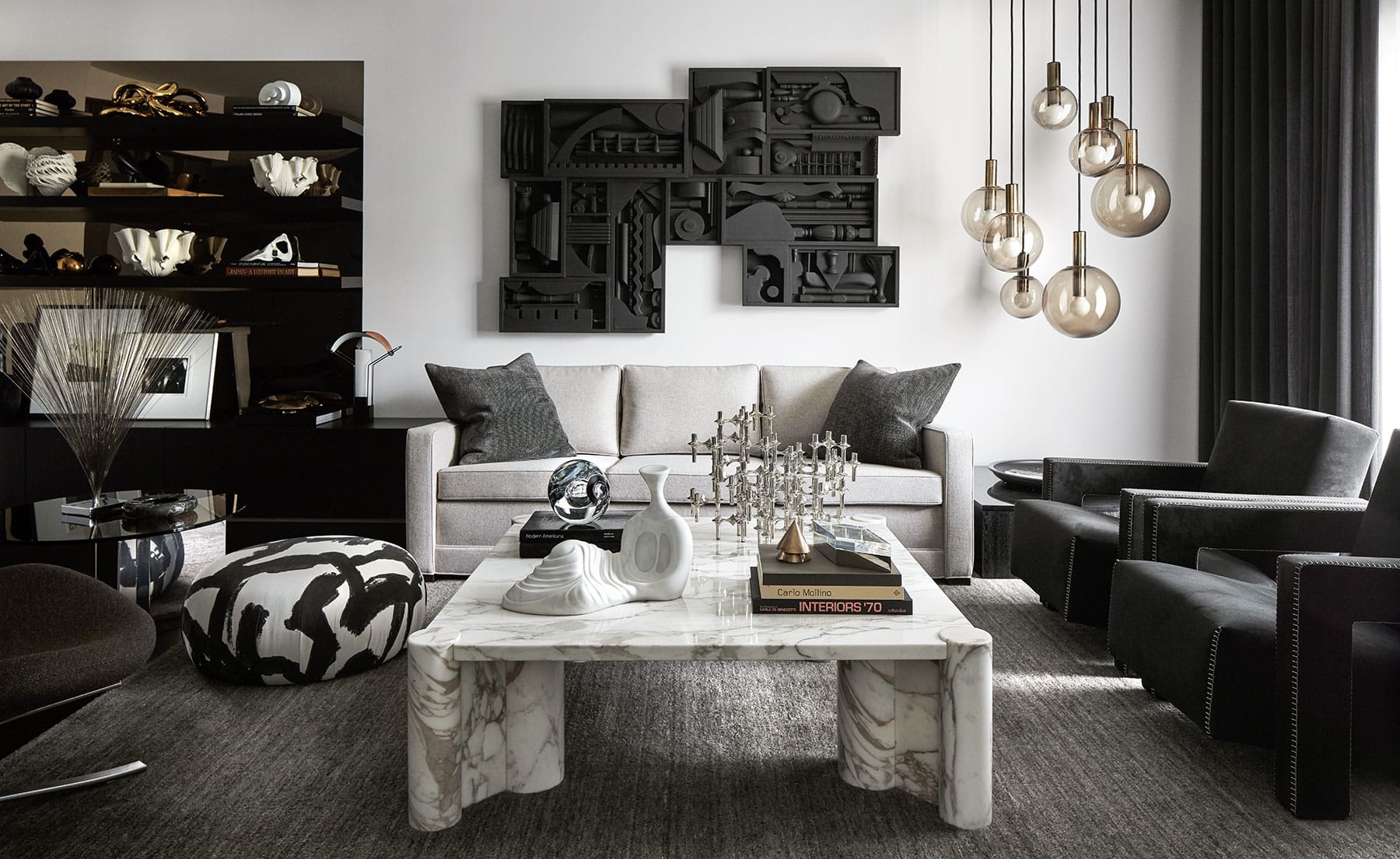 Which 1980s designer are you feeling bullish about?
Sean Cowan: We love the work of Vladimir Kagan. His designs are curvaceous, with lots of sex appeal. The lines are fluid and soft but very streamlined and sophisticated at the same time. There's no clear symmetry. In his armless versions, the bumper on one end is more exaggerated than the one on the other. The one-arm versions taper nicely at the fluid, sweeping arm and bloat at the rounded bumper end.
They are just as beautiful from the back — the perfect candidate for floating in the room. They never go unnoticed!
Eric Silverstrim: We are consistently in search of pieces by Paul Evans. His designs range from his Cityscape series, with slick, shiny metal patchwork, to the Sculpted Bronze series, with rough-textured dramatic forms. He has both glam and brutalist appeal, and that mixes well with many styles.
What's the most unusual object you've ever handled?
ES: We had a Giò Ponti wall unit with integrated drop-down bar that was designed in the fifties. We are a small shop, so it had to be moved quite often. That made us nervous, but the condition was nearly flawless when we acquired it, and it stayed that way right up until it sold. It's so nice to see such a special piece preserved throughout the years.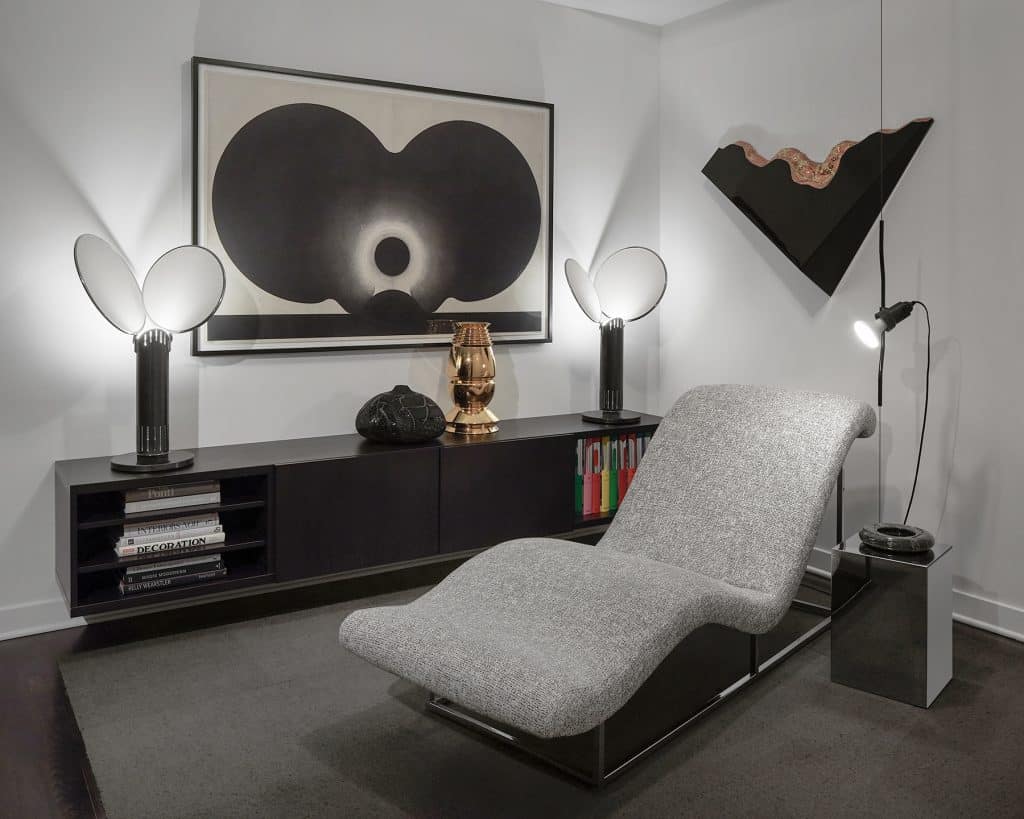 What are interior designers gravitating toward right now?
SC: Clean-lined modern pieces are here to stay, but we see a huge shift into curvaceous forms. Think Kagan and Milo Baughman sofas and the ever-popular Philip Arctander sheepskin chairs.
ES: We love the mix of these sculptural, comfortable pieces with clean-lined modern forms. With all the knockoffs on the market today, we are happy to see people interested in original design pieces that aren't so iconic. We're very into Isamu Kenmochi, John Mascheroni and Angelo Brotto's designs for Esperia.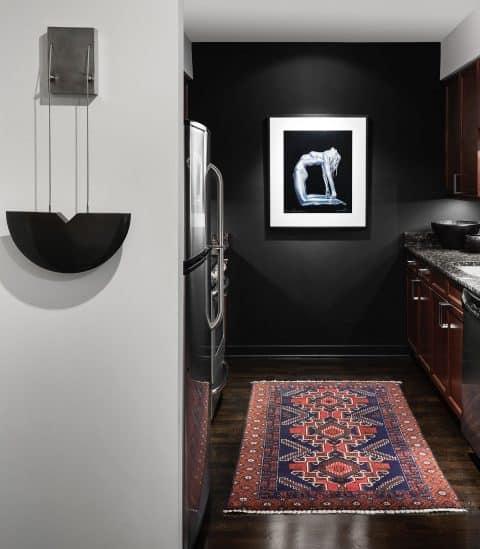 How can one tell if a mid-century design is authentic or a reproduction?
SC: I see knockoffs all the time, and it kills me. In fact, some of our pieces have sold to large big-box stores that planned to reproduce them. It's very difficult to tell the difference, but there are clues. Do the proportions seem too chunky? Is it heavy and solidly made or light and flimsy? Look for clean, seamless welds and thoughtful, attractive joinery.
How has the business changed since you started out?
ES: We really can't predict what will sell quickly anymore, and our colleagues in the industry feel the same way. Tastes are becoming more varied as more and more people are exposed to design.
That said, we always do well with Italian modern pieces from the sixties and seventies, and we believe that will continue. They are timelessly elegant and sophisticated, with just enough sharp lines to make them chic.
---
Eric Silverstrim and Sean Cowan's Talking Points