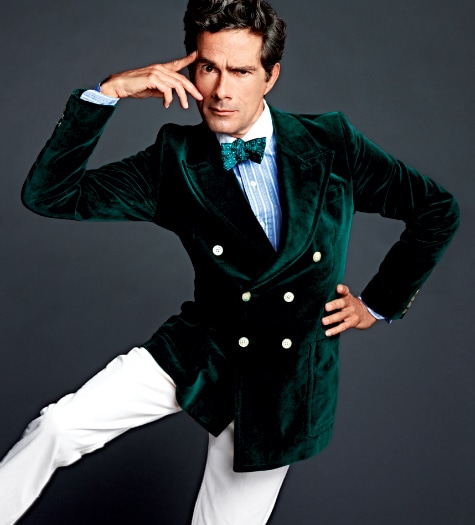 Paris-based designer Vincent Darré has a passion for musicals. He is a fervent fan of Vincente Minnelli classics like Ziegfeld Follies and regularly leaps balletically down the streets of the French capital à la Gene Kelly (check out his Instagram account, @vincent_darre, to see him in action). His close friend, fashion icon Inès de la Fressange, first met him at a dinner in Provence where he was leading the young girls of the house in dance. "I recall this young man in a white linen suit who charmed everyone with his joie de vivre, elegance and kindness," she says.
There is great joyfulness to Darré's work too. It is characterized by bright colors, whimsy and a tongue-in-cheek sense of humor. His furniture creations include a delightfully witty chest of drawers in the form of a crayfish and an octopus-like sconce with a bulb at the end of each tentacle. He has also decorated the Hôtel Montana in Saint-Germain-des-Prés and an apartment for the Spanish model Inés Sastre in a former artist's atelier near the Trocadéro. The scheme for the latter features a poetic pale blue bedroom wrapped in a 1940s-style fabric designed by his artist friend Pierre Le-Tan and a custom nail-varnish-red wallpaper in the entry hall. Last fall, Darré temporarily transformed the Luxury Living showroom on Paris's Avenue George V with a set devised to evoke a dreamlike château. "Vincent's a unique personality in the world of decoration," enthuses the Italian furniture group's president, Raffaella Vignatelli. "He has a lot of imagination and creativity."
Vincent Darré's Daring and Fashionable French Interiors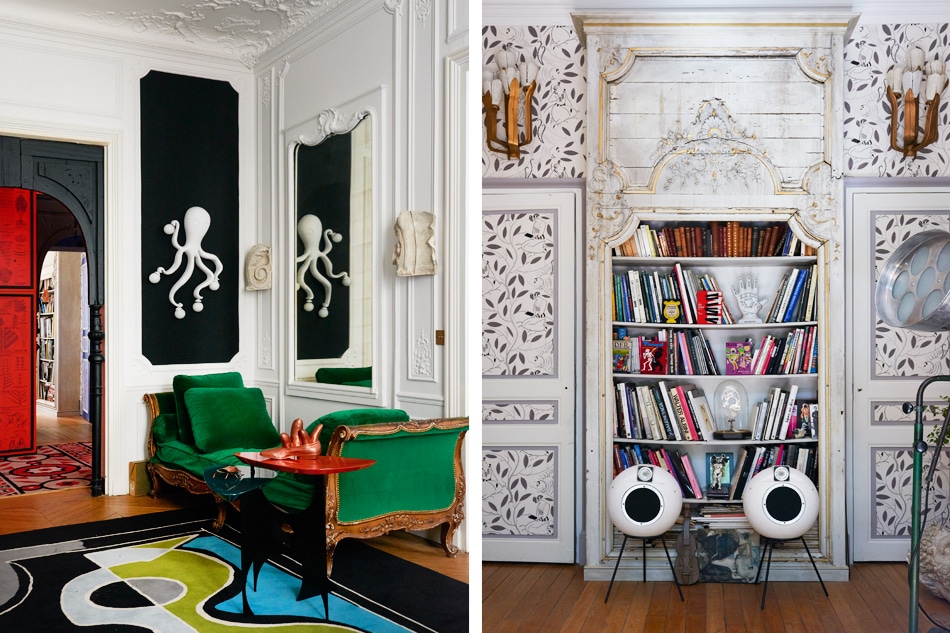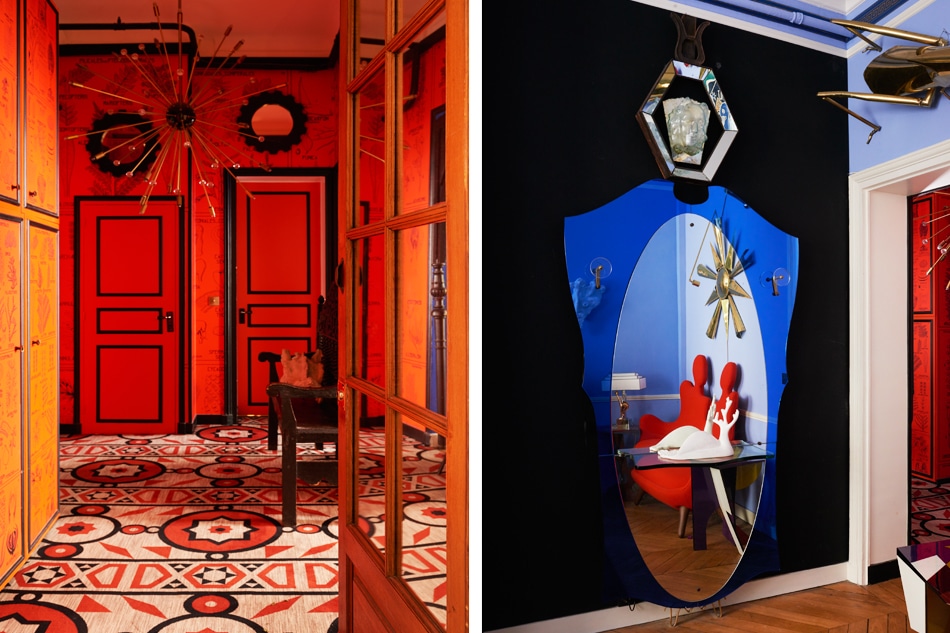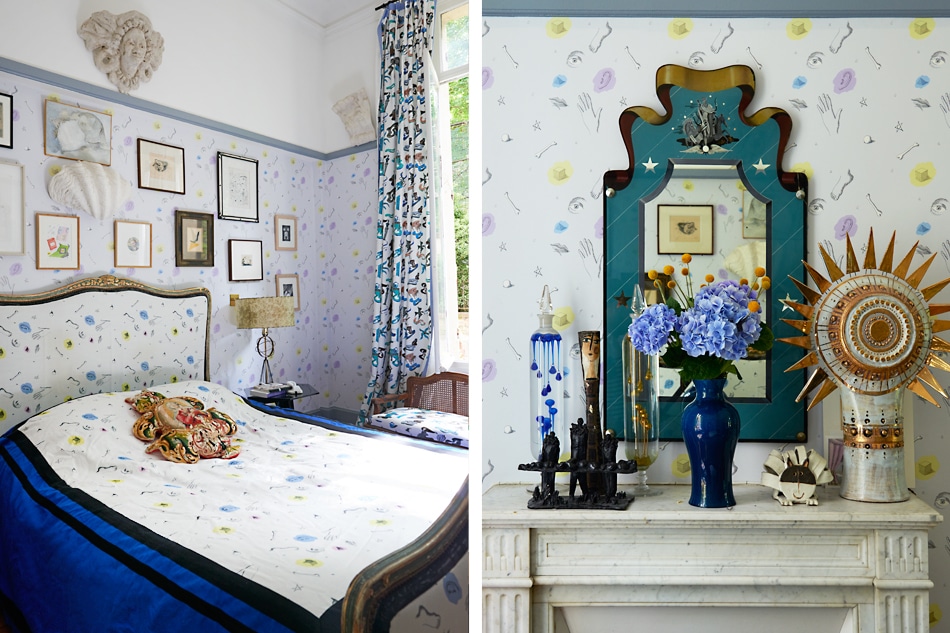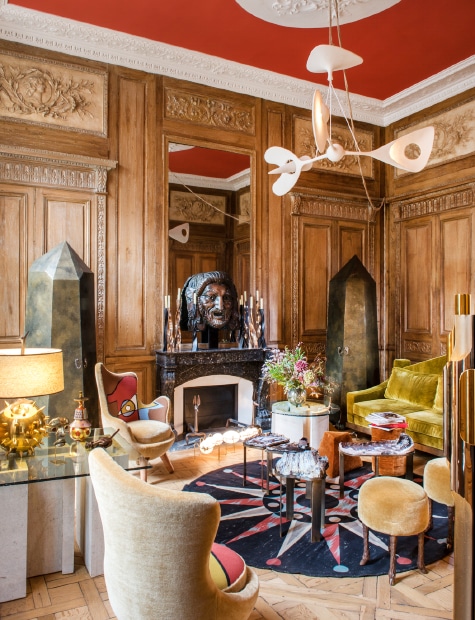 The setting for our interview was his opulent new showroom on rue Royale, where he served tea out of one of his most prized possessions: a Cubist samovar he bought some 35 years ago. In keeping with his obsession for musicals, Darré claims he chose the address because its environs reminded him of An American in Paris (the street runs between two of the French capital's most distinctive monuments, the Place de la Concorde and the Madeleine church). He also liked the fact that the legendary 20th-century French decorating firm Maison Jansen was formerly located just a few doors down. Darré's space occupies a series of lofty rooms in a quintessential 18th-century town mansion. "It has the proportions of a palace," he says. "I immediately saw it would allow me to re-create the house of my dreams."
Here, Darré presents not only his own furniture collections (the latest, Renaissance, is largely inspired by antiquity and garden design) but also pieces by friends, such as a wallpaper by Jennifer Shorto and a lava-stone console by Eric Schmitt. "What Vincent prefers more than anything is working with those close to him," notes Schmitt. "It's almost like a family of artists." Darré also sees the space as an ode to fine French craftsmanship. He asked straw-marquetry specialist Lison de Caunes to create a series of panels decorated with shapes inspired by metaphysical Italian engravings. There is also a stained-glass window designed by Darré and made by Simon Marq and intricate window blinds made using braid and ribbons by Lilou Marquand, an octogenarian who for more than 15 years was Coco Chanel's assistant.
---
Darré embraces theatricality, disorder and imperfection but shuns the idea of being in fashion
---
Darré came to interior design late in life. He was born in 1959 and had what he describes as "a strange childhood." His father was a journalist who later became a sociologist. His mother worked in publishing and hung out in postwar Saint-Germain-des-Prés with now-iconic figures like writer Boris Vian and singer-actress Juliette Gréco. After May 1968, the family unit sundered when his father left his mother for her best friend. Darré ended up living with his mother in a rather decadent environment in Montpellier. "She performed illegal abortions at our house, smoked weed and had lesbian and homosexual friends," he recalls.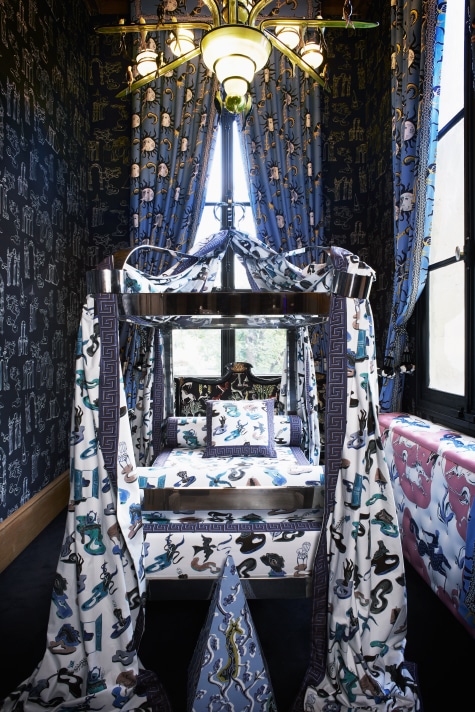 As a teenager, Darré was a fixture at the legendary Le Palace nightclub in Paris, where he became close friends with the likes of Christian Louboutin and Andrée Putman. During that period, he started making dresses for parties, which quickly garnered attention. "Everyone told me, 'You should go into fashion! That's what you're made for!' " He followed the advice and enrolled at the Studio Berçot, whose alumni include Isabel Marant and Lolita Lempicka. His first job after graduation was at Yves Saint Laurent's couture house. Darré stayed only a few months. "It was really old-fashioned," he explains. "You had to go to the ateliers and learn how to thread needles correctly. I was deadly bored." He moved on to Claude Montana and, from there, to a succession of jobs in Italy, including a stint at Prada. Then, in the mid-1990s, he was introduced to Karl Lagerfeld through his uncle, the Spanish writer Jorge Semprún, and hired as his right-hand man at Fendi. He still does an absolutely hilarious imitation of the Kaiser. "I've never laughed so much working with anyone," Darré says. "He has such wit and makes much better puns in French than native speakers."
After six years at Fendi, Darré decided it was time to step out of Lagerfeld's shadow and in 2001 accepted the position of artistic director at Moschino. Four years later, he made what Vogue termed "his ill-judged debut" as the head of the design studio at Ungaro. He lasted only two seasons. "Even my friends thought the clothes were awful," Darré admits. There ensued a period of depression, from which he was shaken by a visit to a Dada exhibition at the Pompidou Center. The show inspired him to start designing furniture, and he immediately realized he had found a second calling. "I had an ingenuity and freshness that I'd lost in fashion," he says. In 2008, he opened his interior design firm, Maison Darré. He loves that the name is pronounced almost exactly the same as maison d'arrêt, the French for "detention center."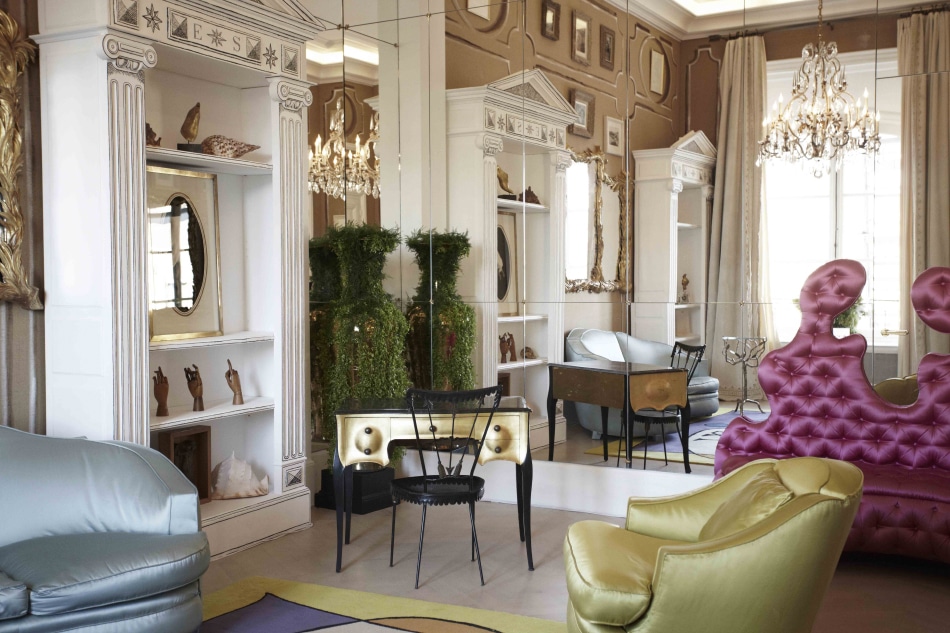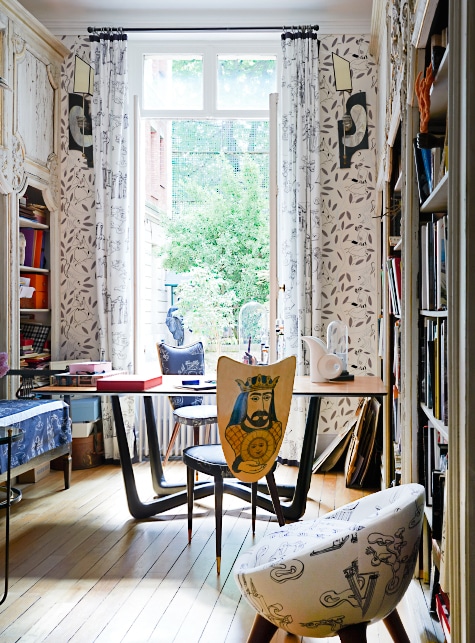 Darré's first furniture collection, Ossobucco, included armchairs with vertebrae-like backs and a cocktail table whose base was modeled on the shape of the pelvis. The second, À L'eau Dalí, made obvious references to the eccentric Spanish artist and featured designs that incorporated the forms of marine creatures; the base of a glass-topped console, for instance, resembled two seahorses. It was thus not surprising that he was hired to redecorate the salon on Paris's Place Vendôme of another Surrealist icon, Elsa Schiaparelli, when the fashion house bearing her name was relaunched in 2012.
Darré's aesthetic influences are multiple and far-reaching. He cites artists like Max Ernst and Christian Bérard; the macabre Sansevero Chapel, in Naples (it houses two écorchés, or flayed figures, in baroque sarcophagi); and the 1963 Jean-Luc Godard movie Le Mépris. "He always used very strong colors in his films," Darré notes. The designer embraces, among other things, theatricality, disorder and imperfection but firmly shuns the idea of being in fashion. "I'd hate to be in tune with the times," he says.
Today, Darré lives on the ground floor of a building in the Seventh Arrondissement but he sold most of the furniture at auction in 2016. These days, he rarely entertains there, preferring to receive friends in the rue Royale showroom. The guests at the space's inauguration party included fellow interior designer Jacques Grange, art dealer Thaddaeus Ropac and philosopher Bernard-Henri Lévy. De la Fressange was also in attendance. "I feel so lucky to have such a creative and benevolent friend," she says. "As soon as I see Vincent from afar, I start to smile." Chances are he'll be smiling too. "I believe you should always be in a good mood," he states. "And when I'm not, it's simple: I just stay at home and don't leave my bed!"
---
Vincent Darré's Quick Picks on 1stdibs