May 9, 2021Gifted decorators solve problems, and Wesley Moon's longtime patron presented him with a rather enormous one. Having raised two kids, now grown, in a 12-room Park Avenue triplex, the client had relocated downtown to a more suitable space designed by Moon. Now, the uptown apartment needed to be sold. Its footage sprawled over three levels — two full floors and a partial rooftop — with the balance in broad terraces. The Park Avenue address was clearly solid gold, but the design, completed a dozen years before by a different decorator, had not aged well. "The interiors had never really been given quite enough attention," Moon recalls.
Put another way, the dated triplex lacked the warmth and personality that buyers are drawn to today. Far more than a basic refresh was in order. "It wasn't just lipstick on a pig but a huge transformation," say Moon. Fortunately, he brought to the task highly relevant experience, having worked under prominent New York decorators and with Martha Stewart. (He reworked the architectural plans of Stewart's branded housing developments around Atlanta, then decorated a model home in each of these "Marthavilles.")
That's how he learned to "Martha-ize," although Stewart's house style is just one of many looks Moon draws upon. Now on his own, he notes that "every project looks different, and I'm proud of that." In his third outing with this client (together they also tackled modernist interiors in a 1980s Hamptons retreat by architect Norman Jaffe), Moon leveraged a deep level of trust that allowed him to work essentially unsupervised, in an ultra-posh Park Avenue–suitable style that would appeal to prospective buyers with especially deep pockets.
The listing broker recommended pandemic-inspired repurposing of a few rooms. So, a sitting area and a den became separate his and hers offices, and a media room was lightly and charmingly redecorated to suit kids. The broker proposed as well that the heavy, old-fashioned textiles be stripped from the mahogany windows. Moon describes these as "spectacular," noting that the views — capturing the Manhattan skyline in every cardinal direction — "are incredible. The light is incredible."
The finished apartment needed to look "like anybody could live there," the designer says, making potential buyers feel comfortable. This meant striking a balance between attention-jolting spectacle and anodyne universal appeal. He also believed it should present a fantasy collection apparently assembled by his billionaire client over time.
The result reflects Moon's delight in juxtaposing styles and periods. Contemporary sofas are upholstered in pale neutral colors. The pieces represent a timeline almost spanning the life of the Edwardian structure housing them, from 1940s and '50s Maison Leleu cabinets to a gleaming 2017 Maison Armand Jonckers brass coffee table and contemporary sofas upholstered in pale neutral colors. Many of the quirky vintage pieces and accessories, such as splashy brass bedside lamps and furry stools with animal legs, are from Maison Gerard and Newel, among Moon's favorite Manhattan sources.
He believes that, though bold and striking, none of these elements — "even the wacky old antiques," like the Renaissance-style settle — would distract a buyer from the harmony of the overall design scheme. He looks upon these rooms as "a chorus of voices with no solo performances."
---
Entry Hall
The original entry sequence was abrupt and unfinished and needed "to become memorable and have personality," Moon says. Accordingly, he clad the walls in grasscloth with a subtle, surprising sparkle, for warmth and spatial compression. This, he explains, heightens the "big wow" of higher ceilings and spectacular windows in adjoining rooms. He raised the hall's existing delicate glass pendants to lift its ceiling, and spread on the floor a colorful tribal runner that echoes the client's Roy De Forest painting.
---
Living Room
To make the large living area more inviting, Moon added a curvy contemporary sofa. This, he explains, introduces "sexy lines" in what is otherwise "a very boxy room with lots of angles, where I didn't want to do dueling sofas." The sun at the center of this room's constellation is the shiny brass 2017 Maison Armand Jonckers bi-level coffee table, from Maison Gerard. The piece cleverly incorporates a jardiniere, overflowing with orchids, that doubles as an ideal place to ice a magnum of champagne.

An existing antique French limestone fireplace strongly centers the space. Moon scattered the mantel with small antiquities from the owner's collection and mounted above it a glinting faceted iron mirror from Maison Gerard. "I had never seen anything like it," he marvels. The pair of French blackened wrought-iron floor lamps flanking the mirror had the distinct benefit of arriving with their own crisp black shades. The small Picasso-esque gilt-bronze lamp picks up the glowing caramel hue of a pair of Swedish Biedermeier-style armchairs from Newel. "Having those golden tones spread around the room creates a sense of calm and balance," Moon says. "If you squint your eyes and imagine dark wood chairs instead, the room suddenly goes entirely flat."

A final jab at any lingering formality comes in the form of sculptor Marc Bankowsky's biomorphic Mongolian lamb poufs, each with four sculpted silver-and-bronze goat feet. "When you look at any of my work, you'll see a little humor," Moon says. "Whimsy keeps your eye looking for what's unexpected."
---
Dining Room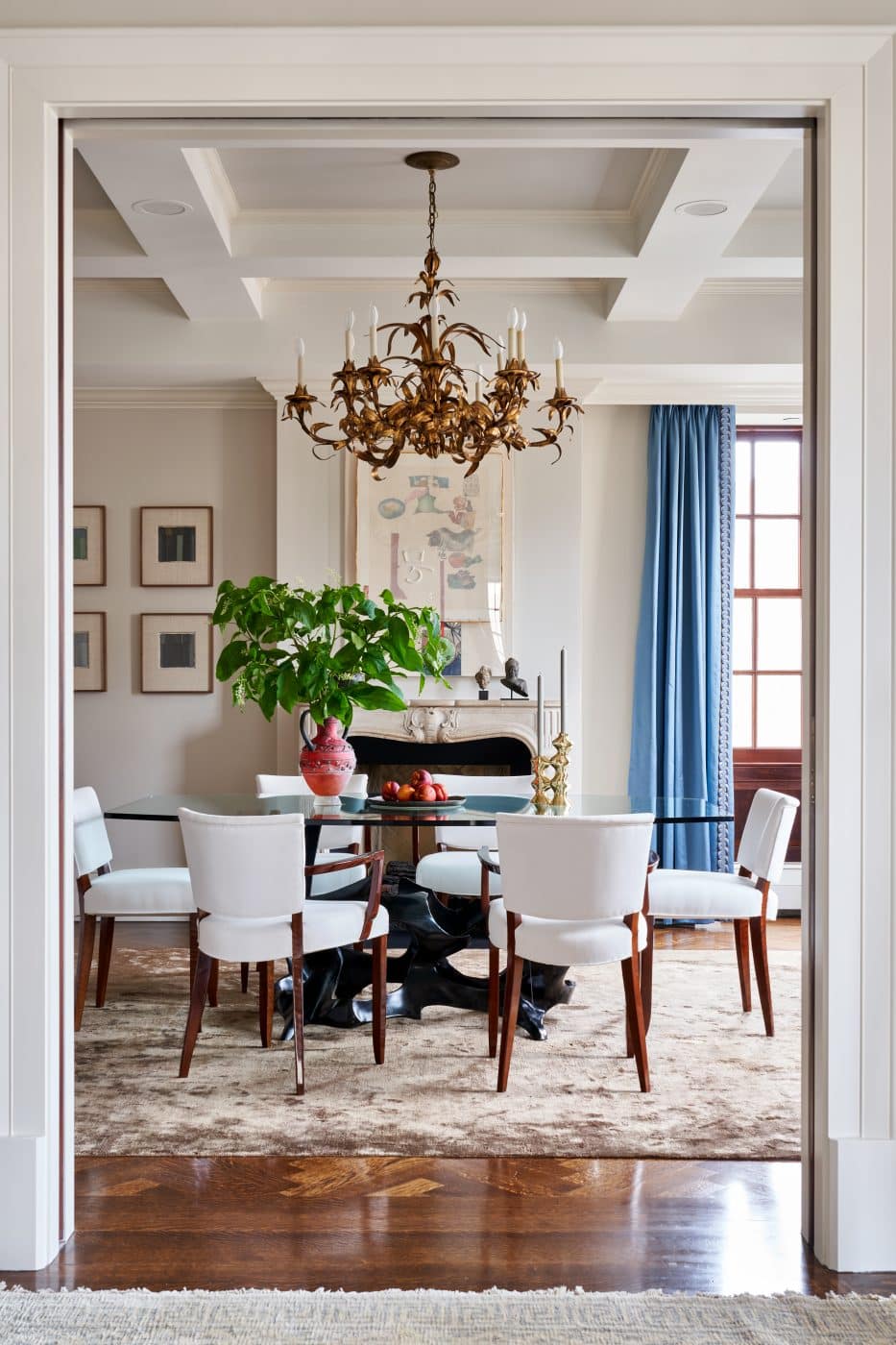 The dining room has the second of the apartment's two wood-burning antique French limestone fireplaces. Moon arranged more small antiquities on the mantel and hung a large framed Robert Rauschenberg mixed-media work on paper above — all from his client's collection. He elevated the original box-beam ceiling with a new palette of off-white paints and fitted the existing red-gold gilt tole chandelier (probably mid-century Italian) with glare-softening silk-wrapped lightbulbs.
On the room's large plain silk rug, he placed a sculptural, intimate 1979 Fred Brouard cast-bronze dining table suited to pandemic dining within a very small, trusted social bubble. Of course, as Moon points out, "even before the pandemic, people didn't want to sit at big, empty tables."
Maison Gerard had already reupholstered the 1928 Maison Leleu dining chairs in a simple white silk. A Maison Leleu cabinet, realized in lacquer and eglomise for the Villa Medy Roc, in Cap d'Antibes, also graces the room.
---
Kitchen
Moon made the fewest moves here, yet the result is the most radically changed room in the entire apartment. The brown wood cabinets were painted a shade of off-white, and the La Cornue range and hood professionally cleaned and polished. In the brightened kitchen, the existing, heavy cast-crystal pendants paradoxically appear delicate and extremely lightweight. The new bolster and cushion for the built-in bench helped to motivate the addition of a small breakfast table and inexpensive woven cane side chairs.
---
Family Room
In the family room, located just past the kitchen, Moon kept the existing grasscloth wall and added a big nubbly rug. Coffee tables in bronze and blackened steel are by architect Douglas Fanning; the contemporary sofa has oversize Fortuny toss pillows. Near the window, the enormous red chair in boiled wool is by Israeli designer Ayala Serfaty. "It's comfortable to sit there with your feet on the floor — or to lounge with your feet up," Moon says.
---
Gentleman's Office
The walls of this room, previously used as a den, were already covered in judge's paneling, which was stained darker than Moon might have liked. He countered the dark stain with a 2016 light-toned black-walnut version of Michael Coffey's 1973 Jacob's Ladder étagère, because "mixing woods is far more interesting than trying to match." On the shelves, Moon arrayed a collection of what he calls "weird" 1970s Gérard Haas sculptural electronic gadgets that plug in and light up.
He liked the idea of floating the desk, setting it and an ebonized-oak Guillerme et Chambron side chair on an abaca rug to freshen the room and quash any lingering formality from the paneling. "If it had been an Oriental rug, it would be like, 'Ugh,' " the designer groans.
---
Lady's Office
To recast this sunny space as an office, Moon added a mid-century Guillerme et Chambron oak desk, an extreme stylistic contrast with the antique Renaissance-style wood settle already in the room. "I hate matchy matchy," Moon says. He's also not a big fan of red, but the existing candy-apple cushions and bolster motivated the pinks and lilac of the rug "and made them more fun." Soft sheer roman shades offer filtered privacy for windows overlooking the terrace.
---
Main Bedroom
Moon transformed the upholstered bed with Holland & Sherry pillows embroidered in Scotland. The mid-century Carpathian elm-burl nightstands with brass accents, by William Doezema for Mastercraft, are from Newel, as are the pair of brass lamps. The curvy chaise plays well with a charming occasional table by René Joubert and Philippe Petit for DIM — one of a set of six from Maison Gerard (a trio of other pieces from the set are in the lady's office).
---
Main Bedroom Terrace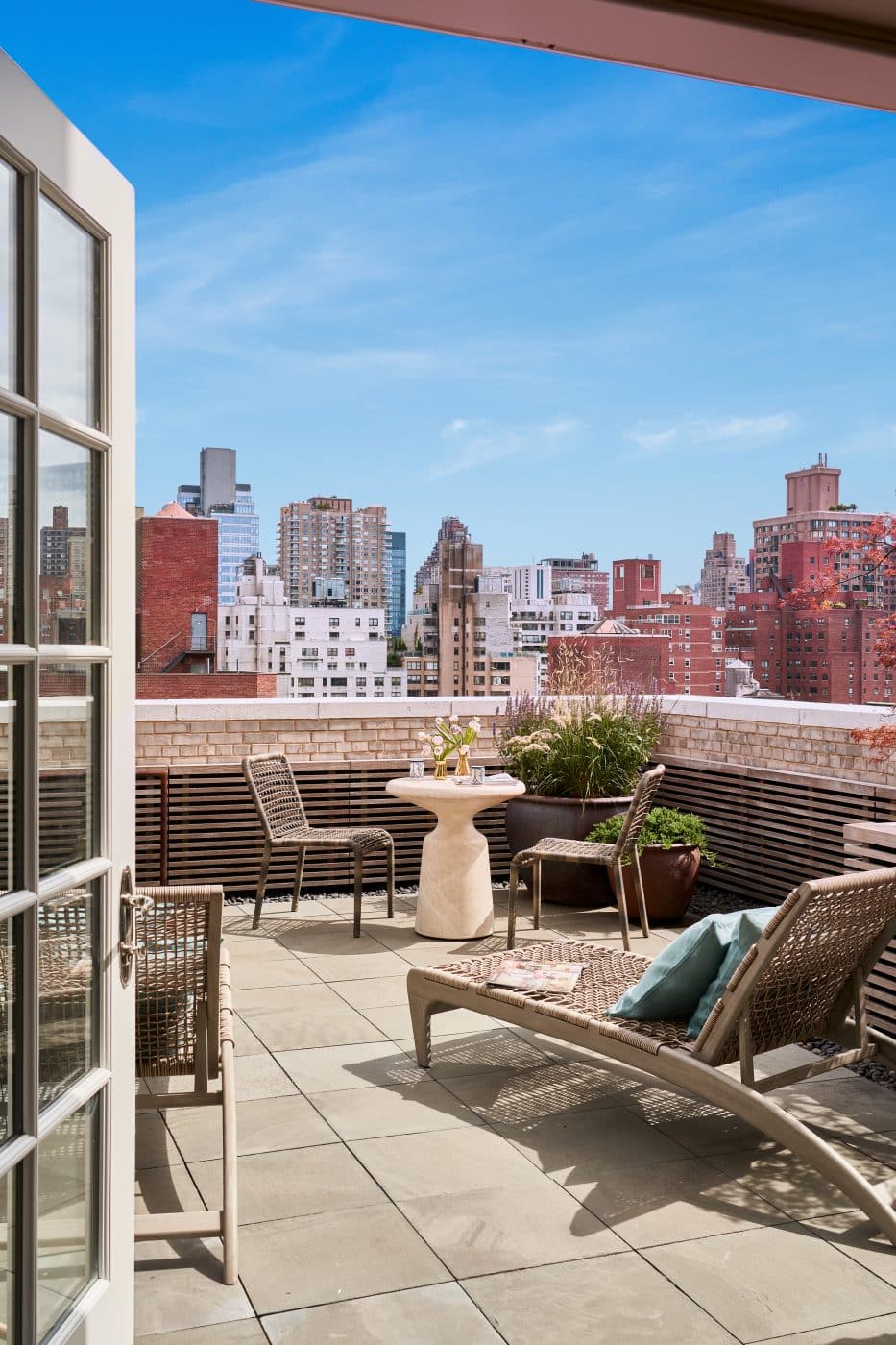 The penthouse has uncommonly wide roof terraces on two levels. The broker requested that the outdoor spaces be redesigned with more comfortable living-room-style seating. Moon highlighted the romance of the main bedroom terrace, which hosts a cast-stone bistro table for dining alfresco. It faces east, offering a bit of morning sun for lounging. The contemporary side chairs and lounges are teak, webbed with weatherproof synthetic rattan.
---
Entertaining Terrace
Moon kept the existing blue tile backsplash in the outdoor kitchen, which he accessorized with Peter Lane's 2018 rectangular Accordion vase. The teak woodwork and enclosures were refinished and the planters refreshed with foliage supplied by Moon's landscape collaborator, RISD-educated Aaron McIntire, of Brooklyn's Arbor & Folly.
---
Get the Look