July 16, 2023There aren't many opportunities to see the work of some of the UK's finest design talents all in one space, but the WOW!house offered just that. Earlier this summer, the showhouse enjoyed its second, hugely successful iteration at London's Design Centre Chelsea Harbour, where it featured a host of exceptional designers — some established luminaries, others rising stars — from all corners of the globe.
Representing the U.S., Los Angeles–based Mark D. Sikes created a grand, tented terrace that, he says, was inspired by a fabulous American lady — perhaps Lee Radziwill, Jackie Kennedy's younger sister. New York–based designer Joy Moyler envisioned a bold yet comfortable dining room packed with architectural detail. Those stellar showings notwithstanding, the biggest takeaway for some was the extraordinary range of British-based talent tackling the 18 fantastical spaces.
---
Nicky Haslam & Colette van den Thillart
The iconic Nicky Haslam conceived a theatrical, contemporary salon in collaboration with his former creative director Colette van den Thillart, who now heads her own eponymous studio. Renowned for interiors that combine charm and wit with keen historical references, the pair conjured up a room to accommodate a host of activities. "It was perhaps a love letter to our chosen family — Elsie de Wolfe, Madame Errázuriz, Dorothy Draper and Emilio Terry — and also to each other," says van den Thillart. "Serving as a guiding force were the ingenuity and bravado of great designers, artists, collectors, aesthetes or anyone with a penchant for the art of living."
Framed by twisted, plaster columns, the room combined metallic cornicing with walls swathed in mauve corduroy from Colony and ceilings lined with cotton satin from James Hare. An obvious choice may have been a plush carpet, but in this scheme nothing played by the rules, so instead they topped a burnt plywood floor with rugs of Haslam's own design, creating a clever juxtaposition. A glamorous bar and bookcases wrapped in fabric — a signature move of the duo — added to the drama, while a huge, semi-surreal photograph by famed fashion photographer Cathleen Naundorf was the icing on this decadent cake. "The ambience of a room is key, and it's created by the harmony of all its elements," says Haslam. "It's an intangible, undefinable essence that conveys happiness."
---
Natalia Miyar
Miami-born, London-based interior designer Natalia Miyar was charged with designing the main bedroom, which included a wealth of fabrics and wallcoverings from Colony by Casa Luiza. Known for her sophisticated use of color, Miyar bravely stuck to a monochrome palette, choosing to explore only various intensities of green. "We worked with about fifteen different shades," she explains. Botanical wallpaper formed the backdrop for an upholstered, brass-framed canopy bed, itself chosen to evoke a feeling of intimacy. A bespoke piece, the bed was from Miyar's own atelier, as were the bedside tables, the armchair, the stools and the sculptural console crafted from a luxurious mix of travertine, bronze and green wood veneer.
"I believe that bedrooms should be serene and cozy but also glamorous and filled with objects you love," says Miyar. As such, she incorporated a porcelain stool by Venezuelan artist Reinaldo Sanguino and two statement lamps by Tyson London. For Miyar, art is always key, so there was a collection of paintings, drawings and ceramics that added contrast and depth. "A room itself is a composition where items create a unified whole," Miyar explains. "It's crucial that there's variety in that composition and that comes from materials, scale, combining new and vintage and, of course, art in all forms."
---
Barlow & Barlow
In brilliant contrast to Miyar's calming sleep space, the bathroom by Barlow & Barlow, in partnership with British bathroom manufacturer Drummonds, was a fearless, shimmering scheme designed, Lucy Barlow explains, for an imaginary rocket-ship captain. "Every room benefits from a sense of humor," says Barlow, co-founder of the Notting Hill–based studio known for its masterful command of color, pattern and texture. "We wanted to make the most of not having an end user, which allowed us to do something more avant-garde. I had a dream about a mirrored terrazzo floor, which led us to a retro-futuristic spaceship concept."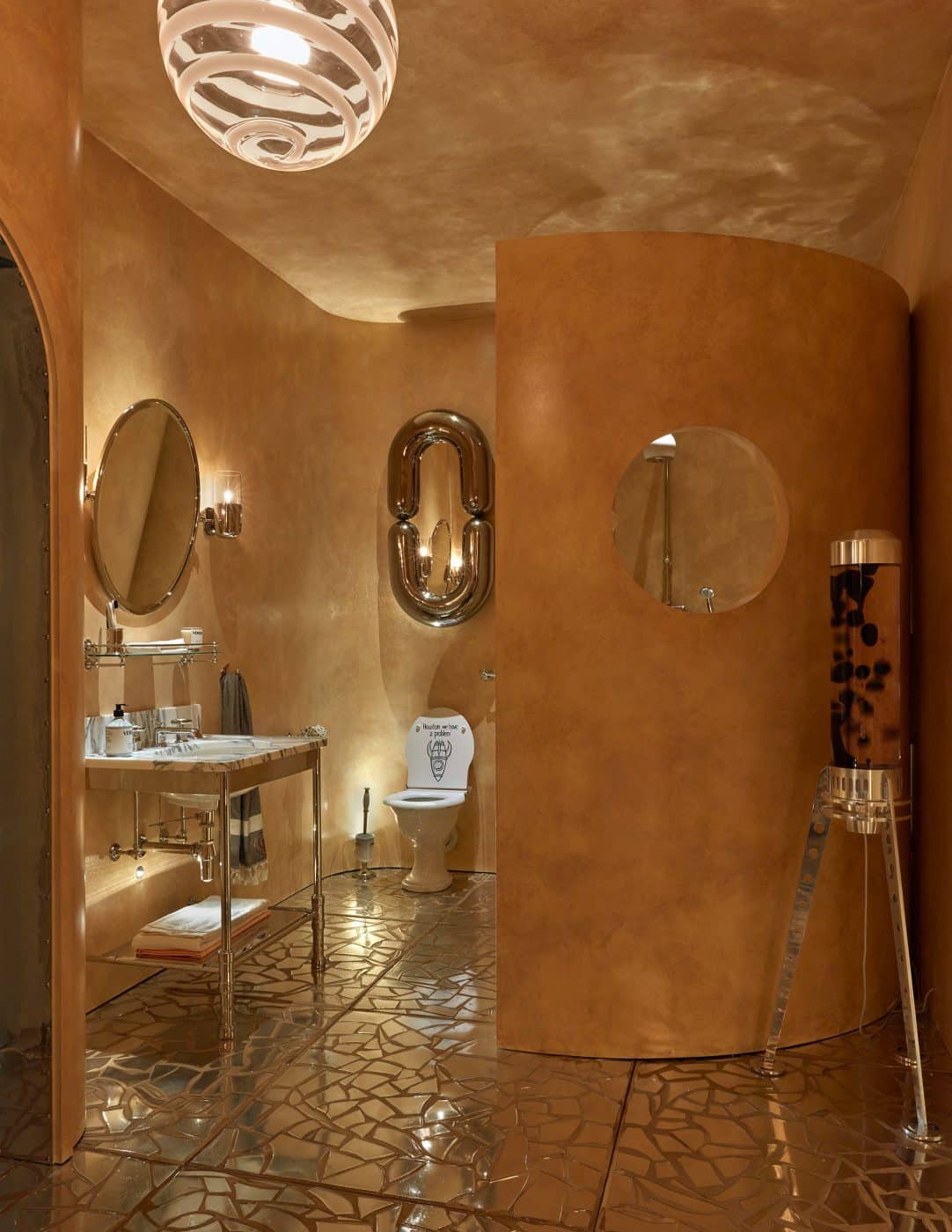 Drummonds Single Taw arabescato marble vanities flanked the entryway, while the company's Meon bath was screened with a 1970s Paco Rabanne Disco Curtain, sourced from ABC Modern via 1stDibs. "It reflects the lights and brings that disco-ball effect, which is such a fun detail and completely unexpected in a bathroom," says Barlow. Fit for a weary space traveler, a gravity-defying Shadow Chair by Duffy London, Ltd. was also found on 1stDibs, while a swirling Mathmos Saturn lava lamp, itself reminiscent of a retro rocket ship, continued the Space Age theme.
---
Waldo Works
An abstract scene of weather, nature and architecture formed the backdrop for the Morning Room, produced by Waldo Works in collaboration with luxury wallpaper and fabric brand de Gournay. Originally drawn by Waldo Works founder Tom Bartlett for de Gournay's Drafting Room wallpaper, the landscape was transposed onto dyed silk. "We wanted a light, bright room for comfortable daydreaming," he says. "De Gournay is a constant source of fascination, and the fact that each wallpaper is a one-off and entirely handmade is extraordinary, so we decided to celebrate the idea of authorship and creation. We looked at examples of a large-scale linear sketching approach — David Hockney's opera sets, Treillage, Pierre Le-Tan illustrations, Hogarth etchings. I found I secretly admired those trompe l'oeil rooms in Italian palazzos or English country houses that envelope the viewer in some strange, idealized perspective. It was fun to see how we could do that and remain contemporary."
Complementing the scene were Off Cut bookcases by Living Divani and a custom-made Waldo Works lacquered dining table. Rough and smooth were represented by vintage brutalist chairs, Ingo Maurer's Floatation pendant and a whimsical Cloud walnut coffee table by Louise Liljencrantz, all sourced on 1stDibs. A custom rug by Christopher Farr replicated the movement of grain on a timber floor, and banquette seating was upholstered in Dedar Topinambour fabric. The result, says Bartlett, was a "fantastical but comfortable scene with a curiousness that keeps you looking."
---
Maddux Creative
Switching up the vibe yet again was the 3am Room by Scott Maddux and Jo Le Gleud, the duo behind Maddux Creative, who worked in partnership with luxury wallpaper and fabric house Fromental. The room, designed as a utopian environment to encourage free-spirited conversations, took inspiration from the magic of mycology. "It was an experimental space designed to trigger the imagination," says Maddux.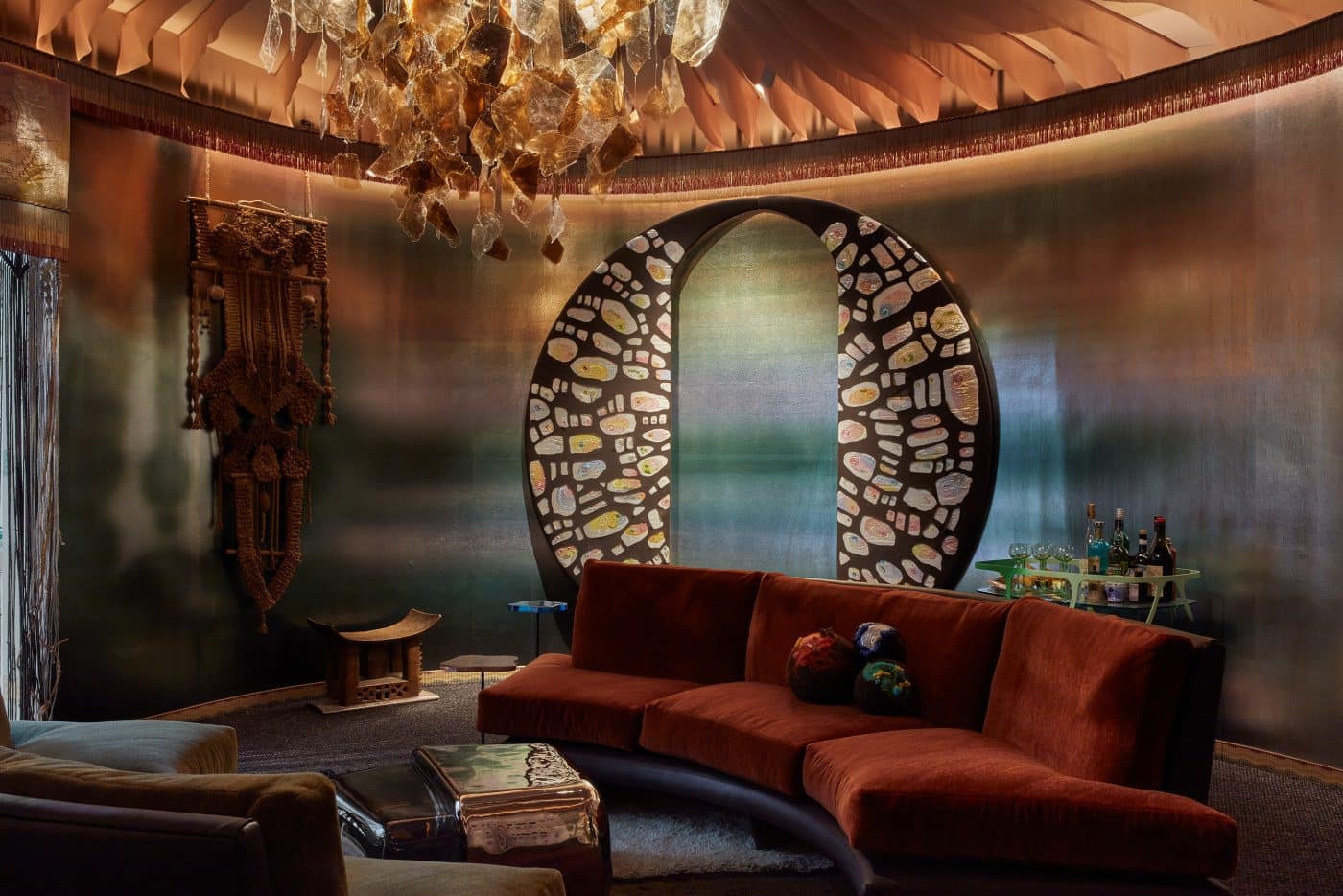 Given access to Fromental's archive, Maddux and Le Gleud were, he says, "like children in a sweet shop." Inspired by the treasures they found, together with Fromental, they produced new fabrics specifically for the space. Highlights included a tented ceiling filled with silk-organza gills reminiscent of those underneath a mushroom, as well as silk-linen-faille wall panels that were over-painted and embroidered. Two low bespoke George Smith sofas and Maddux's own Purra rug came together as a conversation pit.
---
Clare Gaskin Interiors
Clare Gaskin pulled together a comfortable, functional study space where creativity is guaranteed. "The starting point was really drilling down into what a study is — a place of calm to develop understanding and skills in any given field," says Gaskin. "And given the prevailing aspiration to have more space and an improved sense of well-being, we harnessed a connection to the outside world."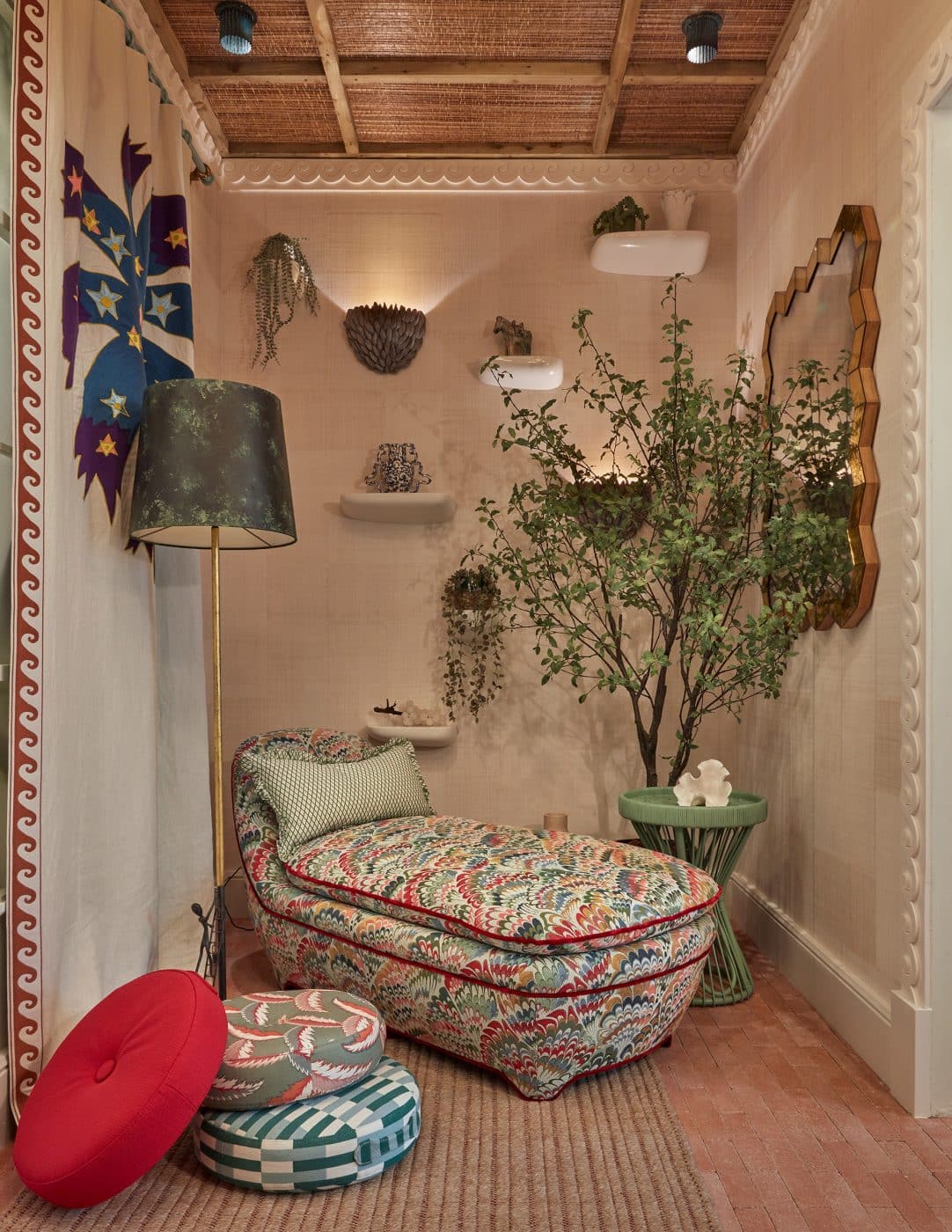 Designed to appear curated over time, the lively room was home to a vintage haberdashery display counter, a Venetian mirror and a daybed by And Objects for Nusom Collective. Textiles, including Pierre Frey curtains, were a subtle, textural foil for eclectic artworks curated with art consultant Nick Campbell. "At our studio, we all share a passion for, and background in, art," says Gaskin, who once worked as a specialist at Sotheby's. "So turning this space into an artist's studio was the most natural direction."
---
Christian Bense
"The love child of a safari tent and a Bloomsbury apartment" is how Christian Bense describes the bedroom that he designed in collaboration with luxury fabric specialists de Le Cuona, which married traditional English architecture with the colors and textures of Africa. London-based, South African–born Bense leaned toward rich earth tones paired with sophisticated neutrals. Georgian-style wall cladding acted as a framework for statement pieces, including Victorian faux bamboo beds and Bombay Button tables by Howe. A safari-style armchair and sofa were created by South African designers Justin Van Breda and Robert Langford, respectively.
---
Martin Hulbert Design
Table manners may be a thing in some dining rooms, but at the WOW!house, a more relaxed approach was encouraged. "Atmosphere was our starting point — we don't want anyone to be on their best behavior!" exclaims Martin Hulbert, co-founder of Martin Hulbert Design, who is known for masterminding award-winning residential and hospitality interiors, as well as hosting convivial Friday design-world lunches with his longtime collaborator Jay Grierson. These informal afternoons were the inspiration for the studio's sociable dining room. "The space truly represented the look and feel we love and was somewhere we would want to live ourselves," Hulbert says.
A generously sized bespoke table was topped with custom-made tiles by London-based ceramics studio Boquita de Cielo. Dining chairs combined elegance with comfort and the practicality of loose slipcovers. And, as these jovial hosts always create events filled with laughter, they covered the walls in sound-absorbing fabric, from a design by Hulbert. A characterful Georgian oak dresser from Carmarthenshire in Wales displayed cheerful, hand-painted plates by Kent-based ceramicist Kelly Jessiman and sat alongside a beautifully carved oak court cupboard. A chunky, handmade jute rug added texture underfoot.
---
Tala Fustok
For a post-dinner drink or even breakfast the morning after, Tala Fustok took things back into outer space with her glamorous home bar. "We wanted to transport visitors to another realm," enthuses Fustok, who draws on the rich influences of her multicultural heritage — she is British-Palestinian and has lived in Paris, among other locales — to bring together spaces imbued with a sense of theater.
At the center of the cocooning space was a Greenwich Globe pendant light by Vaughan — a "key starting point," says Fustok. "It makes the perfect moon." Working with Donato Coppola, creative director at specialist fabricator Officina Coppola, Fustok designed a breakfast bar crafted from black pitted limestone and a bespoke cabinet, home to a clutch of glowing glass objects from Vessel Gallery. The surface of the glittering plinth was peppered with a constellation of vintage silver egg cups, a toast rack and a cocktail shaker, as well as colorful glass vases and bowls and a ceramic breakfast platter by English artist Alma Berrow. Last, but by no means least, the floor was covered with a custom carpet from Tim Page. Inspired by the aurora borealis, Saturn and shooting stars, it sparkled — much like the constellation of British talent on display throughout this year's WOW!house.