It takes unique artistry to capture the pure joy of the season — particularly this spring, after such a harrowing year — in the most humble of materials: recycled wastepaper.
Yuko Nishikawa, a multidisciplinary artist who creates dreamlike lighting, tableware and decorative accessories in ceramic and other media out of her studio in East Williamsburg, Brooklyn, did just that for the fashion label Sandro.
For the past few months, the windows of Sandro boutiques from Paris to Beijing have been adorned with Nishikawa's airborne works of art. Their colorful, amorphous shapes, likened by the artist to "Beans, Pinecones, Umbrellas" (her whimsical name for the project), swish and sway as the movement of nearby humans stirs the air around them.
"I wanted to make something bouncy and happy, with the feeling of things starting to sprout again," says Nishikawa. "The texture was important to me, because we've been forbidden to touch things" during the pandemic, she says. "I really miss that, and I wanted to make something that just by looking at it you can feel the texture."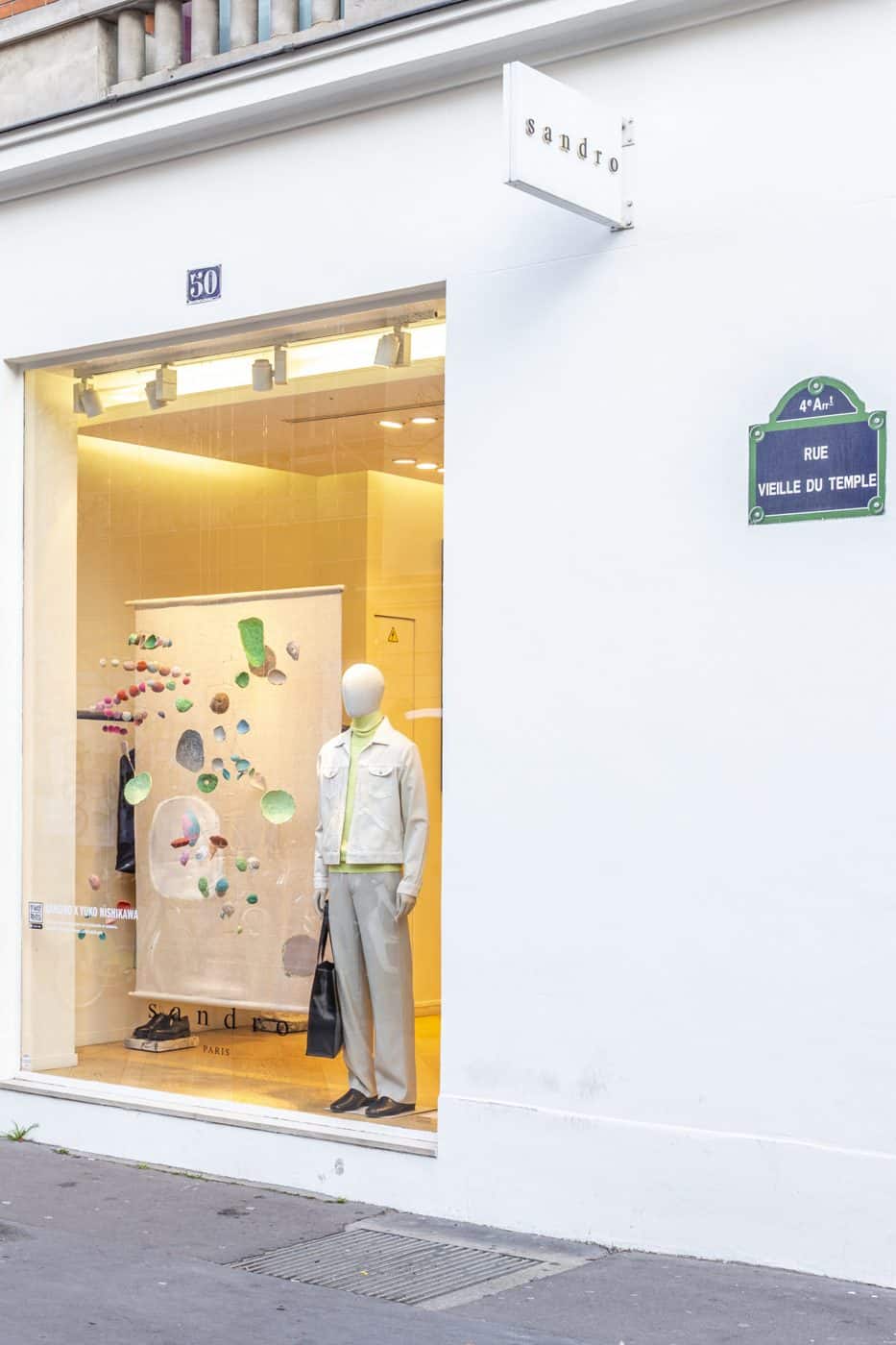 Last spring, Sandro, a Paris-based "accessible luxury" brand for women and men, founded in 1984 and with hundreds of retail outlets worldwide, approached Nishikawa first to participate in its Instagram series of one-minute videos about artists at work and then about creating display pieces for Sandro's December holiday windows.
Sandro, whose founder and artistic director Evelyne Chetrite has made the support of emerging creative talent and a commitment to the health of the planet pillars of her company, gave Nishikawa artistic carte blanche to conceive something that could later be sold through select partners, including 1stDibs (the exclusive seller in North America), where the kinetic artworks are now available.
Profits benefit One Tree Planted, the renowned organization whose mission to protect biodiversity and reforest the planet by planting millions of trees.
"Sustainability was something we wanted in this project, so the material is 100 percent recycled wastepaper," Nishikawa says. Experimenting with a medium new to her, she whipped up batches of air-drying, non-firing "paper clay," using seamless paper salvaged by the roll from neighboring photography studios, reduced to pulp, plus acrylic paint and nontoxic glue.
"It turned out to have a very interesting texture, kind of mysterious, like a cookie," Nishikawa says. "Because it's paper, it's very light, so I could suspend a lot of stuff. And because it's not ceramic, it's unbreakable, which worked really well for this project since I needed to ship a lot of them."
Indeed, Nishikawa made and packed more than 50 mobiles, each one of a kind, destined for Sandro retailers in the United States, Europe and Asia. To prevent tangling of their galvanized steel wire, she folded tissue paper into accordion pleats so that each tier of a mobile was separated for shipping, and the whole became a small, neat package. "When you open it, you just pull it up and everything falls into place."
The planned holiday installation, postponed because of renewed lockdowns in Europe and elsewhere, launched instead to coincide with Earth Day (April 22) — the mobile's bright hues working fortuitously with the colors of Sandro's Spring/Summer 2021 collection of colorful, chic beachwear and casual urban attire.
The tie-in with One Tree Planted seems serendipitous too. The preservation of forests, essential to the survival of all living things, is at the heart of the organization's mission, and Nishikawa named her Brooklyn studio Forest, "where we wander and discover new things," she says.
Nishikawa came to the U.S. from Japan in 1995 at age 18, studied interior design at New York's Fashion Institute of Technology and worked for a decade as a draftsperson and designer for the home furnishings company Donghia before setting up her own atelier a few years ago.
Prior to the pandemic, her 600-square-foot space had been the scene of monthly gatherings called Salon at Forest, which Nishikawa hopes to resume as soon as possible.
"When I was first interviewed about my own creative work, I struggled," she recalls. She launched the Salon series in 2017 in order to practice speaking about her work, to give other artists a platform to talk about their creative process and "as a good reason to keep my studio clean."
As with the Sandro mobiles, Nishikawa's projects always begin as a quest for visual representation of an inchoate feeling. The hand-built ceramic lighting and sculptures currently on her 1stDibs storefront grew out of "In Good Company," a 2018 group show of independent makers at the East New York, Brooklyn, gallery of Fernando Mastrangelo.
Evoking a fantastical world of floating objects intended to make gravity, the horizon and the edges of the room disappear, Nishikawa conceived an installation titled "You See a Sheep" (a reference to Antoine de Saint-Exupéry's The Little Prince), composed of multiple ceramic shells, organically shaped and mottled in color, lit from inside and suspended from nearly invisible wires.
For "Spore," a 2019 show at Brooklyn's Cooler Gallery, she imagined what might have happened in an old, wood-lined industrial cooler in the decades after it was abandoned, but before it became a hip art venue.
Similar to "You See a Sheep," the "Spore" sculptures resemble organisms from another planet. "Maybe some strange creatures were living there," Nishikawa muses. "In the beginning, I didn't have a clear idea of forms or colors, but I imagined something growing from the wall, kind of spreading, but welcoming you into the space. What would that look like? Wouldn't it be fun to see something like that?"
Nishikawa's overarching aim is always to transform space into what she calls "a fascinating encounter." She uses an onomatopoeic Japanese word to describe how she wants her work, including the ethereal mobiles, to make people feel: piku piku. The term means involuntary movement caused by unexpected contact, like goose bumps or butterflies in the stomach, perhaps.
She says, "I want my work to make you feel piku piku, tickling something deep down inside you."