Very few people call Kepa Akixo by his real name. His late mother used to, but only his banker does today. For everyone else, the sculptor based in Biarritz, France, has been known since the early 1970s by his nickname: Zigor. "I looked like a local farm dog who was called Zigor," he explains. In his native Basque, the word generally means "punishment." It can also be used to denote a whip.
Zigor's first-ever exhibition in the United States debuted at Maison Gerard, in New York, on October 2. He likes to say that he "sculpts only nature," and the abstract shapes of his creations are distinctly organic and often totemic. His admirers include Manhattan-based decorator and furniture designer Carol Egan, who says, "I love the purity of his forms. The balance he creates with interlocking, stacked or cantilevered wood carvings is wonderfully dynamic." And New York decorator Brian J. McCarthy describes the pieces as "very sensual and strong. They feel almost plantlike and very rooted to the earth."
Zigor himself claims his work derives from the mountainous, rocky landscape of the Basque Country, in Spain. "You can see it in the roundness of the forms and the sense of attrition," he declares. "There's also the sensation that my sculptures were created a very long time ago." Although he fashions steel blocks directly and casts many of his creations in bronze, the medium with which he is most closely associated is wood. "I have an almost carnal relationship with it," he declares. "It was part of my childhood and even today I walk in a lot of forests." Every year, he takes a trip to Andalucia, from where he brings back holly oak — "a wood of immense force and great density," he explains. Otherwise, he works with trunks felled in the Basque region, most notably those of plane trees.
---
"You can see the basque landscape in the roundness of the forms and the sense of attrition."
---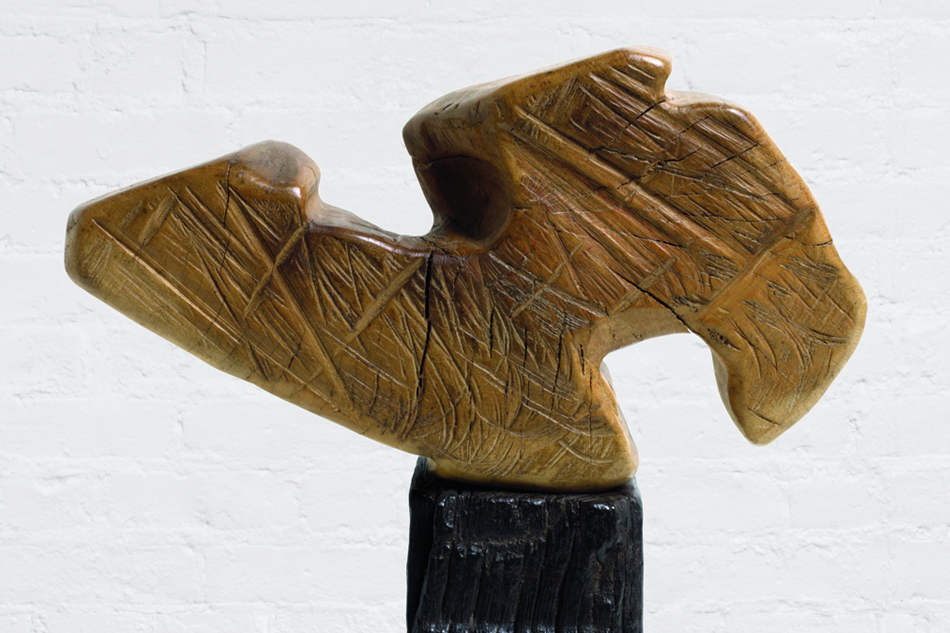 Zigor was born in 1947 in a small Basque village called Aretxabaleta. At the age of 13, he went to work in a body shop. Later, he became a photographer for the Spanish weekly news magazine Cambio 16 and traveled extensively throughout South America and the Sahara. He discovered his vocation in the mid-1970s after he accompanied a friend to the workshop of Basque sculptor Remigio Mendiburu. "It was a kind of revelation," he recalls. "I had the impression not only that I could sculpt in just the same way, but that I somehow already knew how to."
It wasn't until the early '80s, however, that he put away his camera and bought six tree trunks, a chainsaw and some tools. And he has never looked back. "This is what I was born for," he affirms. His first show was held at the Musée Bonnat, in Bayonne, France, in 1990. More recently, the exhibition space at the Bordeaux Submarine Base held a retrospective in 2010. He has public sculptures in both Biarritz and Anglet, as well as a bronze entitled Le Maître et L'Elève (The Master and Pupil) alongside works by Rodin, Miro and Calder in the sculpture garden created by the late dealer Paul Haim at La Petite Escalère, in the Landes region of France.
For Benoist Drut of Maison Gerard, Zigor is a poet — "a very strong, but very gentle man," he says. "Whether you're gay or straight, young or old, you fall in love with Zigor." There's also something decidedly mystical about him. The artist sees his work as having a spiritual dimension and is partial to such statements as, "When man looks at trees, he discovers space and joins time."
He's also likely to talk to them. "I believe there are some trees that have sculptures inside them and others that don't," he asserts. "I observe their forms and they respond with other forms. It's like a conversation."