Didn't we used to talk about flea markets together?"
The puzzled woman posing the question was theater legend Patti LuPone. On Valentine's Day this year, she was giving a concert in Los Angeles and was accompanied onstage by, among others, Adam Hunter, who has established himself as a noted interior designer there. They were singing selections from Evita.
The perhaps surprising answer to that question was yes. Before he made a name for himself in the design world, Hunter was a musical theater actor. He appeared in Les Misérables, Ragtime and Baz Luhrmann's Broadway production of La Bohème. Now, years after he essentially walked away from performing to commit himself to a career in design ("I always use the gay analogy of Julie Andrews leaving the convent and putting down her guitar," he jokes), Hunter found himself singing alongside one of his idols.
"Wait, am I a designer, or do I want to be Patti LuPone?" he recalls asking himself during the period when he was deciding what to do with his life. At the Valentine's Day concert, things came full circle. He is most assuredly a successful designer, with a firm located on a stylish strip of Melrose Avenue, but although he is obviously not LuPone, he had the chance to perform with her.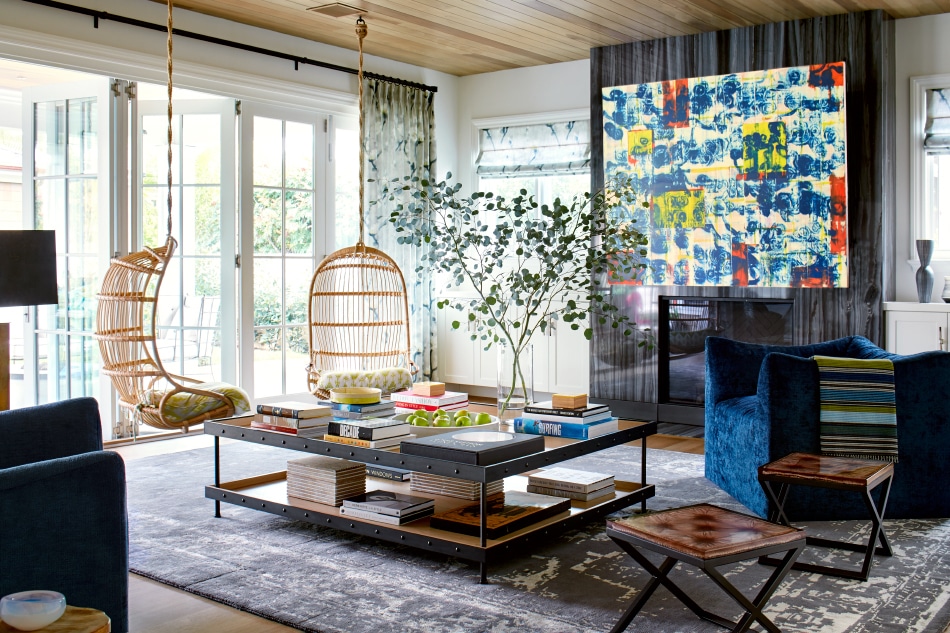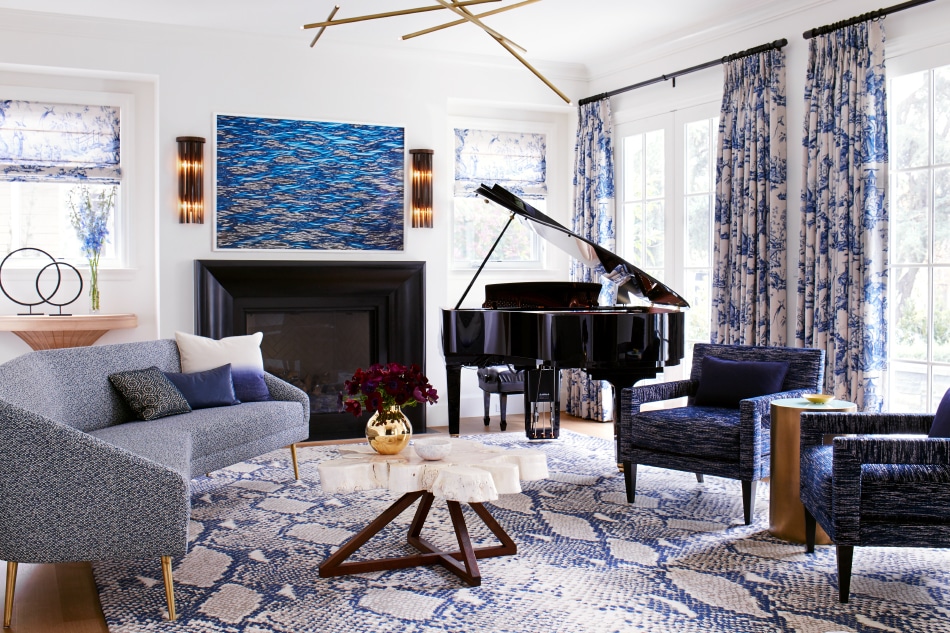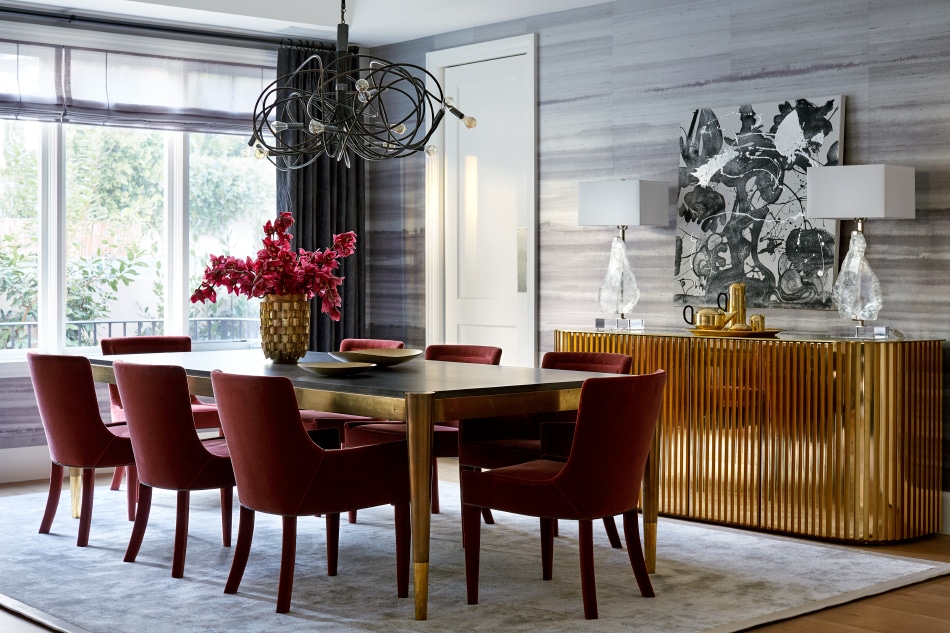 "Singing with Patti was such a moment," he says, particularly because for years, he had kept his prior career in the background, performing only with friends from his Broadway years at private parties and occasionally on L.A. stages. "I used to think that the two fields were not congruent. I am only recently coming back out as a performer. When I got into interior design, I worried about not being taken seriously. But now, I realize how my past career informs my art in every way."
In fact, performing and a love of design have been central elements in Hunter's life since he was a child growing up in the Chicago suburb of Winnetka. His mother was an actress, who had appeared in the first national touring company of Man of La Mancha; his father he describes as "the biggest musical theater fan." His mother got him into Actors' Equity and the Screen Actors Guild when he was a mere five years old, and he went on to study musical theater in college.
As for his penchant for design, a Winnetka neighbor was the prominent decorator Holly Hunt. "My mom and I would go to her estate sales and buy pieces," he says. The two of them worked in tandem on the look of their home. Hunter credits hours spent at the Art Institute of Chicago, captivated by its grand collection of Impressionist and Postimpressionist paintings, with inspiring his approach to textiles. (His Smoke rug for the Rug Company is its number-two seller.) Although he moved to New York and became a regular working actor, Hunter never quite got the decorating bug out of his system.
"In my early twenties, some of my fellow theater people, who have since gone on to become stars — like Patrick Wilson, who was my roommate, and James Carpinello — would come over after shows and help redecorate my apartment in the West Village, painting the ceiling, doing star appliqués," he recalls. "It was a laboratory of sorts for design, changing every few months. I used to joke, because some of these people were on the precipice of big things, 'One day, I will tell people that you were my design assistants.' "
---
"When I got into interior design, I worried about not being taken seriously. But now, I realize how my past career informs my art in every way."
---
This hobby, he discovered, fulfilled his creative instincts in ways that performing the same show for long stretches did not. "I was in my late twenties, and I was doing The Lion King," he recalls. "Doing eight shows a week, being painted green and holding a puppet, I began to think that being in the theater is in some ways the most uncreative profession. It's akin to an assembly line: It never changes. One of the things I love about interior design is that it's always changing. You are always reaching for new ideas."
Still, his pivot to a new career came about by chance. In 2007, he landed a role on a sitcom and moved to Los Angeles. But the day he arrived, the Writers' Guild went on strike. He didn't just lose a job; he lost any prospect of a job. So, he decided to make his side gig his career and began apprenticing with interior designers. His breakthrough came when he designed an all-white spa room for the skin-care specialist Kate Somerville that was photographed for Vogue, among other publications.
Hunter was disoriented by the reaction. "Suddenly, people were calling me to design their homes. And I was like, 'No, no, Julia Roberts, I am an actor.' " But friends urged him to continue on the path that had opened before him. "People said, 'This is your Tony!' Years later, it turns out this is the way it was meant to be."
An actor-turned-designer might be expected to specialize in showplace razzle-dazzle, but Hunter describes his overall aesthetic in more complex terms: "I like things in balance. I like rooms to have a certain amount of drama, but the more important thing is that they are livable. A room should not be an installation."
Indeed, "restrained drama" (a phrase he ascribes to Michael Kors) is how he describes much of his work, which is primarily but not exclusively residential and Los Angeles based and includes projects for Neil Patrick Harris, Christina Hendricks and Sutton Foster, among other high-profile figures. "I like to use color very pointedly," he notes, mentioning a cobalt-blue-leather-walled room in a large Nashville home he's working on. "Minimalism is of the moment, but it can be very cold. I'm really neither a maximalist nor a minimalist." He cites as influences the designers David Collins and Steve Jobs, but also the fashion world's Tom Ford for,  again, the "restrained" sexuality of his work.
Now that Hunter has years of perspective, and experience in the design industry, he can recognize the signal advantages that his former career brought to his current one. "Being an actor benefits my design career in my ability to speak to clients about vision and getting them excited about things," he says.
More importantly, "being an actor helps me reach them. I'm an empathic person. Every designer who is good at his job knows that the end goal is for someone else. You take them to the best version of their own style. And in some ways, that's a lot like getting inside a character."
---
Adam Hunter's Quick Picks on 1stdibs