The work of Alan Tanksley defies easy labeling. His interiors incorporate traditional and modernist vocabularies with equal flair, and always with a result that combines elegance and comfort. "I don't do what I call stage sets," says Tanksley, whose boldface clients include Anderson Cooper, Alan Cumming, Garry Trudeau and Jane Pauley, collectors Barbara and Donald Tober and the fashion designer Gilles Mendel.
Tanksley makes this statement as he sits in his office inside the redbrick Western Union Telegraph Building, built in 1884 and designed by Henry J. Hardenbergh, the architect of the Plaza Hotel and the Dakota Apartments. The space, with its arched windows overlooking Madison Square Park, was gutted when Tanksley took possession, and his renovation is an updated homage to the Gilded Age durability of Hardenbergh's design as well as that of the neighboring Flatiron Building. Antiques mingle with mid-century modern pieces and contemporary art, and the effect is less office than atelier — relaxed, chic and slightly bohemian.
Tanksley owes his mix-and-match philosophy both to distinguished design mentors and to his own fundamentally modernist leanings. Raised on Long Island (his father was a commercial airline pilot), he received a degree in interior design from Arizona State University. Like many a star-struck design major, Tanksley went to New York City after graduation, landing a plum job with Albert Hadley, followed by a longer stint with another design legend, Mark Hampton. "I didn't grow up in the world of high-end architecture and decorating," Tanksley recalls. "I had to learn very quickly how it worked. You become a quick study."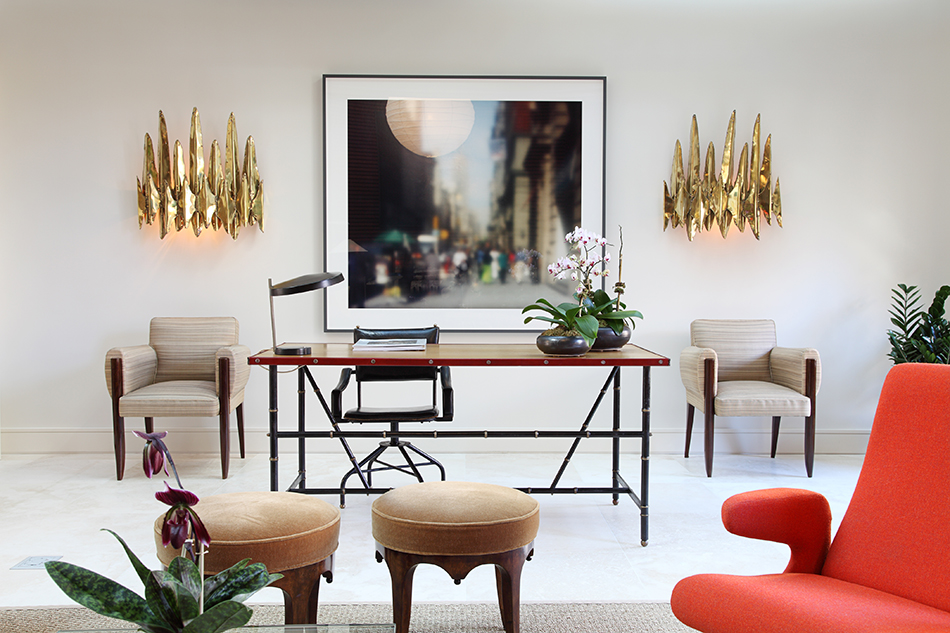 And study he did, absorbing the ways that Hadley and Hampton rejected dogma in favor of relaxed elegance. He recalls with equal fondness a modernist apartment with suede walls and Marc du Plantier furniture — "not most people's idea of Mark Hampton," he notes — and a Fifth Avenue apartment with 18th-century furniture by William Kent. "I fell in love with classical architecture," Tanksley recalls. "But, ultimately, I preferred pared down." Still, the rules of classicism were not lost on him. "Good proportion is developed and becomes an unconscious standard of measure," he says.
In 1988, Tanksley opened an office with the designer Paula Perlini, the sister of Hampton's wife, Duane, before going solo in 1993. He soon identified his ideal client: "a mature couple who have done this before and know the pitfalls. They appreciate the creative process. And they love collaborations." Tanksley's favorite examples are art collectors like the Tobers (she was the longtime chairman of the Museum of Arts and Design board) and former United States Ambassador to Denmark Edward Elson and his wife, Susie (for whom he decorated a Palm Beach house designed by their architect son, Harry Elson).
Tanksley was also hired by famed artist and architect Maya Lin to design interiors for three of her residential projects, and he collaborated with architect James Dayton on a contemporary ski house in Vail, Colorado. The clients in Vail wanted the interior to emphasize their collections of fine art and furniture by the likes of Donald Judd, Fred Sandback, Bryan Hunt and Gerrit Rietveld. "The collections came first in the design," Tanksley says.
Also in Colorado ski country but at the other end of the stylistic spectrum, Tanksley designed a house for a Boston family that evokes a traditional European mountain lodge. Here, he got to explore what he calls the destination — the transition from the house's public to private spaces, or "that on-the-way-to-somewhere-else pause," he explains. For instance, in the expansive living room, Tanksley carved out a bay "where you can read a book," and just beyond one end of the billiard table, he designed an alcove he calls "a deep reveal," with a custom leather bench equipped with small pull-out drinks tables. The house's details, like the hand-forged iron stair balustrade, are luxurious. And the contrasts are witty, such as the pairing of traditional English-style upholstered furniture with a bronze coffee table by the contemporary French artist Ingrid Donat. As Tanksley notes, you can throw yourself down on the furniture, but you're putting your feet up on a work of art.
In keeping with the idea of destination, Tanksley notes that he loves "the process of discovery in a room." Interestingly, one project that offered much to discover was not a commission but a product of the designer's own history and imagination: a space for last year's Kips Bay Decorator Show House. "The first showhouse I ever worked on was with Mark Hampton," he recalls, "but I couldn't design this room for Alexa" — Tanksley's good friend Alexa Hampton, the late decorator's daughter and a noted designer in her own right who now runs her father's firm. "So her husband," financier Pavlos Papageorgiou, "was my muse."
References to Papageorgiou's Greek background dot the cozy room: a lamp that reminds Tanksley of an olive tree, a Greek key-patterned trim on the throw pillows, the blue-and-white-striped jerseys worn by his and Hampton's children in a watercolor portrait. The effect is warm and personal, a portrait not just of Papageorgiou but of a friendship. It is this generosity of spirit that makes Tanksley's rooms, no matter what their stylistic vocabulary, speak so eloquently.
---
Alan Tanksley's Quick Picks on 1stdibs