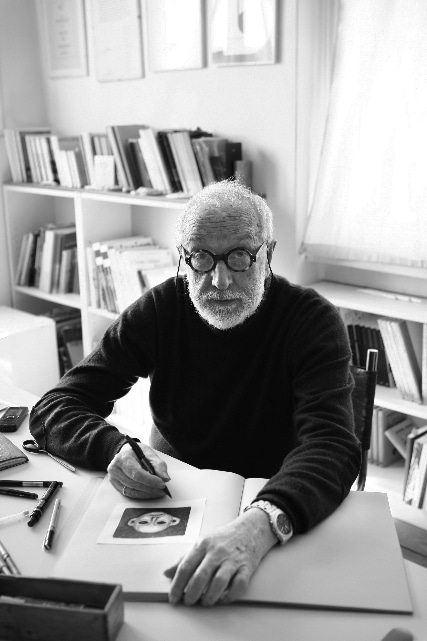 April 9, 2023Let's not quibble over whether Andrea Branzi is an artist, an architect or a designer. At 84, he's earned the right to call himself all three, plus teacher, philosopher, grand old man and just about anything else. Branzi has been in the mainstream of Italian design — which is to say he has been a radical and a contrarian — for more than 60 years. He has been involved in every major Italian design movement, both as a creator and a critic.
Not long ago, Actar Publishers collected some of his essays in the book E = mc2: The Project in the Age of Relativity. It runs to 600 pages, but so much material was left over that there may soon be a second volume. "It's a heroic undertaking, and I'm no help at all," Branzi told the Italian design historian Dr. Catharine Rossi in a video interview commissioned by New York's Friedman Benda gallery. "Reading my own articles is the last thing that would interest me," he added with a twinkle in his eye, "because I already know it all. It's all obvious to me."
Maybe it is obvious to him. But even his biggest boosters consider him "a little cryptic," says Marc Benda, Friedman Benda's cofounder. At the moment, the gallery is showing a new body of Branzi's work, representing four years of creation but also, Benda says, "decades of thought and investigation."
When the Florence-born, Milan-based Branzi graduated from the Florence School of Architecture, in 1966, he had already helped found the Archizoom group, dedicated to the idea that new materials and methods should be used to benefit communities as much as individuals. The collective came out with such memorable pieces as the 1966 Superonda sofa (two wavy blocks of polyurethane, acting as seat and back) and the 1968 Mies chair, a kind of spoof of minimalism, with a triangular chrome frame supporting a rubber seat and a diminutive cowhide pillow.
Branzi also became known for Archizoom's No-Stop City, an urban-planning concept of endless expansion. Expressed in provocative drawings and collages but never executed, it has continued to inform the thinking of Branzi and others.
In 1976, he became a key member of Studio Alchimia, along with his fellow iconoclasts Alessandro Mendini and Ettore Sottsass. The three later intersected as members of the Memphis Group. But Branzi soon felt, as design critic Pilar Viladas wrote in the New York Times, that "in its quest for formal perfection, contemporary design [had] hit a self-referential brick wall." He had taken the organic out of his work, so he put it back, as a neo-primitivist exploring the all-important question of how the natural can coexist with the man-made.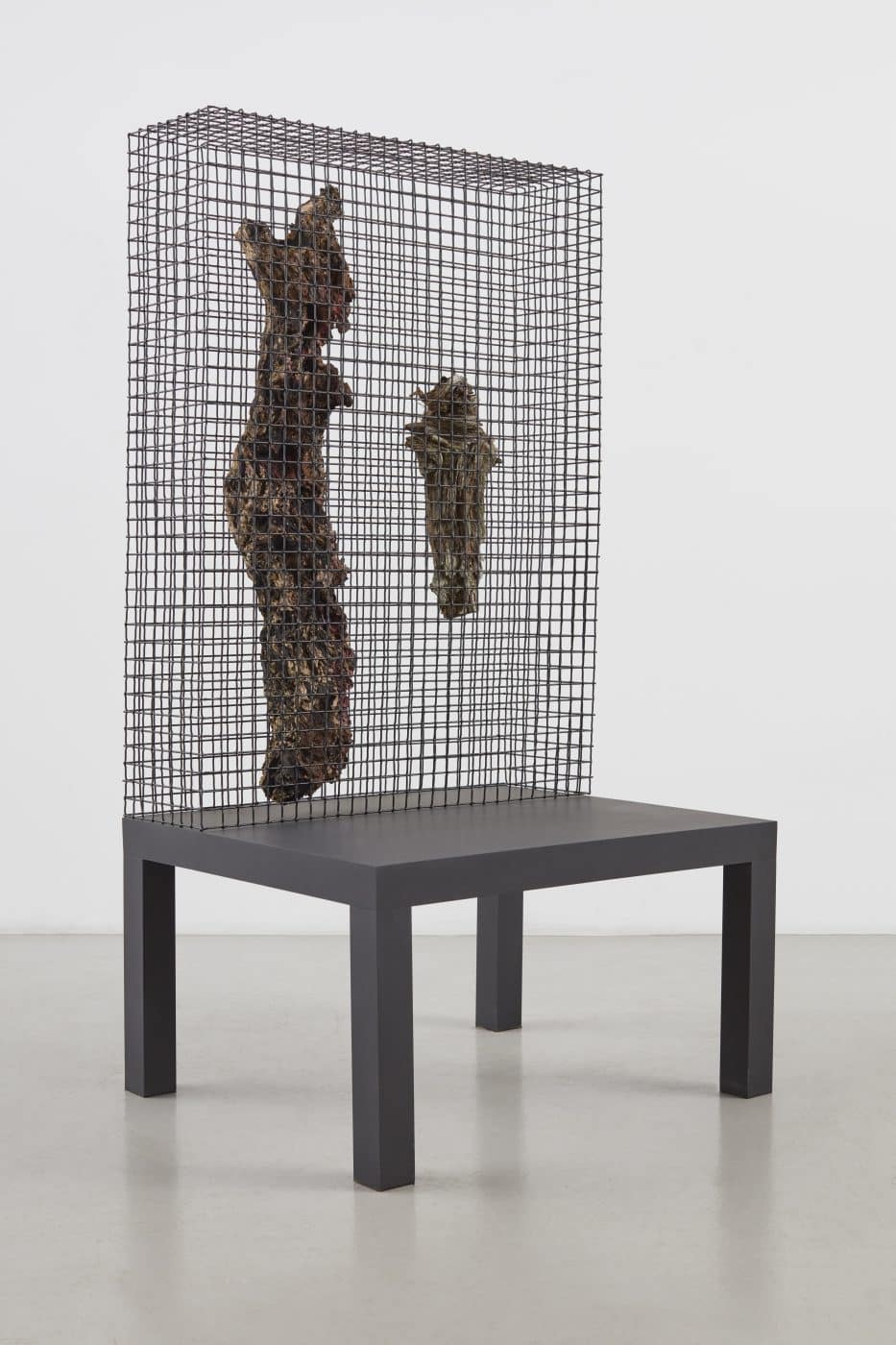 Titled "Contemporary DNA," the Friedman Benda show brings together several strands of Branzi's neo-primitivist work. Among the pieces exhibited are Roots — rectangular chairs made partly of wire-mesh cages filled with sticks and driftwood —and Buildings, elegant shelving units that display large sticks of bamboo (but do have room for other items). There are also lamps with bamboo and maple leaves between their layers of rice paper. Branzi believes that objects are never just simple tools but fragments of "a universe at the same time material and immaterial, functional and superfluous, about which we know very little."
"I got very excited when I saw Andrea's personal commitment to this show," says Benda. Along with the Roots are several Germinal Seats — otherwise ordinary chairs with backs made of bamboo festooned in bright colors. Branzi painted them himself. "He usually hands things off to fabricators," Benda notes. "It says a lot that his own hand is in this. To have original artwork by him is extremely rare."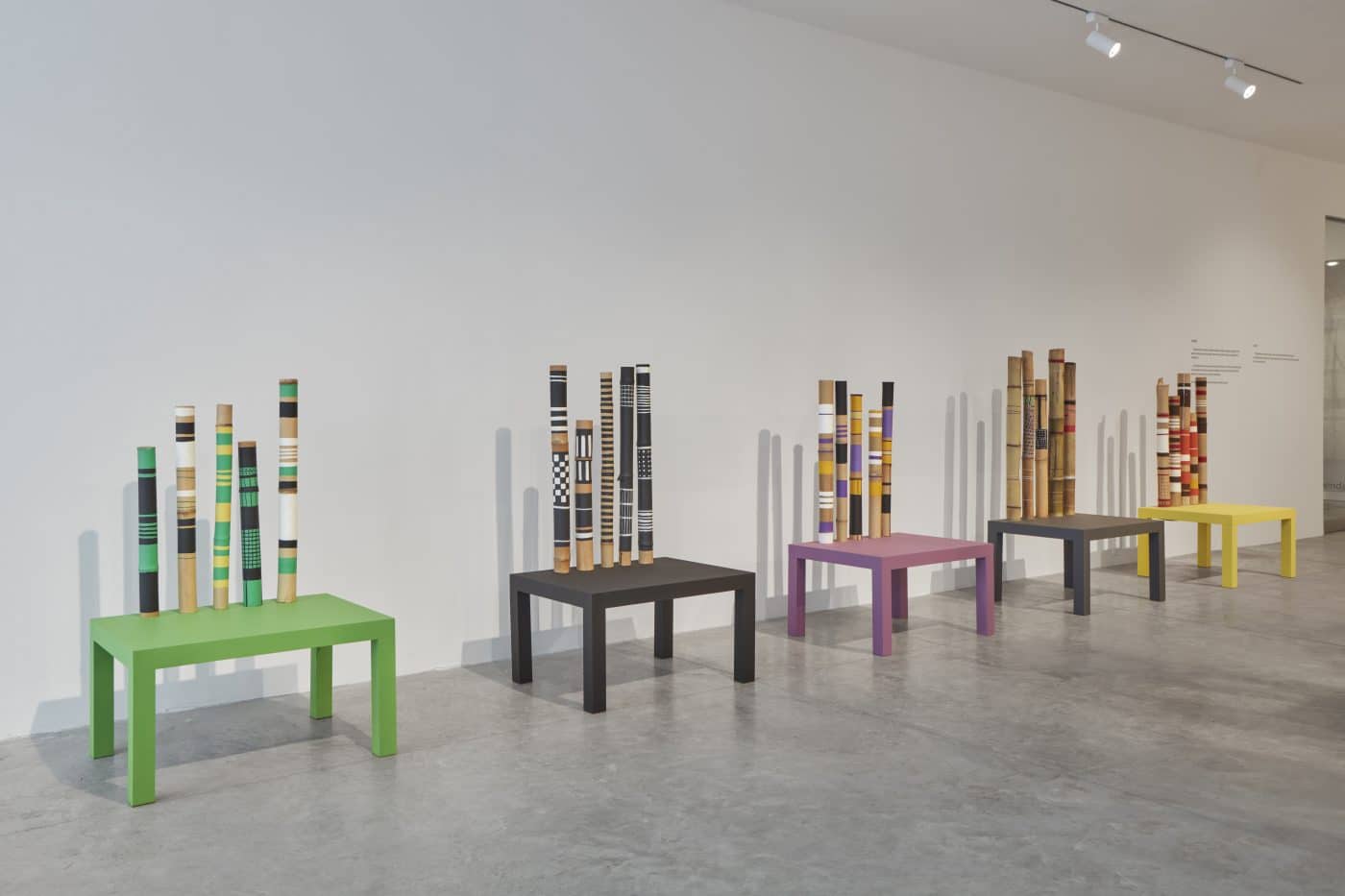 "There's a major environmental message in the work, but it's not straightforward," adds Benda. Branzi has explained his turn to the primitive, which began in the 1980s with his "Animali Domestici" series of laminate chairs with backrests of raw birch, as referencing an era in which early humans knew nothing of the past or the future. "They lived," he says, "in a continuous present that evolves without interruption."
The design historian and critic Christian Larsen, speaking to Introspective, calls Branzi "a philosopher-architect, a theorist," adding that "his practice is entirely in pursuit of his concepts." That said, he has had some very concrete successes. His Revers seating, whose back and arms are in the form of a single swoopy ribbon, became an instant classic when Cassina introduced it 30 years ago. More recently, his Pupa armchair, with a voluptuous foam seat supported on the thinnest possible steel legs, has been a big seller for Qeeboo.
Yet the neo-primitive strain in his work had taken hold. According to Glenn Adamson, the design historian and critic who wrote a catalogue essay for the current show, neo-primitivism is part of the larger Italian radical design movement. Memphis, also part of that movement, "was a collective, a sort of design stunt, and eventually a viable business," Adamson tells Introspective,  "whereas neo-primitivism strikes me more as an intentionally provocative theoretical premise on Branzi's part. I am also not aware of anyone else really aligning themselves to the idea."
Which is fine with Branzi. In 2012, he made his debut at Friedman Benda with "Trees and Stones," a show that included a collection of sleek shelving units pierced by trunks and limbs to beautiful, thought-provoking effect, as well as rocks sitting like busts on metal pedestals. In 2017, he exhibited a series of dark metal cabinets harboring brightly colored twigs, which he called "Planks."
As for his present, that's "Contemporary DNA," at Friedman Benda through April 22. Says Benda, "His writing, drawing and thinking and the physical realizations of his work intertwine in a helix like DNA. Each cannot exist without the others. What he leaves us with is the future."
Explore Andrea Branzi's Work on 1stDibs