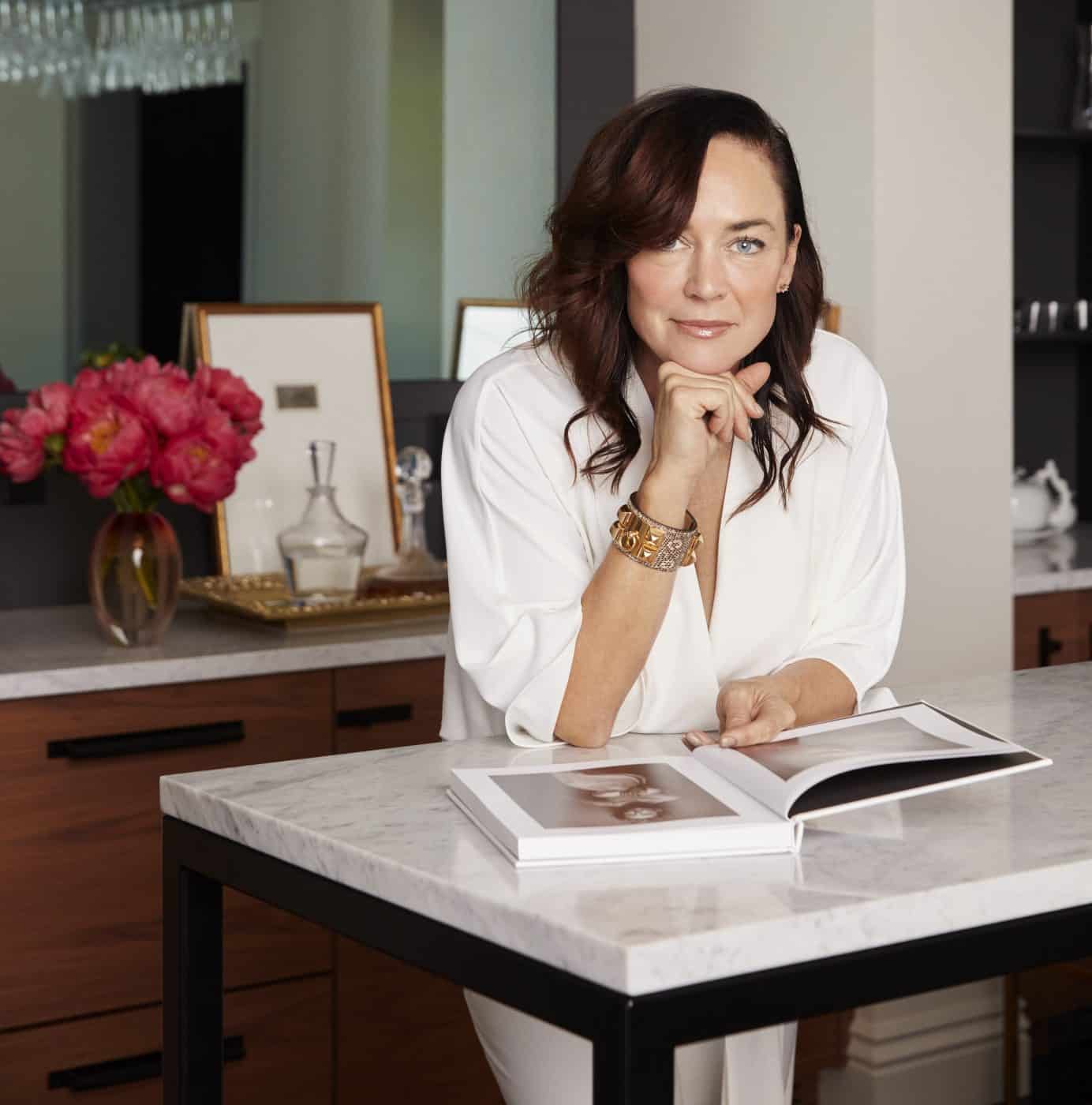 November 14, 2021Although Diana Vreeland's most famous mantra, "The eye has to travel," is presumably about fashion, it could easily be the philosophy of interior designer Andrea Schumacher. A natural at creating dramatic spaces with confident choices and inimitable style, Schumacher grew up traveling — and living — around the world.
The daughter of a virologist for the CDC, as a child she skipped from Atlanta to Boston to Long Island to Nigeria, eventually landing in Colorado, where she earned her bachelor's degree in interior design from Colorado State University. She now runs her firm, Andrea Schumacher Interiors, from Denver and splits her time between the Mile High City and Santa Barbara. Seeing the world at such a young age shaped not only her childhood but her perspective as well. "I always say the passport my dad gave me as a kid influenced my designs," she says. "I weave a global influence into my spaces."
Beginning her working life by drafting sets in Los Angeles for the NBC soap opera Days of Our Lives, Schumacher somewhat accidentally launched her business when a friend of a friend introduced her to someone who needed help in that area. That someone became her first real client. "He had me do his condo in downtown Denver, and then I did two more projects for him," she says. "That led to another client and another client. I didn't really mean to start my own business. I was doing handshake deals for a long time, and it just grew from there!" Today, she continues to have a relationship with that initial client. "I recently designed a ten-thousand-square-foot home for him. He's a hedge fund manager, and we have become close friends!"
She spoke with us from her studio about family, fashion and what really goes into making great design.
Where do you find inspiration?
Everywhere. I visit Morocco and Paris every year. I go through the flea markets in Paris and get all kinds of ideas. I love Morocco's endless textiles and rugs and lighting. And as far as color, Morocco can't be beat!
Sometimes I draw inspiration from fashion. How people put outfits together is similar to how you put a room together.
Who's your favorite furniture designer?
Jacques Duval-Brasseur. He worked in Paris in the thirties. He would make, say, a praying mantis coffee table and put agate inside.
Who's your favorite artist?
My late grandmother! She went to the Academy of Fine Arts Vienna and studied under Léger and Dalí in Paris. I'm doing a textile and wall-covering line based on fifty years of her work, which I hope to launch in the spring. It's called the Liesl Collection.
What are some of your favorite decorating periods or styles?
In general, I love modern upholstered goods with case goods that are antique. I love to blend a seventies dresser with a really contemporary piece of furniture.
Who is your personal style icon?
I'm a fan of vintage Ralph Lauren, like the older Black Label collection. He hit every genre — you could be at the beach, you could be in downtown New York. It's a go-to when I'm pulling my own outfits together.
What is your favorite historic interior?
The Greenbrier hotel in West Virginia. I love Dorothy Draper's fearless approach to design. Her use of color and pattern is exquisite.
If you could live anywhere in the world, where would that be?
Probably Marrakech, in Morocco, just like Yves Saint Laurent did.
What would be your dream project?
I think a dream project would be to work with one family and do all of their homes. Say they have a mountain home, a beach home — I'd like to do multiple projects with a family I get to know really well. Design isn't really about the designer. It comes down to the relationship the designer has with the client.
What, in your opinion, is the most underappreciated design idea?
I always thought of lighting as the jewelry of a home, but I think door and cabinet hardware is, too. It can be really stunning if it's designed and highlighted well.
What's one thing you've done that shouldn't have worked but did?
A client wouldn't let us take the tiles out of any of the bathrooms. They were all a sort of travertine. We juxtaposed the light color of the travertine with a dark wall color, and it ended up actually looking really good — I was kind of shocked! When something like that happens, you have to elevate everything else in the room.
What accomplishment are you most proud of?
It's bringing this whole collection to life to honor my grandmother and commemorate her work. I feel like I'm going to be the most proud of that because it's a way for her to live on — in a different way, but she lives on, which I love.
What sets you apart as a designer?
I think I have guts. I think I'm daring — sort of bullish, like a bull market kind of designer!