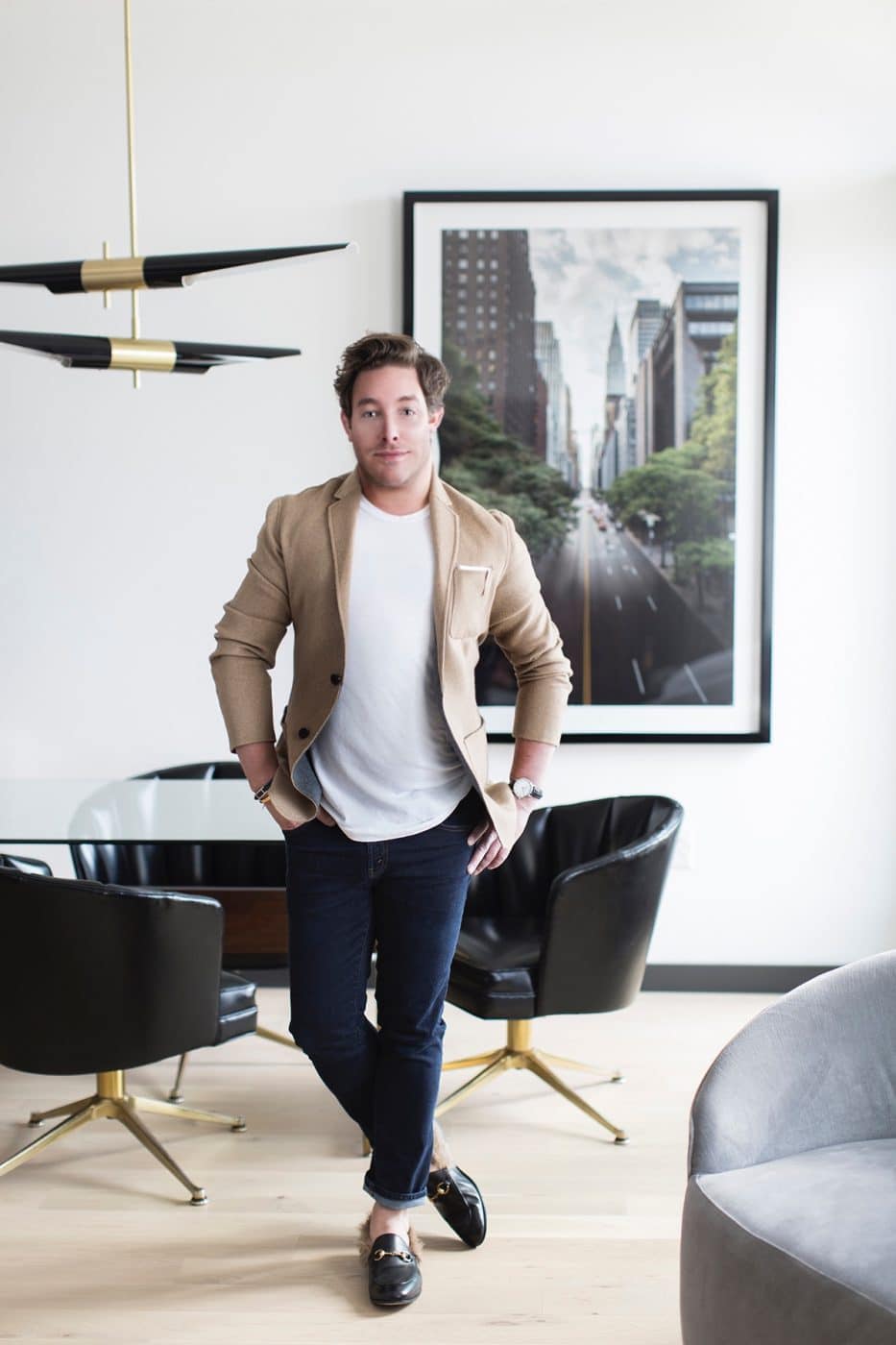 August 14, 2022While he would certainly never do it today, Jacob Laws admits that he neglected to ask permission before starting his first interior design project. "I got in trouble for moving my mom's baby grand piano across the living room," says the St. Louis, Missouri, native. "I was about five years old."
He even remembers his response to his client's displeasure. "I was like, 'What? It's on wheels, and it doesn't belong there!' " The conflict continued when Laws drew on his mother's Schumacher and Laura Ashley wallpapers. "It was the nineteen eighties, and my mom is a blonde woman named Cricket — well, it was not something she was happy about."
Hoping to channel their son's talents into less destructive undertakings, his parents enrolled him in art and architecture classes at the St. Louis Art Museum, paving the way for an eventual bachelor's degree in art and art history from the University of Missouri–Columbia.
After college, Laws went into business with a designer friend. Deciding to go it alone, in 2014 he opened Jacob Laws Interior Design. In 2019, he appointed his long-time life partner, Michael Feldman, COO.
"There is definitely a foundation of classicism and order," Laws says of his design style. "There's symmetry in the way I lay out a room or even the patterns that I choose in fabrics or carpet."
He still has a rebellious side, however, which has grown beyond writing on the walls. "If I'm going to go nuts, I'm going to go nuts," he explains. "I'm going to add something like ink-stained silver-leaf wallpaper on the ceiling or lacquered walls. A lot of my clients say things like, 'Everything's so gorgeous, and then there's one piece where you say to yourself, What is that? But it somehow makes sense.' "
Laws spoke to Introspective about great houses on and off the silver screen, the best place for sleeping on hot summer nights and why he has so far failed to channel his grandmother's effortless elegance.
Where do you find inspiration?
One place has always been movies. This is going to sound weird, but every Mother's Day in my family, we watch Mommie Dearest. The set design in that movie is unbelievable. If I watched it tonight, I would still be like, "Michael, the staircase! Michael, the sofa!"
Who are your favorite furniture designers?
I'd say Gio Ponti. Mid-century Italian is very, very sexy. Italians knew how to do it in the nineteen fifties and nineteen sixties with furniture, especially chairs. I even like Gio Ponti next to, say, Biedermeier — that juxtaposition is really beautiful. Two totally different eras and styles, but essentially they have one thing in common, and that is a relative simplicity.
I'm a big fan of Paolo Buffa, whose work is also very sexy in a refined, pedigreed way. I love how he mastered the quietly elegant marriage of traditional and modern elements.
Who is your favorite artist?
My taste in art really runs the gamut. I'll always be drawn to Picasso and Cubism, which is probably a nostalgia thing from my classes at the museum. I also love Francesco Clemente, who did all of Ethan Hawke's character's art in the remake of the film Great Expectations.
What are your favorite design periods?
International Style is great because it's so versatile, and the pieces of furniture themselves are architecture, like those by Eileen Gray. I like her work and the form created by the philosophy it follows.
Something of hers I read when I was really young stayed with me: "The interior plan should not be the incidental result of the facade; it should lead to a complete harmonious and logical life." I design in terms of setting a scene or telling a story, and her work proves that a story doesn't have to be complicated.
I would say any time from the late nineteen thirties through the very beginning of the nineteen fifties is safe across the board, because you get that beautiful Billy Haines kind of fluidity. By that, I mean the way his designs transcend trends. Classicism anchored every "modern" space or "modern" piece he did.
I also like case pieces like those of Edward Wormley, because they're very straightforward and clean.
Who is your personal style icon?
Winnie Phillips Stahl, my maternal grandmother, was the chicest woman I've ever known. Everything she did or wore seemed completely effortless and elegant.
Even in the nineteen eighties, when every woman dressed as if she were on Dynasty, with shoulder pads and ruffles and tulle, she was very chic and always monochromatic, and everything was camel and ivory and brown. She was so graceful without being pretentious. I've not yet figured out how to nail that, because I either am very pretentious or I can't wait to get home and take my pants off!
What is your favorite historic house?
The Hill House [in Helensburgh, Scotland] by Charles Rennie Mackintosh, because it reminds me so much of the Beetlejuice house. If I had to pick a style icon from a movie, it would be Catherine O'Hara's character, Delia Deetz.
What do you think is the most underappreciated design idea?
A sleeping porch. A lot of mansions in St. Louis have enclosed sleeping porches off the bedrooms that were put in prior to central air-conditioning. There's something romantic about it.
If you could live anywhere in the world, where would that be?
Right now, Charleston, South Carolina, where Michael and I are moving and where we're opening a second office. It's just a handsome city, and it exudes something effortlessly stylish. It has an almost quixotic, dreamy quality that somehow hits the right notes. And there is a sensitivity to past, present and future that's a common undercurrent and that inspires me.
I originally thought I would hate it — that it would be bachelorette parties, and that's it — but I was blown away. It was like I felt an energetic pull or had been there in a past life. I've traveled extensively, and I've never felt this way about another place.