Angie Hranowsky suspected she was meant to be an interior designer when, she says, "everyone would come into the first home we owned in Charleston, which I was filling with flea market and vintage finds, and say, 'Wow! Are you an interior designer?' "
After an early detour pursuing graphic design, Hranowsky did end up in that profession, launching her own Charleston-based business a little over a decade ago. Her vibrant, high-impact style has had magazine editors clamoring to cover her projects, which range from historic townhouses to low-slung modernist buildings to beach cottages. Hranowsky's aesthetic contains multitudes, evincing her enthusiasm for different styles and periods of decorative arts and her willingness to embrace every part of the color spectrum. "I want my clients' homes to be layered and inviting and comfortable and interesting," she says. "I hate spaces that feel stuffy or too minimalist or that look like one-stop shopping. I'm always looking for the unique and the unusual, and that takes you toward vintage."
Exercising her talent for mixing colors, she creates harmonious compositions that expertly balance jewel-like, saturated hues — turquoise, fuchsia, emerald green —with white or more muted or blush tones. You won't often hear the word neutral from Hranowsky. "I have a project in Austin with greens and purples and another in downtown Charleston with reds and blues, corals and chocolate browns. I really, truly love all color!"
The living room of a breezy 1950s brick bungalow on beachy James Island, near historic Charleston, features an orange banquette in the living room sporting multicolored pillows, along with casual rattan furnishings and a Moroccan rug hung on the wall. The electric-blue walls of the dining room put into dramatic relief a white table and chairs. In a family's chic vacation home on Charleston's Kiawah Island, Hranowsky made the sunny white living room sing with a berry-purple rug and splashes of orange in the artwork and pillows. The study has amethyst-colored walls; the dining room, 1920s Chinoiserie wallpaper unexpectedly paired with curtains in a modern abstract print. Another Charleston home at first appears a tad more traditional, with gray walls and a warm brown sofa in the main living space, but then there's a more exotic den with a rose-colored chesterfield sofa, a round Moroccan brass table, a modernist wicker chair and a wool and silk patterned rug.
The world is Hranowsky's bazaar. She picks up finds during trips to France, Italy, Morocco and Mexico and is an avid online shopper. "I don't know how I'd do this," she says, "if it wasn't for the Internet."
There's a circa 1970s vibe to many of the furnishings Hranowsky chooses, including rectilinear Parsons tables, ceramic table lamps with tall shades and oversize graphics, like intricate Suzani designs and large-scale wallpaper patterns. But you'll also find the occasional zebra stripe and — well, the thing about Hranowsky's interiors is you don't know what you'll find. "For years, I've loved the nineteen fifties and sixties," she says, "then the seventies and eighties, and lately I'm into Art Nouveau and Arts and Crafts. I'm ever evolving and changing, always layering on."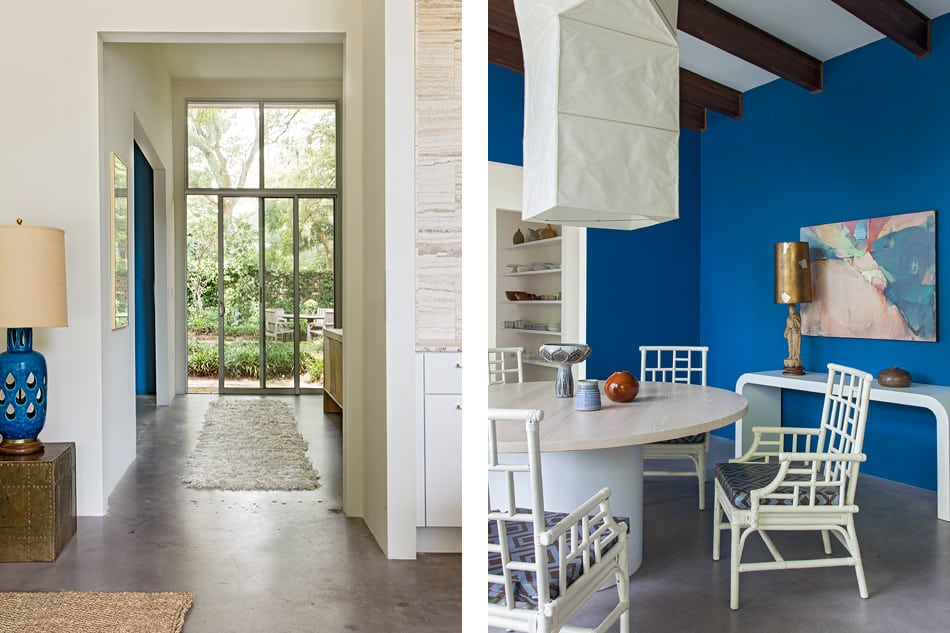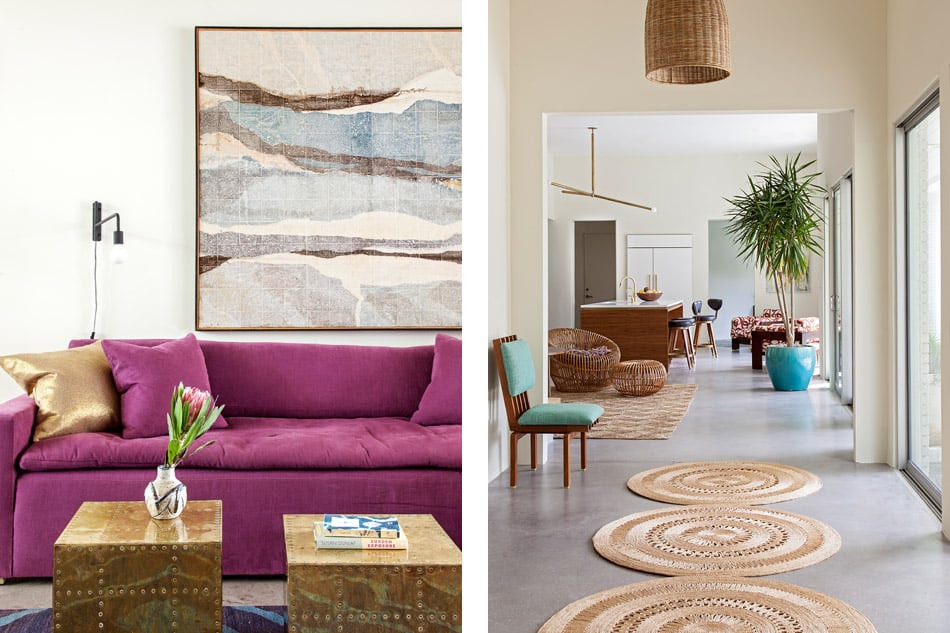 Hranowsky grew up in Louisville, Kentucky, in a "charming house that had been renovated by artists" and majored in art history at the University of Cincinnati. She lived briefly in Charleston, Miami and Atlanta, where she studied graduate-level graphic design at Portfolio Center. That was a creative shot in the arm that strengthened her native sense of color and pattern and enhanced her ability to create clear, unfussy interiors.
She was back in Charleston by 2000, working mostly in graphic design and living with her then-husband in a "cute, cottage style" house and then in a modernist home built in the 1970s by a local architect for his own family. Both became laboratories in which Hranowsky played out her passion for interior design and began gradually, over a period of several years, to transition into that field. Inspired by her decor for that first Charleston home — a 1940s Sears kit bungalow done "on a shoestring budget" in a warm modern mode, a friend insisted on taking photos and sending them simultaneously to editors at all of Hranowsky's favorite shelter magazines.
That was a bit of a newbie error, because more than one editor wanted to publish the project. Metropolitan Home was the first to call and ran it in 2006. Domino followed with a feature on Hranowsky's "10 favorite things," and about a year later, when her mother moved to Charleston and Hranowsky decorated her new home, House Beautiful picked it up right away. The press juggernaut never let up, and why would it? A Hranowsky-designed interior brings instant pizzazz to a magazine's pages, her unconfined use of color, mix of styles and global worldview heralding a relaxation of the region's traditional Colonial-inspired decorating. Hranowsky sees herself as part of a general trend of broadening "the scope of what design can be in the South." She cites Charlotte, North Carolina–based Barrie Benson as a designer whose work she admires and who is carving a path along similar lines.
Hranowksy hired her first employee in 2010 and now oversees a buzzing three-person office in a 1920s building near downtown Charleston. Alongside designing a wallpaper line "with a modern sensibility but a hand-painted feel" for New York's Studio Four, she is building a 1,650-square-foot house in Charleston's creekside Windermere neighborhood. Hranowsky, a single mom, will share it with her teenage daughter and preteen son. "I'm building a modern house with floor-to-ceiling sliding glass doors, open living space and a big wraparound deck," she says, then adds, "But I also love classical design and antique furniture."
---
Angie Hranowsky's Quick Picks on 1stdibs