May 22, 2022Anouska Tamony's love of design and objets d'art can be traced back to her childhood in the English coastal town of Bexhill-on-Sea.
"There were a lot of charity shops, vintage markets and even estate sales, so whenever I had some pocket money, I'd bring home antiques and vintage items I fell in love with and found interesting and inspiring," says Tamony (her Russian first name, she notes, is owed in part to her father's teenage crush on the actress Anouska Hempel, who coincidentally also made a career in interior design).
Her bedroom became her canvas. "I was always designing and then redesigning it," she remembers.
The town's architecture was also a source of inspiration. "The cultural highlight of Bexhill-on-Sea is a modernist gem called the De La Warr Pavilion," she says. "When I was about nine years old, I entered a local competition with a couple of schoolmates to design a new bandstand for the pavilion. Ours was a funny-looking thing with a giant octopus on top." Another team won the contest, but its submission wasn't perfect either. "I think the organizers knew that getting children to design a bandstand was a structurally and aesthetically risky idea, because they called in a proper architect to finesse the winning design."   
Despite these creative impulses, once at university, Tamony chose to pursue a law degree. "At the time, I didn't think interior design could be a serious consideration — I thought people would see it as kind of a fluffy job," she says.
After graduation, however, she was employed by a legal recruiting company where the bland work made her increasingly unhappy. "My job was stressful with very little creativity — definitely not a good fit for me," she recalls.
So, she orchestrated a major life shift: She gave herself permission to tap back into her artistic side and negotiated a part-time position at her firm so that she could complete a course at London's KLC School of Design. She also started interning for an interior designer who, like her, had made the transition from law, and after a year of juggling both jobs, in 2015 she made the leap to establishing her own firm and focusing on interior design full-time.
Since then, Tamony has been sought after for her ability to seamlessly marry Eastern and Western elements — be they mid-century modern, Art Deco, Surrealist, chinoiserie or zen — with traditional architecture to create distinctive spaces that reflect the her clients' character.
Here, she speaks with Introspective about sensual female art, her delight in an Art Deco palace and the person who has had the greatest impact on her style: her grandmother.
Where do you find inspiration?
When I'm working on a specific project, I always try to learn as many details about the clients' life as I can. I ask a lot of questions — about their personal history, family background, artwork that they might already have, as well as what inspires them. I'm very nosy! But having that information grounds the project, and it's from there that I can then find my inspiration.
Who is your favorite furniture designer?
I'm a big fan of Carlo Scarpa. His imagination and attention to architectural details are so clever. He was a trained architect, but he also designed stunning pieces of furniture and lighting that are a microcosm of his artful buildings.
Who is your favorite artist?
If I had to choose one, I'd say Loie Hollowell is one of my very favorite contemporary artists. She explores female sexuality, womanhood, birth, pregnancy — I love the visual sensuality and femininity of her work, which also has a contemplative, spiritual underpinning to it. I also like it because I can connect to it on an emotional level and not have to overintellectualize it.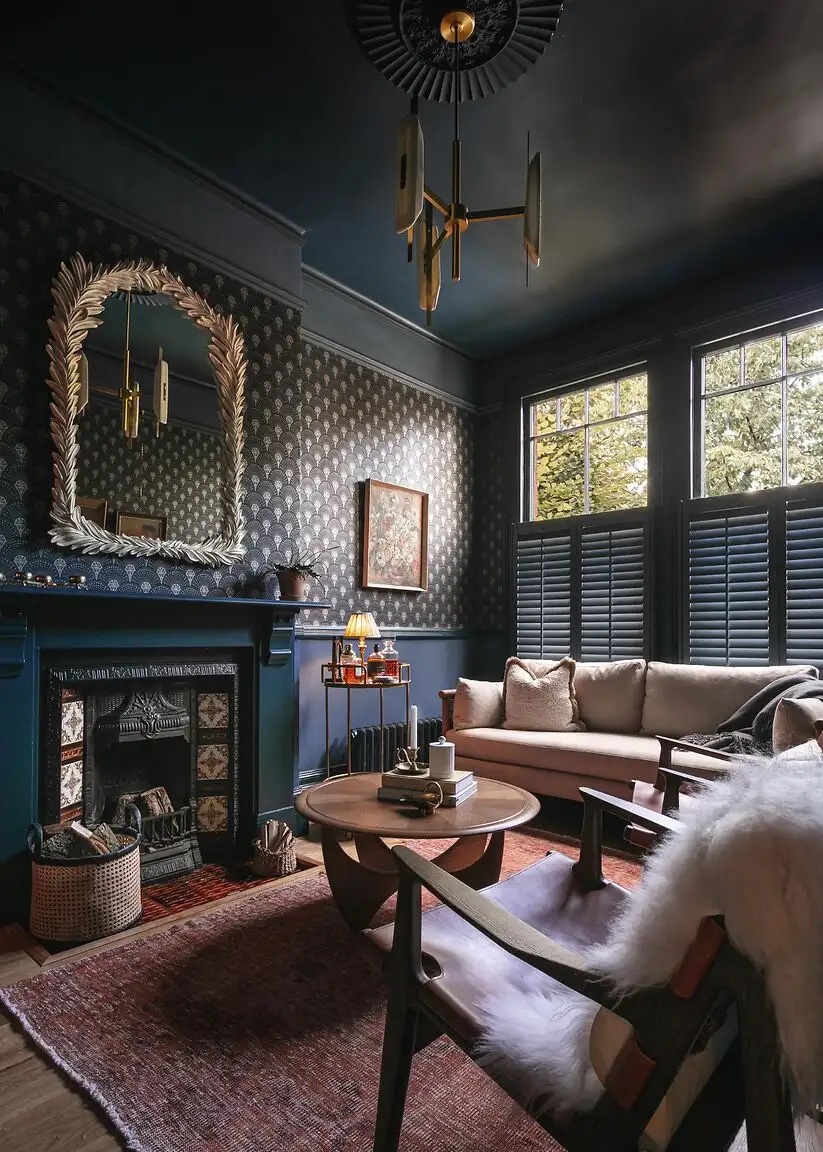 Who is a personal style icon?
My maternal grandmother, Anne Jansz, née Chan. She grew up in occupied Singapore during World War II. Her parents were Chinese immigrants. They didn't have a lot of money, so when my grandmother was old enough, she taught herself how to sew and eventually became a very talented and sought-after wedding-dress maker. She created these beautiful East-meets-West gowns for society women in mid-century Malaysia. Her kindness, resilience and grace remain inspiring to me.
What are your favorite design periods or styles?
Art Deco, modernism — especially Italian — and chinoiserie. I was raised in homes that featured the former two, so I suppose their influence on me started there. My grandparents had a mix of Oriental and chinoiserie pieces that they shipped over to the UK from Malaysia, plus English and Scandinavian mid-century furniture that would've been contemporary at the time. As I got older, I found my own preference in Italian furniture of that period. 
As for Art Deco, I think that came from the De La Warr Pavilion — and a rosewood sideboard in my parents' home that I thought was super-glamorous.
What is your favorite historic house?
Eltham Palace. It's this unusual marriage of a medieval great hall with a sublime Art Deco extension. It's a magical setting, with a moat and beautiful gardens — a flawless blend of romance and eclecticism.
What accomplishment are you most proud of?
I would say starting my design business when I was twenty-seven. I lacked confidence for much of my twenties, so it took a lot of guts to switch careers and go for what I'd known I wanted for a long time.
What would be a dream project?
Clichéd as it sounds, my dream project would be renovating my "forever home." I don't know exactly what it'll look like or where it'll be — it's a house I'll have in the future when I'm ready to raise a family — but I imagine it as a place where I can continually experiment with my creative ideas, with no defined beginning or end to my exploration.