August 30, 2021There has been art in people's homes at least since someone first drew antlers in the Lascaux caves. Painting on walls is still an option, though the invention of the picture frame made flat art portable. But not all art is flat: Sculpture, by definition three-dimensional, can rest on floors or stand on pedestals or hang from ceilings. And art no longer even needs to take up space: sound art, video art and, now especially, NFTs free creativity from physical constraints.

Architects and interior designers increasingly find themselves working with art in all its forms. Sometimes furniture is itself art. In fact, the lines between art, architecture and design have become as blurry as a Sugimoto photo. But that just means there's more to think about, and more fun to be had, in making a house a home. Here, a look at some of the ways designers have incorporated art into interiors.
---
Peti Lau
Alex Pall, who has become famous as one half of the Chainsmokers, a globetrotting DJ-and-production duo, grew up around art. His father was an art dealer, and Alex sometimes worked in galleries as a young man. So, when he hired the New York– and L.A.-based interior designer Peti Lau to redo his house in the Hollywood Hills, he asked her to accommodate his growing art collection. Lau was happy to do so, knowing that Pall had an art background.
A new addition to his holdings arrived when the renovation was nearly complete: a photo by the Moroccan-born, London-based contemporary artist Hassan Hajjaj, whom the New York Times has called "Morocco's most visible artist," praising his "subversive wit and hip-hop swagger."
Hajjaj generally photographs friends in phantasmagorical costumes made to his specifications. The finished images are placed in custom frames incorporating packages of Moroccan spices or, as in Pall's piece, actual (but empty) soda cans.
While waiting for Hajjaj's work to arrive, Lau had created a TV room that was anything but sedate. It was dominated by bright green botanical wallpaper, as Lau terms it, and an orange cotton-velvet sofa covered with a "psychedelic mix of pillows that you just want to sink into." The rug, with an intricate multicolor pattern, supports a wood and fiber coffee table by Justina Blakeney in collaboration with the Bay Area's Selamat Designs.
What kind of art would work against such a busy backdrop? When the Hajjaj photo arrived, Lau realized that the intricacy of the image made it a perfect foil to the palm fronds on the wall, a chance to layer pattern on pattern on pattern. Doing so, she thought, would contribute mightily to the style she has dubbed AristoFreak, which she defines as "tribal, global and romantic."
Given how much she loved the photo, she says, "I decided to give it the starring role." And what if she hadn't liked it? "If I hadn't liked it, I would have put it somewhere else."
---
Magdalena Keck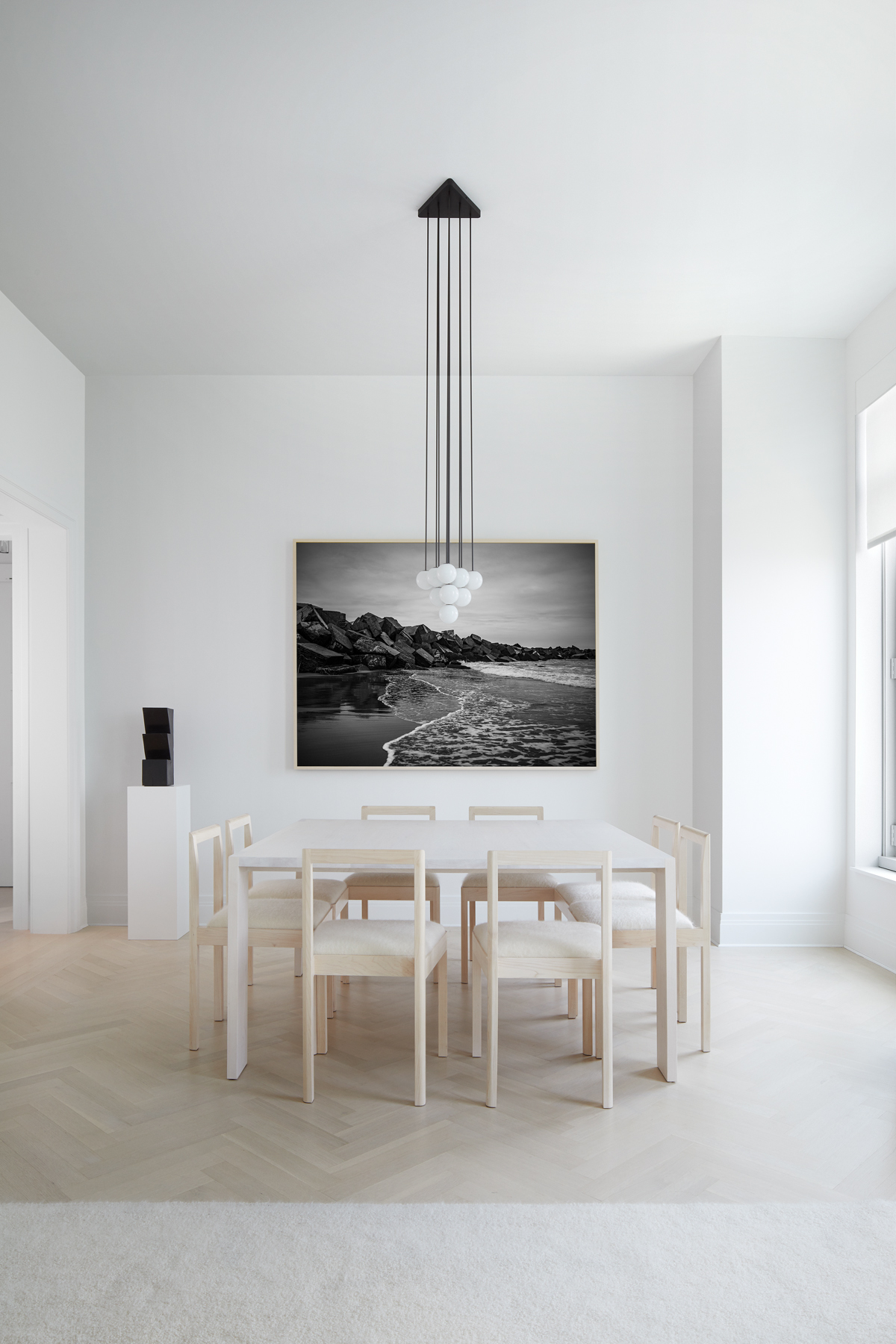 The 63rd-floor apartment is all about the views. "You feel like you're in the clouds," says Manhattan designer MAGDALENA KECK of her client's aerie. Indeed, the rows of windows, the raison d'être of the enfiladed living-dining room, left only one wall for a work of art. And that piece had to be a showstopper. Together, she and the client picked out a photograph titled Sea by the Upstate New York–based artist Robert Andersen.
In Keck's view, large, black-and-white nature photos "have a captivating, grounding effect. As humans we have a strong connection to nature. The air of mystery and connection to a different time and place provokes thoughts and conversations. The space becomes alive with the work and people engaged with it."
There was no choice about where to hang the photograph. The rest of Keck's job involved outfitting the room so that the picture could work its magic. And that, she says, meant sticking to whites. First came a rug of cream-colored mohair, then pale wood chairs from Egg Collective and a custom-made bleached-maple table. Overhead, a chandelier by Michael Anastassiades is another reminder of clouds. A sculpture by Dominic McHenry is a bit more earthbound. But rather than detract from the photo, it appears to stand guard. "We often start with the art," says Keck, "and let it inspire us."
---
Paul Hardy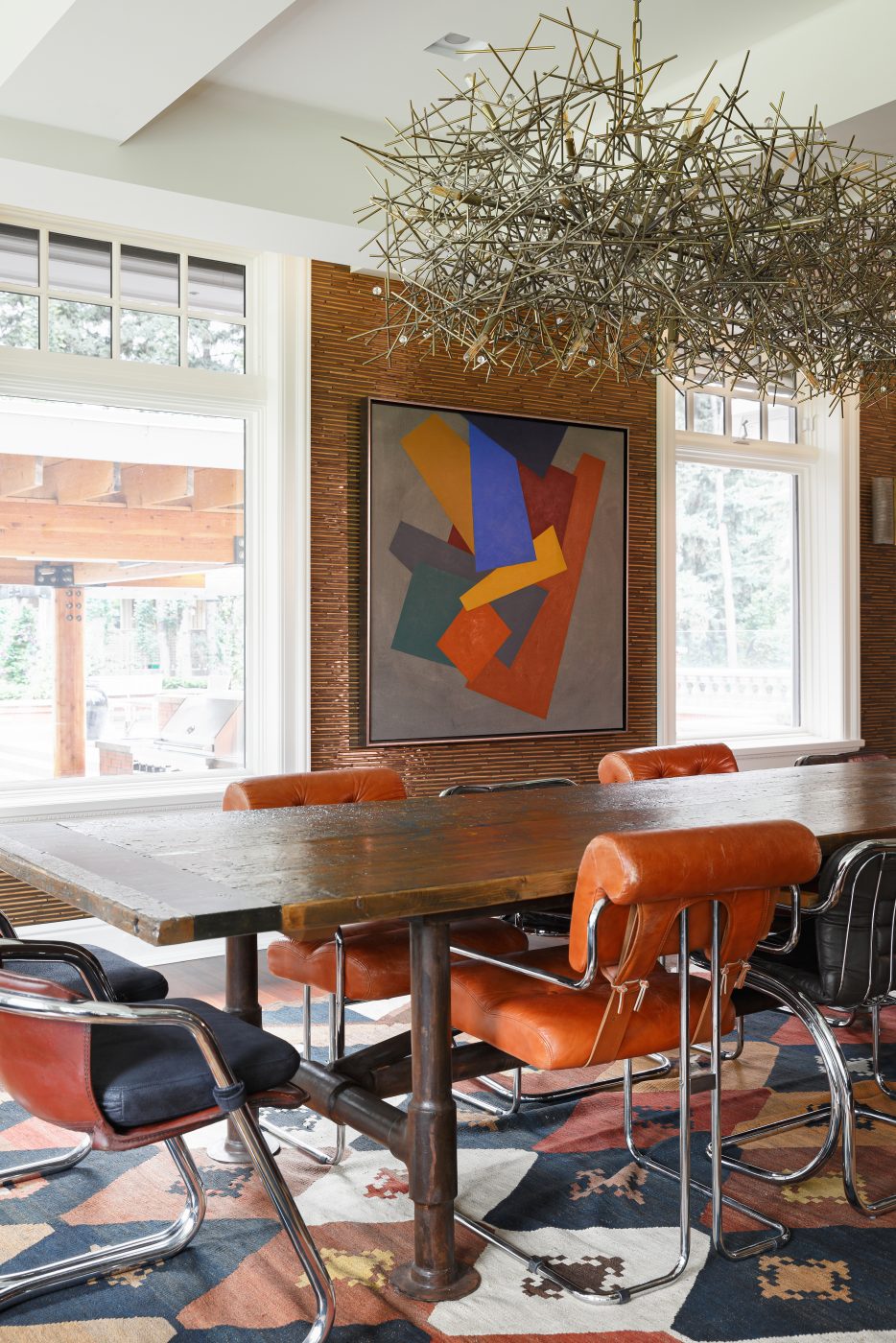 As a fashion designer based in Calgary, Canada, Paul Hardy has an international clientele. But as an interior designer — his second, simultaneous career — he tends to stay closer to home. Not long ago, a Calgary oil tycoon asked Hardy to update his 100-year-old Victorian mansion. That meant not only buying furniture — much of it on 1stDibs — but also choosing and placing works of art. The catch was that the client only buys pieces by artists from Saskatchewan, the province of his birth. His collection included many early-career representational paintings by William Perehudoff, one of Saskatchewan's most famous artists, who died in 2013.
Hardy asked the client if he could add a few contemporary works. "He was totally willing, provided they were from Saskatchewan," the designer recalls. A few months later, Hardy found himself in that province's largest city, Saskatoon, and wandered into a gallery, where he saw several later works by Perehudoff. They were boldly colored abstractions. He had already outfitted the dining room with mid-century chairs and a table made from the floorboards of an artist's studio in London, complete with paint drips. Below the table was a Doris Leslie Blau rug; above it was a 13-foot chandelier made of antique brass "straws" by Hudson, New York, artisan Lou Blass. He needed a painting that could compete with the scale of the fixture. And the brushstrokes of the Perehudoff painting, he says, seemed to complement all the antique brass rods welded together to create the chandelier. But most importantly, he says, "everything in the room was pretty neutral" — in his view, that includes the rust-toned rug, which plays off the chairs' leather upholstery — "so it was crying out for a big pop of color." The client agreed to buy the painting, which Hardy placed across from a much earlier Perehudoff. The room now tells the story of the artist's career. "I figured that would be a good conversation starter at dinner," says Hardy, adding, "The client, who entertains a lot, agreed."
---
Ohara Davies-Gaetano
"Art can determine the emotional impact of a room," says interior designer Ohara Davies-Gaetano, who grew up in a family of artists (her father is the renowned illustrator and painter Nick Gaetano). A living room in Crystal Cove, California, proves her point. An abstract painting by Tom Lieber over the fireplace gives the space a contemporary edge; hanging a pastel-hued landscape in the same spot would have made the room seem dowdy. Davies-Gaetano didn't choose the painting — it was in her clients' collection — but she helped them decide where to hang it. "It's the first room you see when you walk in, so we wanted it to be impactful," says the designer, who was brought in when the house, by architect Richard Krantz, was already under construction. "We wanted to create an environment that would allow the painting to become the pop."
That meant layering in neutral elements, including the limestone fireplace surround, the back-to-back Rose Tarlow sofas and the console table between them. (On the table is a carved Carrara marble heart by Kelly Wearstler.) "I didn't design the room around the painting," Davies-Gaetano says, "but supporting the art was always in the background of my mind." Still, she didn't avoid other eye-catching elements. She knows the elaborate starburst mirrors can pull the focus from the painting but explains that "it's important to create a bit of tension." In the end, the room design doesn't bow to the art. "The art is its own statement," she says. She's just making sure it's heard.
---
Anoud Khalid
Anoud Khalid, the founder of the Riyadh, Saudi Arabia–based A Interiors, avoids the extremes of modern or traditional that she often encounters in her travels. She prefers rooms to be eclectic, not just because she likes the look but because "if I'm walking around shopping and I see something I like, I know I can add it. It doesn't have to match the style of a room."
But sometimes she finds a piece so impactful that she wants to create a room around it. That happened when a gallerist in Cairo showed her a large painting by the Egyptian artist Mohammed Ismail. Anoud learned as much as she could about Ismail, who spent much of his life traveling the world. The large painting, depicting everyday life along the Nile, comprised five panels, each framed separately. "I fell in love with it," she says, "and I didn't want to keep it in storage." So, she decided to redo a room in her own Riyadh apartment as a showcase for the painting. She removed its five frames and hung the panels on two adjacent walls. That made it more than just a background piece; it seems to embrace the room. She found a Moroccan rug that picks up the black lines of the painting and had Athens-based furniture maker Karageorgiou make a large sectional sofa that wouldn't detract from the work by being either too high or too colorful. She filled out the room with some of her father's old luggage, used as a coffee table, and an African Zulu Tilla In Wonderland Mask by Mutaforma from 1stDibs (next to the tree). "Everything," Khalid says, "was chosen to complement the painting."
---
Mary McDonald
For a living room in Bel Air, "the jumping-off point was this museum-quality painting. I did not want to detract from it on any level," says MARY MCDONALD. The painting is Fernando Botero's Four Women (1987), a group portrait as exaggerated in both color and form as any of the celebrated artist's works. McDonald, the Los Angeles–based scene stealer of Bravo's Million Dollar Decorators, was very much in seven-digit territory. (Posters of Four Women are all over the Internet, but there is only one original.)
The client was already living in the house when she asked McDonald to update it. The designer got to see the Botero, and many other museum-quality works, before they were relegated to storage for the length of the renovation. She chose the Botero's location in consultation with the client — the living room was the one space big enough to accommodate it generously. Even more generously, she painted the room white on white on white. Notably, the millwork is the same color as the walls. "I was creating a gallery backdrop," she says. But this isn't a gallery; it's a living room, and McDonald needed to create comfortable seating areas. She stuck to neutrals, ranging from brown to beige to white — letting Botero corner the market on red and green and yellow. She kept the arrangement loose enough, and eclectic enough, that no one element would compete with the painting. But that doesn't mean the furniture is bland. There are a couple of original Émile-Jacques Ruhlmann chairs, a Diego Giacometti table, and a Les Lalanne sculpture. "The room is about the Botero," says McDonald, "but the furniture is also art."