November 27, 2022A home that designer Zoe Feldman recently completed for a client has cultural capital, to be sure. It boasts two works by one of the greatest living painters, Alex Katz, the subject of a retrospective at the Guggenheim Museum that opened last month.
But you also could say it has cultural Capitol of a sort, given its setting in a leafy neighborhood of Washington, DC. The client, who is also a friend of Feldman's, is based in DC but travels to New York frequently for work. She was in the market for style and function that combine the best of both worlds.
The white walls and largely traditional furniture forms qualify it as conservative enough for a diplomat drop by, but the details display a Big Apple level of ambition and polish.
"She wanted a Manhattan townhouse influence, like something you'd find on the Upper East Side," says Feldman, a Floridian who went to Parsons School of Design, in New York, and stayed in the city to work for Alexa Hampton at Mark Hampton LLC.
Since hanging out her shingle, in 2004, Feldman has worked on projects all over the country, from San Francisco to Michigan, New Hampshire and the Hamptons, specializing in what she calls "modernized classicism."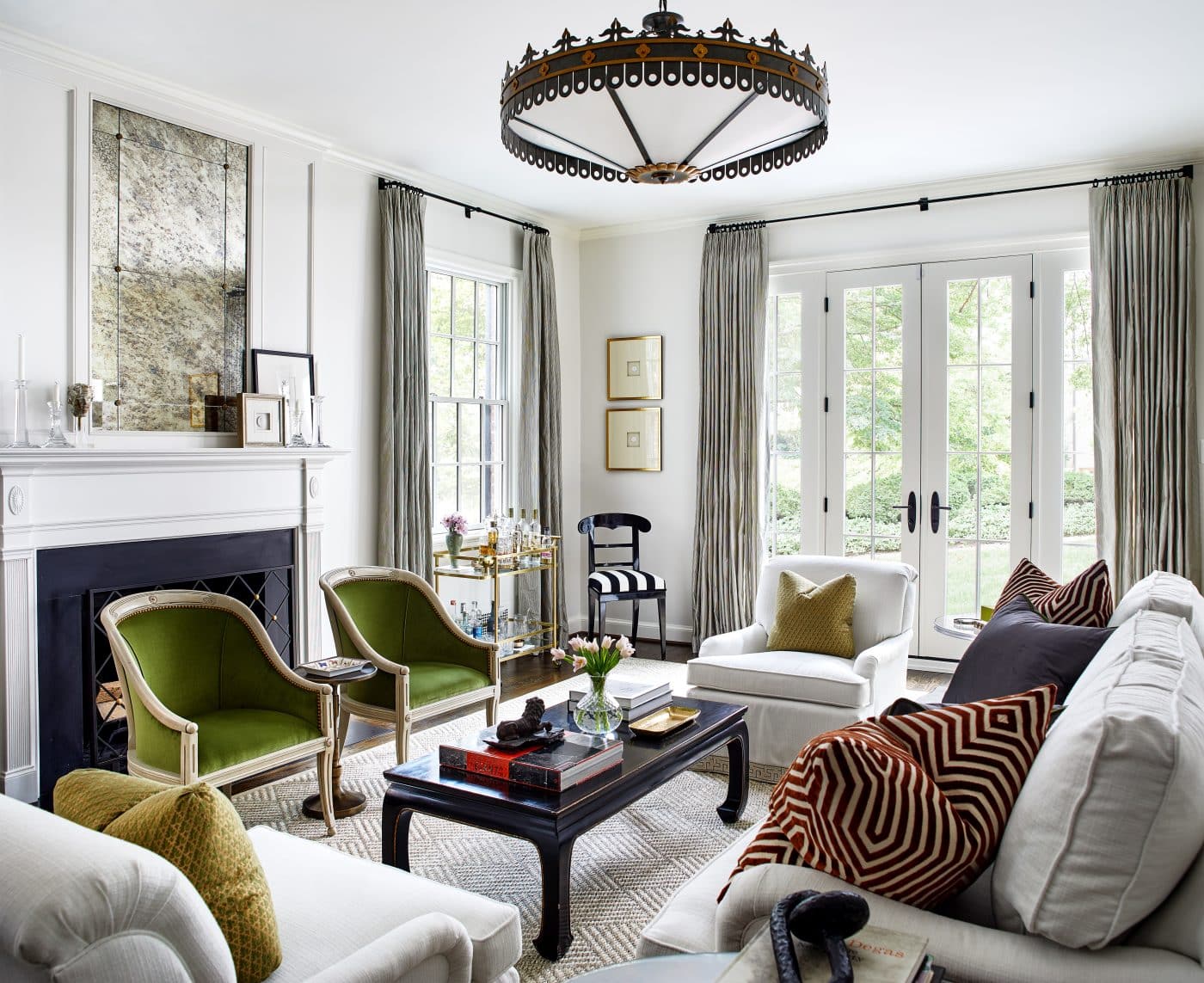 In the case of the Washington home, the delicate dance of designing for an acquaintance — which can be tricky— ended up enriching the friendship. "We knew each other lightly," says Feldman. "Then, in working together, we became much closer."
Having similar lives bonded them. "We're both moms to young children with jobs that sometimes take us away from family," she explains. "And we had this capacity to understand each other."
The four-bedroom brick house with black shutters was lovely, but both designer and client knew it had to be gutted to make it more distinctive. Filling it with 1stDibs finds, as Feldman did, went a long way toward achieving just that.
In contrast to the requests of many homeowners these days — which tend toward the casual — the brief here was actually to button things up a little, and to suffuse the place with a grown-up calm.
"It's a very traditional home, and she wanted to make it more sophisticated, more elegant," Feldman says. "I'd say she lives a little more formally than many people do today."
Where the place was missing elements like moldings, the designer added them. "The client is really into architectural details, and the house really didn't have any," says Feldman.
The overall strategy comes through most clearly in the dining room, which is combined with a de-emphasized kitchen. "She didn't want it to feel like a kitchen," says Feldman, referring to the all-white, barely there cooking area. Instead, "it serves as a backdrop to the dining room."
Alex Katz's Laura 1, 2017 — a stylized portrait in the artist's signature manner, purchased on 1stDibs from Kenneth A. Friedman & Co. — makes a big graphic impact in the pared-down dining area, where white walls set the scene for a custom walnut dining table surrounded by bespoke klismos-style chairs.
"The dining room needed something to make it feel more sophisticated, so we saved the best art for that area," Feldman says. "She has a real love for modern art."
Feldman installed full-height cabinetry in the kitchen and even closed off a window, all in service of the directive to create a clean, uncluttered room. "Everything can be tucked away," she says. Stools upholstered in a midnight-blue vegan leather from Holly Hunt anchor the space.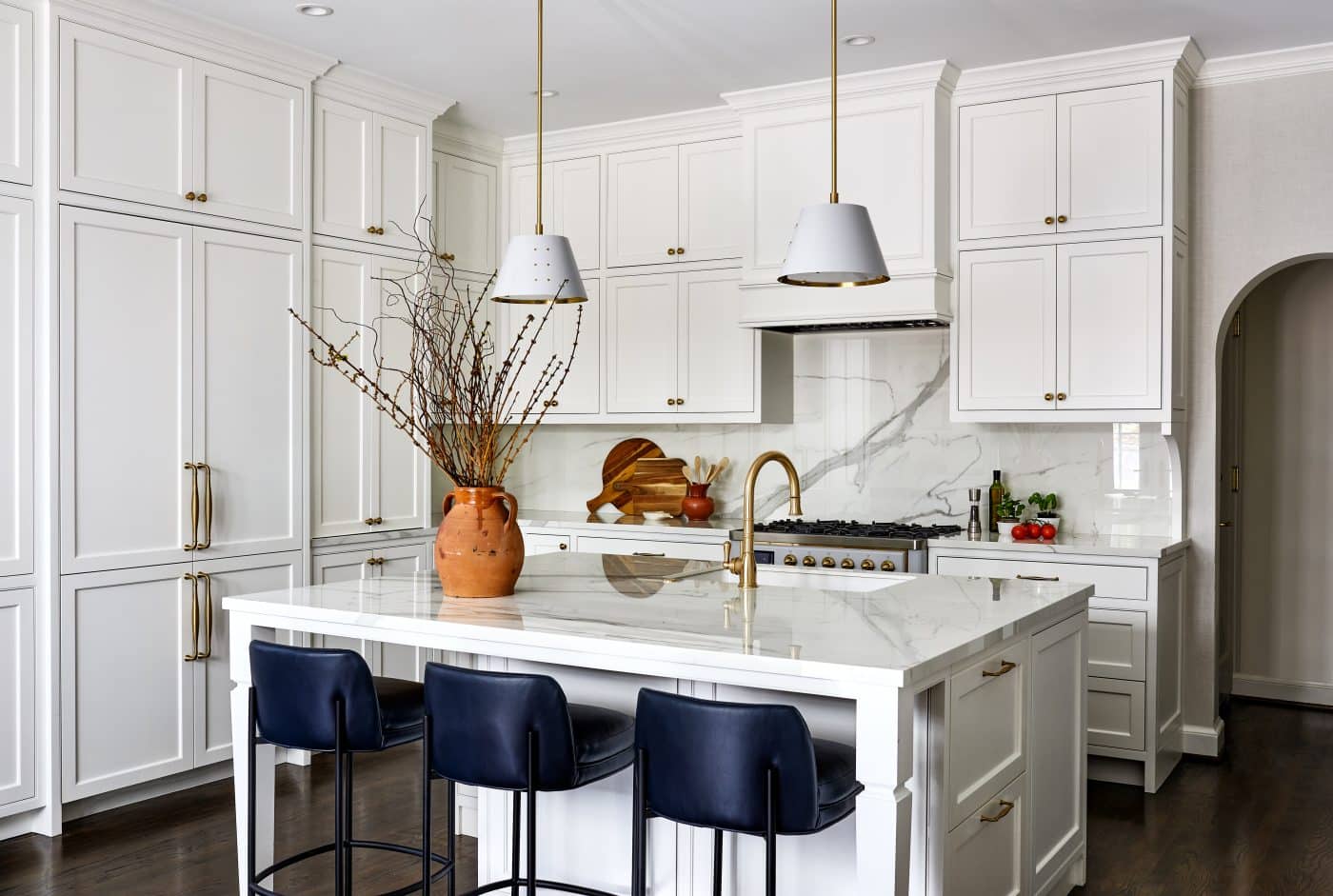 "She likes a fairly neutral palette," Feldman says of the client. "When she does depart from that, she tends to have a preference for blues and greens."
Greens were the operative dash of color in the living room, a traditional space that feels proper yet totally comfortable. A moss-green velvet went on a pair of Italian painted barrel-form bergere chairs — a 1stDibs find from James & Jeffrey Antiques — that invite relaxed conversation.
Next to them, a different green shade found its way into a Fortuny pillow on a white slipcovered chair. In the corner is a Biedermeier shovel chair in ebonized wood, made around 1820 in Vienna and purchased on 1stDibs from Coloneum Antik. Feldman finished the room with striped silk curtains and a Berkeley chandelier with just a touch of medieval-castle gravitas, from Bunny Williams's home collection.
The house's cozy study features the other Katz work, Laura 2, 2018, hung over a custom sofa in a beige wool and a leather ottoman the client has owned for years. A reflective mood is set by custom bookshelves painted a soft gray, in front of which the client placed her own Regency-style bone-inlay stool.
In the bathrooms, the client requested washbasin-style sinks, for old-fashioned charm. The powder room's brass fittings — from Waterworks, like all the bath fixtures in the house — gleam warmly against the billowing gray clouds of the Fornasetti wallpaper.
The main bath has Calacatta marble floors, white-paneled walls and an oval white cast-iron tub. "She loves to bathe," Feldman says of the owner, a preference in keeping with her use of the house as a sanctuary.
The main bedroom demonstrates the success of an unusual move: Feldman actually made it smaller. "When bedrooms are too large, they don't feel good, and it's now cozier," says the designer. She took some of the space and turned it into large wardrobes, in place of the usual closets.
The client found a fabric she loved — a Zimmer + Rohde botanical pattern called Beaumont Indienne — and it was used for the window treatments as well as on the seat of a cane-backed settee at the foot of the bed. "We designed the room around it," says Feldman.
The two-postered bed itself feels as if it had always been there and is given extra elegance by custom silk-shaded sconces. A commissioned mixed-media work by Josh Young in a graphic black-and-white pattern of curving, script-like forms contrasts well with the fabric.
Those gestures are among the many that turned a perfectly nice traditional house into something special — a rich and curated environment that quietly reflects the client's good taste.
As Feldman puts it, "This was about adding soul into the house."