May 1, 2022You likely know the Asian jewelers who are headline acts, the ones who author books and pop up at art fairs and top auction-house exhibitions: Cindy Chao, Michelle Ong, Anna Hu and Wallace Chan, to cite some of the most prominent. But beyond these luminaries are a crop of Asian designers known to only a select few collectors. Quietly, in under-the-radar ateliers, they are doing remarkable, innovative work but have yet to become household names. In many cases, in fact, their digital footprint is practically nonexistent and 1stDibs is one of the few places, if not the only place, to find them.
The term "Asian" encompasses many locales, but the production of exceptional work is largely concentrated in the region's jewelry centers, among the most important in the world, from Hong Kong to Bangkok to Jaipur.
The five jewelry artists and design houses highlighted below share a commitment to discretion, a reverence for centuries-old craft traditions and connections with leading gem suppliers. These attributes and relationships enable them to offer a matchless selection of one-of-a-kind pieces set with such rare and highly coveted stones as spinels in hard-to-find colors, no-heat rubies and Imperial jade.
Here's more about who they are and what inspires them.
Above, clockwise from top left: Jadeite Jade and Diamond Drop Earrings, 2000; Aquamarine, Paraiba Tourmaline and Alexandrite Necklace, 2019; Green tourmaline and purple spinel ring, 2021; purple sapphire and diamond earrings, 2020; Morganite and diamond ring, 2019
---
SUNITA NAHATA FINE DESIGN

Established 2018, Hong Kong | Sunita Nahata, founder/designer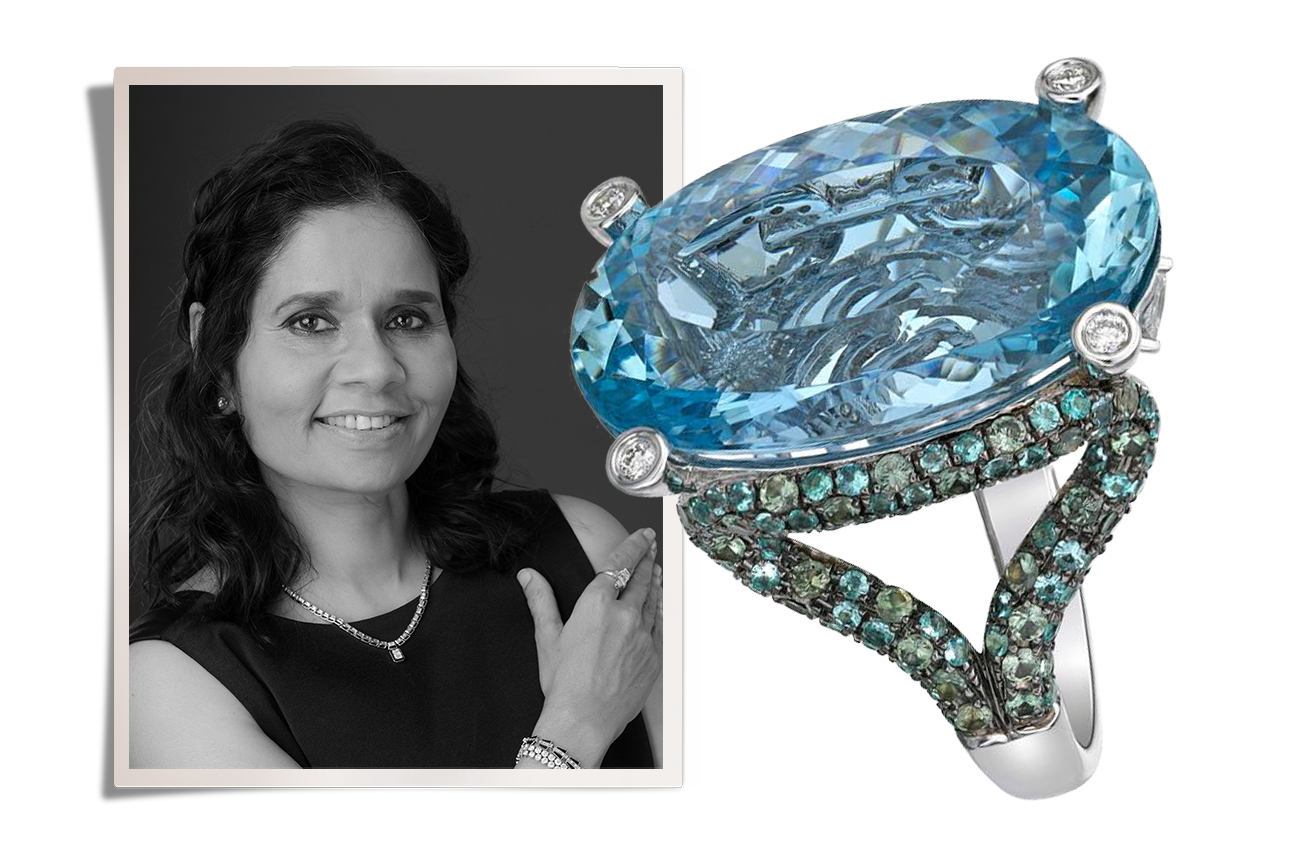 How would you describe your jewelry?
Our jewels are subtle, fashion-forward yet timeless. They are comfortable and versatile, crafted with the aim of dressing the busy woman who is always on her feet. Our jewelry is centered on the beauty of colored gemstones, and we incorporate a vibrant palette of colors in our jewels. You will also find unique shapes and cut combinations in our pieces. Our hope is that people will appreciate the beauty of our one-of-a-kind jewelry and the artisan labor and skill that went into creating it.
What are your primary sources of inspiration?
I draw inspiration from my Indian heritage, but I always try to bring a contemporary twist to classical styles. My roots are in Jaipur, one of the world's most important gemstone-sourcing and -manufacturing hubs, where my grandfather, father, uncles and brothers were all involved in the Pink City's bustling gemstone trade. They have inspired my journey from gems to jewelry, and my exposure to the gemstone trade has enabled me to source the best and rarest gems around.
Is there a piece in your current 1stDibs assortment that perfectly illustrates your distinctive approach to jewelry design?
Our Blue Planet pendant and earrings. Before I begin my design process, I study each intricate detail of a gem to understand how to further elevate its beauty. Here, the grandiose Santa Maria aquamarines represent the vast oceans of our planet. They are accented with subtle Paraiba tourmalines and alexandrites to support the center stone, just as coral supports the marine ecosystem. The dainty diamonds and pearls represent the diverse aquatic life present in our waters.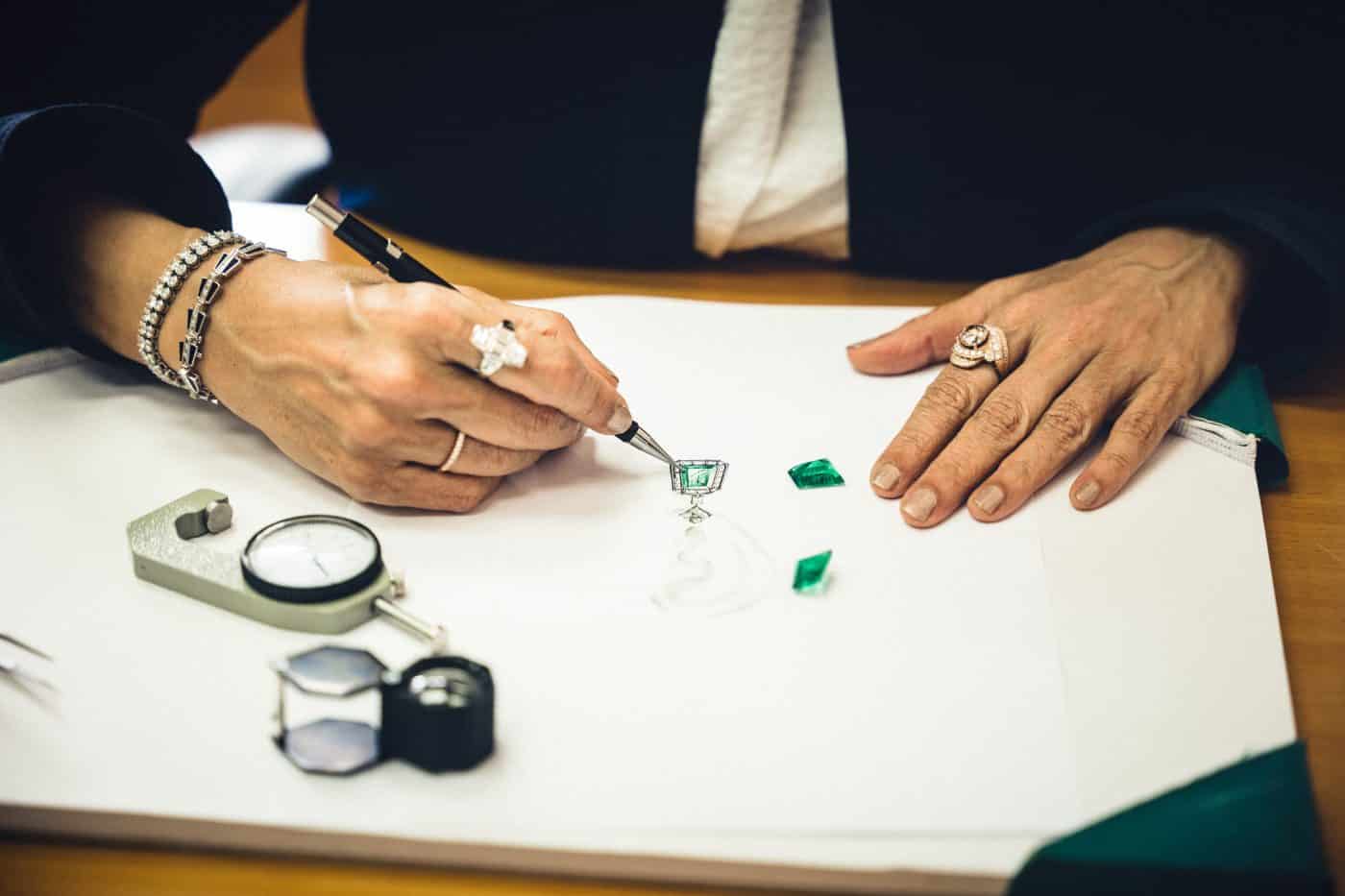 How is your Indian heritage reflected in your work?
Often in Indian celebrations or festivals, you would see a vibrant variety of colors. We are very extravagant, and so this is also reflected in our jewelry designs' being statement pieces. Our cocktail rings are really popular, as we often incorporate loud, vibrant gemstones. I personally also love to incorporate lots of tassels or dangling elements in my pieces to give movement to the gemstone and the architecture of the piece, as you would also commonly see that in Indian palaces.
What can you tell us about future collections?
We are currently working on the second release of our beloved Blue Planet collection. We have spent some time collecting some of the finest Santa Maria aquamarines and have nearly finished creating some beautiful pieces that will be launched when we exhibit at The Couture Show 2022 in Las Vegas this June.
---
NEHA DANI
Established 2016, New York and New Delhi, India | Neha Dani, owner/designer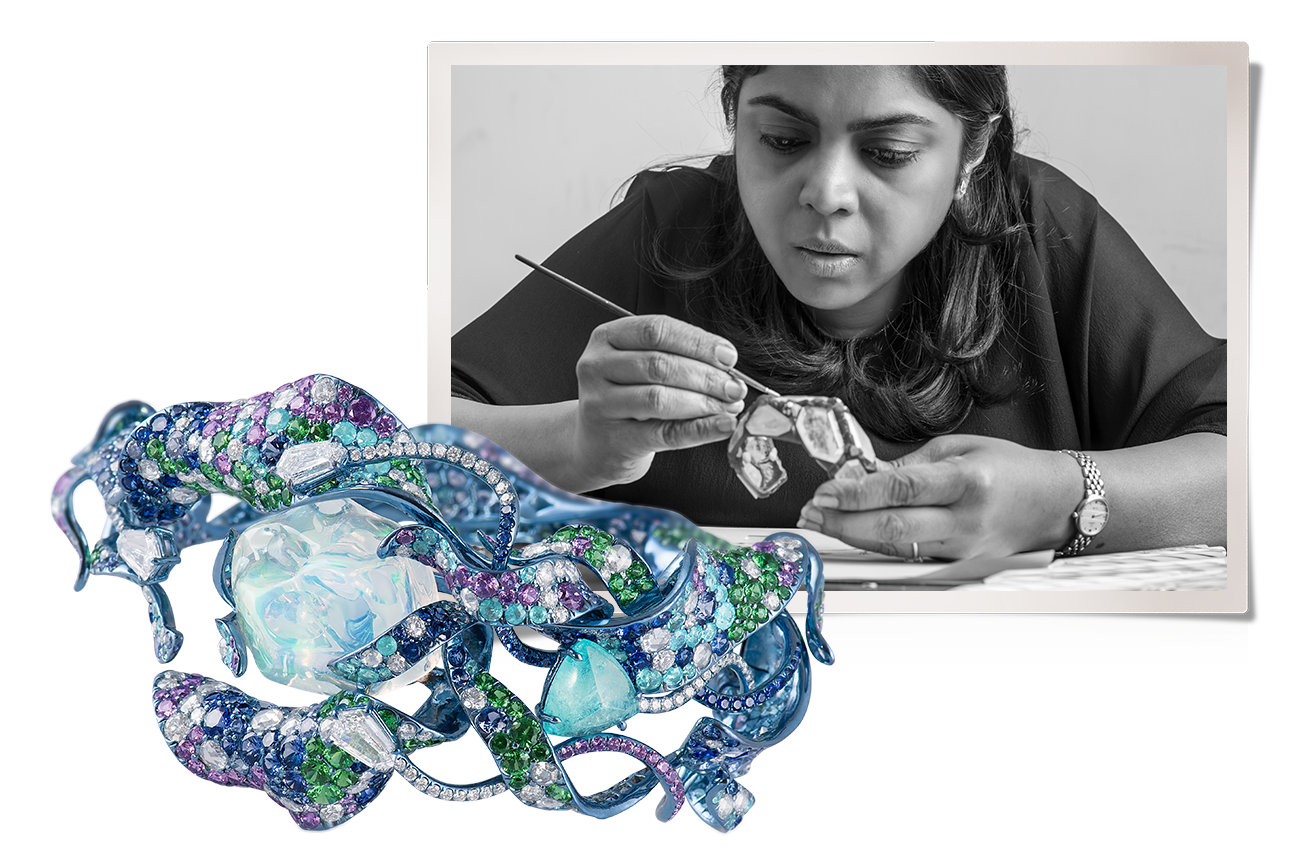 How would you describe your jewelry?
My work is about creating poetry in form through dynamic shapes and color palettes. Each piece of jewelry tells a story and holds a feeling. I'm always working to create something new that feels very bold yet feminine. I want the wearer of my jewelry to feel connected to the piece that she is wearing, while also reflecting her own personal style.
Many collectors know Jaipur as an important jewelry center in India, but New Delhi is one as well. How does being located here affect your creative output?
New Delhi is not as big a jewelry center as Jaipur, but it is a historic city that has a lot to offer through artwork and the legacy of handed-down craftsmanship. There's a cultural love for detail, and I've picked up so much by observing the city's different art forms.
How is your Indian heritage reflected in your work?
I'm inspired by the culture of India through the traditions of detailed handicrafts and historical Indian monuments and temples. I think my jewelry tells both my personal story as an Indian woman who pushed against tradition to become an independent designer and also a universal narrative about the elegance, strength and beauty of women.
What are your primary sources of inspiration?
I'm inspired by nature and the emotions that it stirs in us. I've traveled a lot, and getting to see different landscapes, cultures and art forms has informed many of my pieces. In my work, I want to convey the emotional connection to the world around us and the meditative quality and calming effect that the natural world has on us.
Is there a piece in your current 1stDibs assortment that perfectly illustrates your distinctive approach to jewelry design?
The Pavona earrings from my La Pluma collection reflect the great attention to detail in my work. They have a bold color palette, and you can feel the motion of feathers in flight by their design and shape. The Aialik cuff, with glacial blue moonstones and diamonds, is another piece that reflects my love of travel and how a piece of jewelry can capture a moment. Inspired by the most majestic glaciers in the world, the cuff mimics the colors and shapes of that natural beauty.
---
ROMAN & XANDER
Established 2000, Hong Kong | Philip Choi, owner/director
How would you describe your jewelry?
Bold, intricate, classic and whimsical. Roman & Xander designs display a wide range of gems that invite you to discover unique details and meanings that reflect your personal style. Each piece seeks to charm you and connect you to feelings of satisfaction and joy. Over the years, our customers have come to appreciate the three core values our collection encompasses: the use of impeccable materials, an intention to over-deliver on value and a sincere desire to exceed expectations.
Where does the name Roman & Xander come from?
Our company is founded on three generations of history. I wanted to choose a company name that was synonymous with hope for the future — Roman and Xander are the names of my children. They are the fourth generation to carry on our family tradition of being specialty jewelers who work with integrity and honesty.
How does the cultural landscape of Hong Kong influence your creativity?
Hong Kong has a tremendous influence on our work. Jade jewelry, often prized and valued higher than diamonds, has a rich history and tradition in Hong Kong. The best jade mesmerizes the soul. The hue of Imperial Jade and jade carvings is a true marvel to behold, and wearing jade promotes good luck, prosperity and longevity. Plus, twice a year, Hong Kong has the biggest international jewelry trade show in the world. With over 3,500 exhibitors in one place, we are able to make important connections and share the benefits of these connections with our customers.
What are your primary sources of inspiration?
Inspiration comes from honoring the diversity of the world's cultures. Finding ultra-special materials also tends to stoke the fire of our creativity. I always try to buy something I rarely see. We carefully inspect all stone options, and only the best of the best pass our stringent quality-control process. As a recent example, out of a parcel of three hundred carats of vivid-color spinels, we only picked sixteen carats' worth of gems to incorporate into our designs.
Is there a piece in your current 1stDibs assortment that perfectly illustrates your aesthetic?
This one-of-a-kind lavender jade ring, which has everything going for it: The size and color combination is out of this world, and it's the ultimate conversation starter and "feel good" statement piece. These opal earrings also illustrate our distinctive approach to design. The earrings were designed around the phenomenal raw material, and the incorporation of small details like rose-cut diamonds really sets us apart from the standard design.
What can you tell us about future projects or collections?
Top-quality jade items are always our specialty. Our future projects will also include adding more vintage branded estate diamond and gemstone jewelry by such makers as Cartier, Van Cleef & Arpels, Harry Winston to our inventory. We are also highly experienced in and focused on items like Kashmir no-heat sapphires and no-oil Colombian emeralds.
---
TOJI
Established 2018, Bangkok | Jamshed Gulmamadov, direct sales manager
You're based in Bangkok — how does this location stimulate your designers' creativity?
Thailand is a beautiful country. Toji's artists observe nature everywhere, express their emotions, channel their feelings and immortalize their memories using the universal languages of art. Every single piece of jewelry represents a moment in time, in life, in nature.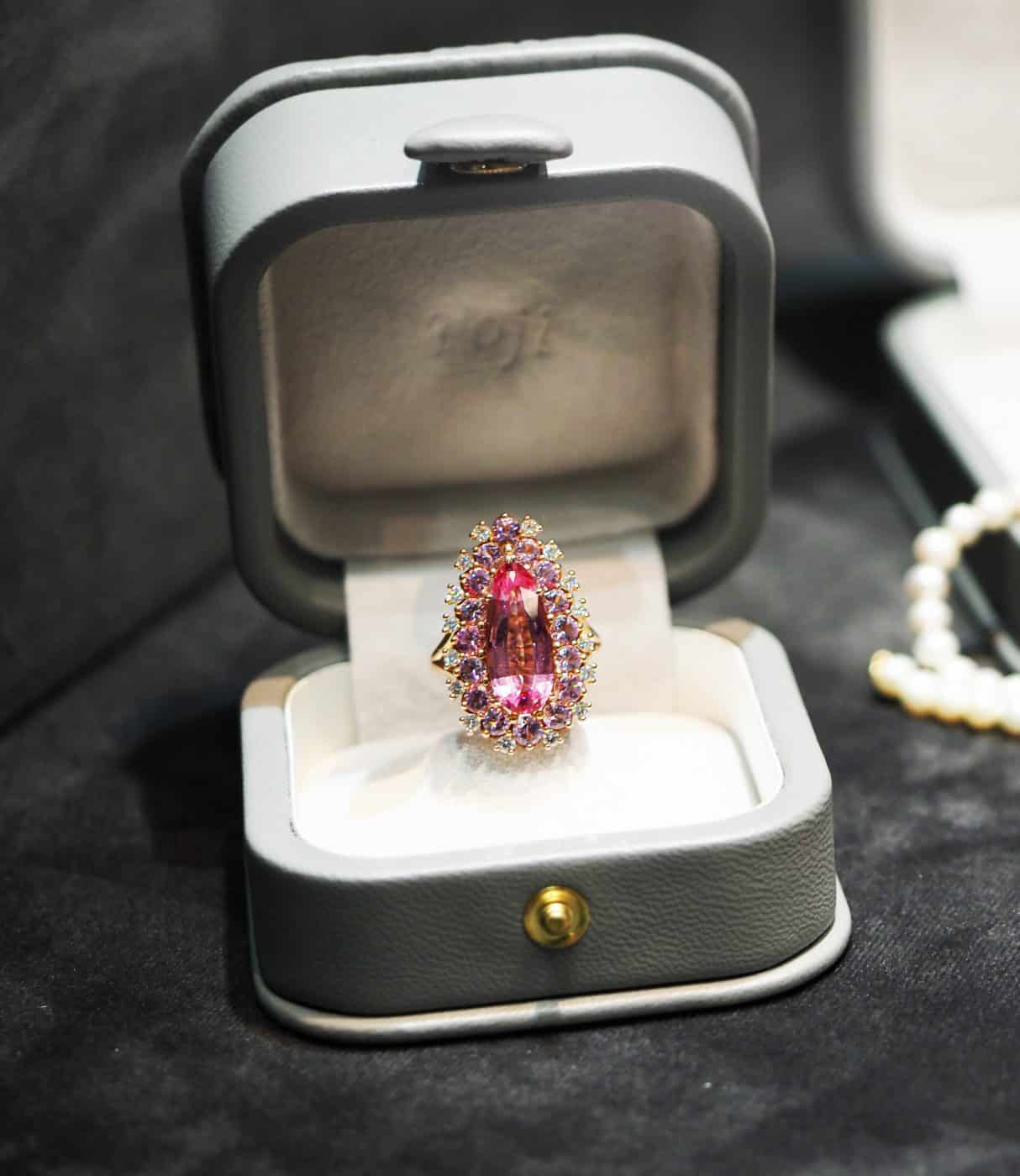 How would you describe your jewelry?
Imagination, creativity and passion for excellence are the three pillars of our jewelry-making process. Every single item we produce is destined to be cherished forever and shared through generations. Our goal is to offer you unique designs that stand the test of time. Our vast collection of one-of-a-kind gemstones enables us to combine materials to create timeless masterpieces that cannot be duplicated.
What are your primary sources of inspiration?
Toji's mission is to capture the one-of-a-kind beauty of nature and channel it into a piece of jewelry that will brighten your days forever. We regard nature as an ever-changing canvas, the world's greatest masterpiece. Its beauty, playfulness and immaculate perfection can be found anywhere: from sandy beaches and dense rainforests to sunsets and thunderstorms.
Is there a piece in your current 1stDibs assortment that perfectly illustrates your distinctive approach to jewelry design?
Each piece in our 1stDibs assortment is a unique part of the puzzle that informs our distinctive approach to jewelry design. We have a wide variety of unique beautiful gemstones that give freedom to our imagination, allowing us to play with gems and color combinations to make masterpieces that never can be duplicated.
---
BOON
Established 1985, Bangkok | Yada Wuthinitikornkit, marketing manager
You're based in Bangkok. How does the city influence your creativity?
We're based on the east bank of the Chao Phraya river. We observe the water flow's interaction with the land at every turn, and it influences our approach to jewelry design as we consider how the shapes of our jewels might complement and be in harmony with an individual's facial contours, ears, fingers and body.
What are your primary sources of inspiration?
We observe our surroundings and occasionally adapt things to some of our designs. This interchangeable brooch, for example, is inspired by a pandan leaf, which is native to Southeast Asia.
Is there a piece in your current 1stDibs assortment that perfectly illustrates your distinctive approach to jewelry design?
Our rose brooch is a realistic portrayal of a rose, but eighteen-karat gold petals set with diamonds are certainly not as delicate as the real rose petals. So this piece is balancing realism and practicality. And our DISSEGGT stacking ring series, which is inspired by stacking hardboiled-egg slices. These are simple and sophisticated and can be worn every day. The stackable design allows each individual to design a personal look or style.
What can you tell us about future projects or collections?
We're very focused on multifunctional jewelry. A necklace that can also be worn as a bracelet. A brooch that can be a pendant or hair ornament.