Call them mutual enablers. When they met, Patricia Keurentjes and Leander Meerman both had a little bit of a problem with collecting mid-century modern design furniture, and when they fell in love, "We just kind of enhanced each other's addiction," admits Keurentjes. When Keurentjes moved into Meerman's Amsterdam loft in 2006, they set out to find some "crossover pieces" that would bring together their similar, but not exactly coordinated aesthetics. They added a George Nelson swag leg chair with red upholstery here, an Ilmari Tapiovaara teak sideboard there. "From then on, we saw our tastes changing and building, and that's when it got out of hand," says Keurentjes.
Eventually, they decided they could monetize this rather expensive hobby, and so they opened Bloomberry, a mid-century modern design gallery in Diemen, just outside of Amsterdam, quickly filling it with Scandinavian, French, Dutch and Italian furniture and lighting from the 1950s and '60s. Today, the 10,000-square-foot former industrial woodworking shop, with polished concrete floors and high ceilings, includes the couple's office, furnished with Charlotte Perriand leatherette couches from the 1960s and warmed by a large freestanding heater; Erikah Badhu tracks play softly in the background. In the back, through a handmade Perriand oval fiberglass door, is a spacious repair studio where their in-house conservator restores furniture and checks the safety of all the vintage lamps. Both rooms overlook the harbor, where colorful Dutch barges and sailboats bob gently in the slanting sun.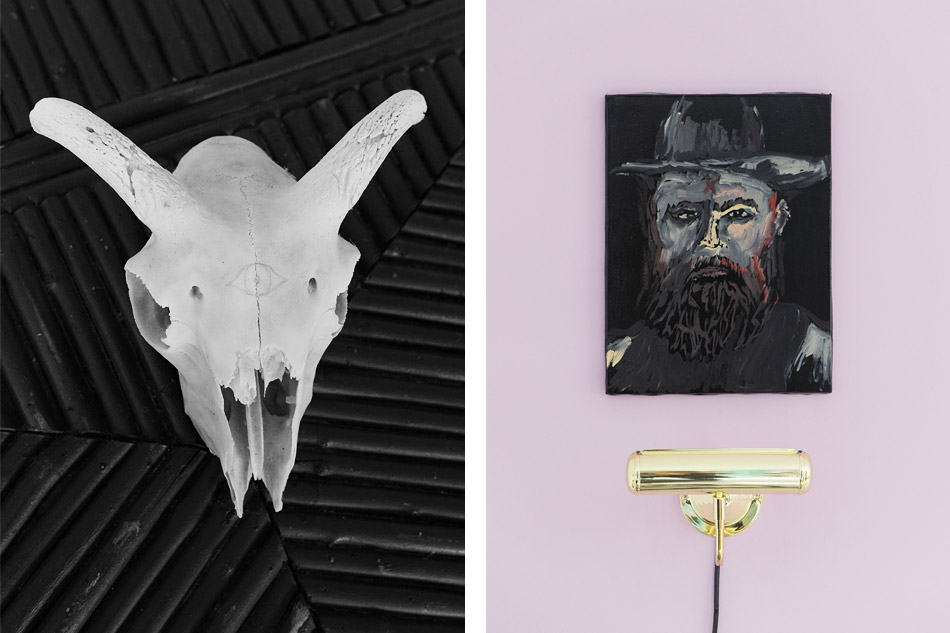 But the couple reserve pride of place in the front of the space for their grand showroom, filling it with modernist furniture, all of it in the most pristine condition. The ample open gallery is lit with their collection of subtly moody vintage lamps, and pieces from the collection are showcased with exquisite care, as if in a museum. Everything has been repaired and restored to perfect condition, and it's hard to tell that any of the sofas, tables or desks has ever been used. Because of its slightly out-of-the-way location, the showroom is mostly quiet during the day, the heat turned down and the lights dimmed, unless collectors have scheduled a visit. But that suits Keurentjes just fine: "We'd rather have fewer people who are seriously interested, rather than a lot of people just browsing."
Originally, Meerman and Keurentjes focused on chairs and stools by such familiar names as George Nelson, Charles and Ray Eames, Hans Wegner and Herman Miller, all typically made of steel and bent plywood. They then moved into freestanding storage units, such as Dutch designer Wim Rietveld's late-1950s industrial sheet-metal cupboards with pastel-hued doors, Belgian architect Willy van der Meeren's modular wardrobes with primary-colored enameled metal doors on mahogany wood frames and, on occasion, slightly more ornate early-1950s Paolo Buffa wood sideboards with details like alabaster handles and ivory inlays.
In recent years they've added lighting. "It took us a long time to find the type and atmosphere of lighting that would fit us," Keurentjes says. "Then we discovered Wirkkala." Tapio Wirkkala, that is, the versatile Finnish postwar sculptor and product designer who became art director for Iittala from 1946 and designed iconic glassware (such as the Ultima Thule line) for them as well as ceramic, wood and metal art pieces for other design houses. (He's perhaps best known as the designer of the Finlandia Vodka bottle).
In 2009, they had an opportunity to buy a large trove of vintage stock of Finnish origins. The owners of the collection hadn't looked inside the warehouse for years, simply because they didn't quite know what to do with the items and didn't have an urgent need to sell them, says Keurentjes. The couple was invited to the storage room in Milan to look at what turned out to be many prize items by the designers that Mangano helped make famous — Tapiovara and Alvar Aalto along with the lesser-known Timo Sarpaneva.
The warehouse's holdings also included a large stock of pendant lamps by Wirkkala, who constructed the artful lighting elements of painted metal, Airam bulbs and colored-glass shades that look elegant when turned off but create a subtle diffused light when illuminated. These are very fragile lamps, which were always made in limited editions, a combination of factors that makes them incredibly rare.
"It was all old stock, in pristine condition, even in the original packing," Keurentjes remembers. "That was very rare, especially for glass and glass lamps. The stock room was about one and a half to two times the size of our shop. We went through all the boxes and made a deal on it. I was pregnant at the time with my second child so I wasn't there when Leander closed the deal. I know it was done Italian-style, with love and a hug."
That's the model for how the couple likes to do business these days, too — working with trusted contacts and keeping their buying and selling friendly and familial. When they buy items to add to their stock, they have just one rule: "We both have to agree," says Keurentjes. "Leander is the typical male, so he does most of the hunting and the buying, and I have the veto power."
She doesn't wield that power with too much force, though. There are just some things she absolutely doesn't want, such as coffee tables with glass tops and sharp corners. "Because I'm a mom now, and I just can't have those — no way."
---
TALKING POINTS
Patricia Keurentjes share some thoughts on a few choice pieces.