Despite his high-profile clientele and a body of impeccable work, designer Bruce Bierman has never pursued the limelight like so many of his peers. He's a highly private man and exceedingly discreet about the people who hire him. "We don't tell our clients who else we work for, though a lot of them know each other," he says. "It's no one's business." He does grant, however, that they are largely financial types, with the occasional model, singer and artist thrown into the mix.
Neither is the New York–based Bierman given to the flamboyance that characterizes a large swath of his trade. But two funny stories do illuminate certain lively aspects of this 60-year-old's personality.
Story One: Some time ago, Bierman and his husband, William Secord (owner of an eponymous art gallery and the world authority on 19th-century animal paintings), were meeting up in Los Angeles. Secord, whose arrival preceded Bierman's by a day, checked into their room at the Four Seasons and then placed a concerned call to Bierman, suggesting that they should change rooms. When Bierman inquired why, Secord said, "Because this one has a few too many patterns in it, and there's a row of outlets that are hung unevenly. I don't want to hear you bitch." (Story One kicker: Secord checked them out of the Four Seasons and booked a bungalow at the Beverly Hills Hotel instead.)
If you were to glean from these stories that Bierman is something of a perfectionist, you'd be right. And yes, he likes clean, clear spaces that are not gussied up with patterns, ruched curtains and yards of trim. What these stories do not immediately disclose, however, is that Bierman is keenly aware of his profession's inherent absurdities and possesses the good humor required to keep it all in perspective. "We have a motto around here," says Bierman, his gray-green eyes lighting up a round, pink face framed by neatly snipped salt-and-pepper hair. "There's no such thing as a design emergency. If clients laugh when I tell them that, I know I can work with them. If they don't, we're not a good fit."
That being said, Bierman also admits that he has had fervent opinions about what is and is not good design since the age of six, when, while growing up in Queens, New York, he scanned his neighbor's newly redecorated living room and announced, "I don't like your curtains." He claims to have known he would study architecture from age four, when he would play with building blocks and design towns for his model trains to travel through. His homemaker mother and his father, who owned a plastics factory in Williamsburg, Brooklyn, more than encouraged his natural tendencies. Perhaps because he was the youngest of three children and the only boy, Bierman's grandfather used to call him Jesus, since "when I was born they treated me like God," Bierman remembers him saying.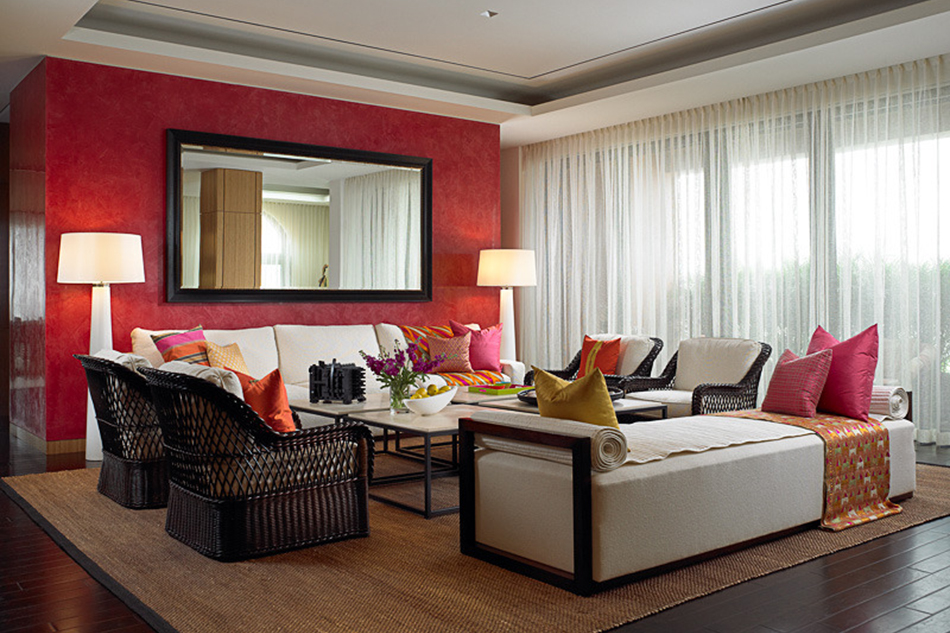 Bierman eventually attended the Rhode Island School of Design, where he earned two degrees in architecture (in 1975 and '76). But while he remained fascinated by the sculptural possibilities of buildings, he also discovered an equal passion for interior design, which gave those buildings their practical meaning. "It was about how people live in and move through those spaces," he says.
He also studied textiles and weaving because, he recalls, he had a crush on the teacher, and "I was interested architecturally in the structure of the different weaves." While still at RISD, Bierman began making and, through a New York gallery, selling tapestries, one of which Dustin Hoffman purchased. But interior design still exerted its pull, so he contacted a variety of decorators he admired — Ward Bennett, Robert Bray and Michael Schaible, Joe D'Urso and John Saladino among them — not because he desired a job but because he wanted to learn about their inspirations and divine the strategies they used to build their businesses. While working as a weaver, he began his next career by decorating his own Manhattan apartment and the loft of a friend's boss; he incorporated Bruce Bierman Design, Inc., in 1984.
Today, Bierman's calling card is a smartly tailored environment awash in pure colors, whether pale or saturated, and filled with lavish materials — shagreen, natural stone, cashmere — and couture details, such as ravishingly figured hardwoods paired with neatly tufted sofas, parchment-paneled walls and elegantly pleated curtains. He is principally a modernist. For him, "historic" or "period" tends to denote his beloved Art Deco ("the quality of the craftsmanship and the materials!" he enthuses). When he does incorporate 18th- and 19th-century antiques, they function in his spaces as accents or sculptural elements. "I don't do fragile, either," he observes. "I put my feet up on my coffee table. I don't use coasters, and I use the dining room table to spread out. And when I sit in my living room, I slouch."
In a friend's Chelsea loft, Bierman created a master bedroom with a floor-to-ceiling upholstered headboard — very 1940s-Hollywood — and full-length silk curtains, using a gray-and-periwinkle blue palette to dramatically set off an ornately framed Renaissance portrait. All the Bierman signatures are there: the comfortable but couture styling, the sumptuous but plain fabrics, clear color, Deco references in the headboard and an additional accent chair and a single older antique deployed as a focal point.
The larger aim of his interiors, he explains, "has to do with what I really want in life, which is the attainment of inner peace." For Bierman, "it's about the Golden Rule, about treating other people how you want to be treated and about sincerity in your work."
Indeed, Bierman's rooms, despite their obvious luxury, seem open and uncomplicated, with no ego-driven hidden agenda. Even at a Palm Beach apartment in the chic Breakers complex — with its enormous painting by Morris Louis and its priceless Deco furnishings by Jean Dunand, Raymond Subes, Jacques Adnet, Émile-Jacques Ruhlmann, Edgar Brandt and others — the mood is devoid of clutter and fuss, straightforward in its clean lines and lack of adornment. "Pretension holds no appeal to me," he says, which prompts him to quote another of his company's mottos: "Transparency rules." And that, Bierman explains, means "Don't tell me what you think you want me to hear, and don't tell clients what you think they want to hear. Finish on schedule, do what you say you're going to do, have a sense of humor, and enjoy the process."
---
Bruce Bierman's Quick Picks on 1stdibs