Bryan O'Sullivan credits his maternal grandfather with sowing the seeds of his future career. "He was a master builder and self-taught designer who specialized in the restoration of churches," recalls the London-based architect and designer who, at 36, is a rising international star. "I spent a lot of time in his studio when I was young, looking at his drawings for door hardware, statuary, stained-glass windows and such. That was my first taste of design." O'Sullivan's parents ran a successful tea shop, Mickey Ned's, in the picturesque southern Irish tourist town of Kenmare, in County Kerry, and their profession left its mark on him as well.
"When the time came to leave school, I was torn between architecture and hospitality, particularly after having helped my parents redesign a bar and restaurant they opened in 2000," O'Sullivan says. "In fact, I studied hospitality management at the DIT School of Culinary Arts and Food Technology in Dublin."
Having dual interests has worked in the designer's favor. Today, he is equally adept at hotel, restaurant and residential projects. After training in architecture at the University of Greenwich and University of Westminster, O'Sullivan picked up blue-chip experience in the New York office of Annabelle Selldorf and the London studios of David Collins and Martin Brudnizki. "They were all wonderful mentors," he says. "To be exposed to design at such a high level was an incredible privilege." In 2011, having decided to concentrate on interior architecture and decoration, he spent two years in Paris working under Luis Laplace, another formative influence.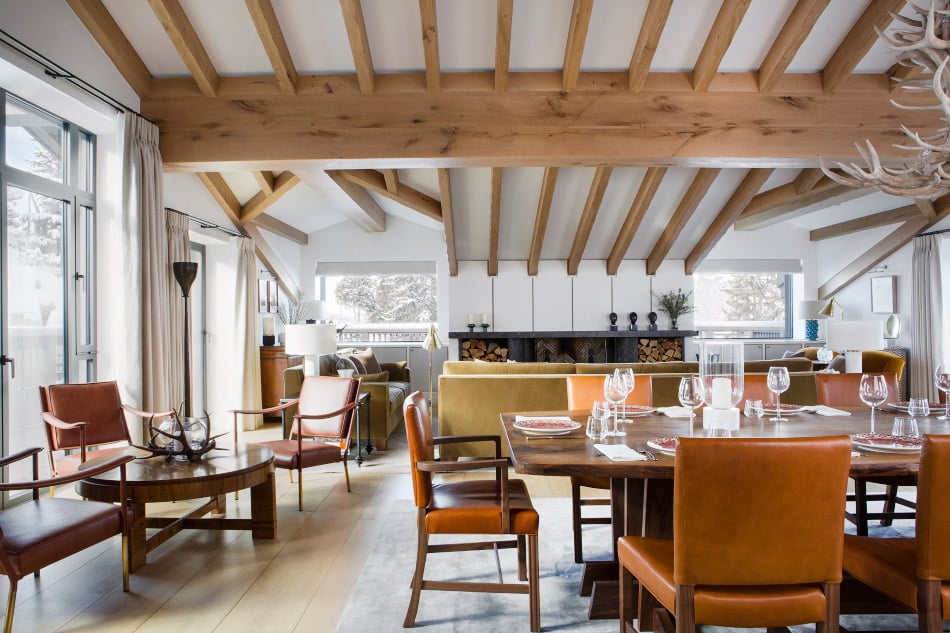 O'Sullivan was just 31 when, in 2013, he was offered the chance to design a private villa in Ibiza. It was his first major project under his own name, and he set up an eponymous studio in Shoreditch, in East London. Just a year and a half ago, he was employing a team of four; today it has expanded to 18, a growth that testifies to O'Sullivan's flair both for design and for business. Current projects are mainly private residential work, but a burgeoning number of commercial jobs are also in the mix, including hotels in Spain, Portugal and Ireland and the newly opened Tamburlaine restaurant in Cambridge, England.
The last is an excellent example of how O'Sullivan likes to approach design: Context rules. "Tamburlaine takes its name from the play by Christopher Marlowe [about the 14th-century military leader and Central Asian emperor]," he explains, "and so we drew on Persian influences for the decor. It is a new build that had to sit happily within the magnificent heritage architecture of Cambridge, so we paneled the bar to reference the college libraries, but with a contemporary interpretation."
Working on a home on New York's Fifth Avenue, O'Sullivan took cues from the elegant prewar structure, developing a minimalist architectural language overlaid with a subtle palette of soft colors and richly tactile fabrics and finishes. "This is an old building," he explains, "but everything original had been stripped out of the apartment, so we went very light and airy, with pale floors and walls and no curtains at the windows, to maximize the views of the Park." His clients, a glamorous Irish couple who own several properties around the globe, are "very into fashion and design, with a fabulous collection of art," the designer says. "The wife had clear ideas about the sort of tonal palette she wanted. That was great, as it really kept us on our toes."
O'Sullivan's office oversaw the furnishings as well as the architecture, creating a lively mix of contemporary and vintage pieces, including seating from Annabelle Selldorf's Vica line alongside iconic designs by Giò Ponti, Jean Royère, Edward Wormley and Ico Parisi. In the drawing room, with its spectacular views over Central Park, glittering contemporary pieces by David Wiseman and the Haas Brothers are juxtaposed with show-stopping art by Marlene Dumas and Ida Applebroog. The overall effect is bold and confident, but also warm, inviting and extremely comfortable.
Not long ago, O'Sullivan completed a yacht renovation for the same clients. It was his sixth project for them, and his third vessel. "The biggest challenge with a yacht is the fact that you have to screw everything down, to withstand changing conditions at sea, while still ensuring that everything looks wonderful," he explains. "All the brackets have to be bespoke but also well out of view." The yacht interior mingles old and new, partnering vintage Vladimir Kagan and Jean-Michel Frank pieces, for example, with Apparatus lighting and O'Sullivan's own designs, including a pair of bedside cabinets in maple with onyx tops.
"By the time you've worked for the same clients on a few occasions, you can be more adventurous, because they know they can trust you," O'Sullivan says. He sees his role not as imposing a look onto a space but rather allowing it to slowly reveal what it should be and how it should feel. "I never know initially what I want to do," he explains. "I have to visit a few times and really get to know the architecture, the clients and their dreams and expectations of what it should be."
Although London is his current home, O'Sullivan visits Ireland regularly to refresh body and spirit. "Hill walking is a great way to clear the head," he says. "I am very inspired by the landscape of Ireland, and being Irish is very much a part of who I am." Current projects include an expansive residence in Knightsbridge, his first private jet interior and a grand apartment in Paris that has already been four years in the making. He is actively looking for more work in New York, hoping to open a satellite studio there one day soon.
But first there is a wedding to organize: His fiancé, James O'Neill, is the firm's commercial director, and they plan to marry this summer. He is also preparing to launch his first collection of furniture and lighting and a dedicated retail showroom. It's a natural progression, given the number of bespoke pieces he designs — and given what he has achieved in five short years. One thing about O'Sullivan is abundantly clear: Hospitality's loss has very much been the design world's gain.
---
Bryan O'Sullivan's Quick Picks on 1stdibs