Caleb Anderson has always had a thing for design. While the rest of the kids in Austin, Texas, were spending their allowances on toys and video games, he was saving up for shelter magazines and accessories for his bedroom. "Buying a new comforter was an exciting event," he recalls, "which I'm sure my parents found a little strange." He also loved getting his hands dirty out in the garden. "My mom says some of my first words were 'wawa flowers' and that I used to insist on taking the hose out and drowning her poor flowers." In a photograph from his third birthday party, he's proudly holding up a potted chrysanthemum from his grandmother. "It was clearly my favorite gift," he notes, with a laugh.
That early eye for beauty has served him well. Today the 32-year-old Anderson is a rising star in the world of interiors. While in person he is soft-spoken and delicately handsome — a Southern gentleman through and through — his designs are anything but quiet. Risky yet refined, his spaces masterfully mix modern elements with antique and custom pieces. More than a decorator, he's a one-man show, often handling every detail himself, from architectural renderings to furniture design. But back then he was simply a boy with a deep curiosity about his environment.
Childhood visits to his aunt's newly built Georgian-style mansion near Dallas were a particular thrill. "I remember being four years old and always wanting to go up the stairs and not being allowed by myself," he says. "I thought it was the biggest, most unbelievable house in the world." Years later, as a student of interior design at Texas State, he got the opportunity to put his passion into practice when his aunt recruited him to remodel. After digging out the original blueprints from the attic, he fired up AutoCAD and redrew all the plans. Wall-to-wall carpeting was swapped out for hardwood floors, and marble replaced the ceramic bathroom tiles. A seamlessly integrated new wing expanded the two most lived-in rooms of the house: the kitchen and the master bedroom.
Armed with this real-world experience, Anderson sent his résumé on a whim to a handful of firms in New York, landing an internship with the celebrated designer Jamie Drake. The internship  turned into a full-time job, and over the next three years, he learned from Drake how to run a business. In his next position, with David Mann, of MR Architecture + Decor, he honed his management skills on projects ranging from private residences to a boutique winery in China.
Drawing upon the dual perspectives he gained from working with both a decorator and an architect, Anderson tackled his first solo project — a small Soho apartment for a couple on a tight budget — with hands-on gusto, gutting, remodeling, repainting and even cat sitting for the clients during his downtime. To accommodate their massive collection of books, he fashioned a miniature library out of an alcove, with built-in floor-to-ceiling shelves on every wall. One referral led to another, and the side projects began to pile up. So in 2013 he founded his own firm, Caleb Anderson Design, with his partner, Brett Williams. Williams handles the financial side of the business, leaving Anderson to concentrate on bringing his edgy yet elegant visions to life.
For a beach house in Bridgehampton, he convinced conservative clients to take a chance on setting a quirky, sculptural Oggetti coffee table in their clean-lined living room. "They were concerned it would look odd, but it turned out to be one of their favorite pieces," Anderson says. At the 2014 Lenox Hill Hospital Designer Showhouse of New York, his custom-built steel canopy bed, which incorporated a cantilevered desk into its footboard, weighed in at more than 800 pounds, and generated major buzz. "I had no idea it would be that heavy," he says. "The bed took six guys to move and had to be remade twice."
Other sit-up-and-take-notice gestures included pairing a Mackintosh chair with an ornate Louis XV desk and placing a furry stool that looks like Cousin Itt from The Addams Family in an otherwise polished space. "I always add in a piece that raises questions and makes people think."
His clients aren't the only ones stepping out of their comfort zones. Some customers have asked Anderson to stretch too. A Japanese family recently challenged him to restrain his love for colorful abstract art in order to create an all-ivory master bedroom for their Upper East Side apartment. To add depth and dimension, he turned to texture. The result: layers upon layers of tone-on-tone silk, velvet and chenille, from the walls to the floors to the furniture. Although the monochromatic room was a departure, he couldn't have been more satisfied.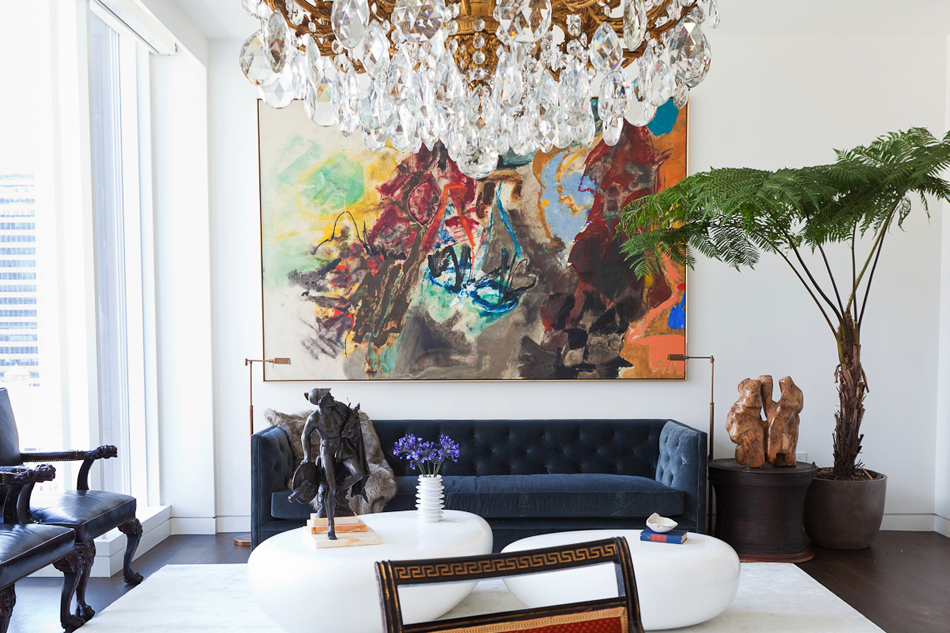 There was a time when the tony townhouses and sprawling beach cottages  that are now part of his daily work were  completely unknown to Anderson. "Growing up, I had no idea people lived this way," he says. But as much as that rarefied world has welcomed him with open arms, Anderson still feels a deep connection to the little boy who loved nothing better than bringing beauty to his surroundings. "I love New York," he says. "But to be perfectly honest, I will always call Texas home."
Early Influences:
Helping my mother decorate our home as a child, being an avid reader of shelter magazines by the age of 12 and the dozens of weighty books on architecture and design I borrowed from the library as a teen. My aunt's house and her antiques were a source of fascination and curiosity for me from a young age, and her grand taste continues to influence me today.
Big Break:
Working for Jamie Drake opened endless doors for me in the world of design. I learned so much about the business in his employ and am grateful for his continued support as a mentor and friend.
Inspired by:
Art, history, travel, fashion, architecture, nature and other designers/artists/craftsmen
Current Playlist:
Beyoncé and Claude Debussy
Favorite Artists:
Cleve Gray, Friedel Dzubas, Shirley Goldfarb, Nicolas Carone, Edward Dugmore, Larry Poons
Designers You Most Admire:
Jacques Grange, John-Louis Deniot, Pierre Yovanovitch
Favorite Fall Getaway Spot:
Rhinebeck, New York
Drink of Choice:
Coffee with two percent milk, no sugar
Watering Hole:
Casa Agave, in New York — amazing margaritas
Go-to Place for Dinner:
Narcissa
On the Nightstand:
A vintage brass lamp, a small antique tazza my aunt bought for me in Greece, a Malin + Goetz tobacco candle I bought at my barber shop, Kiehl's lip balm and a book titled The Secret Lives of Buildings by Edward Hollis.
---
Caleb Anderson's Quick Picks on 1stdibs