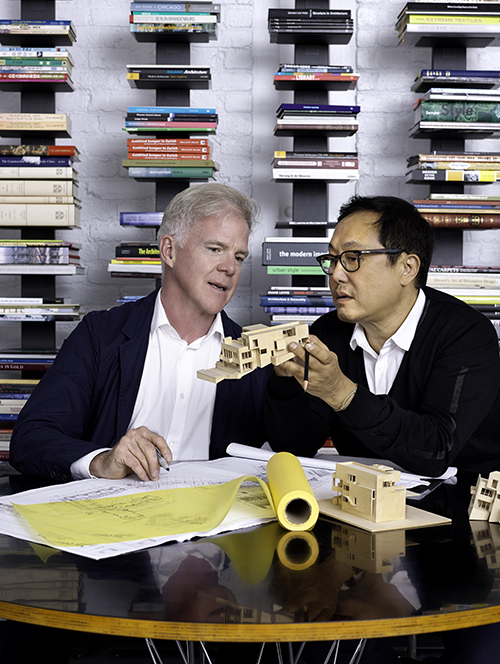 Although the New York–based architects Calvin Tsao and Zack McKown have completed several large public projects in Asia – including the restoration of a portion of Beijing's Forbidden City – they are perhaps best known for creating exquisite residential interiors closer to home. Their apartments for such discerning clients as Meryl Streep and the hotelier Ian Schrager have made them regulars on the pages of Architectural Digest, Elle Décor and World of Interiors, and the couple's own home, which overlooks Central Park, is so carefully composed — part monastery and part museum, a smart mix of serenity and elegance — that it could make a design-sensitive visitor swoon.
Tsao, a Californian who trained in dance and theater before attending architecture school at Harvard, where he met McKown, is particularly conscious of how people move through spaces, and he designs accordingly. "It's never about how things look in two dimensions," he says. And while no architect's work is really timeless, theirs comes pretty close: Juxtapositions of old and new make it hard to tell if a room was created a few weeks, or a few decades, ago. They have started trends, but they never set out to be trendy — precisely because they want their work to stand the test of time. "It's the reason I don't have tattoos," explains McKown, a boyish South Carolina native.
Their rooms often depend on custom furniture, which they design and then have made by artisans —  glassblowers, weavers, woodworkers and metalsmiths. "We like to provide a platform for creative people," says Tsao. Other items are picked up at flea markets or are culled from high-end galleries, including through 1stdibs. McKown says he is partial to "items that were designed anonymously, for utilitarian reasons, that happen to be exquisite." In the office of their firm, Tsao & McKown, which they established in 1985 and today is headquartered in Brooklyn's Gowanus neighborhood, McKown points to a patent model of metal springs, designed for a Pullman sleeping car, as the kind of object that can enliven and enrich a room as much as any "intentional" artwork.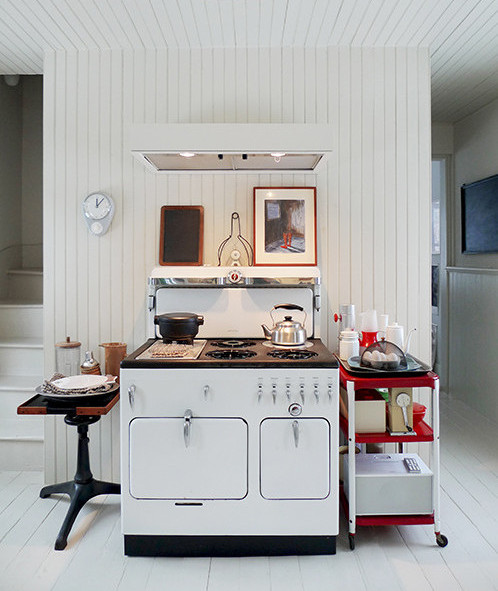 Not surprisingly, Tsao & McKown's success with residential interiors has led quickly to larger projects — first the luxurious Wheatleigh hotel in the Berkshires, then an amenity-laden Manhattan condo building called the William Beaver House (for which they designed both the interiors and the startlingly bright yellow façade). They have also been tapped for other high-profile projects, including the restoration and repurposing of a group of historic buildings in Beijing's Forbidden City. That gave them street cred in the People's Republic, and they are now spending at least a third of their time working in China. Among their ventures there is a 200-unit development in Suzhou, a city of canals near Shanghai, where they are addressing the Chinese tradition of living in extended family groupings.
"Everyone under one roof is hard, but how about everyone in one community?" says Tsao, explaining the challenge that the project poses. As a sort of prototype for one of the housing development's features, a communal recreation area, he and McKown created a mind-body wellness center in Shanghai that incorporates yoga studios, spaces for early-childhood learning and a restaurant named Thought for Food. Called the Living Room, the center was an immediate hit with expats — and it's beginning to attract local Chinese as well.
---
They have started trends, but they never set out to be trendy — precisely because they want their work to stand the test of time.
---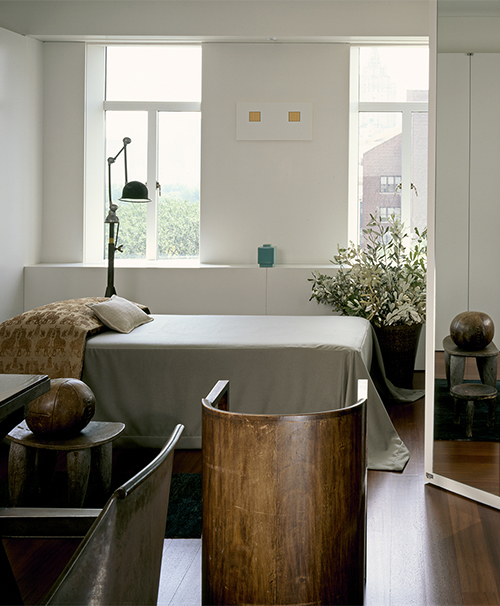 Several years ago, during a trip through Bhutan with Tsao's sister, a doctor who works with disadvantaged populations, Tsao and McKown learned that the country's Buddhist monks lacked proper retirement housing. They began designing a residential compound, the Bhutan Elder Sangha Sanctuary, on land donated by the country's king. Since the village was completed, the architects have turned to another project in Bhutan: converting the abandoned Wangduecholing Palace in Bumthang into a museum with the support of the Washington-based Bhutan Foundation.
As for interior design, they still take on one or two new clients a year. "If you really want to pursue excellence, you can't do more than that," states McKown. The firm also gets a lot of work from repeat clients, many of whom are designers themselves. Renovating an apartment in Palm Beach for a fashion designer, the pair felt emboldened to create a place that's "sleek and glam and slightly overwrought," says Tsao. Among the prominent features of the residence is a custom carpet made of purple mohair, gold wire and raffia, whose pattern he describes as "Greek key meets Shang dynasty."
When they designed the same client's Manhattan apartment, they were a bit more restrained. Eschewing vibrant colors and flashy textures, they chose a cast-glass table made by Christopher Cosma to anchor the living room, and placed it, iceberg-like, on a loop-woven carpet by the handweaver Sam Kasten, next to a sofa upholstered in a grosgrain Kasten fabric. To achieve aesthetic cohesion, they gave the carpet and the sofa fabric the same pattern, which creates a slightly psychedelic effect.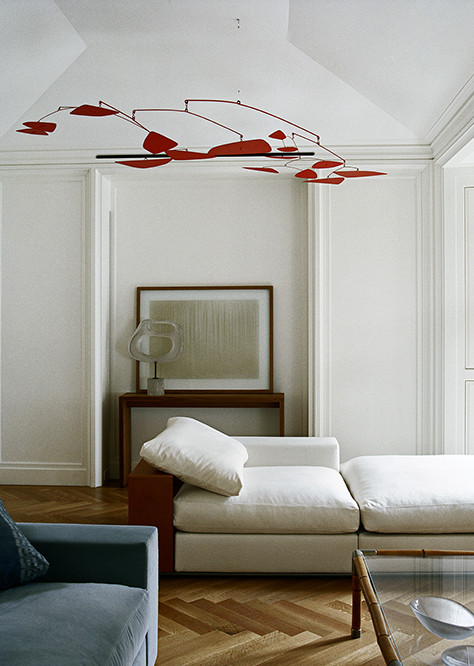 Tsao and McKown may be their own best clients. A few years ago, they bought and renovated a small 19th-century house in Rhinebeck, in upstate New York. Furnishing it was easy, Tsao says: They simply went through their vast collection of objets and selected items ranging from what Tsao calls a "completely impractical" carved wooden jug and a set of chairs strung with rawhide by a maker of snowshoes — he notes that "It's hard to find outdoor furniture that's really interesting" — to a Victorian operating theater light, about which he observes, "The handles were designed so the surgeons could move it with their wrists or elbows."
But furnishing the house barely made a dent in their collection of some 4,000 items, carefully cataloged and stored in a rented Quonset warehouse north of Manhattan. When collecting, McKown says, "we look for things that have been somewhat overlooked. It's not because we're hoping to make money, but because we see these pieces as important artifacts. We see ourselves as stewards."
If that sounds civic-minded, it is. Tsao and McKown are known as generous mentors, and they serve on the boards of numerous nonprofits, including the American Academy in Rome (Tsao); the Design Trust for Public Space, Scenic Hudson (McKown); and The Architectural League of New York (Tsao).
Meanwhile, they're eager for their next interior design client to come along. "You don't have to have a big budget," says Tsao, describing the kind of person they like to work for. "You just have to be willing to go on a journey."
---
Calvin Tsao and Zack McKown's Quick Picks on 1stdibs