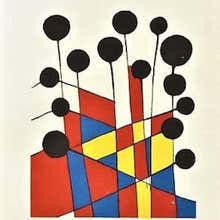 American, 1898-1976
The American sculptor Alexander Calder is known as the father of the mobile, a moving artwork composed of delicately balanced sculptural forms suspended from the ceiling.
Because Calder's parents, both artists themselves, did not want him to suffer the hardships of trying to make a living in art, they encouraged the young Calder to study mechanical engineering at the Stevens Institute of Technology, in Hoboken, New Jersey. He worked a number of jobs, including as a hydraulic engineer and draftsman for the New York Edison Company, before deciding to pursue an artistic career. He never abandoned his engineering background, however, applying his understanding of gears and moving parts in all his artworks, from mechanical toys like the Cirque Calder (1931) and his revered prints to his free-standing abstract sculptures, called stabiles.
In 1926, Calder moved to Paris and established a studio in the Montparnasse quarter. He began creating the many parts of his famous miniature circus from found materials, such as wire, string, cloth, rubber and cork. Designed to be transportable, Cirque grew to fill five suitcases over the years. Always interested in putting forms in motion, Calder also pioneered a new art form called wire sculptures, which he described as "drawings in space." Like his famous mobiles, the wire sculptures were suspended so that they turned with any movement of the air, presenting different forms when viewed from different angles.
In the 1950s, Calder returned to his roots in mechanical engineering, creating monumental abstract sculptures that verged on the architectural. He worked from loose gestural drawings like this preparatory sketch for his Man Stabile, from 1966. Throughout his career, he also worked as a set designer for the theater, as well as an illustrator and printmaker, producing vibrant, whimsical drawings for books and journals.
Find original Alexander Calder art today on 1stDibs.
Creator
:
Alexander Calder
Previously Available Items
Alexander Calder furniture for sale on 1stDibs
Furniture by Alexander Calder are available for sale on 1stDibs. These distinctive objects are frequently made of
paper
and designed with extraordinary care. In our Alexander Calder collection, there are many options to choose from, although
gray
editions of this piece are particularly popular. There are 21 vintage versions of these items in stock, while there is 0 modern edition to choose from as well. Many of the original furniture by Alexander Calder were created in
North America
during the
20th century
in the
Mid-Century Modern
style. If you are looking for additional options, many customers also consider furniture by
Robert Motherwell
,
Josef Albers
and
Andy Warhol
. Prices for Alexander Calder furniture can vary depending on size, time period and other attributes. The price for these items starts at
$225
and tops out at
$195,000
, while pieces like these can sell for
$2,070
on average.
Interiors Featuring Alexander Calder
Explore the work of the world's best interior designers
Creators Similar to Alexander Calder
Questions About Alexander Calder
1stDibs Expert

April 5, 2022

The American sculptor Alexander Calder invented the mobile, a moving artwork composed of delicately balanced sculptural forms suspended from the ceiling. His mobiles were an innovative feat and initially used motors for movement, which he later abandoned for air currents alone. Calder was also a pioneer of wire sculptures. Shop a selection of Alexander Calder pieces from some of the world's top art dealers on 1stDibs.

1stDibs Expert

April 5, 2022

American artist Alexander Calder is best known for his work in sculpture, particularly his monumental sculptures and innovative 'mobiles' in the tradition of kinetic art. Shop a collection of authentic Alexander Calder pieces from some of the world's top art dealers on 1stDibs.