October 2, 2022How to strike a balance between the traditional leanings of one homeowner and the more contemporary tastes of the other? What's the key to transforming a spectacular space with vaulted ceilings and a massive wall of windows into, of all things, a bathroom? What kind of light fixture would be functional and attractive over the dining table but not so much of a showstopper that it distracts from the water view?
From big picture to granular details, "these are the things that keep us up at night," says Jesse Carrier, partner with his wife, Mara Miller, in the illustrious Manhattan-based interior design firm Carrier and Company. The pair must have had terrible insomnia while working on the Shelter Island home of a couple whose dream house — a 5,000-square-foot, cedar-shingled new build on waterfront property — Carrier and Company took on in an embryonic stage. 
The homeowners had engaged a local architect to make basic construction drawings and file plans, but that was about as far as it went. "When we arrived, it was just the foundation and framework," Carrier says. "We had to define the whole interior: columns, ceilings, millwork details, lighting, flooring, kitchen and baths — all of it."
Carrier and Miller jumped at the rare chance to have a voice so early on in the process, determining such things as what material to use for the as-yet-unbuilt fireplaces (stone so local it was pulled from the property) and tweaking the floor plans. They devised, for instance, a wing wall that lets occupants of the open kitchen remain visible to those in the adjacent dining room and screened porch but hides any mess in the cooking area. "Unfortunately, homeowners often don't think of interior design until the end," notes Carrier. "Then, we get in trouble for saying, 'Let's move this wall.' "
This kind of careful consideration and attention to detail at each stage of an interior design project is one reason why Carrier and Company has become so highly regarded in its 17 years in business, amassing a portfolio of residential projects from Southampton to Soho and hailed for its essential lightness and effortless chic.
Carrier and Miller, the parents of a teenage son and preteen daughter, met while studying interior design at FIT in the '90s and founded Carrier and Company in 2005 after having separate jobs in the industry for over a decade. Recently, the firm branched out into product design, creating furniture for Century Furniture, fabrics for Lee Jofa and lighting for Visual Comfort. A coffee-table book about its work, Positively Chic Interiors (Vendome Press, 2015), leads with an ecstatic foreword by Vogue editor in chief Anna Wintour, whose office at Condé Nast and Long Island country house Carrier and Company designed. "I wasn't taken just by the . . . flawless mix of neo-classicist rigor and Scandinavian chic, Art Deco élan and rustic simplicity," Wintour writes, "but by how each and every interior embodies a real sense of personal charm; these are homes whose high style comes from a very human-scaled sense of warmth and joy."
For all the glamour of having celebrity clients like Wintour, photographer Annie Leibovitz and actress Jessica Chastain, Carrier and Miller seem most interested in the nitty-gritty. Carrier took the lead on Shelter Island, mainly because, he explains, "I'm the travel guy, who jumps in the car and drives to the Hamptons." Miller was involved in design decisions on a daily basis, however.
"We keep each other on point when one party goes too far in one direction or another," Carrier says. "I might push ahead with a blue and white agenda, and Mara will be a fresh pair of eyes saying, 'Hold on, we need a pop of something else.' " Interjects Miller, "Sometimes there can be too much of a good thing! We're always ready to pivot and rethink or re-shop if there's room for improvement."
The architectural design of the Shelter Island house had its pluses — among them, a dramatic double-height living room spanned by a catwalk connecting the two-bedroom wings upstairs and abundant fenestration providing ever-present views of the bay. A subtle nautical feel in the interiors reflects both the waterfront location and the family's interests.
"There's a dock, they have boats, one of their kids is an Olympic rower," Carrier says. "It's not just a decor theme, it's actually a lifestyle." Hence the shiplap-and-beam detail on the dining room ceiling, collection of fishing spears on the screened porch and marine-inspired lighting, including mesh-lined lanterns over the kitchen island and a custom metal table lamp in the entry whose base is fashioned from a deep-blue vintage nautical lens. "There are lots of nautical references without clobbering you over the head," Carrier says.
The latter stages of the Shelter Island project happened to align with the launch of Carrier and Company's furniture collection for Century. "Century chose us because we have a broad range and diverse aesthetic," Miller says. Carrier describes their line as "a distillation of certain favorite forms, playing with scale to create new pieces inspired by classic vintage and antiques." Where do they get their inspiration? "Oh, we might crack open an old decorating book to seek out things you won't find on Instagram," he says.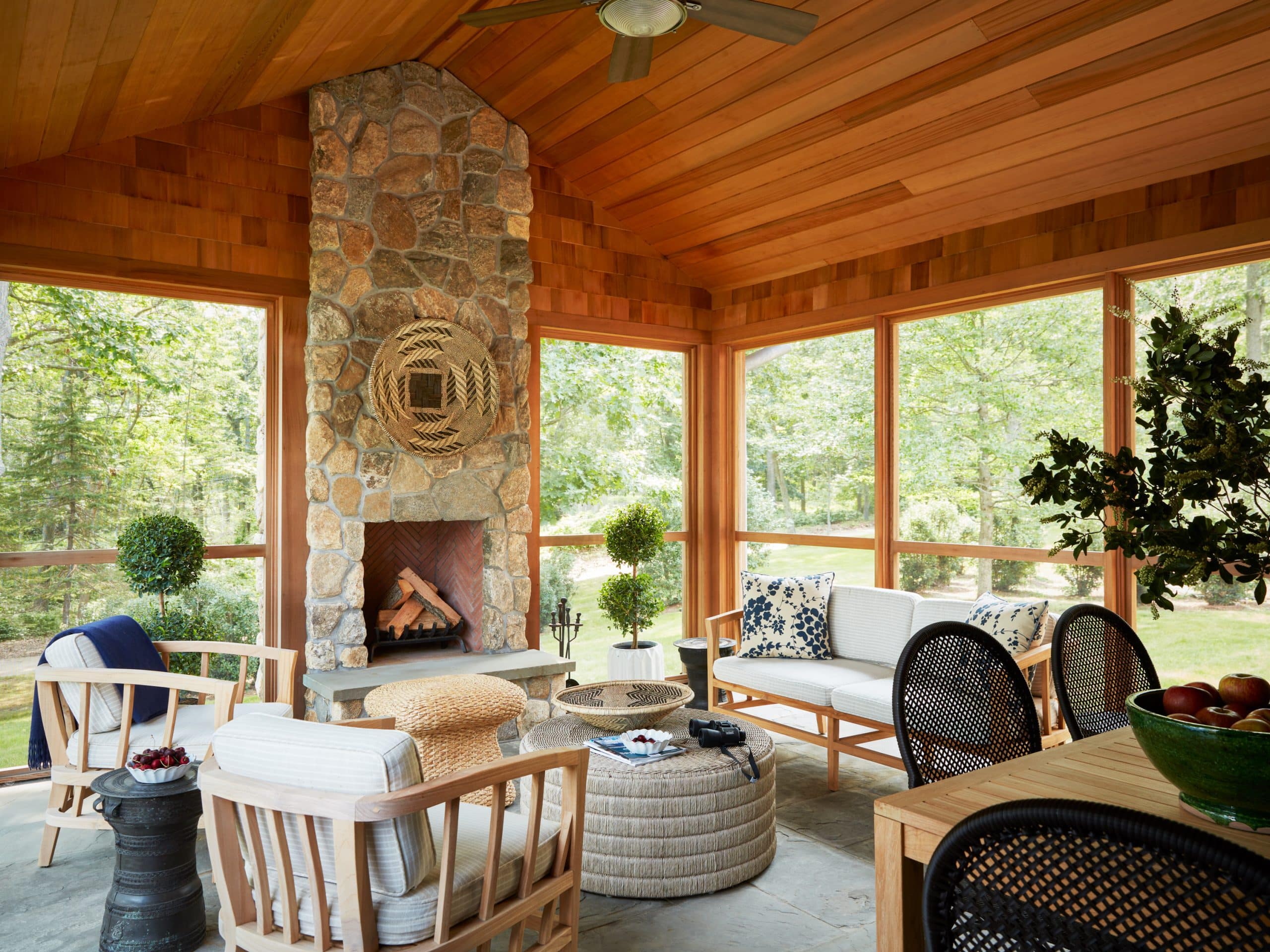 The Shelter Island living room features Carrier and Company's long Gracie sofa and swivel chairs, paired with a chunky coffee table with chamfered corners, all resting on a braided jute rug. In the dining room, a handcrafted walnut trestle table by Thomas Moser, a maker the homeowners wanted to incorporate, sits beneath a minimalist contemporary lantern that, Carrier says, "does the job" but keeps the focus on the view.
Original drawings called for a narrow primary bathroom with a double height ceiling and expansive window wall. "The windows seemed like a great idea when drawing the exterior, but how do you make a bathroom out of it?" Carrier asks. The solution: a gigantic free-floating tub to anchor the space and wainscoting to ground the "tall silo" of a room.
"Our work is a process," says Miller. "We start with the foundational pieces — a sofa or dining table — to set the tone for a room. Everything else is a balancing act. If the wallpaper is de Gournay, maybe the carpet is a simple woven jute. If the sofa is a Chesterfield, maybe a contemporary metal frame lounge chair for contrast. We're conscious of all the intangibles — vistas, traffic flow, scale — and each selection is part of an ongoing narration. Each meeting educates and empowers the clients, so the home becomes personal and the clients more confident in their point of view."
"Our interiors may be glamorous, country or modern," Carrier adds, "But the common thread — and I know these aren't sexy words — is a level of tailoring and a sense of livability."