Interior designer Charlotte Macaux Perelman is not a design celebrity — not just yet, anyway — but she has worked with many people who are. She began her career in the office of Philippe Starck, whom she remembers as being "very open-minded, full of humor and completely astonishing." While there, she collaborated on the Sanderson Hotel, in London, with hotel guru Ian Schrager. Later she headed up the design department of another hospitality king, André Balazs. Her first project after opening her own firm, Studio CMP, in 2005 was equally high-profile: the renovation of New York's Royalton Hotel. And in November 2014, she added one more famous moniker to her résumé when she was named co-artistic director of Hermès's three homeware brands — Hermès Maison, Puiforcat and Saint-Louis — a title she shares with one of her close friends, the curator and art-book publisher Alexis Fabry. "Charlotte has a very sharp eye," says the French luxury house's overall artistic director, Pierre-Alexis Dumas. "She's very quick, exacting and astute."
Macaux Perelman heads up interior design offices in both Paris and New York, and she has projects on both sides of the Atlantic. She cites the work of the Mexican architect Luis Barragán as one of her main influences. "It's extraordinary in its simplicity and almost monk-like sobriety," she says. Another idol is Aldo Rossi, because, in particular, of the archetypal striped beach huts with triangular roofs that he built in Elba in the 1980s. As for her own aesthetic, she likes to think it expresses a "casual chic" and a certain timelessness. She favors largely natural materials and has a particular predilection for both marble — "It has a classicism I like" — and woods such as oak and pine. Strong spatial effects are also central to her work. "Particular attention is paid to volumes, and there's a form of astringency to what she proposes," notes her friend and collaborator Fabry. "Nothing is superfluous." Adds one of her clients, the New York–based art dealer Franck Giraud: "Her style is both refined and natural. There's a real architectural sense that structures the space."
Born and raised in Paris, Macaux Perelman trained as an architect, attracted to that profession by the possibilities she believed it offered for travel. She got a taste for adventure from her father, who ran an import-export business. "He was very curious and traded with China back in the sixties, when nobody went there," she recounts. He also firmly believed that his daughter should speak English. So from the age of 10, Macaux Perelman was packed off during school vacations to live with families in the United States. The father in one of those families was an electrician in Vermont. "He took me around for a whole day showing me the sockets he'd installed on building sites," she says, laughing. Another host family, this one in Upstate New York, made plastic Christmas trees for a living.
She studied architecture at both the Paris La Seine and Paris Belleville schools and joined Starck's office in 1997 after a friend who worked as his assistant  tipped her off to an opening. At first, she was not particularly enthusiastic. "For me, Philippe Starck made toothbrushes," she says, "and I still had utopian ideas of changing the world through architecture." After a week, however, Macaux Perelman had changed her mind. "I entered a world where everything was possible. There was just such great artistic freedom." She also realized she was in the presence of a genius. She still is clearly filled with awe when recalling the genesis of the Starck-designed Faena Hotel, in Buenos Aires. "In just one hour, he drew up the whole concept — from the design of the door handles and the bedrooms to the atmosphere and story he wanted to tell," she relates. "It was just mind-blowing!"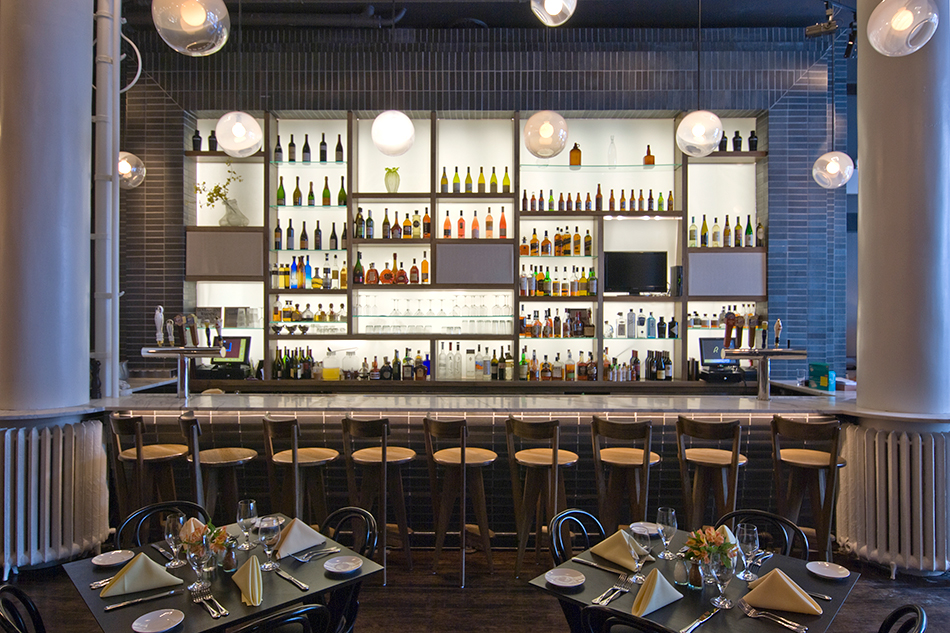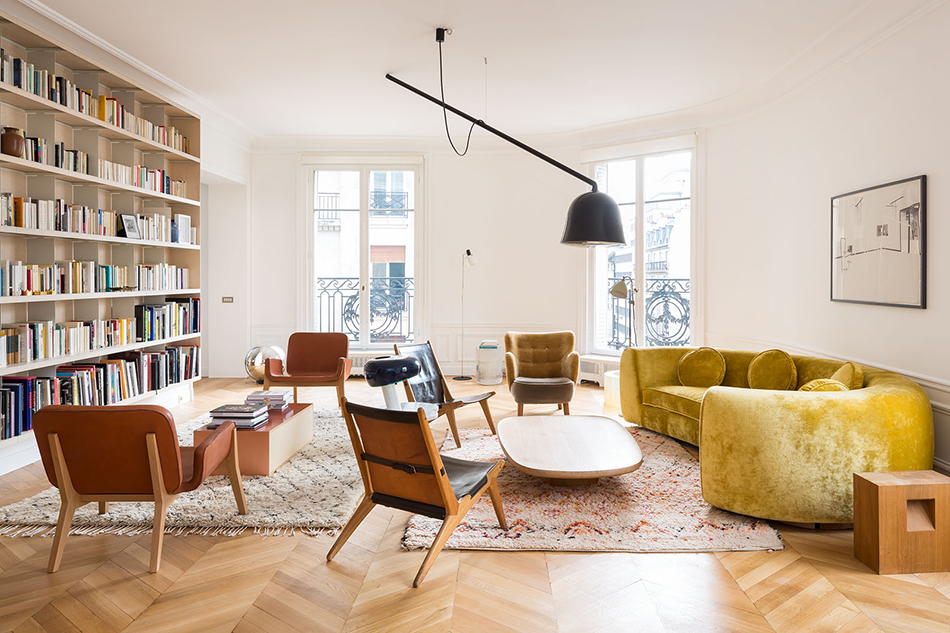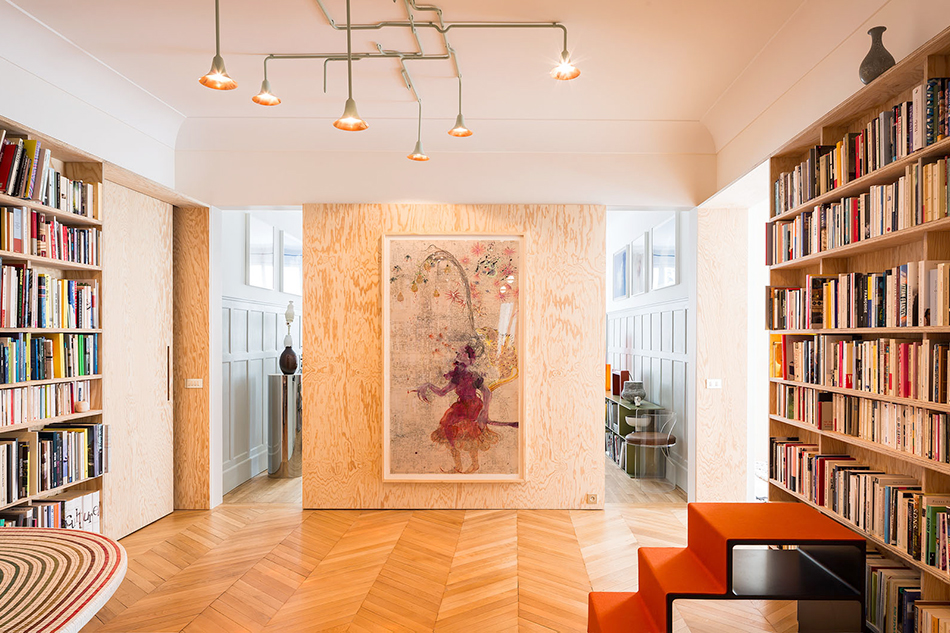 In 2000, Macaux Perelman moved on to work for the interdisciplinary design firm Rockwell Group, in New York. "It was there that I learned that everything is possible in the States," she says, "that 'no' doesn't exist. If David Rockwell wanted something, he made it happen." She most notably remembers 50-foot-high prototypes of the cruise-ship interiors he created for Disney. Her dream, however, was to work with Balazs, who hired her in 2003. "He's the opposite of Starck," she declares. "Starck imposes his style on a space, whereas André is very respectful of what's already there. He advances with small strokes." She particularly recalls her collaboration with him on the Raleigh Miami Beach hotel. "The previous decor included kitsch pink marble and silver columns with palm-leaf motifs in the lobby," she says. "I thought we'd remove them, but he told me, 'Don't touch anything. We'll simply disguise them a little.' "
After two years with Balazs, Macaux Perelman set up her own firm, initially basing it solely in New York. In addition to the Royalton, her commercial projects in Manhattan have included two restaurants — Gravy and Vitae — and Lafayette House, a 15-room Noho hotel, owned by hip hospitality entrepreneurs Eric Goode and Sean MacPherson, that has counted among its guests such celebrities as Madonna. Macaux Perelman decorated the small townhouse property with mismatched furniture sourced mainly from antiques stores in the bohemian Upstate New York town of Hudson. "It feels like it could be an old house from the nineteenth century," Macaux Perelman says of her scheme there.
A respect for history was key to one of her most striking projects — the renovation of a loft on University Place with a tragic past. It was left empty for eight years after its previous owner, an artist, was hit by a truck and fell into a coma. "Brushes were left standing in paint pots and the fridge was still almost full," she says. "It was quite spooky." Macaux Perelman kept the irregular wooden boards and cracked, raw-concrete ceiling and insisted that the plumbing pipes and electrical system remain exposed. Her main addition was a 100-foot-long bookcase — an element she favors in many of the interiors she creates, although not necessarily at such a large scale. "For me, bookcases are architectural objects that help to structure and define a space," she explains.
In 2009, she decided to return to Paris, where she lives today with her journalist husband, daughter and twin sons in a typically Haussmann-ian building. Professionally, she splits her time between her own interior design projects and her duties at Hermès, which consist of developing new product lines, the first of which will debut at Milan's Salone del Mobile next month. "It's really engrossing," she enthuses. "We have completely free rein to do whatever we want." She doesn't rule out returning to her first love, architecture, one day — but only in a very modest way. "I'd love to design a house in a remote spot, like on a cliff in Ireland," she asserts. "Something very small and sober, the size of a hut."
---
Charlotte Macaux Perelman's Quick Picks on 1stdibs