January 22, 2023The great room in this Lake Tahoe house, decorated by Los Angeles–based interior designer Jamie Bush, is aptly named. Measuring some 1,600 square feet, it is certainly consequential in size. It is also pretty awesome from an aesthetic point of view. Its living and dining areas notably share a couple of common elements: a Cloud chandelier from the New York firm Apparatus and a TOPO rug designed by Bush and inspired by eroded shorelines. "The idea was to create a narrative with these floating, amorphously shaped islands and cloud covers up above," the designer explains.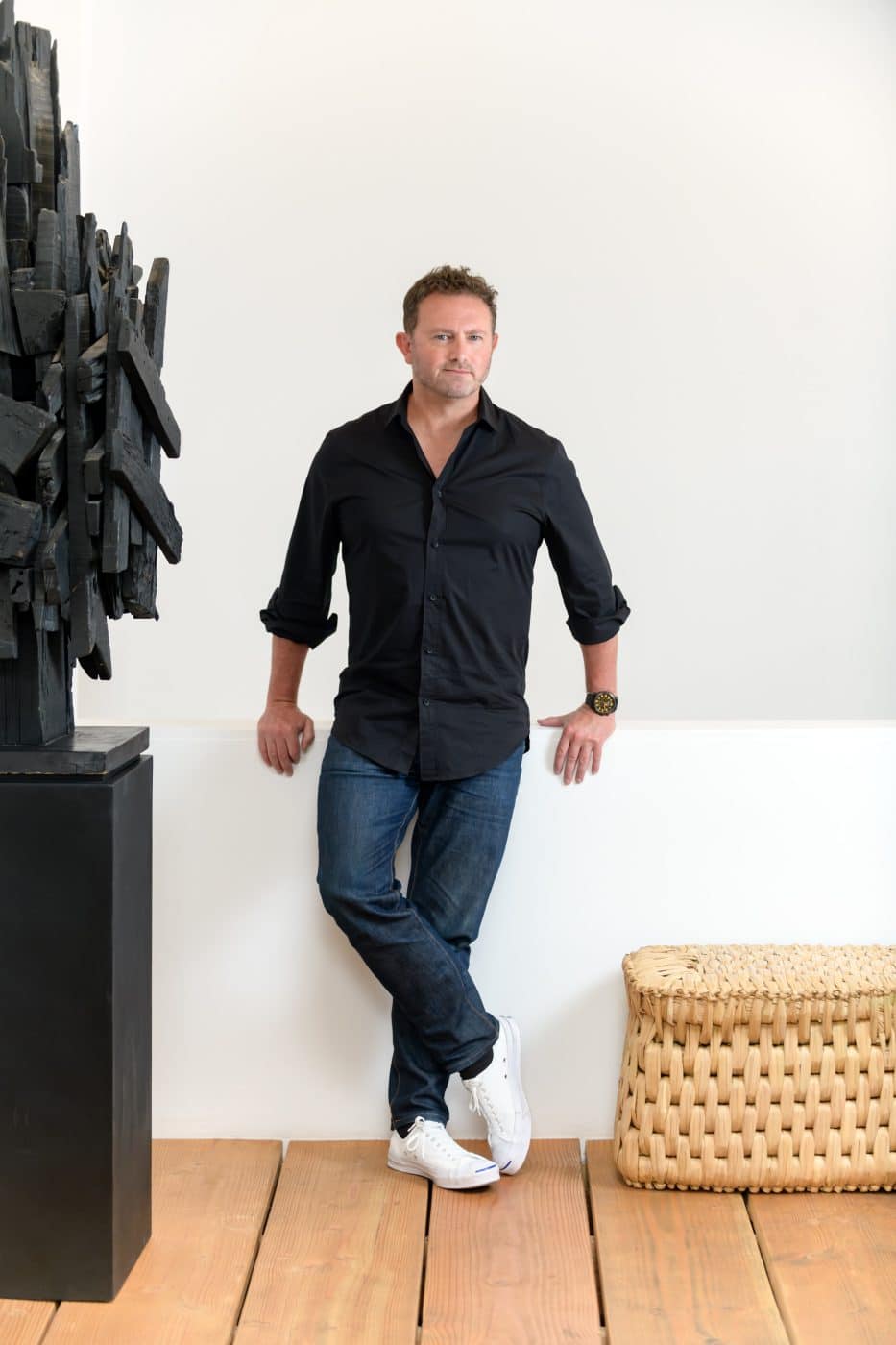 The natural world in all its beauty is an intrinsic element of the project, thanks to its remarkable setting. The property sits on a four-acre plot located directly on the shore on the Nevada side of the lake. "It's such a dramatic landscape, with mountains, boulders and dense trees," Bush notes. "And then, there's the azure, turquoise water. In places, it looks like the Caribbean."
The owners — a couple with two grown children — use it as their primary residence. "They're very outdoorsy people," says Bush. "He's a triathlete, and they love boating. So, a lot of the lifestyle that Tahoe affords was super appealing to them."
They also love to entertain, and the house was conceived with that in mind. "It's really made for playing and sharing," explains Bush. In the 10,900-square-foot main house is a movie theater, as well as four almost-identical guest suites, each with access to an outdoor terrace. The site also encompasses a gatehouse; a beach house, with a grass roof to allow it to seamlessly blend into the environment; and a structure that is home to a "crazy subterranean garage," as Bush describes it: "There's a platform on which you could drive a tour bus, which descends into the basement, where there are maybe sixteen-foot ceilings. The scale is bizarrely enormous. It looks like End of Days, where you'd go to bunker down for the Apocalypse."
The shell of the new-build main house was designed by Brendan Riley when he was at the California-based Ryan Group Architects (he has since set up his own practice). However, Bush was involved in the design process from the get-go. Since founding his firm, in 2002, he has carved out a niche working on mid-century homes, such as the Butterfly House, in Carmel, designed by Frank Wynkoop in 1951; and John Lautner's Silvertop, in the Los Angeles neighborhood of Silver Lake. From those undertakings, Bush has developed a love of what he calls "blurring" interior and exterior materials.
For the Lake Tahoe home, as for many of his projects, he started from the outside in. His choice of external cladding was largely dictated by the area's strict building restrictions. "There's a requirement for the houses to recede into the landscape. So, you can't build a white stucco structure," he explains. Instead, he came up with a "dark and brooding palette," thanks to the use of granite and basalt, blackened steel and stained cedar wood.
These materials continue inside, with the benefit that their somber hues draw one's attention toward the lake. "They almost force your eye outside, plus the mood feels more grounded, earthy, almost visceral," Bush says. He did, however, liven things up with a few pops of fuchsia by way of a pair of DISC Interiors ottomans in the living area and a Stella Nuova mirror by Sam Orlando Miller in the dining space.
The interiors particularly shine through a majestic interplay of forms in both the architecture and furniture. "Everything has either a sculptural quality or something that is quite amorphic," Bush notes.
A book-matched teak veneer staircase sweeps gracefully between the two floors. The asymmetrical basaltina stone fireplace in the primary bedroom has what Bush calls a "boomerang shape," and the facade of a custom storage unit in the husband's office is punctuated with beautifully composed rounded doors and hollowed-out shelves. The designer compares the striking standing desk in the same room to "a Star Trek portal."
Integrated throughout is a smattering of vintage items, including a 1970s brutalist Belgian credenza and 1950s Stilnovo floor lamp in the primary bedroom and a pair of David Cressey table lamps in the great room, one of which was created in tandem with Robert Maxwell. There are also reeditions of designs by iconic modernists like Charlotte Perriand and Jean Royère. But what is perhaps most remarkable is the number of custom items commissioned from contemporary makers, such as Stefan Bishop's beautifully crafted Ring cocktail table made from wire-brushed oak.
An Anna Karlin daybed, which rests partly on a huge brass ball, is placed in front of the floor-to-ceiling window in the primary bedroom. And there are several pieces that were hand-carved by Casey Johnson in his North Carolina studio. One of the handsomest is an oak cabinet in a vestibule with a raised platform on top specially conceived to accommodate one of Apparatus's Axon table lamps. Johnson was given the light fixture's dimensions in advance. "There are a lot of things like that in the house that were designed for an object to sit on so it doesn't get moved," says Bush.
This degree of forethought and precision is rare, as is the attention to detail that Bush has seemingly applied to every square inch. With obvious pleasure, he points out custom hardware, like cabinet handles made from brass and inset with ebonized oak. "It's unusual to be able to take things to such a level," he says. "A lot of homeowners don't have an appetite for something like that. But here, nothing was left unaddressed. Our clients let us become incredibly obsessive."