Franck Nataf is one of the owners of Exquisite Surfaces, a Los Angeles firm known for distinctive wood, stone and tile flooring, both new and salvaged. So when he bought a Spanish-style house in L.A.'s Hancock Park to share with his twin daughters, he had no trouble selecting floor materials: French terracotta tiles for the kitchen, Spanish marble for the foyer and antique French oak boards in a herringbone pattern for the living room. Furnishing the house, however, wasn't his forte, so he turned to David Dick and Krista Schrock, of DISC Interiors. And they had a simple idea: "We wanted to match the quality of Franck's surfaces," says Dick. That meant choosing pieces that conveyed a sense of history, like a circa 1800 Swedish farmhouse hutch and a Brazilian Caviuna chair by Sérgio Rodrigues. Even the modern items (a lamp by local ceramist Meredith Metcalf, for example) show the hand of the artist. Hopefully, says Dick, a lover of patina, "the coffee table's leather top will soon be stained."
One thing the rooms don't need is bright colors. Those are visible through the windows. "Los Angeles is green, and the light is bright even in winter," Dick explains. Rather than compete, he and Schrock prefer to work with neutrals.
The two designers tend to layer textures instead of hues. "We'll use a beat-up old leather chair against a handwoven wool rug that sits on a wire-brushed wood floor," Schrock says. Adds Dick: "We believe quiet rooms can have a strong and lasting impact."
Overall, their philosophy is to bring opposites together. The rooms they make mix old and new, chunky and slim, fuzzy and sleek and lots of other mismatched pairs — a label that applies to them as much as to their work.
Asked in what ways they are opposites, Dick has an easy time reeling off a list: "Krista knows immediately if she likes something or not. I love to ponder. Krista comes alive in the office at around four p.m., around the time I start to fade. Krista likes to rock out to eighties New Wave, while I like classical piano."
But there are plenty of similarities, too. Both grew up in the heartland (Dick in Tennessee, Schrock in Pennsylvania), and both came to California in the late 1990s. Each pursued another career before interior design: Dick was a wine buyer for restaurants and a glassblower; Schrock was a graphic designer.
The pair formed DISC Interiors in 2011. "People think we're married," says Dick. "We spend more time with each other than we do with our partners." In fact, they've gotten so busy that even though their preference is to handle every job together, "we occasionally find we have to take meetings alone," says Schrock.
Many of their clients are entrepreneurs or artists. These include Steven Kydd, cofounder of the food, recipe and travel app Tastemade, and his wife, the photographer Sal Taylor Kydd, for whom DISC did a house in Santa Monica. Schrock says the people who seek the firm out generally "want a home that feels like them, but they also want us to inject something new into their lives, something they might have not thought of themselves." Adds Dick: "They don't want a house that looks like everybody else's."
---
"We believe quiet rooms can have a strong and lasting impact," says David Dick, cofounder with Krista Schrock of Los Angeles's DISC Interiors.
---
For that reason, Dick and Schrock don't overuse iconic pieces, preferring to discover, or commission, new ones. It helps to travel; last spring they attended the Salone del Mobile, the vast Milan furniture fair, both for general inspiration and to purchase lighting for several projects. They also shop online. And they employ their own pieces, some available commercially and others designed for individual clients. They created one custom bed, covered in Casamance fabric, because, as Schrock explains, "there are one thousand beds out there but not with these precise dimensions and these precise materials." Adds Dick: "We are control freaks."
In reality, they are happy to collaborate with other firms. Having commissioned June Street Architecture to add a new wing sheathed in blackened steel to their home, the owners of a Tudor-style house in Hancock Park asked DISC to design the interiors. In the living room, two very different sofas — one leather, one linen — square off across a leather-topped coffee table. Drapes are natural linen, and the oversize lamp on the console is a soulful piece by potter Victoria Morris. Dick and Schrock had the dining table built and the chairs, by Kai Kristiansen, redone in leather. The dining room light fixture is by the hot New York firm Apparatus.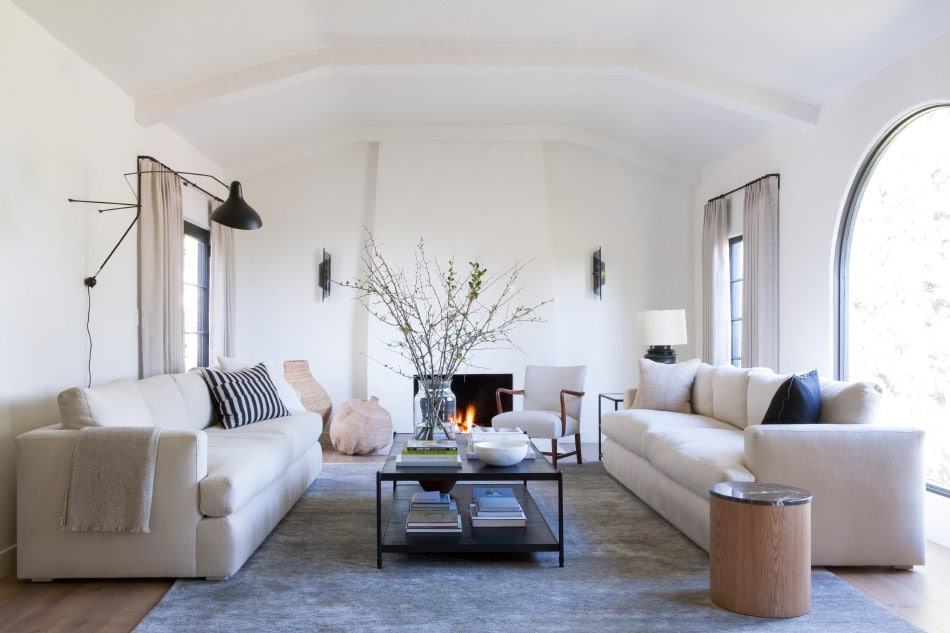 The owners of a house in Rustic Canyon hired DISC early on, which gave Dick and Schrock a chance to choose all the interior materials for the ground-up project. There's lots of white-oak cabinetry, including an open hutch with an antique mirror behind it, balancing the sleek and the soulful. The walls and even the ceiling are covered in natural clay plaster, which is troweled on by hand. "If you nick it, you just put a little water on it, and it re-forms," Dick says.
In Franck Nataf's home, the mix includes a sofa from Dmitriy & Co. and swivel chairs from the duo's own line. A pyramidal blackened-brass chandelier and reissued Jean Royère sconces complete the look. The TV room features linen blackout shades that match the wall color, Bronzed Ivy, from Portola Paints & Glazes. Another leather-topped coffee table sits on a vintage patchwork rug near a tufted Bruno Mathsson chair bought on 1stdibs.
For a living room in Silver Lake, they created a neutral backdrop by painting over the dark wood beams and extending the fireplace enclosure to the ceiling. The space is lit by a pair of Lawson-Fenning sconces and a lamp by Miri Mara ceramics. Schrock custom designed the matching sofas.
Like many interior designers, Dick and Schrock have every item shipped to a receiver until a house is ready to be "installed." That process involves "a lot of time standing around pointing," Dick jokes. In fact, Schrock reports, "you'll find me working out the pillow arrangements, fluffing drapery and making all the beds. David's strong suit is styling bookcases and coffee tables." Sometimes, she adds, "when visiting clients several months later, we find that the rooms look exactly as we left them." How does that make her feel? She pauses. "It means the clients trust and value what we do."
---
David Dick and Krista Schrock's Quick Picks on 1stdibs