June 12, 2022Both literally and figuratively, the sculptor Chris Schanck has carved out his own place in the art furniture movement, creating a distinctive body of work in his own signature style. In their design and execution, his pieces can't seem to decide if they are practical, useful objects or dreamy, surreal mediations between art and design.
Even his simplest objects look like they belong in a fairy tale. Consider his light blue Veiled Mirror (2022), whose frame seems formed of overlaid stalactites. Its texture — rough, nubbly and bumpy, like that of most of his works — makes the viewer want to lean in for a closer look.
As fantastical as Schanck's pieces are, however, they work well in real-life rooms. No less a designer than William Sofield, of Studio Sofield, used two — an otherworldly console and chair — to enliven the Tom Ford flagship store on New York's Upper East Side.
A longtime mainstay of the Friedman Benda roster, Schanck is increasingly showing his work in museums. In 2020, the Dallas Museum of Art commissioned him to create a riff on the late-19th-century Martelé dressing table in its collection. And now, New York's Museum of Arts and Design (MAD) is presenting "Chris Schanck: Off-World," a solo exhibition of more than 20 works on view through January 8, 2023.
Raised mostly in Dallas and a graduate of New York's School of Visual Art and Michigan's Cranbrook Academy of Art, Schanck, 46, works with seven people in his Detroit studio to make his elaborate pieces. Together, they give common household objects — an armchair, a table, a stool — an entirely uncommon appearance, one infused with art historical references.
Schanck spends between three months and two years on a piece, starting with a core of found objects or sculpted foam. To these central elements, he adds layers of resin and aluminum foil — his ongoing series is titled "Alufoil" — giving the sculptures a drippy, trippy patina that he highlights with juicy paint colors.
Shortly after the opening of the MAD solo show, Schanck spoke with Introspective about how and why he makes his work, the space between art and design and the secret emotional core of what he does.
Your work is so weirdly appealing — I have to know how it all started.
I've always had some consciousness that I wanted to be an artist, but the way I grew up, I never dared to believe that I could actually make a living at it. I thought the best case scenario was that I would be a professor, making work on the side and just participating in the culture and the community of the arts. And I would be okay with that, whatever beyond that is just extra. And I find that now, I'm booked for solo shows and other stuff for the next four years.
There wasn't a lot of art around in your childhood?
My parents had one Norman Rockwell book, and I would obsess over the craft of his art. We were really working class. As a family, we did newspaper routes for the Dallas Morning News in the middle of the night — for the kids, it was just the weekends. We'd all pile in the car: me, my mom, my dad, my sister, my brother.
We'd drive to the strip mall, where all the papers get dumped off, and you sort them, bag them, stack them in the car. I still have so many traumatic memories, because the Sunday paper was so big, and I was trying to get my little fourth-grader hands around it. My dad did this every day, in combination with the day job.
What was that?
His day job at that time was working at an aluminum plant in Dallas, as a salesman for aluminum extrusion.
Interesting, considering that you work with aluminum, right?
It's always been a part of the family. Anyway, I was in regular middle school, and some kid in my class mentioned that there was an arts magnet for high school, which I never even knew was a thing. And I was like, that's where I wanna go. And that changed the trajectory of my life probably more than any other single thing. It was like the Fame high school. It was a dream come true.
Did you come to sculpture early?
Drawing was always first. It's the easiest thing you could do. I went into sculpture immediately in high school, but then I switched to painting in my third and fourth years. I continued to paint for the first year I was at the School of Visual Arts, in New York. But after going to local galleries, I switched back to sculpture — sculpture that wasn't great, frankly. It's definitely a lifetime pursuit to be any good at it.
A piece like Mortal Bench in "Off-World," an old-fashioned upholstered seating piece of sorts but with figures and a light on top, how does that come about?
I have a few influences. The first one is a love of cemeteries. That might not be very apparent, but I really think about cemetery statuary and the height that it's placed at and looking up at it. The [circular] shape of this seating, you would see it in an old train station or French hotel or something. But it's not designed for long-term sitting. So it has this time element to it that's shorter than, say, a task chair.
The imagery on top [two figures flanking a glowing orb that represents a godlike entity] is not invented by me. It's just another interpretation of what's called "Death and the Maiden," which goes back to the Renaissance: Remember, nothing's guaranteed in life. There's a power in the persistence of history and those images, and there's a power in the relatability of the figure.
There are a few levels happening at once.
It becomes a Trojan horse. Anyone could go to the show, with any stage of education, and tell you what those things in the show are: a table, a chair, a mirror, a light. So, you immediately accept it, and because of that, it has that kind of Trojan horse quality that can then unfold a deeper meaning. But it gets a pass into your life because it's a domestic object.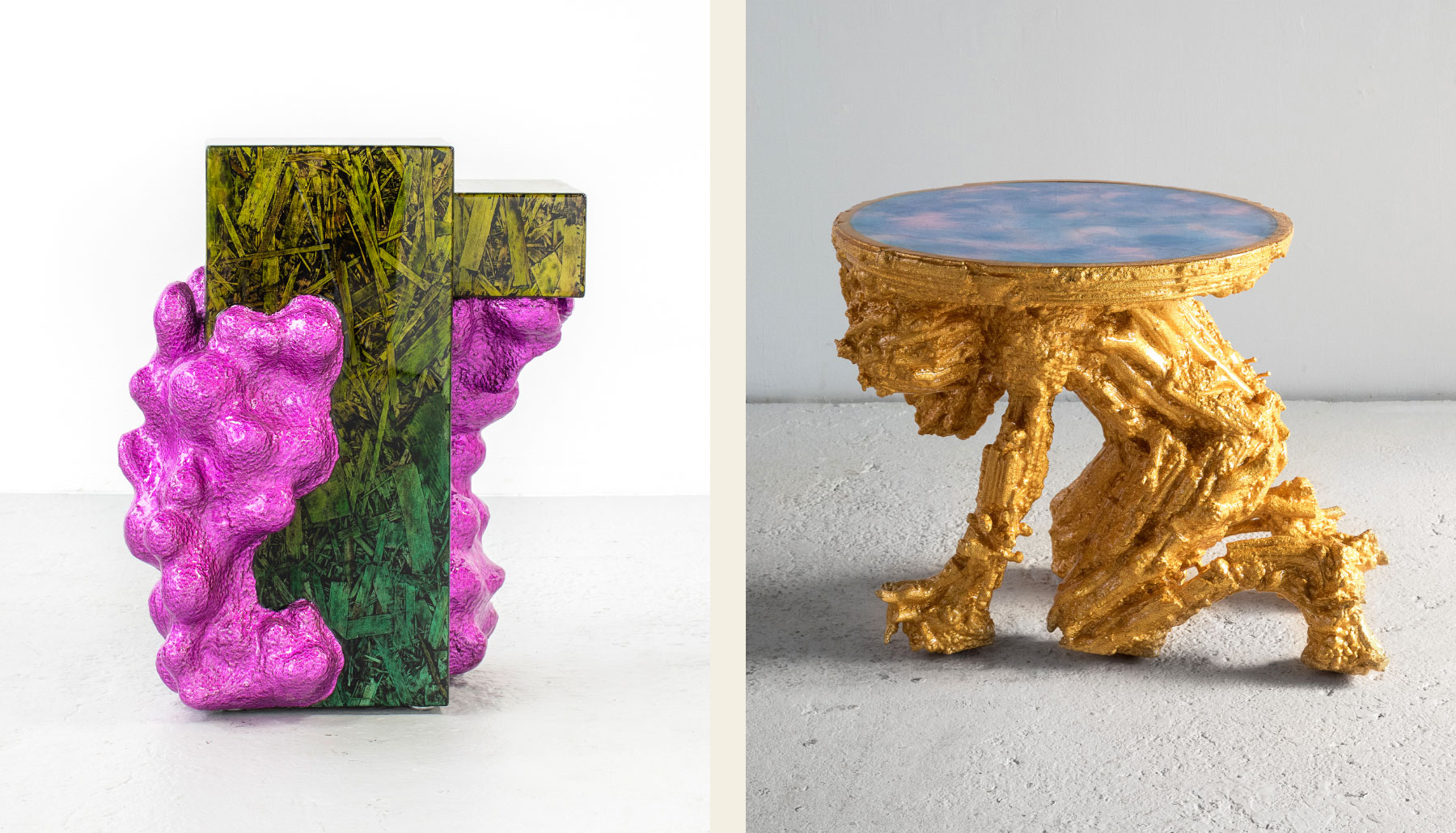 And what are the materials?
The light on top is something we sculpted and then cast. Other than the upholstered part, it's like one hundred percent sculpted foam and resin. The resin hardens the foam, and then we cover it in aluminum foil and then cover it in resins again to protect the foil. I like the formal properties, but I also love this quote by Louise Nevelson that totally changed the way I thought about her and her work. She said something like, "I don't care that it's wood, that's why I paint it black." Meaning, don't get caught up in the material.
And yet you are devoted to these same materials, and you actually use bright, intense colors?
That's true. I wanted the objects to appear almost like a special effect in real time so that they seem fantastical, clearly out of context. They have a very strong sense of their own identity. The over-the-top shininess and color stand out against most backgrounds.
And the foil helps the contours too?
It contours all the shapes very well, and I like reflectivity on a formal level. But I also have a childhood romantic attachment to it. I was very young, very sick with chicken pox at one point, and my mom wrapped all of the Christmas presents in aluminum foil. She woke me up in the middle of the night and brought me out and showed me this beautiful landscape of foiled gifts. And it was the most beautiful, least expensive thing she could do. My mother's always been extremely creative — she never had the opportunity to do it professionally, but she's a natural.
I think we found your "Rosebud" moment here, if someone decides to give you the Citizen Kane treatment.
It is a really funny thing, how it can almost be anything that kick-starts your life.