Contemporary fine design is burgeoning — and so is its market. Over the past decade or so, galleries promoting contemporary furniture have sprung up all over the globe, from Beijing to Beirut to Cape Town to São Paolo. The field has also sprouted a plethora of new designers and makers. And they employ such varied techniques — from ancient sand casting and folksy crochet to metallic bonding — and work with such varied materials, including porcelain, polymers and discarded plastics, that it can be hard to get your head around the breadth and depth of this creative explosion.
Of course, the field of collectible design has been around for a long time, although under different names and in different guises: art furniture, functional art, design art, experimental design and, most recently, fine design, perhaps our favorite to date. Many of today's stars — Marc Newson, Mattia Bonetti, Wendell Castle — have been wowing critics, collectors and enthusiasts for decades with eloquent objects. Yet the currency of fine design as the ebullient expression of a digitized and global age has never felt stronger.
So what has brought about this efflorescence? In part, a coalescing of promoters and platforms — galleries, auction houses, museums, fairs and e-commerce sites, along with social media — has generated a profound evolution in taste. Most of the credit, however, goes to that early group of gallerists who persevered through the latter part of the 20th century, despite the small, slow market for design (then considered the cheeky offspring of venerable antiques), because of their deep appreciation for their specialty periods and makers.
They did tireless research on obscure and sometimes long-forgotten designers, invested in emerging ones and produced the kind of scholarship and monographs that were once the exclusive domain of art galleries, while encouraging all whom they met to share their passion. Over time, their ardor and slowly growing, but exceedingly loyal, client base attracted the interest of auction houses, who established their own 20th-century and contemporary design departments, and museums, which began to realize there were new areas of design not only to document and preserve but also to present as educators on contemporary production. At the same time, the media was paying increasing attention, precipitated, in part, by the concurrent mania for, and big money thrown at, contemporary art. Those press mentions, in turn, stimulated the interest of artistic young people seeking an exciting new realm in which to exercise their creativity.
London produced some of the earliest champions of fine design, among them Themes & Variations, which opened in Notting Hill in 1984, and David Gill, who launched his eponymous 20th-century art and design gallery on Fulham Road three years later. (He's now on King Street, in Saint James.) These were daring acts, as period furniture and decorative antiques were the prevailing taste in what was then still quite a provincial city. Although Gill slanted his program toward such early masters as Jean-Michel Frank, Émile-Jacques Ruhlmann and Eileen Gray, he spiced it with members of the definition-blurring vanguard, like Donald Judd, Grayson Perry and Garouste & Bonetti. "I wanted to take people on a journey between historical pieces and contemporary design," he says.
Happily, top connoisseurs and tastemakers like the banker Jacob Rothschild and the interior design legend David Mlinaric were keen to go along for the ride. Later, in the early aughts, as diverse talents began contesting the definitions of design in even more novel and technologically compelling ways, Gill shifted the gallery's focus to contemporary production, adding Zaha Hadid and the Campana Brothers to his program, along with the veteran avant-gardist Gaetano Pesce and that pair of sybaritic conceptualists Fredrikson Stallard.
In Cologne, a city better known for contemporary art than for design, the interior architect Gabrielle Ammann became so captivated by cutting-edge design — the postmodern polemics of Studio Alchimia, as well as the raw industrial provocations of Newson and Ron Arad  — that she founded an agency in 1989 to promote and display their work. Later, in 2006, when she finally opened her own gallery, she remained just as adventurous in her advocacy, introducing aficionados to such varied talents as the Chinese creator Shi Jianmin, in whose work poetry, industry and tradition converge, and the Italian collective Nucleo, which mines innovative materials and history to craft unexpected artifacts like their Stone Fossil series, a collection of quartz-like stools and tables made of resin and pigment. Ammann's trailblazing has turned the gallery into a destination of discovery for collectors the world over.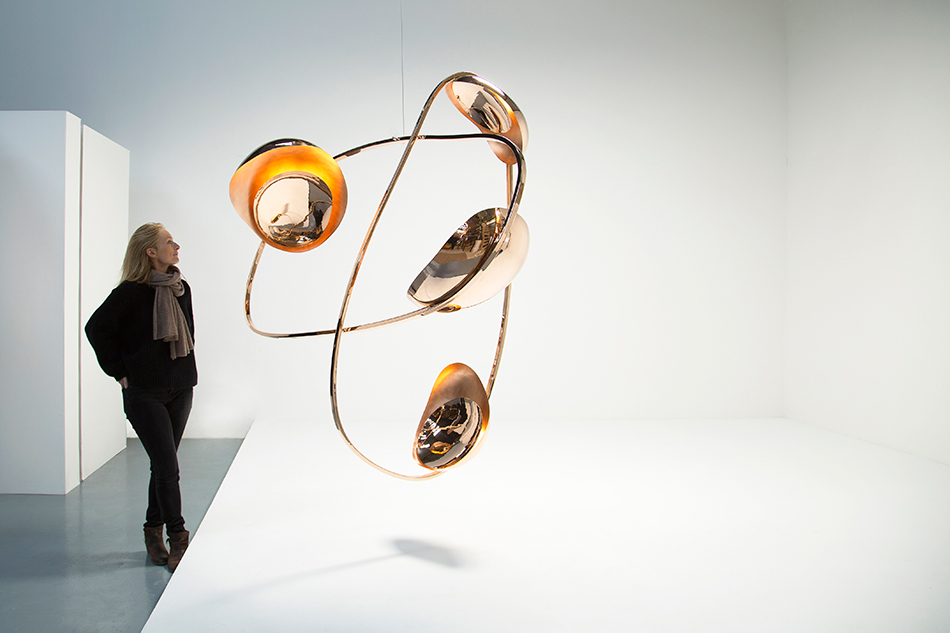 When Gill and Ammann were starting out, most 20th-century design galleries were focused on educating collectors about the early achievements of Josef Hoffmann, Josef Frank and Charles Rennie Mackintosh. Their approach was historical and scholarly — necessarily so, since collectors needed to appreciate this work in the same way they did fine antiques in order to understand why it merited gallery prices, not to mention a place in their curated homes.
A handful of galleries, notably in Paris, like Galerie Downtown,  specialized in mid-century masters. But they were a hard sell. Most collectors thought the utilitarian designs of Jean Prouvé, for example, were not just passé but déclassé, as they were factory-made works meant for institutions and often showed the wear and tear of serious use. In the world of antiques, pieces in near-perfect condition had always commanded the highest prices. These dealers were promoting furniture that was dinged and scratched. Still, by the late 1990s, tastemakers as varied as Larry Gagosian, Brad Pitt and Martha Stewart were collecting Prouvé and Charlotte Perriand, and prices were rising.
Then, in June 2005, Christie's rocked both the art and design worlds when it sold a sporty 1948 Carlo Mollino trestle desk, owned by contemporary-art mega-collector Dakis Joannou, for nearly $3.9 million (the high estimate had been $200,000). The previous auction high for 20th-century design had been nearly $1.9 million, realized five years before, and that was for a super-luxurious 1929 chromed-metal and lacquer desk by Émile-Jacques Ruhlmann. The Mollino desk was bought by Cristina Grajales, one of New York's leading gallerists in vintage modern and contemporary design, for a client who was keen on creating an important mid-century design collection.
The staggering price and glamorous provenance piqued the interest of international art collectors. After arriving in Florida's South Beach that December to attend the three-year-old Art Basel Miami Beach fair, they crossed the Julia Tuttle Causeway and converged on the then-scruffy Design District, where a new design exposition, Design.05, was debuting. The vintage and contemporary works displayed by the 15 participating galleries demonstrated the caliber and variety of design research done over the past half-century to a largely uninitiated audience. A buying frenzy ensued. (One can only imagine how much more intense the tumult would have been if those collectors had known that, in 2015, Newson's iconic 1990 Lockheed Lounge would bring $3.7 million, the highest price ever paid for an object by a living designer, at a Phillips auction in London.) By the following June, the fair had morphed into Design Miami, and it has been held concurrently with Art Basel ever since.
Zesty Meyers, one of the cofounders of New York's R & Company, a leading gallery for modern and contemporary design, recalls just how significant Design.05 was. "The fair consolidated the movement. It showed it was real," he says. Meyers explains that art collectors were able to see the field's scope, and galleries were assured that there was a class of collectors eager to furnish their homes with limited-edition creations conceived in their lifetime. This confirmation enabled Meyers and others to venture more boldly into contemporary design programs — an area of interest as well as of necessity, since the supply of collectible vintage pieces was rapidly dwindling and prices were soaring, fueled in part by that Mollino desk.
In 2006, as part of its deeper dive into contemporary — R & Company already represented several living Brazilian designers —  Myers and his partner, Evan Snyderman, took on the management of the acclaimed glass artist Jeff Zimmerman, giving him a solo show the following year. Zimmerman has since emerged as a leading figure in the movement. (An exhibition of his recent work is on display at the gallery through February 20.) Strategic commissions were instrumental in building his following. "Dominique Levy [the influential art dealer] gave him his first commission, and he's had about one hundred and twenty since," says Meyers. "People go to Jeff because he's able to conceive works that can fuse the architecture of an interior with its design. Its limitless scale and its ability to fill volumes of space are akin to those of works by Calder."
R & Company has since taken on the management of the decorative virtuoso David Wiseman and the quirky, earnest and deeply gifted Haas Brothers, all of whom have become art world darlings. (The Haases, in fact, are also represented by UTA Fine Art, a new division of Hollywood's legendary United Talent Agency that focuses on providing its artist clients with creative opportunities and collaborations in the film industry — yet another instance of blurring creative boundaries.) "We have an amazing team of people we can deploy to support these artists, so their success can grow," says Meyers, who goes on to describe the services the gallery provides, such as in-house photography, an installation designer who travels everywhere the gallery exhibits and an active publishing schedule of designer monographs — everything one would expect from a top art gallery, or a high-powered agent for that matter.
---
The currency of fine design as the ebullient expression of a newly digitized and global age has never felt stronger.
---
Interior designer Rodman Primack, a former chairman of Phillips de Pury and now the director of Design Miami, makes the point that after Design.05, it was contemporary-art collectors who drove the fine design market, which meant a whole new level of spending. And this spending only intensified, he adds, after 2010, when Design Miami moved to a location across the street from Art Basel in South Beach. He notes with amusement that the prestigious art fair's proximity seemed to somehow further validate the furnishings on show.
If the mission of avant-garde design had once been to blur the conceptual boundaries between art and design, now it was blurring market distinctions. Although fine design is by most standards quite expensive, compared with contemporary art it remains something of a bargain. "You can get a lot more with one hundred thousand dollars in fine design than you can in art," says Primack. "And these are pieces you don't put away in storage. You incorporate them into your life and enjoy them. There aren't many investments you can live with."
Indicative of this blurring of the marketplace, in 2007, Barry Friedman, one of the most respected dealers in early-20th-century design and decorative arts, opened Friedman Benda, a gallery specializing in experimental design in Manhattan's West Chelsea art district. Under the leadership of Marc Benda, a former director of Friedman's eponymous gallery, and Jennifer Olshin, the venue presents exhibitions of new work and period collections by such revered masters as Ettore Sottsass and Andrea Branzi (both former members of Studio Alchimia and the Memphis Group), blue-chip stars like Marcel Wanders and the Campana Brothers and sizzling young talents like Joris Laarman and the collective nendo, founded by the Japanese-Canadian designer Oki Sato. Its thoughtfully conceived program enables collectors, curators and aficionados to consider experimental design historically, while also providing context (and support) to emerging talents and new fields of research. Ever aware of the importance of institutional recognition in validating and promoting the careers of designers, Friedman Benda has taken care to either donate or sell to museums at reasonable prices prototypes by its young designers.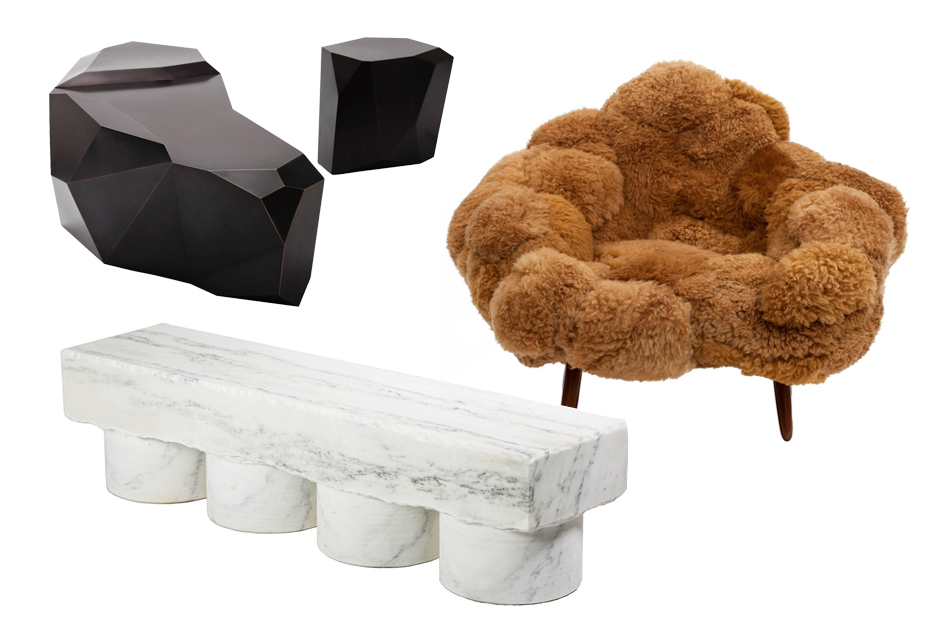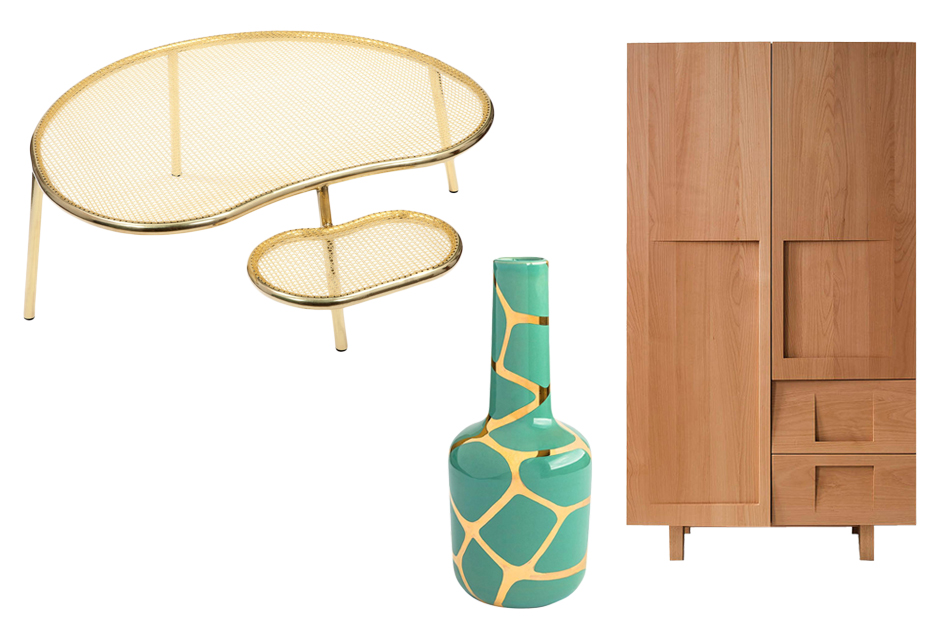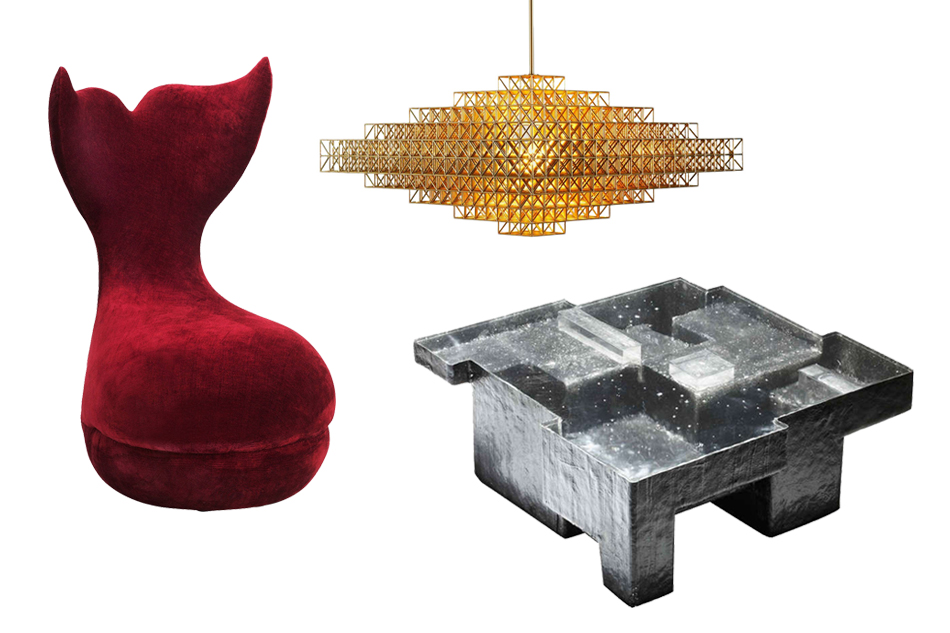 Also around the mid-2000s, a diverse list of contemporary art galleries, including Gagosian and Lehmann Maupin, began to show modern and contemporary designers. Under Jeanne Greenberg Rohatyn's creative vision, New York's Salon 94 has developed one of the most intriguing programs, because it is so intensely personal. Known for representing edgy artists, Greenberg Rohatyn had been asked by a friend why she didn't live with furnishings as original and gritty as the art in her Upper East Side townhouse, the bottom floor of which serves as her  gallery. Since then, she's made it something of a mission to integrate fine design into her life and program, turning the building into a kind of design lab.
She's further explored the field by commissioning designers she finds intriguing to create desks and chairs for the booths at the various art fairs in which she participates. If pleased with the ensemble, she offers the creators representation; Keung Caputo, Martino Gamper and Takeshi Miyakawa all joined Salon 94 this way. Rohatyn also represents rising Chilean artist and designer Sebastian Errazuriz, as well as the furniture of architect David Adjaye and of Rick Owens, her favorite fashion designer, plus the estate of that late, great Italian record breaker, Carlo Mollino.
This lively cultural crossbreeding stalled somewhat with the Great Recession of 2008. Yet during this period, a few savvy gallerists used the downtime to rethink their business with regard to evolving tastes and the changing marketplace. One such dealer was Todd Merrill. Since the early 2000s, his namesake New York gallery had become a major player in the vintage design world by promoting postwar studio furniture, especially works by Americans like Paul Evans, Philip and Kelvin Laverne and James Mont, who were all part of a larger group he dubbed "Modern Americana." (Merrill published a book on these mostly forgotten style-setters in 2008.)
In 2009, Merrill launched a new division dedicated to contemporary studio work by such wide-ranging talents as the allegorically subversive ceramic artist Beth Katleman, the light explorer Niamh Barry and the tech-fusing cabinetmaker Gareth Neal. Rather than make this a gallery-based program, however, he conceived it as exhibition-driven: Distinctive showcases of curated new works by his creators would be presented at the nearly dozen fairs in which he annually participates. This strategy enabled him to invest more heavily in these booths, ultimately bringing his stable more commissioned work, along with inclusion in museum exhibitions and collections around the world. Merrill's new division now represents somewhere between 60 and 70 percent of his business. Likewise, New York's Maison Gerard now does a booming business with such contemporary mega-talents as Achille Salvagni and Hervé Van Der Straeten, whose exquisite craftsmanship and use of rich materials make them the logical descendants of the Art Deco masters with whom the gallery has long been associated.
In the years since the Great Recession, the growth of the market has been truly exponential, facilitated by e-commerce sites and social media. Instagram in particular has enabled collectors to instantly discover new design pieces and new galleries in all corners of the world, as well as to follow the interests of a range of designers, collectors and enthusiasts. All this buzz has encouraged young creatives to focus their energies in this field. And savvy young impresarios in far-flung regions without strong contemporary design traditions have taken advantage of the cross-pollinating opportunities that a digitized and globalized marketplace offers, developing innovative collaborations and alliances that have quickly won them and their designers wider exposure and acclaim.
One of the most exciting of these new enterprises was established in Beirut in 2010 by two young architects, Canadian-born Nicolas Bellavance-Lecompte and his Lebanese partner in both work and life, Pascale Wakim. As much a digital platform as it is a physical gallery, the outfit is called Carwan, which Bellavance-Lecompte explains is "a transliteration of an Arabic term that refers to a caravansaray: a desert enclave of culture, tradition and the trading of objects from near and far, where traveling caravans would rest."
With Carwan, Bellavance-Lecompte and Wakim hoped to encourage an exchange between Western designers and traditional Eastern artisans, "creating a flow of influences and vitality between the cultures," he says. To that end, they have commissioned limited-edition works by a host of directional Western designers — Lindsey Adelman, India Mahdavi and Philippe Malouin, among them — and have presented fine design by Middle Eastern talents in fairs around the world. Last spring, for example, Carwan showed Arab Dolls, by the Lebanese creator Carlo Massoud, at the Armory Show, the first design installation ever presented at the prestigious New York art fair.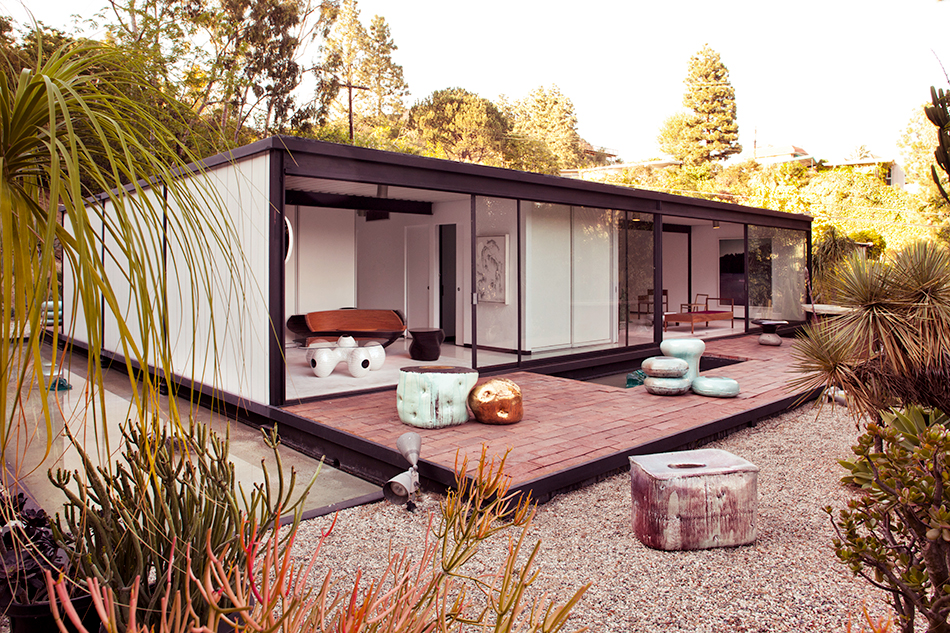 Interestingly, two other young design ventures, the South Korean Seomi International and the Chinese Gallery ALL, have established exhibition spaces in Los Angeles, in addition to their respective bases in Seoul and Beijing. Why Los Angeles? Fueled and enriched by the creativity of the entertainment industry, and informed by an extraordinary heritage of design innovation, the city is rapidly developing an important community of designers and makers, as well as a collector base with singularly intrepid tastes.
This influx of new players makes the business ever more challenging for established galleries. "I spent thirteen years developing a purely design-based program," says Marc Benda of Friedman Benda. "Now the number of people looking has multiplied. It has become insanely difficult to stay focused on who has a voice and to develop new talent."
Nevertheless, the logic of the business, as he sees it, hasn't changed much. The charisma of the dealer is vital, as are the gallery's cumulative effort and vision. And despite the increasing interplay between art and design, Benda doesn't see the divisions fully fading. "Design is a niche and always will be in the overall market," he says. But that niche may grow considerably.
As Suchi Reddy, a New York architect who often commissions works of contemporary design and also advises clients on art purchases, observes, "I've seen veteran art collectors vacillate when considering an artwork, but not a piece of fine design. In fact, I haven't found anyone yet who's immune to a beautiful object."