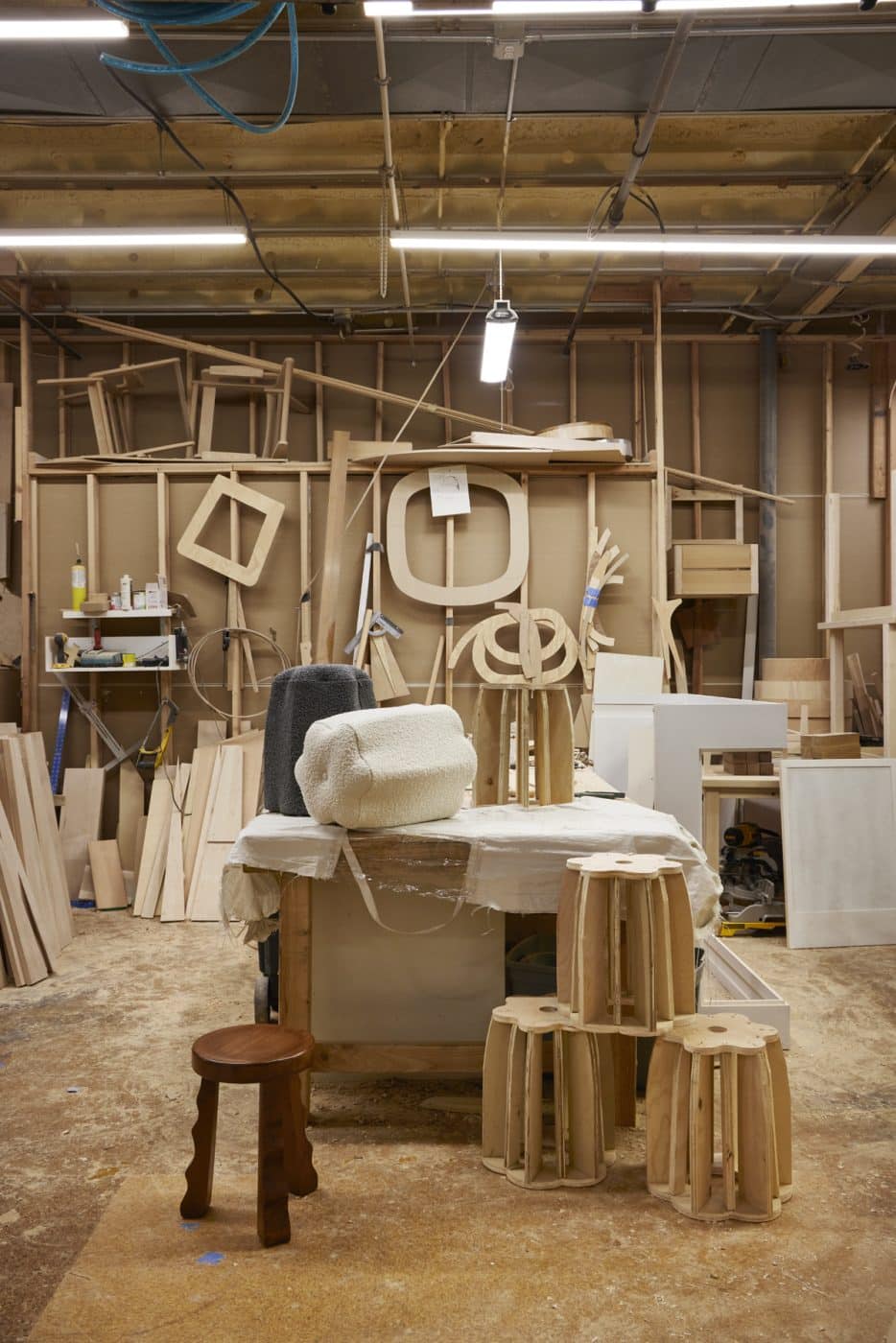 May 16, 2021Christian Siriano is buzzing around the workroom, a crackling of anticipation in the air as he prepares to launch his new line. But he's not in his Manhattan atelier, getting ready for a runway show. He's at an upholstery shop in Norwalk, Connecticut, where he has invited Introspective for a behind-the-scenes look at the making of his first furniture collection, which includes several pieces that are available exclusively on 1stDibs.
The unassuming brick building that houses Kostas Upholstery belies the treasures inside — a recently revived velvet Womb chair here, a soon-to-be-rehabilitated set of Tulip chairs there. Iconic pieces and new creations fill the space, the sheer volume of furniture in various states of completion a testament to the shop's following. Siriano has been collaborating on his furniture collection with the family-owned business throughout the pandemic, and it's clear from their banter that the affable Greek clan has embraced him as one of their own.
The collection is informed by Siriano's fashion sensibilities and how he's spent his time during the pandemic. For example, the designer gravitates toward high-shine fabrics; hence, the lacquered wood frame on pieces like the Lola settee. And the gumdrop-like shape of the bouclé Lily stool is indeed based on the candy, a favorite treat while he's been home.
Siriano says the pandemic has made his relationship with his customers more important than ever. Envisioning an overall lifestyle brand prompted him to launch, along with the furniture collection, an interior design firm, Siriano Interiors; he's currently working on residences in New York, Southampton and Westport, Connecticut, as well as a hotel in Los Angeles and a retail and restaurant project in New York. He acknowledges that both fashion and interior design can be intimidating for consumers. "I want to be in someone's closet, I want to be in someone's home," he says. "I want to be part of their world."
Siriano is agile in a fashion industry that can be frustratingly set in its ways and that, like many high-end businesses, has not been known for inclusive messaging. He has stepped up to change that, both in the wide range of models he chooses for his runway shows and in the celebrities he dresses for the red carpet. When the six-foot-tall actress and comedian Leslie Jones, for example, lamented on Twitter that she couldn't find a designer to dress her for the 2016 Ghostbusters premiere, Siriano replied with a wave emoji and proceeded to create an off-the-shoulder red column gown for her that celebrated her shape and stature. The designer has won fans among celebrities ranging from Billy Porter (that tuxedo gown!) to Lady Gaga, Ashley Graham to Amy Adams, creating red-carpet looks that run the gamut from floral and romantic to structured and avant-garde. Although he claims to have something of an Elizabethan sensibility when it comes to fashion — "I like volume and shapes," he explains — his clothing feels consistently fresh, like he's not afraid to experiment and take chances.
Last spring, at the height of COVID infection in New York, Siriano shifted his atelier's focus from the aspirational to the utilitarian, becoming the first fashion designer to begin manufacturing face masks for nonmedical public service employees in the state. As a result, he was able to keep his 17-person staff employed, and he was awarded state funding to continue production. To date, his company has produced nearly three million masks.
After we leave the workshop, we head to Siriano's home in nearby Westport, which he shares with his partner, Kyle Smith. The modernist structure features floor-to-ceiling windows that frame views of the surrounding woods, an ever-changing backdrop for Siriano's collection of furniture, which includes both vintage pieces and his own designs. In front of the fireplace, a couple of chubby, ivory bouclé Lillian club chairs on chunky maple legs are paired with a Lincoln coffee table, whose black-lacquered maple top is supported by a trio of shapes: spherical, triangular and rectangular. The home's neutral palette is an intentional departure from his fashion sensibilities. "I'm around so much all the time," he explains, "textures and fabrics and prints — we're doing huge fuchsia tulle ballgowns and the craziest things — so when I come home, it's like, how do you zen out? How do you transition from a stressful business day to home life?"
Siriano and Smith are not uptight about their belongings. Case in point: Poppy, the yellow lab mix puppy that they adopted from a local shelter, is curled up on an Afra and Tobia Scarpa Soriana chair. "She only likes the expensive chairs," Siriano quips.
He purchased the home last April and has spent more time there than he'd anticipated, which has affected both his mindset and his work. "It allowed me to take a minute to figure out what I like, almost like a palate cleanser," he says, pointing out that his previous home, in Danbury, Connecticut, was "full of prints and color overload." Here, however, "I definitely had a different aesthetic, at least interior-wise," he continues. "When I moved to this home and was surrounded by green everyday — it's just a different mentality than being in New York City. My ideas are totally different now, which is interesting, now that I really think about it."
The pace of designing furniture has also been a new experience for Siriano. "I'm used to doing six collections a year and so many items — we do a hundred pieces in a fashion show sometimes. This is a totally different process, but I am approaching it a little bit similarly because I do want it to be a collection."
Siriano grew up in Annapolis, Maryland, going antiquing with his mother — "I remember my mom rearranging the living room a hundred times to get the right look — that was always really inspiring to me." He is now an avid vintage shopper who counts Pierre Jeanneret and Pierre Paulin among his favorite furniture designers, and he doesn't shy away from a challenge. "I love a pristine piece from the fifties or the sixties, but I also love a torn-up piece of furniture that I can rework," he says. "I love finding a hundred-dollar chair that I can make look like a two-thousand-dollar chair."
That same willingness to work outside the box is reflected in his business decisions. From the time he won Project Runway in 2008 and launched his brand, he has both designed for his own collections of high-end fashions and collaborated with affordable retailers, a move many young designers might avoid until they had well-established fashion labels.
"I literally had the complete opposite approach," Siriano says. "My brand had such a huge range of customers that were interested, and I didn't want to alienate anybody." So, when it came to the collaborations, Siriano thought, "That's the way I'm going to grow and build and sustain." Now, nearly 15 years later, he believes his decision not only enabled the business to keep going and cater to a wide audience but also allowed him and his team the freedom to experiment with new endeavors, like making furniture.
"I have pieces that are fifty dollars, and I have fifty-thousand-dollar dresses. I think that's very important, and that will continue," he says. "Same with this [furniture] collection. I like having items that are more attainable and then some aspirational pieces. But I think that's how people shop now. It is a bit of a mix. Not just in your closet, but in your home, too."