Elissa "Ellie" Cullman, of the New York–based interior design firm Cullman & Kravis, is something of a legend in her own time. She and her late partner and dear friend, Hedi Kravis, who died in 1997, burst onto the New York decorating scene in the mid-1980s, immediately garnering acclaim for their bravura interiors and youthful style. Instant design stars, you might think the pair had long masterminded their stunning debut. But it was all a happy accident. The 30-something Upper East Side wives and mothers had wanted to be screenwriters. When they pitched a script to an old friend, Stanley Jaffe, the producer of Kramer vs. Kramer, rather than offering to make their film, he asked them to sort out the decoration of his various houses. Surprised but game for a challenge, they channeled their love of drama and detail into decorating and never looked back. It was the dawn of New York's age of glitz — Trump Tower had just opened — and Cullman and Kravis (the first wife of financier Henry) enthusiastically embraced their wealthy clients' love of excess. They marbleized with abandon and never said no to jabots. But though packed with pedigreed antiques and decorative accessories, their interiors were extravagant without being outré, displaying an aesthetic mastery that was all the more impressive considering the designers' lack of professional training. In the decades since, the firm has become synonymous with grand traditional decorating at its best.
Given that, From Classic to Contemporary: Decorating with Cullman & Kravis (Monacelli Press), the new book by Cullman and her longtime co-author Tracey Pruzan, may surprise those who haven't been focused on the firm's latest doings. Cullman & Kravis has been stripping the swag from windows and replacing the easel paintings on their glazed walls with modern and contemporary artworks. This is due, in large part, to the rising stature of Claire Ratliff, Sarah Ramsey, Lee Cavanaugh and Alyssa Urban, four young designers whom Cullman made equity partners late last year. The interiors featured in this book are fresh and of today while still being grounded in a classical decorative tradition. Introspective recently checked in with Cullman to find out how all this came about.
It feels as if your new book should be called "Cullman & Kravis Unbound," as the interiors feel so much more free and spare. What spurred this stylistic development?
You probably don't know this, but I started out as a modernist. In the 1980s, though, there was such an interest in antiques. And at the time, they somehow seemed so much more compelling, more valid and richer than the streamlined furniture from places like Pace. Then, a few years ago, I began to feel a need for a breath of fresh air in my own apartment, which has long served as a laboratory for the firm.
What no longer appealed to you?
It was too dark and serious. It felt dated. And I do believe life is about change.
How did you make the change happen here?
As I explain in the book, altering one element in a room can bring about a chain reaction. In my living room, my colleagues and I decided to start with the rug, which is often our strategy. I exchanged my richly saturated Bijar for a much lighter, calmer Keshan. Happily, the new rug was in the same tones as the walls, which are custom painted in my favorite shade of red, but the heavy draperies had to be replaced, as well as some of the upholstery, which was embellished with lots of trim and fringe. The new ivory-silk curtain panels contrast beautifully with the walls and feel less fussy. But these changes required culling many of the room's decorative objects and accessories and switching out some pieces, like replacing my antique Chinese lamps with mid-century bronze-and-glass Willy Rizzo lamps.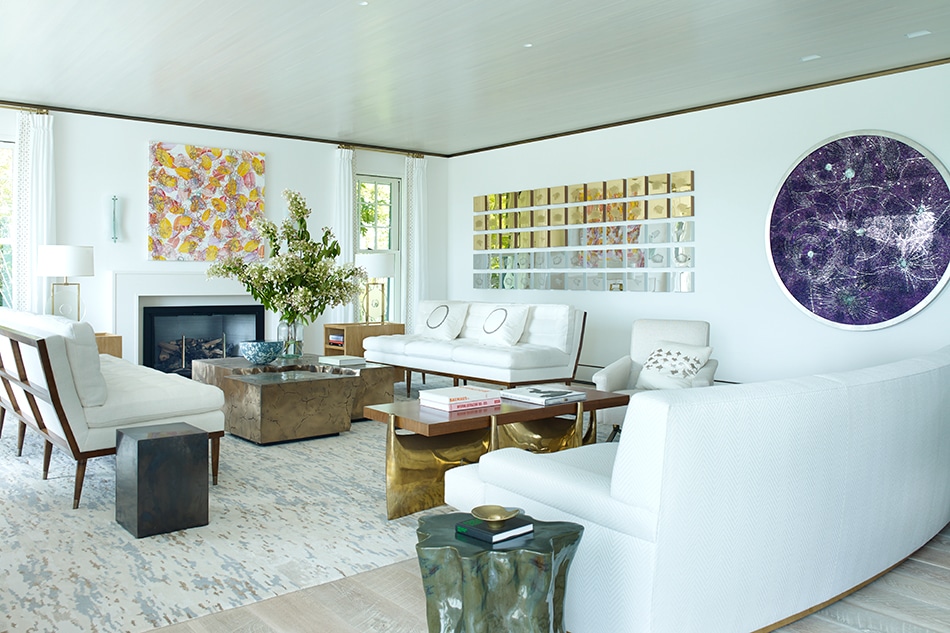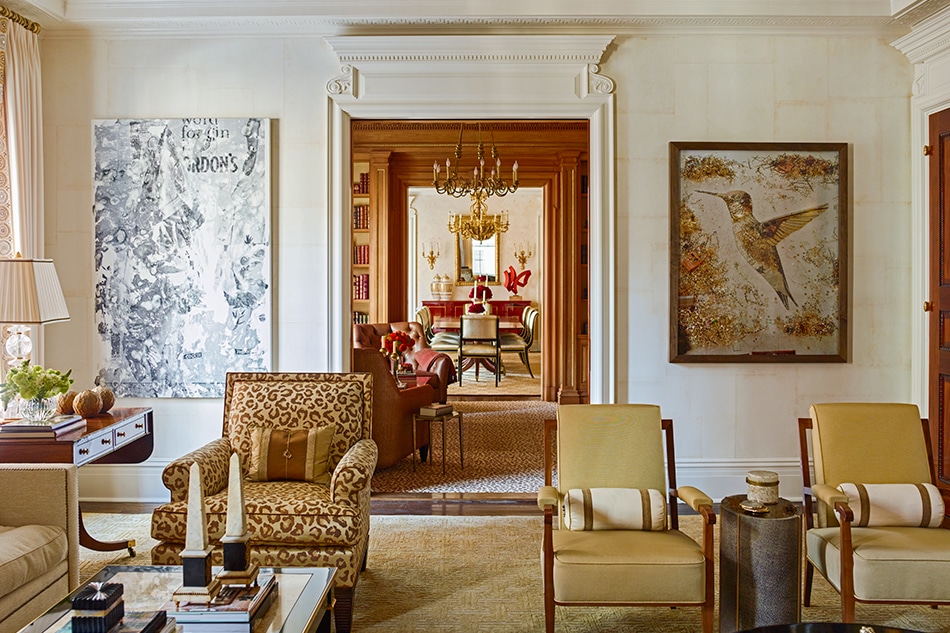 Did you ever think you'd be using Willy Rizzo lamps in an interior?
Actually, yes, because of my early love of modernism. But mixing them with antiques now feels right. It breathes new life into that space. And that's what this book is all about: the alchemy that happens when old meets new.
The interiors in the book feature a surprising variety of rugs, many of them quite contemporary. Did you have to encourage your clients to get away from Oriental carpets, or have their tastes evolved just as yours have?
When the firm started, we only used Oriental rugs. I'd say for the first five years. I remember one client to whom I showed about one hundred rugs, and she bought the first one I showed her. I couldn't believe it. But clients were so different then.
In what way, would you say?
In the early days, our clients would hang on our every word. They wouldn't really be sure what they liked. We'd have to have "love it/hate it" meetings to try to get a sense of what their preferences were, just so we would know what not to do. Now, of course, they come in armed with their own materials!
So you are dealing with much more educated clients?
I'd say more opinionated. Today, everybody is looking online all the time and reading magazines, et cetera. They know more about what they like. And they're not so docile. They test your mettle. But having opinions isn't the same as having an eye, understanding proportions and having the experience that comes with doing this work for many years.
So, would you say you have been edging clients toward a more contemporary approach to design?
I think the culture has changed. It's much more free and, thankfully, more fun! I remember when we wore suits and engagement rings. Now, we're all way less dressy. It's so much nicer, and it's reflected in the way we live.
Do you think that the growing interest in modern and contemporary art is part of this change?
Yes. People see more, and that shows up in what they like. I'm thinking about how different the kind of work we do with decorative painters is today compared with the past, when we did all that marbleizing and gilding. Now, that looks overdone. Today, our wall treatments are much less replicative. They're more artistic. Like the aubergine Venetian-stucco walls in the powder room of a wonderful Greenwich Village apartment — that home turned a list of all the places the couple had lived into a design. Or the sinuous sgraffito line in gold decorating the entry walls of a Rosario Candela apartment we did: It's fun and free and lightens the mood of the entire apartment. And different proportions and upholstery styles — a curvy loveseat from the Marché aux Puces and an L-shaped sofa — add to its modern feel. So, too, does the mixed palette of blues and beiges we used there, which feels livelier and cleaner and less controlled than the palettes of our past, which were drawn from antique carpets.
If you were to give prospective clients one piece of advice about gently refreshing traditional decor, what would it be?
Go for more clarity. These days, too many decorative objects are just too much information.
---
Cullman & Kravis Partners' Quick Picks on 1stdibs