September 12, 2021Alexandra Donohoe Church was barely a teenager when she began to avidly peruse the furniture catalogues that filled up the mailbox of her family home in Seattle, where her Australian parents had relocated when she was seven. "In the nineteen-nineties, the Pacific Northwest was neither cosmopolitan nor the center of the design world, but what did I know?" Donohoe Church says with a laugh during a video interview from Sydney, where she and her design firm, Decus Interiors, are based. "I would scour the catalogues and imagine redesigning my room, and my brother's room, and then go in and move everything around."
Despite this clear portent of a career in interior design, Donohoe Church began a degree program in landscape architecture after finishing high school in Sydney, to which the family had returned when she was 14. "I remember doing design technology at school and thinking, 'Surely you couldn't design spaces for a living — it seems like it would be too much fun.' "
When she realized she couldn't "remember a botanical name to save my life," she says she switched to an interior architecture degree and "became obsessed with interior design, movements, artists, designers. It was a full-fledged love affair."
It's still a love affair for the 39-year-old, who worked for several Sydney-based design firms before landing at a practice that did only residential interiors. "I loved designing for an end user and the process of acquiring that intimate understanding of how they live, what their priorities and values are," she says. "I felt, 'I'm at home, this is what I want to do.' "
In 2009, Donohoe Church started her own business, working alone from her apartment. It was a nerve-racking time, she says. "I was twenty-seven and very green and naive about business, client management, legal stuff. But I think if I had waited until I knew more, I wouldn't have taken the risk, so it was actually advantageous to know nothing. I didn't have a mortgage or children, so I didn't have much to lose — there is something quite fabulous about that!"
She began with small projects and collaborations, gradually picking up bigger commissions — and the staff to handle them. The pivotal moment, she says, came when a couple called after seeing the firm's work featured in a magazine and commissioned a complete redesign of a house in a coastal city in Western Australia. "It was the first time we had the opportunity to select furniture pieces that were really special and to work with an important art collection," Donohoe Church says. "It was a real turning point in terms of learning the business and the mechanics of design."
She hasn't looked back since. At Decus Interiors (the name comes from the Latin word for ornament), she now leads a team of 10 to 12 designers ("it depends who is having a baby!") working on a range of high-end residential projects, which currently include a heritage residence in Sydney, along with a new-build home there that is the company's largest project to date.
Donohoe Church describes the Decus style as "taking a brief and delivering back an extension of the client's personality." Her studio, she says, is passionate about the psychology of space and shaping environments rather than establishing a signature aesthetic. "But I am starting to realize that clients come to you for a particular look," she adds, "and while I don't want our projects to look the same, I understand that clients are ready for us to be forthcoming with our ideas."
Those ideas, she says, include "an overlaying of textures or a layering of art and furniture over the build. A bit of tension in a space is very important for me. I don't like everything to match. I like a bit of competition, a conversation between art, furnishings, space and exterior architecture."
The pandemic, remote working and the lockdown that Australia is currently undergoing have presented challenges, but they had an upside as well, Donohoe Church says. "I've looked at it as a time to read all the books I have always wanted to read, tackle chores I put on a back burner and really focus on our design projects. Our clients are confined, too. Let's give them something joyful to look forward to."
We asked Donahue Church about some of her most challenging and fun projects.
Tell us about the evolution of the Western Australia project you mentioned earlier.
There was a fairly homogenous aesthetic [in the area] — big, bulky, boxy houses. The client wanted something different.
They were telling us what look they were after in terms of a feel. Then, they gave us a lot of freedom. We totally reconfigured the floor plans and added a full level that was essentially the children's area, with the other spaces more public and grown-up. Upstairs was really vibrant, downstairs more sophisticated. It's a place where you live barefoot, a block from the beach, and we wanted to move effortlessly from that informality to hosting a cocktail party for two hundred people. They ended up with a house very unlike those of their friends and neighbors.
What is an important piece you purchased for the property?
Very importantly, a set of monolithic cast-bronze starburst doors from an L.A. estate, which we bought through 1stDibs. I wanted something vintage to imbue character into the first element you come across as you enter the house, because everything else was new.
You mentioned the clients had an important art collection. How did you work with that in terms of furniture and color choices?
We selected all the furniture before deciding where the art would go, but it all worked really well. The clients have a wonderful collection of Australian art, and I wanted to bring in some international pieces in the furniture choices. In a little foyer space off the living room, we put an Eric Schmitt bronze block console, which is my favorite piece of furniture ever. We had to reinforce the floor, and it took about six men to get it into the house.
In the kids' area upstairs, we wanted a really bright and fresh feel. We have lights by both Doug Johnston and Lindsey Adelman, which work really well with an artwork by Howard Arkley. The pool house was another area where we used bright color — a robust Missoni fabric for the ottomans and some of the indigenous artworks that the clients had collected.
You designed a house in Sydney twice, for different clients. That must have been interesting.
It was! The original clients built the house from scratch in 2015. It is a four-story house on a steep, sloping compact site on Tamarama Beach, a very upmarket area. We did the interiors with the architect, all very neutral and black and white, and designed all the joinery. Then, in 2019, we got a call from new owners. They had five kids they had raised in a traditional, old-fashioned house, and now that the kids had left home, they were ready to have more fun. The wife would say, "I want to feel like I am lounging at a pool on the Mediterranean!"
So, it was a very different project, and there were multiple needs. We put all the living spaces and kitchen on the upper levels and the bedrooms and rumpus room below, spilling out to the pool and terrace. Under that is the study and guest suite, and the lowest level houses the garage, gym and wine cellar.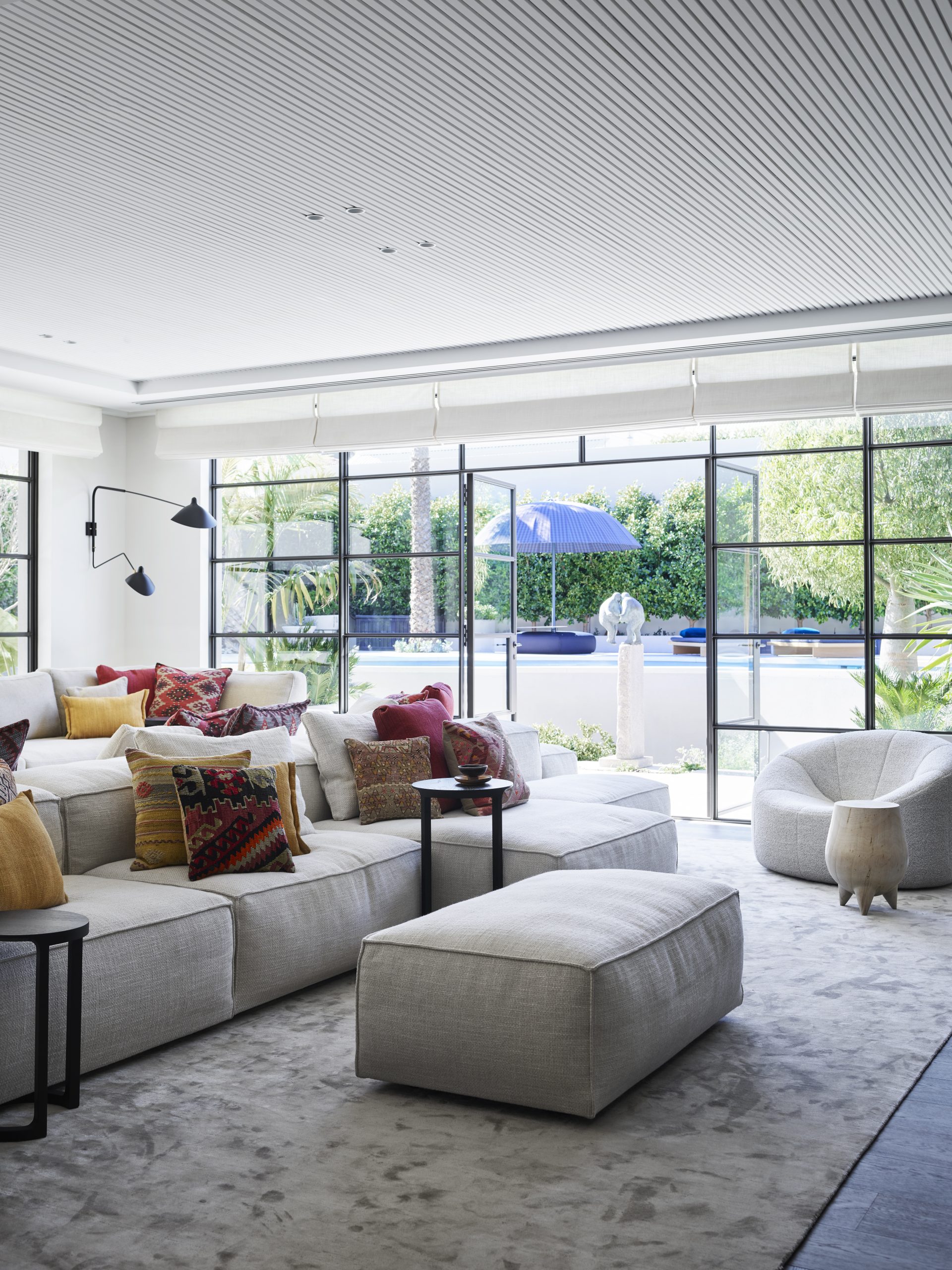 You seem to have very international tastes. Do you try to use Australian designers?
There are wonderful Australian designers, and we do use and commission from them. But perhaps because I spent some of my formative years in the U.S. and we traveled a lot there and in Europe, I have quite an international outlook. I have loved certain designers — mostly French and called Pierre! — since the nineteen nineties. I love the complete absence of trend in what Pierre Yovanovitch does, for example, how the pieces speak to each other in his spaces. Pierre Paulin is my other design hero.
I use 1stDibs more and more, actually. To be honest, the app has made it much easier, and I love how you can be connected to designers all over the world.
You once thought designing for a living would be too much fun. Is it?
It is! But there are hard parts, too. You are colliding a left-brain creativity with right-brain intentions, and you need a foot in each camp. You have to deal with budgets, time frames, parameters and be incredibly detail-oriented as well as listen to your creative impulses. You are a marriage counselor from time to time, a financial controller — and sometimes you have to be a mind reader.
But twenty years or so into this profession, I still get a huge rush from putting together a presentation that you hope a client will love. You are being quite vulnerable and saying, 'Here you are. I hope you like it.' "