Long before Elie Top turned his considerable talents to jewelry, he had another career path in mind. When the designer, known today for his artistic fine jewelry with celestial themes and for his creative fashion gems made for Lanvin during Alber Elbaz's tenure, was just 14 years old, he thought of becoming a fashion designer and sought professional advice on the subject. "I needed to know if my work was any good," he explains matter-of-factly. Young Elie (pronounced el-ee), who lived in northern France, put together three packages of his drawings and sent them to the most celebrated designers in Paris. It was the 1980s, so the short list included Christian Lacroix, Yves Saint Laurent and Karl Lagerfeld, at Chanel. Amazingly, Lacroix responded. "He was very encouraging and included a quote from Jean Cocteau that essentially means be true to your heart," remembers Top.
Following his heart, Top moved to Paris and attended L'École de la chambre syndicale de la couture parisienne, where he studied fashion design. Soon after, in 1997, he got a job as a general assistant and sketch illustrator in Yves Saint Laurent's studio, working directly under the legendary designer. "Everyone there was so mythical, it was like being in a novel," says Top.
For his role in the studio, Top dressed in a svelte jacket and tie, very much as he does to this day. Saint Laurent muse and jewelry designer Loulou de la Falaise confided that the designer had asked her to tell Top he was not obliged to wear a tie all the time. "He said I could wear a sweater if I liked, but I continued to wear ties," recalls Top. "Maybe it's because I dream of a certain way I want to live."
His stint under Saint Laurent lasted one memorable year. When the designer retired from the ready-to-wear category, de la Falaise advised Top to work with Alber Elbaz, whom YSL had handpicked to take over. "She said, 'You are very young and should look to the future,' " remembers Top. "Alber didn't have anyone to design jewels, so that is where I started." Growing up, Top had admired the gems in the collections of his fashion heroes, so the transition to jewelry design was natural.
In 2001, when Elbaz became the creative director at Lanvin, Top went with him to design its jewelry collection. Over the course of 16 years working together at the French fashion house, Elbaz and Top formed what is considered one of the premier collaborations between a fashion and a jewelry designer, ranking alongside those of Coco Chanel and Fulco di Verdura, Halston and Elsa Peretti, and Alexander McQueen and Shaun Leane. Top's oversize whimsical and geometric pieces, which complemented Elbaz's elegant monochromatic clothes, were not labeled Elie Top for Lanvin when they were made, but their ingenuity has been recognized by some vintage dealers, who cite Top's name in their 1stdibs listings.
"The way Alber was doing things, he was pushing me creatively," says Top. "He gave me a lot of freedom, and I really wanted him to be totally amazed and say, 'Wow,' when he saw what I had done." At Lanvin, Top designed a number of memorable animal jewels and geometric statement necklaces. He played with the proportions and materials of classic types, transforming, for example, the gold curb-link necklace into a textured and colorful gunmetal, blue enamel and crystal chain. He also made oversize script necklaces spelling out words like Beyond, Cool and Help.
Of all the pieces Top made during his time with Elbaz at Lanvin, the most iconic were the costume pearl necklaces. "The pearls were about bringing the feeling of the clothes into the accessories," says Top. "We started with weaving tulle into the necklaces, then there was grosgrain and other fabrics." The jewels were a tribute, as well, to the founder of the house. "In one of the only portraits we had of Jeanne Lanvin, she was wearing a triple-strand pearl necklace," says Top.
In 2015, the year Elbaz exited Lanvin, Top launched his eponymous jewelry collection. To the surprise of many, he did not choose to remain in the costume jewelry arena. "I wanted to go into precious jewelry, because it needed to exist by itself. There was no clothing collection to support it," explains Top. "I also wanted to do something a bit more timeless, and it was much more exciting for me to attack this new area and field of possibilities."
Top found a first-floor space on the rue Saint-Honoré for his by-appointment-only showroom and studio. He decorated the series of small rooms in collaboration with his friend designer Vincent Darré. Top found most of the furniture and even a pair of doors with a fish motif in Paris's famed flea markets. The gray palette was inspired by the City of Light's many metal rooftops. "They are a gray blue, which I really like, and they change depending on the weather," says the designer.
Meet the Dapper, Mustachioed Parisian Who's Tops in Crafting Enticing Jewels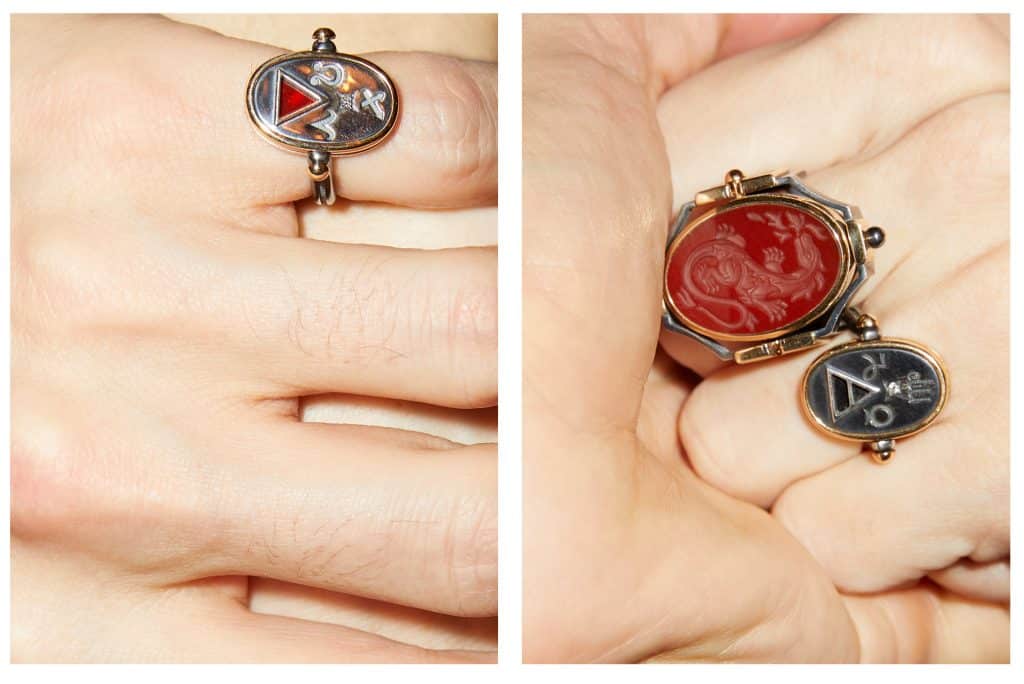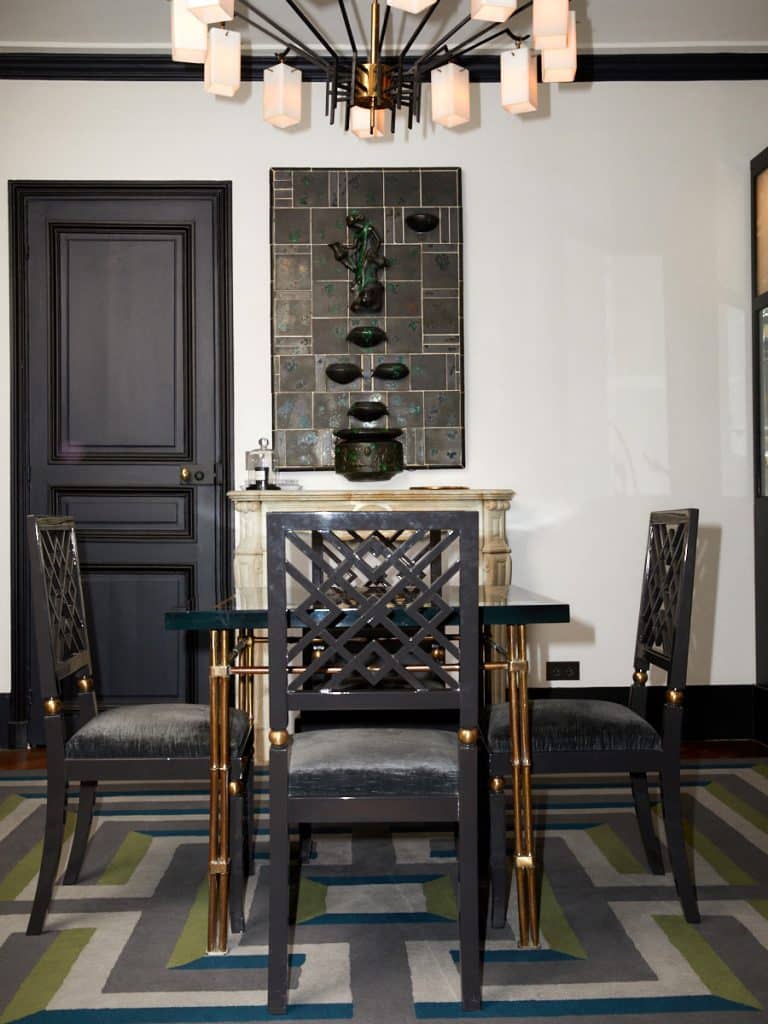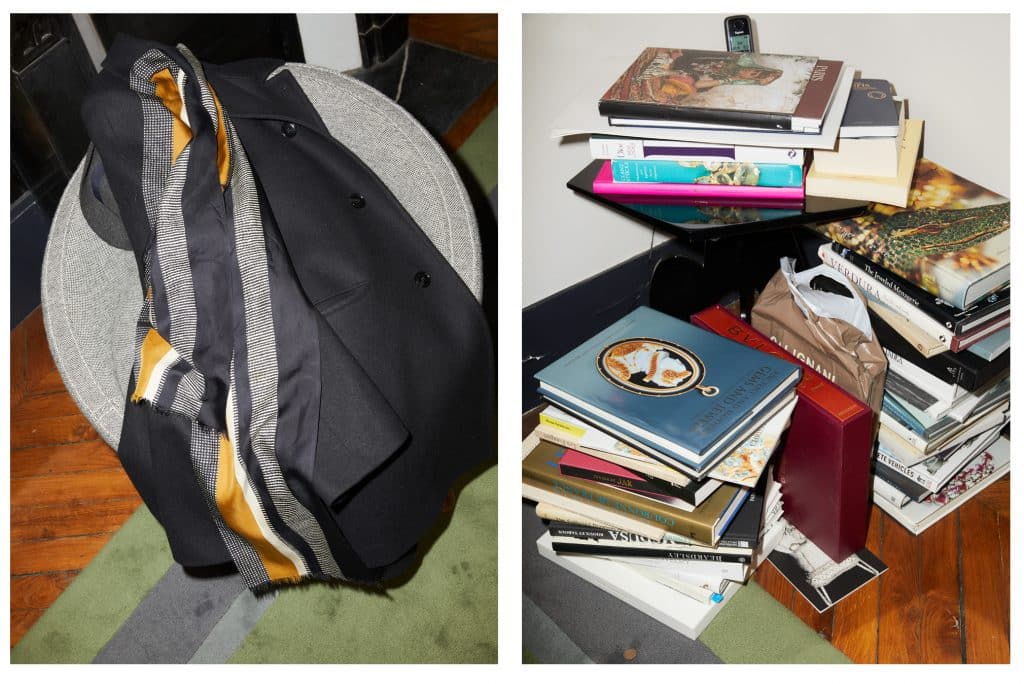 A sense of wonder pervades the fine-jewelry collections Top conceives in his studio. His first, Mécaniques Célestes, launched in 2015, includes bold chains, rings and earrings, each with a pearl or metal ball element that is like a planet, with parts that orbit around it, sometimes covering it entirely, like an armillary sphere. The flip rings in the Cosmogonie Secrète collection, which bowed in 2017, feature intaglios carved with heraldic figures on one side and symbols of the elements — fire, water, earth and air — on the other. The 2018 Lady of the Lake line comprises necklaces, bracelets, earrings and rings with heraldic-shield motifs.
Although all the collections have different themes, they are very connected. One unifying element is the mix of metals. Top achieved his desired shades of silver and gold by taking a friend's René Boivin piece from the 1960s made with those two metals to his craftsman for reference. "I needed that distressed silver color, that aspect of something brushed and a bit imperfect and antique looking," he explains. "You don't know when my jewels were made. They could be futuristic or from the time of Charlemagne."
The historic feel of Top's jewels stems from an interest in architecture dating back to his childhood, when he first started to draw. Before he turned to fashion, Top sketched Gothic and Baroque French castles and churches. "Many of the things that I work on today, I started to do when I was around six years old," he says. The wonder of that talented and curious youth comes shining through in all the jewelry Top creates today.
Shop Top
Find French designer Elie Top's timeless jewels on 1stdibs.