It's really a great gig," says architect Elizabeth Roberts of her specialty: revamping townhouses in Brooklyn's charming residential neighborhoods. Her clients expect her to erase the ravages of the past, like the graffiti that covered her own 1866 house in Clinton Hill when she bought it in 2007. "A lot has happened to these houses in one-hundred-and-fifty years, and most of it's not good."
But Roberts knows how to smooth over the past — creating functional, contemporary, living spaces — without obscuring it. A preservationist, she is skilled at keeping as many period details as she can. "It's about balancing the old and new," says the Marin County native, adding: "If I had stayed in California, I wouldn't be exposed to all this history."
Serving as both preservationist and renovationist requires a wide range of skills. But ask Roberts what makes it possible for her to do the work she does, and she has a quick, one-syllable answer: Steel. When the houses were built, she explains, they were framed entirely in wood, which meant the openings between rooms were limited to just a yard or so.
Inserting steel girders, which can transfer loads to distant supports, makes it possible to widen doorways  — or remove intrusive walls entirely. The results are apparent in several of Roberts's recent projects. Typically, on the "parlor floor" of a 20-foot-wide townhouse, a wall between the living room and the stairway makes the former narrow and the latter dark. But with a steel beam replacing wooden framing, she can turn the two spaces into one.
Or she can link indoors and outdoors. Take the house in Fort Greene purchased by a Manhattan family who wanted a garden they could really use. The back wall of the house wasn't very different from the back walls of most townhouses — red brick, with three narrow windows to a floor. But by inserting a steel beam, Roberts was able to replace the brick with glass. And then, in a bold effort to extend the garden into the house, she planted ivy along the side walls of the dining room, where it will eventually reach the ceiling of the contemporary-feeling, double-height space. (For this undertaking, Roberts had to learn about optimal soil depth, indoor irrigation, and what material ivy would cling to but not damage; it turned out to be plaster with a high concentration of cement.) On the other hand, she often looks to the past: For a large townhouse in Park Slope, she surrounded newly enlarged openings between rooms with moldings based on the building's original 19th-century woodwork.
Roberts doesn't limit herself to townhouse renovations. Last year, she turned a one-story garage in Soho into a boutique for the fashion designer Rachel Comey, adding walls of board-formed concrete and floors of what she calls "poor man's terrazzo." (It's actually concrete into which marble chips were placed by hand.) And she has done large lofts, including a 2,500-square-foot ground-floor space for the cookbook writer Ted Lee and the artist E.V. Day. There, Roberts created separate work spaces behind 15-foot-wide sliding doors and made lots of room for the couple's collection of rattan furniture.
Her current projects include a restaurant in New York's Greenwich Village, a house in Berkeley, California, and a store for a young fashion designer in West Hollywood. But townhouses, several of which she is working on in New York, are her mainstay.
---
"A lot has happened to these houses in one-hundred-and-fifty years. . . . It's about balancing the old and new."
---
And not by accident. Roberts studied architecture at Berkeley, then switched coasts to earn a masters in historic preservation at Columbia. She worked for a large restoration firm on projects like Grand Central Station and San Francisco City Hall. But when she decided to open her own office — 17 years ago — she gravitated to townhouses because they would employ her preservation skills while also letting her do"real" architecture — adding on to the backs of houses or rearranging rooms within existing footprints. Those changes often involved moving kitchens from basements to more family-friendly locations. The new kitchens are often so large that one of her trademarks is the cooking fireplace. She has one in her own kitchen, custom-designed to fit around a Tuscan grill.
When Roberts bought her own house, it was in horrible condition — chopped up into apartments, with padlocks on the doors and several kitchens to a floor. "My mom thought I was nuts," she says. But Roberts oversaw a top-to-bottom renovation, then began decorating with her collection of objects by female industrial designers. (Asked what distinguishes the work of female industrial designers, Roberts jokes, "There's not as much of it.") She says her collection includes such "usual suspects" as Eva Zeisel and Eileen Gray. On her mantle is a pair of bent Lucite candlesticks from the 1960s by the Salt Lake City–born designer Dorothy Thorpe. She also owns works by Edith Heath, Florence Knoll and Charles and Ray Eames.
Roberts is adventurous with materials, covering a club chair in her bedroom in men's suiting fabric, for example. In her bathroom, a needlepoint nude, found at a flea market, and grave rubbings she made during a childhood visit to England hang near a chair covered in African mud cloth and a mid-century floor lamp. Like most of Roberts's rooms, it is painted white, so the objects in it will "pop," she says. One of those objects is the house's original claw-footed bathtub, which she had reglazed — an important nod to the past. Still, with the big windows and skylights and the white-on-white decor of most of her houses, Roberts says, "It's like I'm bringing a little California to New York."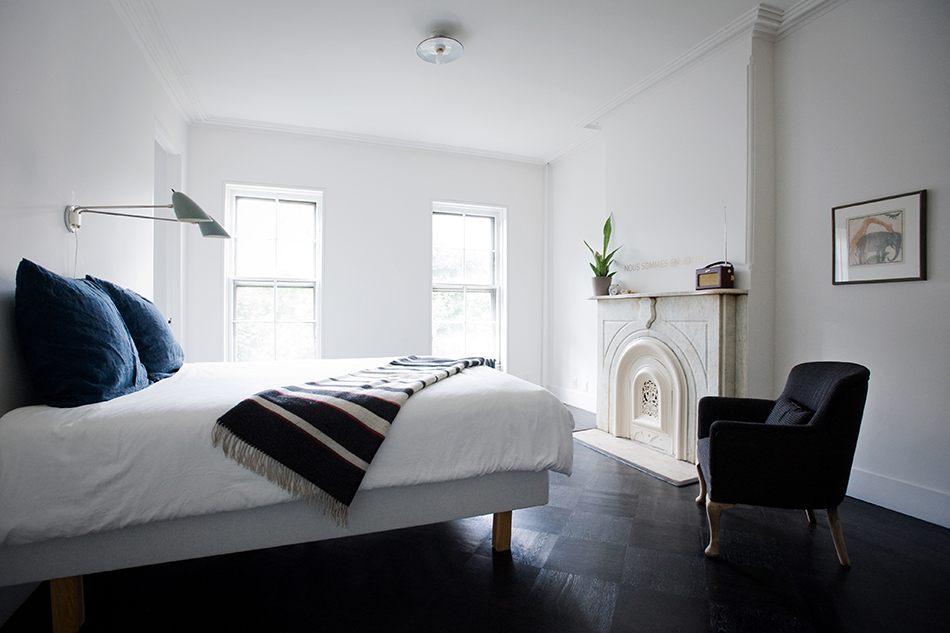 ---
Elizabeth Roberts's Quick Picks on 1stdibs