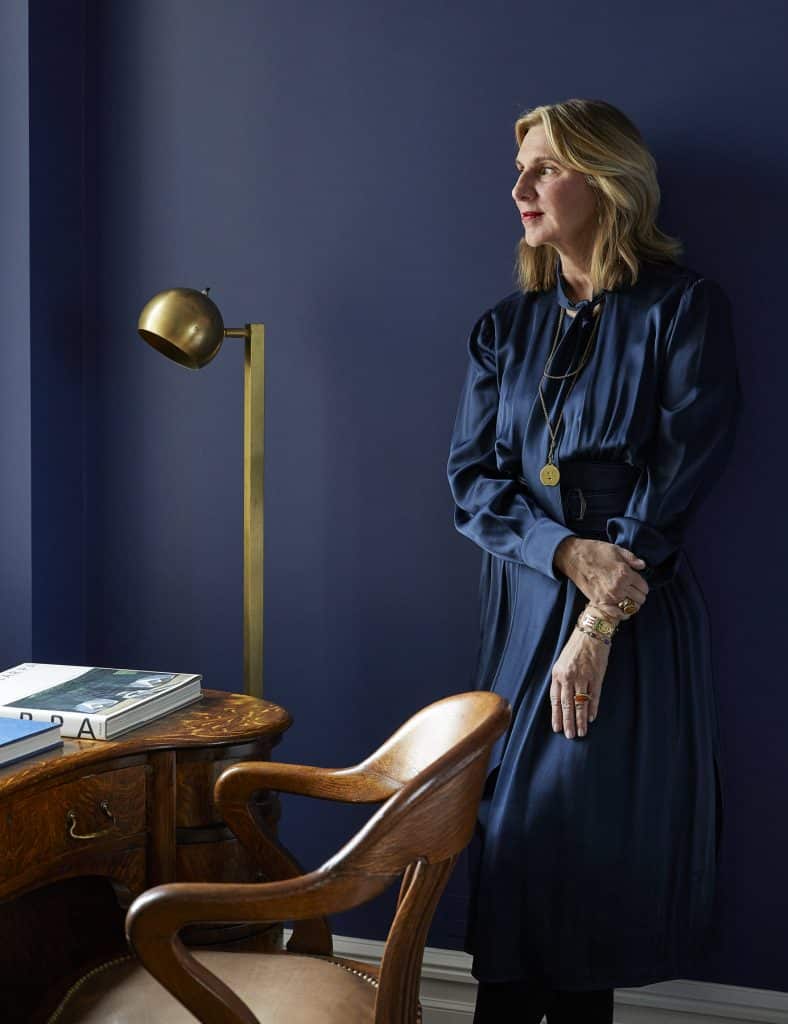 March 7, 2021Ellen Hamilton may be one of the least doctrinaire interior designers you'll ever meet. Her New York firm, Hamilton Design Associates, has recently completed projects representing a variety of approaches, including a modestly sized, mostly white Martha's Vineyard beach house filled with modernist furniture; an elegant Manhattan apartment that, per its owners' wishes, evokes a Florentine palazzo; and a teak-lined Miami Beach penthouse, designed with architects Fairfax & Sammons, that expresses the owner's love of traditional Thai interiors. Rather than imposing her own aesthetic on a client, Hamilton says, "I feel I'm a narrative decorator. I tell the client's story."
Hamilton's design philosophy was formed by her experience working for the architect and designer Peter Marino and, later, for the architecture firm Fox & Fowle (now FXFowle), which she left to strike out on her own, eventually founding her firm in 2000. It was Marino, in particular, Hamilton recalls, who helped her appreciate connoisseurship — "and that it could be a lifelong passion. That changed everything forever for me."
The story that this narrative decorator tells in one Manhattan home is a richly layered, colorful profile of the couple who own it. The apartment is in the Kenilworth, a historic Beaux-Arts building on Central Park West, and it has retained nearly all of its original architecture. Working with these impeccable bones, sensitively burnished by architect Jeffery Povero, of Povero & Co., Hamilton collaborated closely on the project with the wife, who loves shopping for antiques as well as sourcing ethnic textiles. She found many of the furnishings now in the apartment on her own before submitting them to Hamilton for approval. "Ellen was the editor," she recalls, "saying yes or no to the hundreds of photographs that I sent her."
Hamilton arranged the approved pieces into a cohesive whole, adding in items she found herself or had custom-made, as well as the contemporary art the couple collects. The designer says she used color and textures to unify seemingly disparate elements, largely by basing each room's palette on the colors of the antique rug she used to ground it.
Since her client "wanted the feel of a classic Upper West Side apartment," the decor was meant to "speak to the past," Hamilton says, noting that "pretty much everything in the apartment dates from between 1860 and 1930, except the art."
The entry, which separates the living, dining and kitchen areas from the bedrooms, "is meant to be functional," says Hamilton. "The view of the park out the window situates you." She adds that the space also "offers an opportunity to show art and beautiful rugs."
Two kilims are laid on the floor, while a reproduction of a 17th-century Italian table sits below a 19th-century mirror from Carlos de la Puente Antiques. Both are illuminated from above by an Art Deco light fixture found at Woka Gallery At the other end of the room, a large painting by Wayne Gonzales hangs above an antique blanket chest from Daniel Stein Antiques, atop which sits another artwork, this one by Paolo Ventura.
When it came to designing the living room, Hamilton took her earliest cues from a 19th-century Laver Kirman rug her client had found. "I came in with my Pantone book and did the room's palette based on the carpet," she says, explaining that it "has a lot of gray in it, so I upped the saturation and subtracted the gray from its gold, black and berry hues."
Walls painted Farrow & Ball's Radicchio form a backdrop for colorful furnishings, including a sofa covered in golden-yellow velvet, which sits under a large charcoal landscape by April Gornik. In front of the sofa is a 1960s brass and glass coffee table by Guy Lefevre for Maison Jansen, found at Vintage Objects. It is flanked by two boldly patterned upholstered chairs. The room, says Hamilton, "has a bit of an Edwardian flair. It's a place to sit, have a cocktail and enjoy the company of others."
In the dining room, whose look the designer describes as "Dutch meets Italian baronial," a 1920s Viennese brass and glass chandelier from Kerson Gallery and a pair of floor lamps made from 18th-century walnut column fragments cast a gentle glow across the original honey-toned oak paneling, which was restored by Christopher Anigacz, of Double Queue Restoration. (Places where restoration wasn't possible were replaced with faux bois painted by Emma Tapley.) A reproduction of an antique Italian table is surrounded by Spanish chairs from the early 20th century.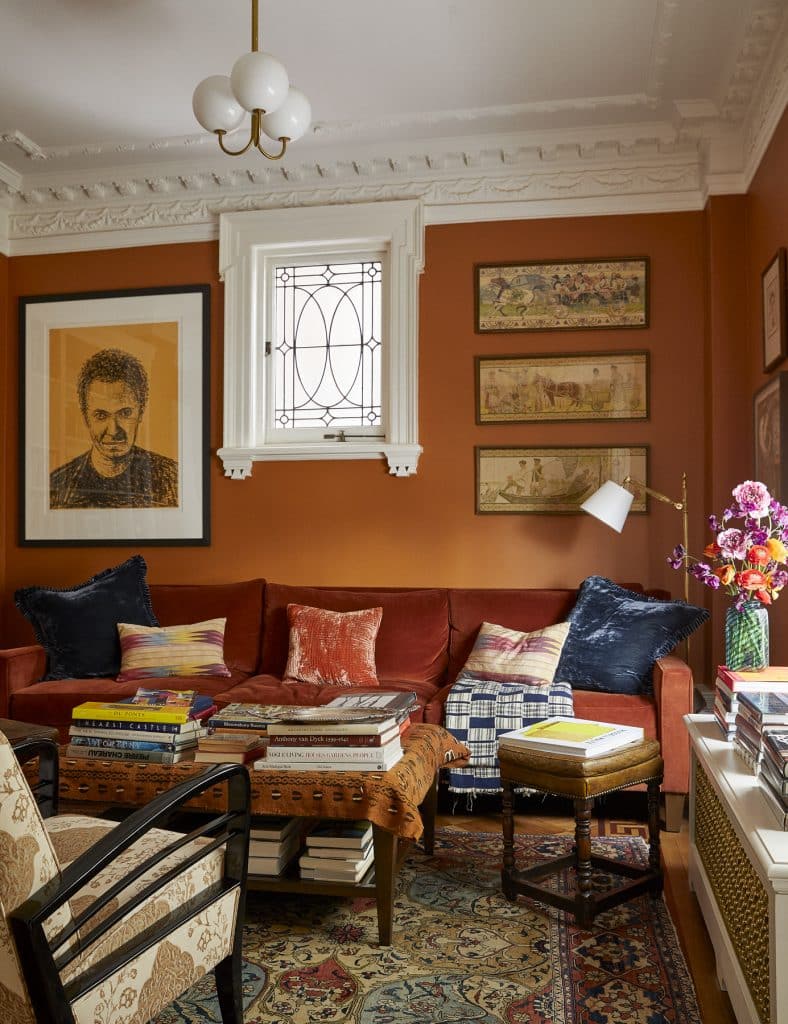 The TV room — with walls painted Inca Gold, a Pantone color — has a Triple Angle light by the contemporary designer Michael Anastassiades suspended from the ceiling, while a self-portrait by Vik Muniz hangs above a custom sofa covered in a rust-toned Holland & Sherry corduroy and dotted with John Derian throw pillows. "There's nothing better than a messy corduroy sofa," Hamilton quips, explaining that the decor is in deliberate contrast with the elegance of the living and dining rooms. "The room is very small, and I wanted it to be inviting and cozy."
To "change things up" from the warmer tones she deployed elsewhere, Hamilton had the guest room walls painted Farrow & Ball's vivid Belvedere Blue. This creates a strong backdrop for two prints by Alex Katz, as well as David Hockney's iconic 1981 Parade poster for the Metropolitan Opera. A graphic tapestry from Viso Project covers the headboard, while the foot of the bed is draped with an early-20th-century textile, possibly Turkish, Hamilton says, from Andrianna Shamaris. Nearby, a small Biedermeier table from Newel stands next to an antique bobbin chair.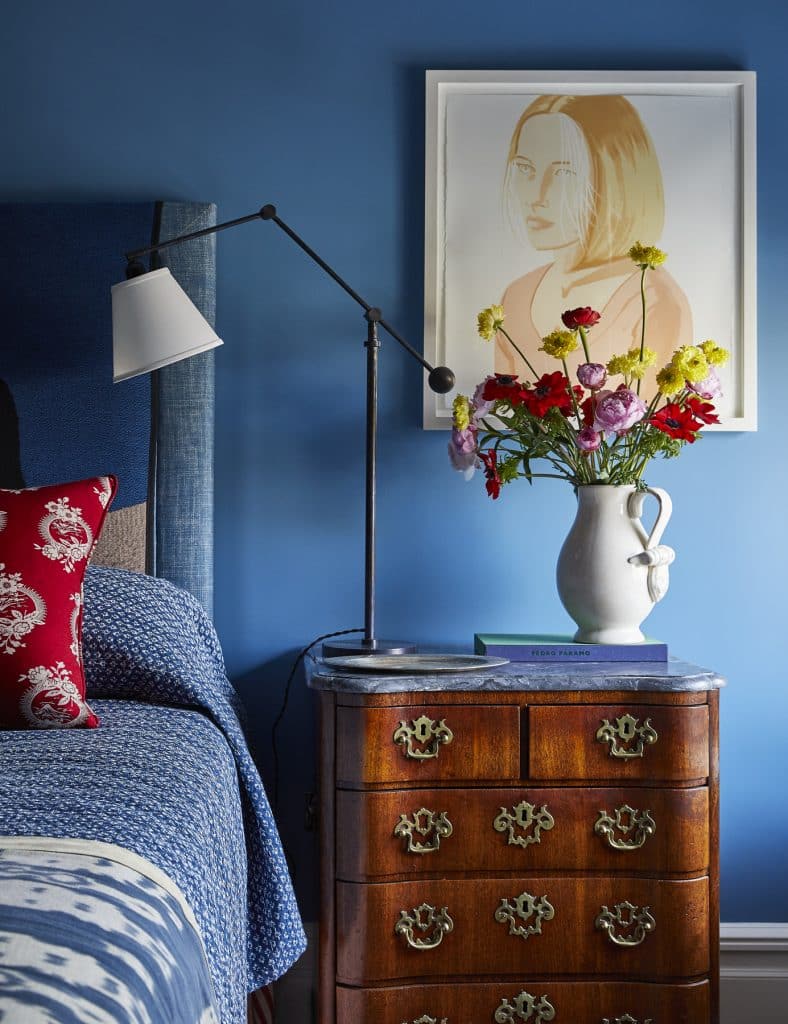 The serene main bedroom, like the rest of the apartment, has an air of unpretentious luxury. Hamilton uses the phrase "trade route decorating" to describe her juxtaposition of African textiles from Joseph Carini Carpets, on the bed, with Indian-inspired fabric, used for the upholstered headboard and bed skirt. In the corner, another of Gornik's charcoal landscapes hangs above a tufted velvet chair.
At the opposite end of the room, a Gonzales work hangs over a chest of drawers, and an Art Moderne hassock from Gottlieb Gallery stands next to a chaise longue. Hamilton calls the room's color — Benjamin Moore's Golden Gate, named for the famous bridge — "primer red," noting that the mineral pigments in primers are similar to the ones used to make the apartment's rugs.
True to her wide-ranging approach, Hamilton is now at work on a house in Windsor, Florida. (There are only three people in her office, and she is the sole designer, taking on just one big project at a time.) The interiors will have an Italian modern theme, with custom terrazzo floors and furnishings by a who's who of 20th-century designers, from Osvaldo Borsani, Giò Ponti and Piero Portaluppi to Gae Aulenti, Gabriella Crespi, Piero Fornasetti and Aldo Rossi.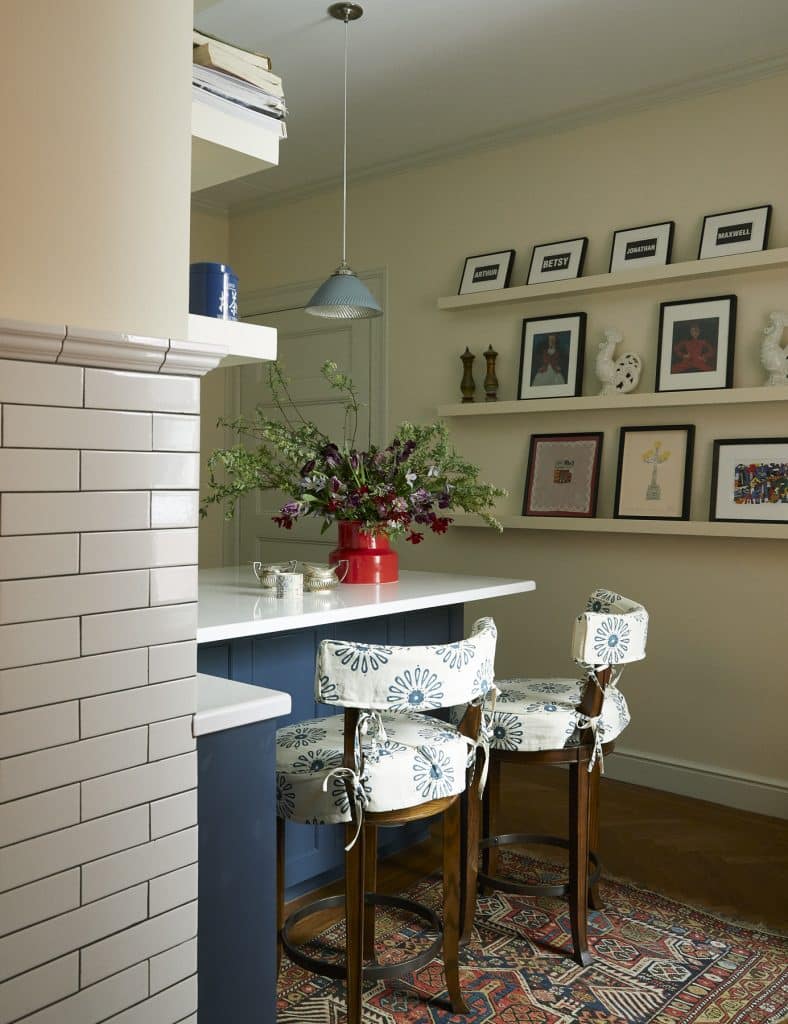 She credits her old boss Peter Marino with instilling in her "a passion for the whole of decorative arts history — every period, every style, every color." This, she says, enables her to "help clients home in on what's 'them.' You can give the clients what they want — and make it better."
---
Ellen Hamilton Quick Picks