June 25, 2023Two years ago, at the height of the COVID pandemic, Robert Couturier received a phone call from a sophisticated Colombian woman who has several homes around the world that she shares with her Filipino husband and their extended family. Her daughter had looked at a house in the Hamptons and showed her mother the rooms via a FaceTime call. "She had no idea what she was buying or where she was buying, but she bought it sight unseen," Couturier says.
Soon after, the French-born, New York–based designer met his new client at the property. "She described it as a 'cardboard house' — a developer's dream, or nightmare, depending on how you view it," Couturier recalls, laughing. Their goal was to give the 6,500-square-foot, three-story residence a sense of history — to make the sterile interiors look older, endowing them with an instant patina, and to fill the rooms with color and pattern, warmth and personality. "She didn't want a white Southampton house with blue and white furniture," he says emphatically.
Couturier has strong opinions about today's interiors. As one of the most influential designers of our time, he's earned a right to his sometimes arch convictions. He thinks most new luxury residences look like "first-class waiting lounges, devoid of inspiration." He is chagrined by "the same white sofas, the same wall treatments," declaring, "It's boring."
He himself draws inspiration from interiors created by such 20th-century talents as architect Renzo Mongiardino. Still, he admits, people these days "feel more comfortable in rooms they relate to. Not everyone can relate to an Italian palace from the sixteen hundreds."
Couturier's interiors are animated and supremely elegant. In the study of a grand Fifth Avenue apartment, he installed traditional paneling and painted it Hermès orange. He updated a family's Manhattan townhouse with handsome tweeds, bold geometric wallpaper and an assemblage of artworks hung salon style.
His own Connecticut estate, which he recently sold, featured lavishly upholstered Louis XV furniture, Old Master portraits, 18th-century porcelain and mountains of antique silverware. He once did an all-white apartment, but he found it "arid and cold," he told a magazine reporter at the time. "You enter it and it's like an ice storm."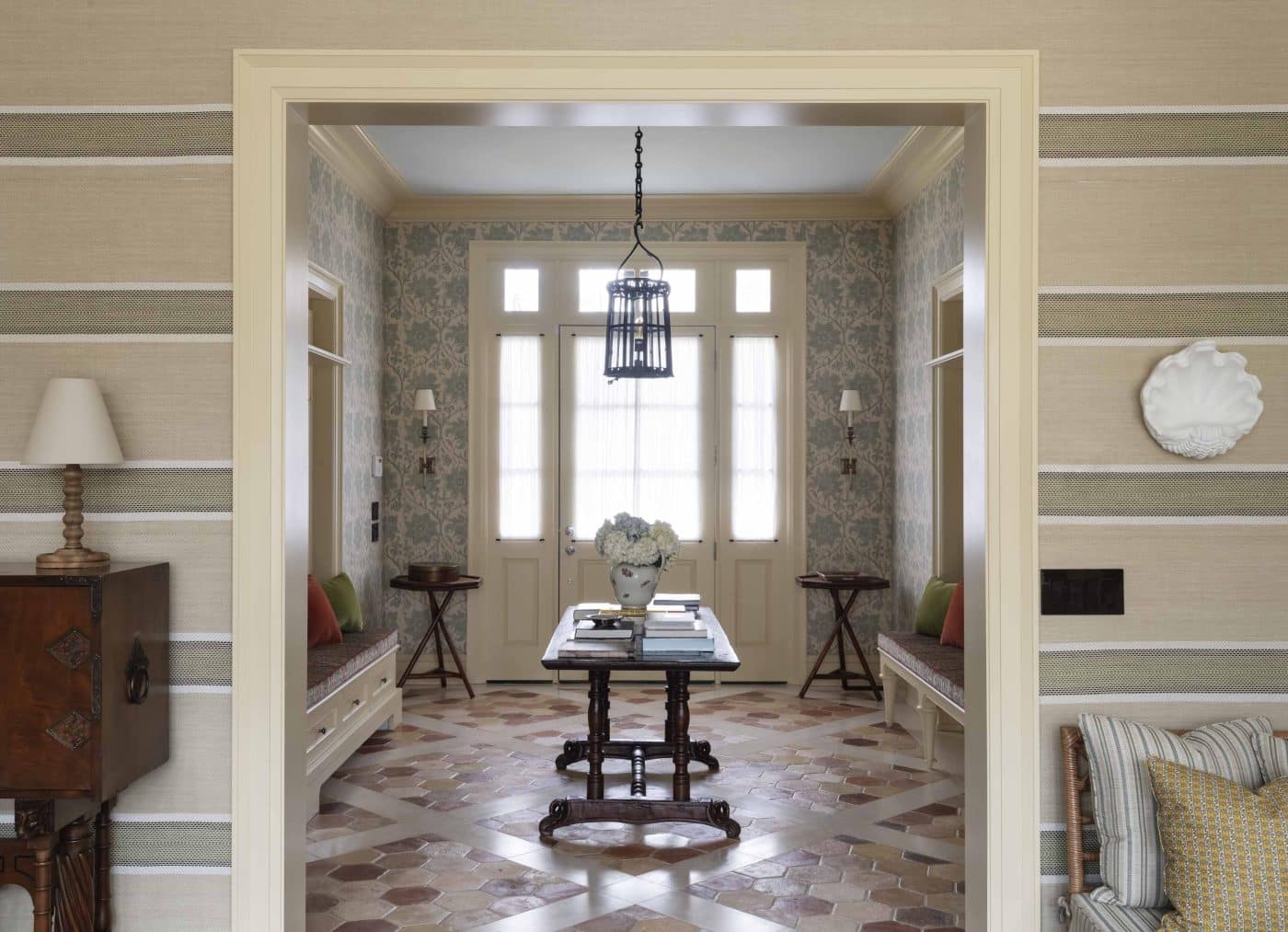 Trained in interior architecture at the prestigious École Camondo, in Paris, Couturier launched his practice in New York more than three decades ago. He rarely takes on commercial projects — "Our price point," he explains, "is immediately over the limit." He made an exception a few years ago, however, collaborating with architect Robert A.M. Stern on designing the public spaces and apartment interiors of a refined condominium tower on New York's Upper East Side.
His residential clientele is worldly, wealthy, tasteful and, mostly, discreet (while their homes may occasionally appear in print, their names do not). His first significant client, in the late 1980s, was the billionaire British financier Sir James Goldsmith, who asked the then-32-year-old designer to fashion the interiors of a 30,000-acre Mexican estate, a historic French castle, various English properties and even his Boeing 757 jet.
For the house in the Hamptons, Couturier had to repair some architectural defects before he could tackle the decor. He got rid of the double-height entry hall ("It isn't a seventeenth-century castle," he quips) and installed a separate staircase, creating more privacy for the upstairs bedrooms. He transformed an upper open space into another bedroom; the house now has 10, including bunk rooms for the grandchildren and living quarters above the garage for staff. And he installed molding throughout, to give depth and character to the doors and walls — "like you're in an old house," he explains.
The furnishings are an eclectic mélange of styles, as if they had been collected over many decades instead of a year. Early-20th-century furniture joins mid-century finds. In terms of fabrics, florals mix with stripes and Mediterranean motifs, and there's hardly a surface that doesn't have some joyous color or pattern. When allowed to let his imagination run free like this, Couturier decorates with joie de vivre.
In the entry, a blossomy wallpaper by Soane provides a festive backdrop for an antique Spanish Colonial center table, purchased on 1stDibs, beneath a stately Jamb lantern. Just off the entry, the great room is anchored by a Baroque-syle Spanish cabinet from 1stDibs and its walls covered in a raffia stripe.
The living room offers ample sitting areas, containing Billy Baldwin slipper chairs, armchairs and ottomans in a crimson Flora Soames fabric and a pair of vintage faux-bamboo benches from 1stDibs covered in a jaunty Kravet pattern, along with blue porcelain lamps atop Chinese tables, all also from 1stDibs.
Couturier gave the kitchen and adjoining sunroom a summertime mood, painting the walls and cabinets blue and deploying white lacquered side chairs, rattan barstools from 1stDibs and a vivid backsplash made from tiles based on a 16th-century Hispano-Moorish design.
Each bedroom has its own inviting character. A first-floor guest room, for example, is enveloped in a John Robshaw wallpaper with a Turkish motif and illuminated by a charming blue Murano glass pendant by Hector Finch. The primary bath gleams with emerald tiles on the walls and floor.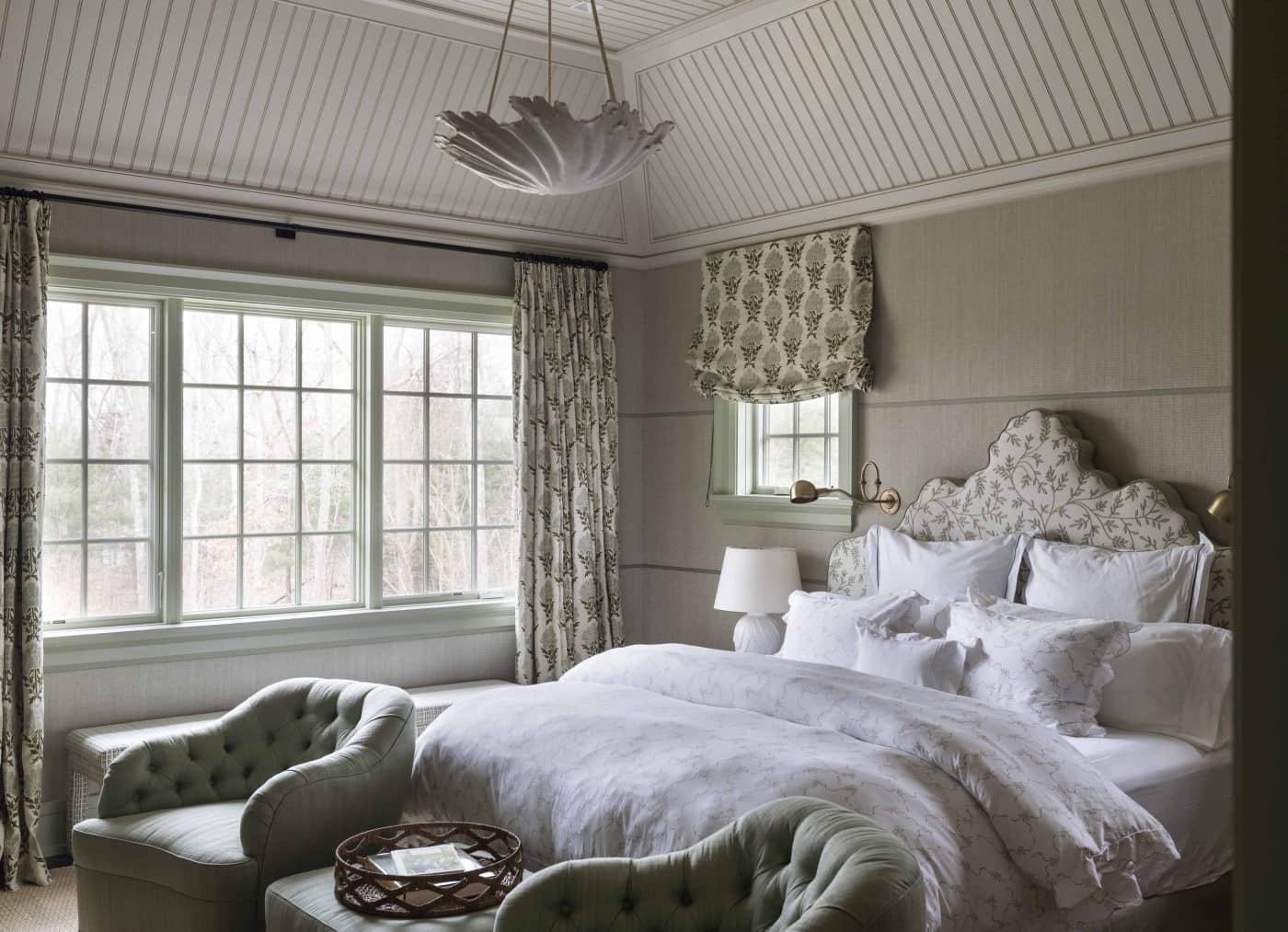 Couturier acknowledges that the home's new look "may not be considered fashionable to some, but for me, it's wonderful — more interesting, more exciting, more fun." He hopes that in the future, design will move away from safe "waiting lounge" interiors to rooms that have "more depth, more layers, more everything."