April 4, 2021The Brooklyn waterfront has always had its own gritty glamour, not just because of Brando. These days, the low-lying industrial districts along the East River and New York Harbor's Upper Bay, from Greenpoint in the north to Sunset Park in the south, have fewer potholes and garbage-strewn lots than in decades past.
There are now hives of creativity where old-school loft buildings house woodworkers, metalworkers and related businesses, from upholstery to architectural model-making, in bright subdivided spaces. The cinematic setting — big sky, Manhattan views — doesn't hurt.
Gregory Buntain's 10-year-old furniture company, Fort Standard, previously crammed into too few square feet in Red Hook, arrived in January 2020 at the Greenpoint Wood Exchange, a former bowling alley set up so amenably for woodworkers, with shared finishing rooms and spray booths, that space can be hard to come by.
"We jumped when we heard something had opened up," says the 37-year-old Buntain, who is still in the process of fitting a meticulously organized woodshop, office, showroom and storage area into 5,000 high-ceilinged square feet.
The new space, Buntain says, will allow Fort Standard to triple its production, grow its product lines and better serve such high-end architecture and interiors firms as L.A.'s Studio Shamshiri and New York City's Schiller Projects, Michael K Chen, Elizabeth Roberts, Studio DB and General Assembly, all of whom have commissioned custom pieces for residential projects.
On a recent visit to the new space, pieces from Fort Standard's signature lines sat awaiting shipment: a 12-foot Cooperage table and two equally long benches, distinguished by stripes of varicolored walnut, maple and torrefied oak, headed for Dubai, and a Strata storage unit, customized to hold a large flat-screen TV for New York interior designer Shawn Henderson. Parked in one corner: the 1989 Honda NX650 motorcycle Buntain rides to work from the Fort Greene apartment he shares with his wife and one-year-old son.
Motorcycles are a longtime obsession, harking back to Buntain's youth in Westfield, New Jersey, where he and his brother would buy mopeds at garage sales in order to take them apart and put them back together.
"In high school, I rebuilt motorcycles instead of playing sports," he says. This August, Buntain plans to ride from New York to California on the Trans-America Trail, a mostly off-road 5,000-mile trek. "The biggest challenge is convincing my wife to let me go."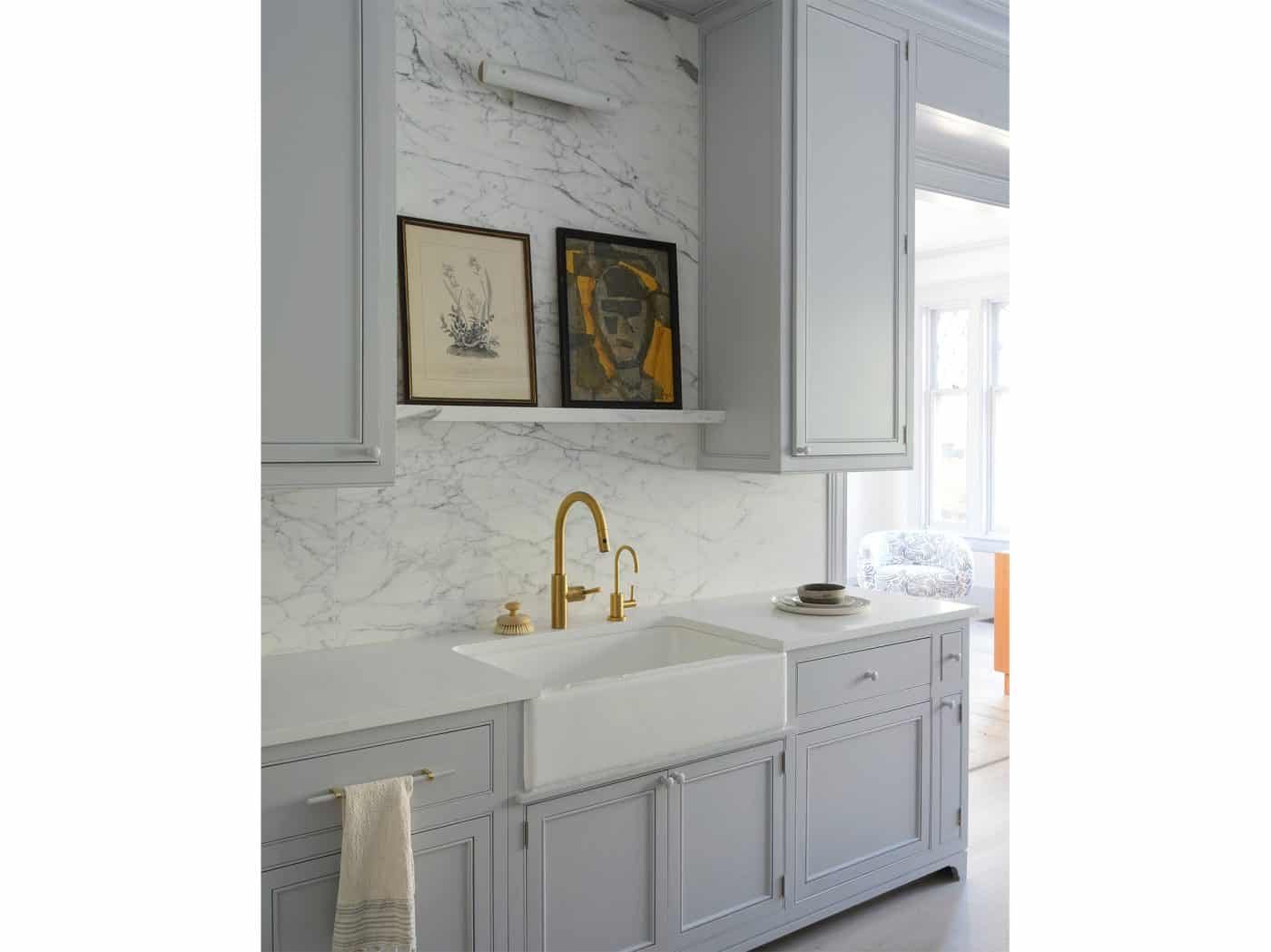 Buntain has building in his blood. "My father was a machinist, as was his father, and my grandfather on my mom's side was a carpenter," he says. "I grew up making wire sculptures, carving things from bark. My father promoted and encouraged that."
He sees himself as a designer first, and personally designs all of Fort Standard's offerings, from Shaker-like dining chairs with shearling seats and the barrel-inspired Cooperage line to weighty stone cabinets and such small objects as the slender brass candlesticks and marble vases that were introduced as quick cash-flow generators in the company's start-up era and remain steady sellers today.
Emerging from Brooklyn's Pratt Institute in 2008 with an industrial-design degree and many hours of wood- and machine-shop experience behind him, Buntain intended to become a furniture designer, not a manufacturer.
"It was an interesting time for design in New York City, and the beginning of the makers movement," he recalls. "But it was the Great Recession, and no one was hiring industrial designers. So, I fell back on my ability to build."
After a stint as a woodworker at the New Museum in downtown Manhattan and a few months of partnering with fashion-industry friends on pop-up shops, Buntain landed a gig building out the Soho flagship for Fjällräven, the Swedish outdoor apparel company, which led to more retail design for Warby Parker and Harry's, the downtown shaving emporium.
In 2011, Buntain cofounded Fort Standard with a partner. He became sole owner of the business, which he runs with the help of three full-time employees, three years ago. He sees himself as one of the lucky few who have been able to "make my passion my career," although not exactly as he envisioned it back in his student days. "My business is design-driven," Buntain says, "but I've learned that design is actually a small part of it. Fort Standard is essentially a manufacturing business."
Some of the company's output is massive, scaled for grand rooms or even public spaces. A hefty two-tiered coffee table, available with a top of wood, stone or brass, which Buntain likens to flat-slab architectural construction, would work in a skyscraper lobby.
A 77-inch tall, limited-edition relief stone cabinet with pronounced grain, cut from Brazilian soapstone, offered on 1stDibs and crafted using both hand and machine techniques, weighs about 1,200 pounds.
A Pillar table of white oak on a base of precision-machined, steel-plated brass, on its way to a Florida residence for interior designer Erin Cantu, measures a monumental 13 feet long.
Fort Standard's latest line is Strata, a modular system of open and closed storage often configured as a wood credenza below with open shelving above. Buntain is proud of the system's versatility as well as the craftsmanship and engineering, from book-matched veneers to smoothly sliding doors and hidden hinges.
All components can be ordered in a variety of woods, stones, colors and finishes and arranged in innumerable ways, some shown on the company's 1stDibs storefront. The line is "infinitely customizable," Buntain says. "Designers and architects can curate a piece for their particular space, speccing size, finish and storage options."
With representation now in France and Australia, and on the verge of hiring his first-ever sales associate, Buntain says he feels that Fort Standard is "positioned for growth in a way we've never been."
No sooner had he moved the business to the Greenpoint space, run wiring and set up dust-collection equipment, the pandemic forced him to shutter for several months.
Still, from his vantage, the home-furnishings market has not been a bad place to be during this time. "Our sales have continued to grow," he says. "It's been a strange but good year."