One of the world's most successful interior designers, François Catroux is at home in palaces and private jets and yachts — including the vast sailboat he outfitted for Barry Diller and Diane von Furstenberg in a mix of mahogany, macassar, sycamore, bamboo and palm wood. But he is redoing his own Paris flat for a reason ordinary people can relate to: "There are just too many books," he says, in perfect English. "They're filling boxes all over the floor, and for two or three years, I couldn't have anyone over." The solution, he says, was to build more shelves, turning the living room into a library.
When the shelves are complete, there will be room for a new book, François Catroux (Rizzoli). Published on the eve of Catroux's 80th birthday, it is the first volume devoted to his body of work. True, there has been no shortage of magazine coverage since Vogue published his first Paris apartment, in 1968, but for years he resisted the coffee table treatment. Enter David Netto, a California-based writer and designer, who first encountered Catroux's work as a 17-year-old, in 1987, when he walked into von Furstenberg's apartment at 12 rue de Seine, in Paris. There, he found a Bohemian-chic home in which a spare Charles X desk, say, was juxtaposed again a billowing plaster chair by Marina Karella. "I had never seen anything like that," recalls Netto, who was friends with von Furstenberg's children. "From the moment I asked Diane, 'Who did this place?' and heard his name, I have been following the work of François Catroux."
Catroux doesn't care about recognition. As Netto says, "The people who needed to know, knew." But as a journalist, Netto saw in Catroux's career "the great untold story in design. In a way, because there was no book, the full impact of Catroux's influence hasn't even begun to be felt yet," Netto says. "But now it will, and I just had to participate in that." Catroux, who says he loves long plane flights, was often in California — working on projects in Bel Air, Beverly Hills and Santa Barbara — and Netto, who lives in L.A.'s Silver Lake, spent two years persuading the Frenchman to do the book. (Netto also suggested Catroux ask his friend von Furstenberg to write the introduction, which she did, calling Catroux's style "grand coziness.")
---
"The full impact of François Catroux's influence hasn't even begun to be felt yet," says Los Angeles designer David Netto.
---
The book, written by Netto, hits all the high points of a nearly 5o-year career that began when the couturier Mila Schön asked Catroux to redo her showroom in Milan. Until then, Catroux —  the Algerian-born grandson of a French general and as handsome as a movie star — had spent his time soaking up architecture and design. (During a stint in New York, he became a regular at Philip Johnson's Glass House.) Soon, with projects like the Fifth Avenue apartment of the publisher Gardner Cowles Jr., on which he collaborated with the architect Paul Rudolph, he became known for his "à la mod" designs, which involved not ebony and silk but stainless steel and vinyl. Those early spaces had little furniture, because, as Catroux has said, "the art should be the essential part of the decor. I always tell people it's better to invest in art than in a couch."
Perhaps, but over the years, Catroux has bought thousands of pieces of furniture for clients. "I go through the auction catalogues and suggest things," he says. "They can buy or not buy — usually they buy."
Catroux's modernist phase didn't last long. Back in Paris in the 1980s, he was introduced to a crowd that included Marie-Hélène de Rothschild, who lived in a style that Louis XIV would have recognized. Hired to design châteaus and hôtels particuliers for this chic set, he deployed objets that might have been found in the Louvre. "I'm a bit spoiled by people whose things aren't bad," Catroux once said. Commissions came to him in many cases through his wife, Betty Catroux, who was one of Yves Saint Laurent's confidantes and muses. In addition to Rothschild, clients soon included socialite and fashion magnate Hélène Rochas, the shah of Iran and King Hussein of Jordan. As for von Furstenberg, after she married Diller, she had Catroux give the couple's house in L.A. a makeover that nodded to Frank Lloyd Wright. More recently, Catroux took on the job of designing the Diller/von Furstenberg yacht, Eos, which is so big that he had to add faux columns to get the proportions of the rooms right. He has also done countless projects — including more than half a dozen jets — for fashion magnate Leslie Wexner and nearly as many for the duty-free magnate Robert Miller and his wife, Chantal.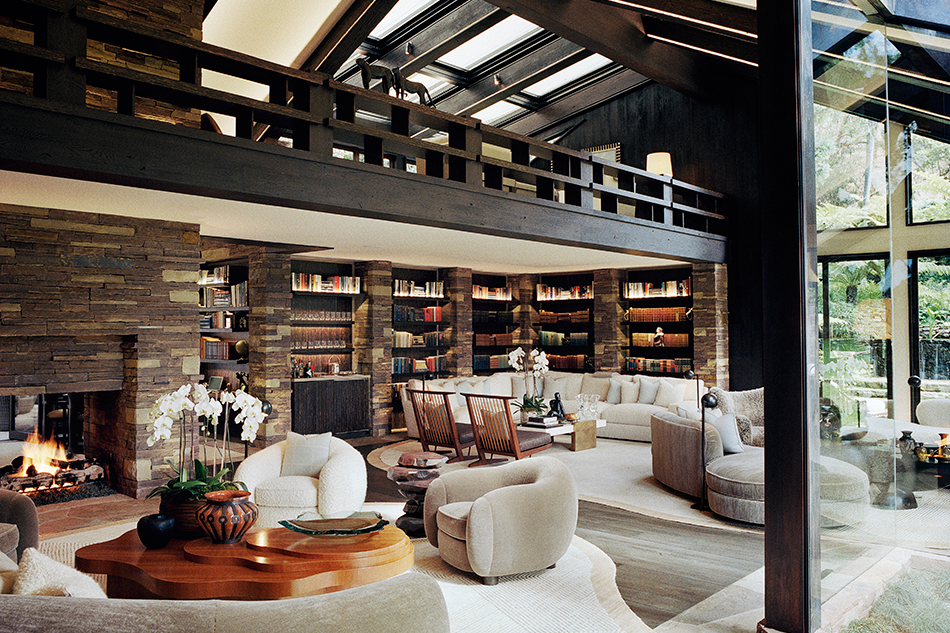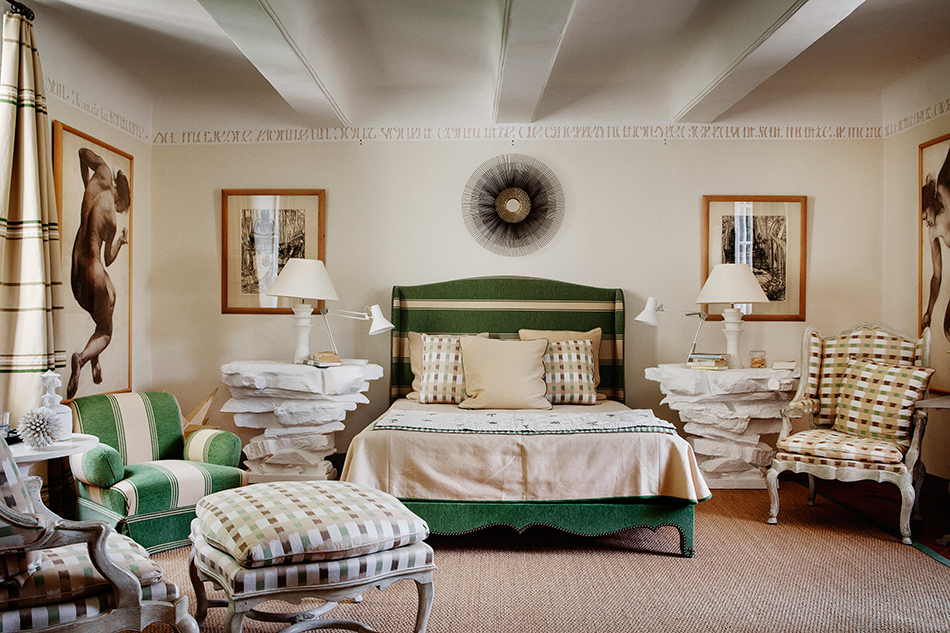 But if he has become known as a maximalist, Catroux still does modern interiors, especially for people who don't have warehouses full of Old Master paintings and André-Charles Boulle furniture. Modern, to Catroux, means white walls and an overall neutral palette. "If you use colors, you might get tired of them after a few seasons," he says. Keeping the colors muted also makes it easy to mix elements from different times and places. A house Catroux did in Hong Kong combines dark parquet de Versailles floors, Chinese-style wood shutters, Claude Lalanne bronze crocodile benches and 18th-century Russian sconces; the variety lies in the shapes, not the hues. So limited is the palette in some Catroux projects, in fact, that a few of the color photos in the book almost appear to have been shot in black and white.
He uses a few neutral items again and again. These include parchment lamps by the young Italian designer Mauro Fabbro, which, he jokes, appear in every photo of his work. Catroux is also one of the leading collectors of tables and chairs by Ron Arad, the London-based metal master, and he patronizes Philippe Starck, whose clear plastic Ghost chair he notes can go with anything.
Does he sometimes take a neutral palette too far? When he did von Furstenberg's most recent Paris apartment, recalls Catroux, "she looked at it, said 'This is too subtle for me' and went shopping."  She picked up colorful items like chairs covered in African beadwork. "She was right," says Catroux, whose greatest talent may be deference to his clients. That deference, it seems, results in homes that elicit gratitude from their residents. As von Furstenberg writes in her introduction to the new book, "To live in a Catroux interior makes you forever thankful."
Indeed, Catroux inspires loyalty. His two assistants have been with him for more than 40 years. Clients keep returning, too, lately even sending their children his way. "And soon it will be their grandchildren," he says. "I've got more and more young people asking me to do things for them, which is very flattering at my age."
Catroux has returned to his roots in some of his projects, leading Netto to characterize him as "a modernist, then a traditionalist, then a modernist again." Catroux explains the return to simplicity, at least in his own homes, this way: "The older you get, you want to get rid of unnecessary things." Now he can get rid of anything he wants, because the memories are all preserved between hard covers.
or support your local bookstore.