December 18, 2022On the second floor of Galerie Negropontes, on Paris's rue Jean-Jacques Rousseau, is a small room that serves several purposes. It sometimes acts as a meeting room; at other times, it is used to display smaller works. Lined up on one of its walls recently was a series of seven black-and-white images of totem-like Constantin Brancusi sculptures taken by photographer Dan Er. Grigorescu. The latter was also the author of some 20 books — most notably, on that same legendary Romanian-born sculptor — and, incidentally, the father of the gallery's founder and director, Sophie Negropontes.
Thanks to him, Negropontes spent her early childhood in Bucharest steeped in the world of art and artists. She initially embarked upon a career in marketing — first overseeing perfume launches for Jean Patou in Asia, later in the textile field — but in 2012, she decided it was time to immerse herself in more creative pursuits. "I had the conviction that I had to open my own gallery," recalls Negropontes, who moved to Paris in 1976 at the age of 12, "a space that would offer contemporary pieces in the finest tradition of the decorative arts in terms of their luxurious materials, the quality of their finishes and their attention to detail. And they had to be either one-offs, limited editions or bespoke. My intuition was to take inspiration from ensembliers of the past — decorators like Jacques Adnet or Maxime Old, who from the beginning of the twentieth century imagined either one or a series of pieces for a specific client and a specific place."
Negropontes originally opened her gallery on rue de Verneuil, on Paris's Left Bank, launching collaborations with a number of designers and simultaneously asking the architect Hervé Langlais, whom she'd known for many years, to complement their creations with annual furniture collections consisting of a dozen or so pieces.
She moved to her current location, close to the Pinault Collection, in 2019 and over the years has expanded her creator roster to include outstanding glass artists Martine and Jacki Perrin, who go by the name Perrin & Perrin; Éric de Dormael, who creates poetic, mainly metal furnishings and light installations; Étienne Moyat, a sculptor of sumptuous wood panels; Erwan Boulloud, a designer of furniture that is as precisely crafted as it is telluric; and the multifaceted Benjamin Poulanges. Poulanges works in a host of mediums, painting large canvases and creating vases that, deceptively, appear two dimensional; and early next year, he is slated to launch his first furniture collection, comprising armchairs with Corten-steel frames and bouclé upholstery and occasional tables in ceramic and steel.
More recently, these talents have been joined by Gianluca Pacchioni, a Milan-based artist who forges metal with extraordinary sensitivity and finesse; Jean-Christophe Malaval, a jeweler who produces intricately shaped rings; and the Swedish Ulrika Liljedahl, who transforms horsehair into masterfully crafted sculptures that appear to be in motion.
Over the past five years, Negropontes has also developed a productive partnership with Pinton, a rug workshop established in the late 18th century near Aubusson, in the center of France. "We exhibit their tapestries," she explains, "and have started to make rugs there based on ink drawings by Perrin & Perrin." The first of these was presented at Design Miami in Basel this June.
Next year marks the gallery's 10th anniversary, and Negropontes is planning to celebrate with a series of 10 events, including several exhibitions and book launches, spread out over the year. Each will be presided over by the protective figure of the late Dan Er. Grigorescu, by way of his forceful and arresting images.
Here, his daughter talks to Introspective about her love of El Greco and tapestries, pushing her artists to explore new horizons and getting their work into museum collections.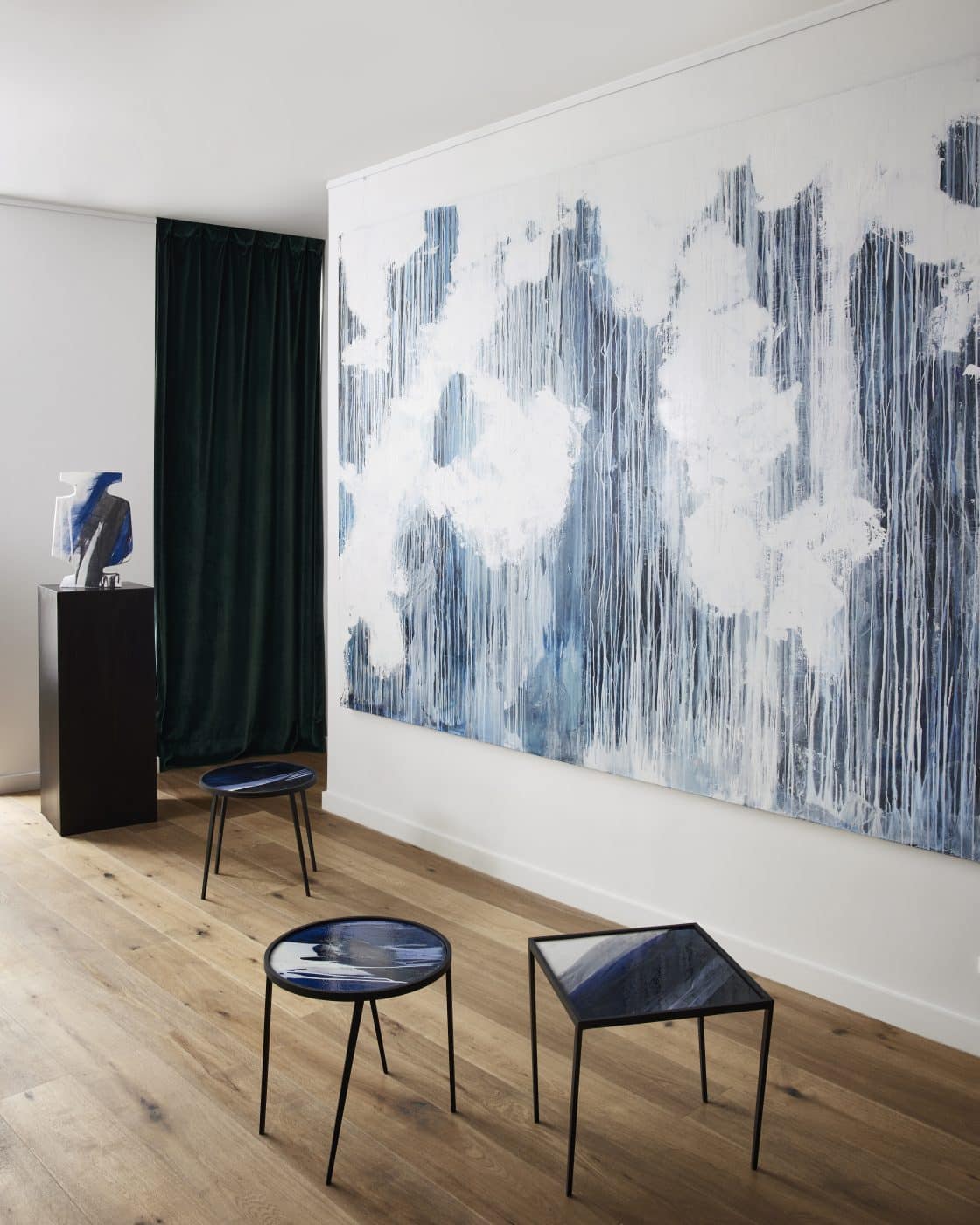 How do you choose which artists to represent at the gallery?
It's all a question of encounters, often where we hit it off immediately, which then turn into discussions. I love the touch of madness in each of them, I love seeing how their work evolves over time, and more than anything, I love who they are and how they function.
Are there aspects of your collaborations with them that you particularly like?
An exciting part of my profession consists of thinking of associations between different artists — for example, the collaboration of Perrin & Perrin on rugs with the manufacturer Pinton — or of pushing some of them from sculpture toward decorative items. Like Benjamin Poulanges, whose production extends from ceramic objects to pieces of furniture, or Jean-Christophe Malaval, who is capable of producing both jewelry and the Atlantis vase, an exquisite object with something of an Art Deco touch.
Which part of your job makes you most proud?
I would say promoting the work of the artists I love and bringing them to a wider audience through exhibitions and the way I communicate about their creations. But also succeeding in getting them into the collections of prestigious institutions. That's been the case with Perrin & Perrin's sculptures, one of which, Tweed, can now be found at the Musée des Arts Décoratifs, in Paris. Several of their other works are in the Musée Cantonal de Design et d'Arts Appliqués Contemporains, in Lausanne, and the Musée du Verre de Charleroi, in Belgium.
What are the current trends in the decorative-arts market?
I'm a fan of Dürer and El Greco. So, I'm not necessarily the best person to talk about trends. However, there are things I believe in. For example, I began exhibiting tapestries five years ago, and they interest me because they are not only works of art but also cozy and help to bring a warm presence to interiors.
You show both furniture and sculpture. What differentiation do you make between fine art and the decorative arts?
For me, in contrast to contemporary art, which is often accompanied by a discourse, the decorative arts remain rooted in a certain idea of beauty, of aesthetics. I'm quite attached to the notion of the function of an object, but for the more sculptural pieces I show, I believe they still belong to the realm of the decorative arts due to their medium. Glass is a typical example.
Are there pieces to which you become so attached that you have difficulty selling them?
There was a Perrin & Perrin work — Fruit Etrange 3 — that was acquired on the very first day of a fair, and my assistant said to me, "Do you realize we've not even had the chance to enjoy it?" The luck we have is to be able to live with these pieces on a daily basis in the atmosphere of the gallery and with all the stories they tell.