Interviewing Belgian interior designer GERT VOORJANS is a whirlwind of an experience — a rip-roaring seminar in everything that is wrong with design today. "It is all 'Wow! Wow! Wow!'" he exclaims. "But too much 'Wow!' is itself very boring. Why should everything be about replicating the lobby of a Four Seasons hotel? The big chandelier! The metallic sofa! The acres of marble! Everything is so shout-y."
In contrast, Voorjans says, "I like to think of myself as a conductor quietening the percussion so that the flute can be heard."
Why Gert Voorjans Has Become a Design Icon
Voorjans opened his eponymous Antwerp studio in 1997 and established Gert Voorjans Asia Limited in 2013. He has become a fixture on the lists of top interior designers, compiled by shelter publications around the world. Examples of his private residential work can be seen in his book, Daily Life (Lannoo), which features 10 previously unseen projects.
These include Voorjans's own MODERNIST home and studio in Antwerp (he has a second in Paris), within which he has assembled "anomalous objects and coups de coeur," a medieval Bavarian castle that he injected with signature wit and imagination, and a beautifully proportioned London penthouse for which he drew inspiration from the grand Thomas Cubitt townhouses of the 18th century. Previous happy clients have included rocker Mick Jagger and fashion editor Nina Garcia, as well as the fashion designer DRIES VAN NOTEN (more on him later).
In 2012, he published Interior Life: Gert Voorjans, (Lannoo), in which he detailed his sources of inspiration. However, Daily Life gives a more in-depth look into his practice and projects.
Interestingly for such a design influencer, Voorjans prefers to run a small team of no more than seven, supplemented by freelance help for larger commissions. He argues that with a bigger staff, he would lose his flexibility. "I want to stay very custom, to always start with a blank canvas. If you go the commercial route, you end up with solutions A, B or C, and I am not looking for that sort of repetition."
Indeed he is not. Voorjans's clients adore him because he works like a couture fashion designer, making gowns that are for them and them alone. While his designs are masterful in their confident mix of texture, color, period and pattern, they also allow each client's own voice to be heard. "I involve my clients in their projects, because it is not I who will be living there but they. I say, if you make nice pottery, for example, then put up some shelves and display it. Make your own statement, and believe in it. There is space for everything except mediocrity."
While no single style runs through Voorjans's interiors, his work does have certain signatures: He excels at creating a curated look defined by a nonchalant and contrasting mix of rare antiques, artful clutter and flea-market finds. When it comes to materials, it is authenticity that matters most to him — the distressed surface of an aged timber floor, say, or the faded glory of an antique rug. He has no desire to shock and no interest in creating a room that is ostentatious or self-consciously decorated, striving instead for that nebulous quality referred to as "soul." He describes his design ethos in terms of the "three Cs": color, craftsmanship and character. "There used to be a lot of rules within design," he says. "But now, those rules are gone. What matters to me is making interiors that feel as though they have been there forever." He also likes the idea of creating environments where people can grow old together.
Where Gert Voorjans Gained His Inspiration
Elegant and articulate, Voorjans is as passionate about his profession now as when he started out in 1988, working for his great mentor, that master rule-breaker Axel Vervoordt. As he recalls, he first became aware of the Belgium-based interior designer's work as a teenager. "At that time, everyone took art and antiques so seriously," he says. "The silverware only came out at Christmas, and then it would be set on a polished mahogany table. Axel came along and showed you could put solid silver on a simple scrubbed-oak table, and use it every day — he was the trendsetter for a style that then became an explosion."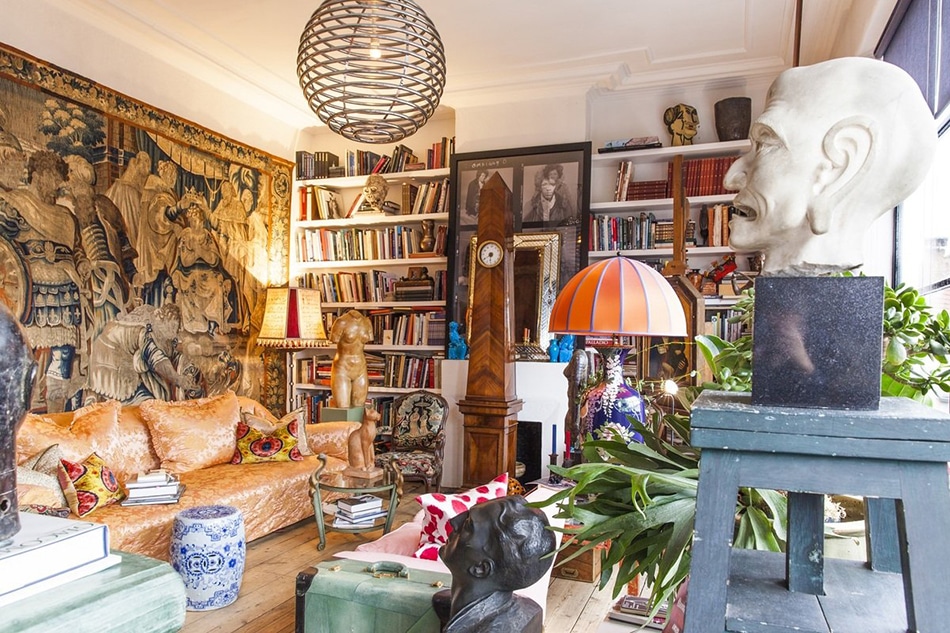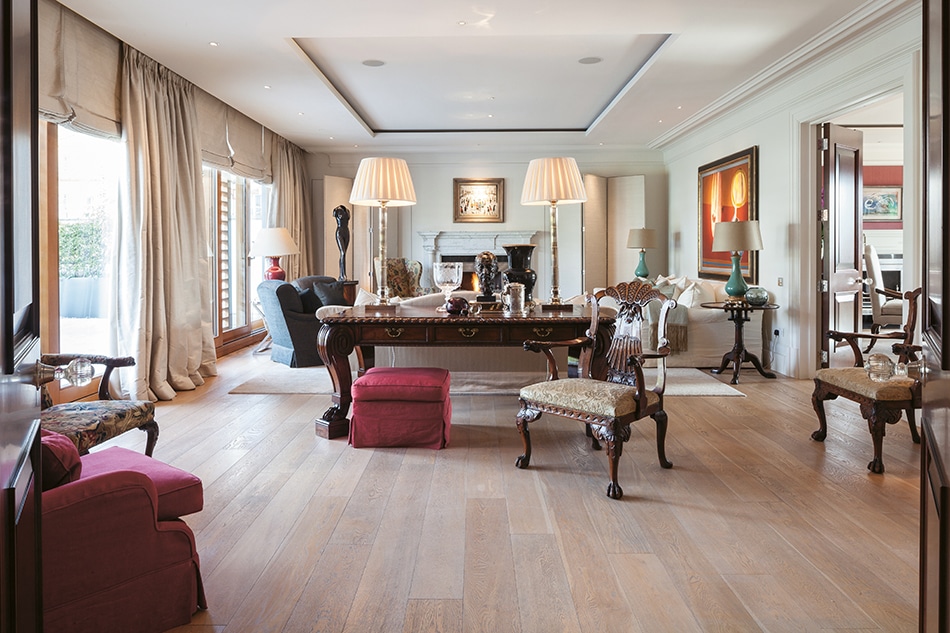 Voorjans grew up surrounded by furniture and art in his family's shop in Antwerp. For more than 200 years, the Voorjans clan had been cabinetmakers, but after World War II, finances forced his parents to begin selling furniture rather than making it. Even when very young, Voorjans realized, as he helped his mother and father in the store, that he wasn't so much interested in the individual pieces as in the effect they created as an ensemble. "In German, there is a concept, gemütlichkeit, that centers on the idea of warmth, comfort and good cheer. If you think about your grandparents' interiors, you remember the warmth, the delicious cake, the feeling of security. It did not matter to you whether the picture on the wall was a reproduction or the real thing. I want my interiors to define that same sort of mood, that sense of home."
Following secondary school, he studied interior design at the HIGHER ARCHITECTURE INSTITUTE OF HASSELT, in Belgium, then received a postgraduate degree in art history at the UNIVERSITY OF SIENA, in Italy, later also studying at Sotheby's in London.
While in the British capital, he began every day with a visit to SIR JOHN SOANE'S MUSEUM, a place that remains his personal touchstone. "It is an exercise in how to show collections and how to mix them up. Every time I am in London, I go there — it is so inspiring."
After finishing at Sotheby's, he worked for seven years for his mentor Vervoordt, perfecting his skill in interior composition. However, it is his decades-long association with another design great, fashion's Dries Van Noten (one of the Antwerp Six), that led to his international renown.
The first store he designed for the fashion legend was Van Noten's Antwerp flagship, Het Modepaleis. Voorjans has since created more than 20 store concepts around the world for the label, each a response to location, architecture and culture.
"I try to achieve in interiors what Dries does with CLOTHES. He used to say, 'I am not trying to create a cocktail dress, but I will create a dress you could wear to a cocktail party.' He understands that nobody wants to look as though they had just stepped out of some window display."
A Look into Some of  Voorjans's Interior Projects
"My approach has always been to link the brand with the city. The women's store on the Quai Malaquais, in Paris, for example, was inspired by the style of Madeleine Castaing — lots of lamps and rugs, as if it were a Saint-Germain apartment — while the store in Aoyama, Tokyo, housed in a concrete building by the architect TADAO ANDO, features work by contemporary Japanese artists in the men's department."
---
"I involve my clients in their projects, because it is not I who will be living there but they."
---
Voorjans has worked on a variety of other interiors, including a huge project in the Philippines called the Manila House. This private members' club, he explains, "is exactly what people living in big cities now require: a place to work, to meet, to have lunch. I can best describe it as a home that is not your home. It's the sort of place that has existed forever in London." For this, he created what he describes as "an urban city vibe — both stimulating and satisfying," with exuberant colors and patterns, including crisp green stripes and bold florals throughout the public areas.
Another exciting challenge was a suite of rooms for the new home of DIVA, the institution formerly known as the Museum for Gold- and Silversmithing, Jewellery and Diamonds, in Antwerp. There, he designed silverware and ceramics displays based on the Peacock Room, James McNeill Whistler's 1876 Asia-tinged masterpiece of brilliant blue greens overlaid with gold leaf. (It was originally designed for the London home of a shipping magnate and is now housed in the FREER GALLERY OF ART in Washington, DC.) Voorjans deliberately chose a combination of styles, including chinoiserie, Ottoman and Japanese, emphasizing Antwerp as an international trading hub.
Work demands that Voorjans travel a great deal, but when he can, he likes to walk and marvel at trees. "I need the counterbalance of nature. It gives me new energy," he says of these outings. "If I were not an interior designer, I would be a gardener. In ten or fifteen years, I would like to live in a small cottage, to tend my herb garden and to cook. That is what I imagine when I am dreaming."
---
Gert Voorjans's Quick Picks on 1stDibs